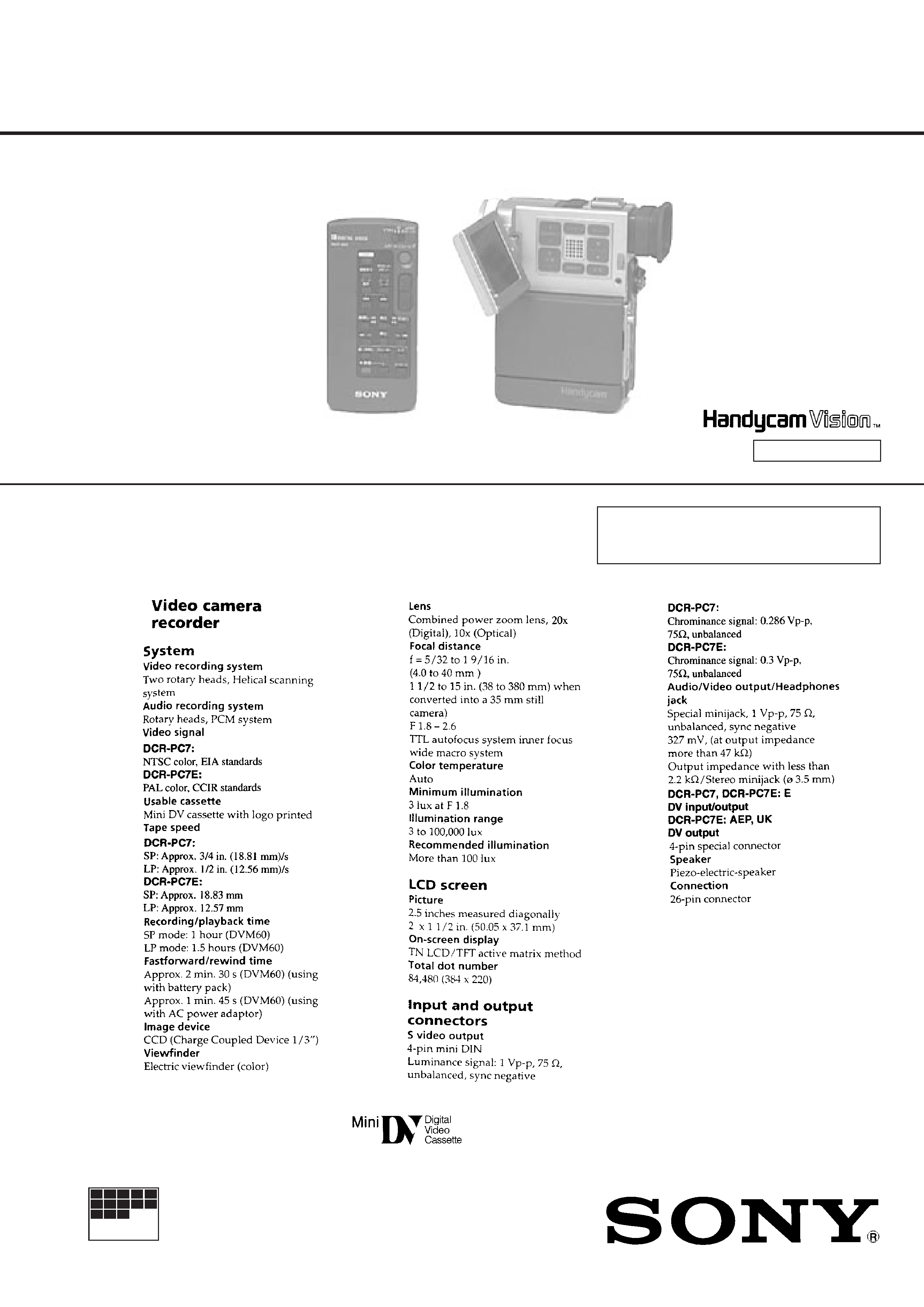 For MECHANISM ADJUSTMENTS, refer to the
"DV MECHANICAL ADJUSTMENT MANUAL I"
DIGITAL VIDEO CAMERA RECORDER
Tourist model of DCR-PC7 is different from US model of DCR-
PC7 only in the accessory and packing materials.
Tourist model of DCR-PC7E is different from E model of DCR-
PC7E only in the accessory and packing materials.
-- Continued on next page --
---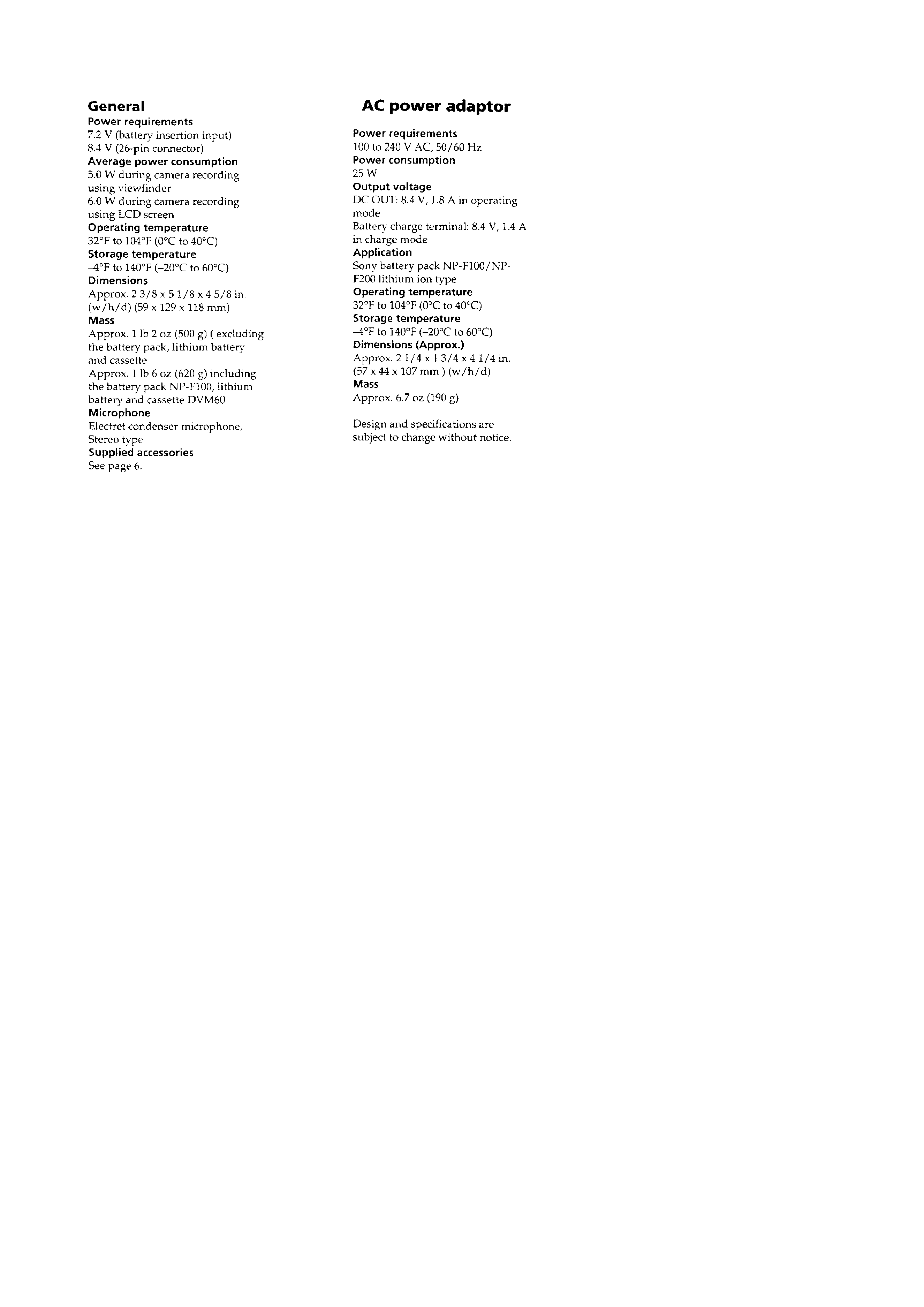 ATTENTION AU COMPOSANT AYANT RAPPORT
LES COMPOSANTS IDENTIFIÉS PAR UNE MARQUE
!
SUR
LES DIAGRAMMES SCHÉMATIQUES ET LA LISTE DES
PIÈCES SONT CRITIQUES POUR LA SÉCURITÉ DE
FONCTIONNEMENT. NE REMPLACER CES COMPOSANTS
QUE PAR DES PIÈCES SONY DONT LES NUMÉROS SONT
DONNÉS DANS CE MANUEL OU DANS LES SUPPLÉMENTS
SAFETY-RELATED COMPONENT WARNING !!
COMPONENTS IDENTIFIED BY MARK
!
OR DOTTED LINE
WITH MARK
!
ON THE SCHEMATIC DIAGRAMS AND IN THE
PARTS LIST ARE CRITICAL TO SAFE OPERATION. REPLACE
THESE COMPONENTS WITH SONY PARTS WHOSE PART
NUMBERS APPEAR AS SHOWN IN THIS MANUAL OR IN SUP-
PLEMENTS PUBLISHED BY SONY.
Check the area of your repair for unsoldered or poorly-soldered
connections. Check the entire board surface for solder splashes
Check the interboard wiring to ensure that no wires are
"pinched" or contact high-wattage resistors.
Look for unauthorized replacement parts, particularly
transistors, that were installed during a previous repair. Point
them out to the customer and recommend their replacement.
Look for parts which, though functioning, show obvious signs
of deterioration. Point them out to the customer and
recommend their replacement.
Check the B+ voltage to see it is at the values specified.
Flexible Circuit board Repairing
Keep the temperature of the soldering iron around 270°C
Do not touch the soldering iron on the same conductor of
the circuit board (within 3 times).
Be careful not to apply force on the conductor when
soldering or unsoldering.
After correcting the original service problem, perform the following
safety checks before releasing the set to the customer:
---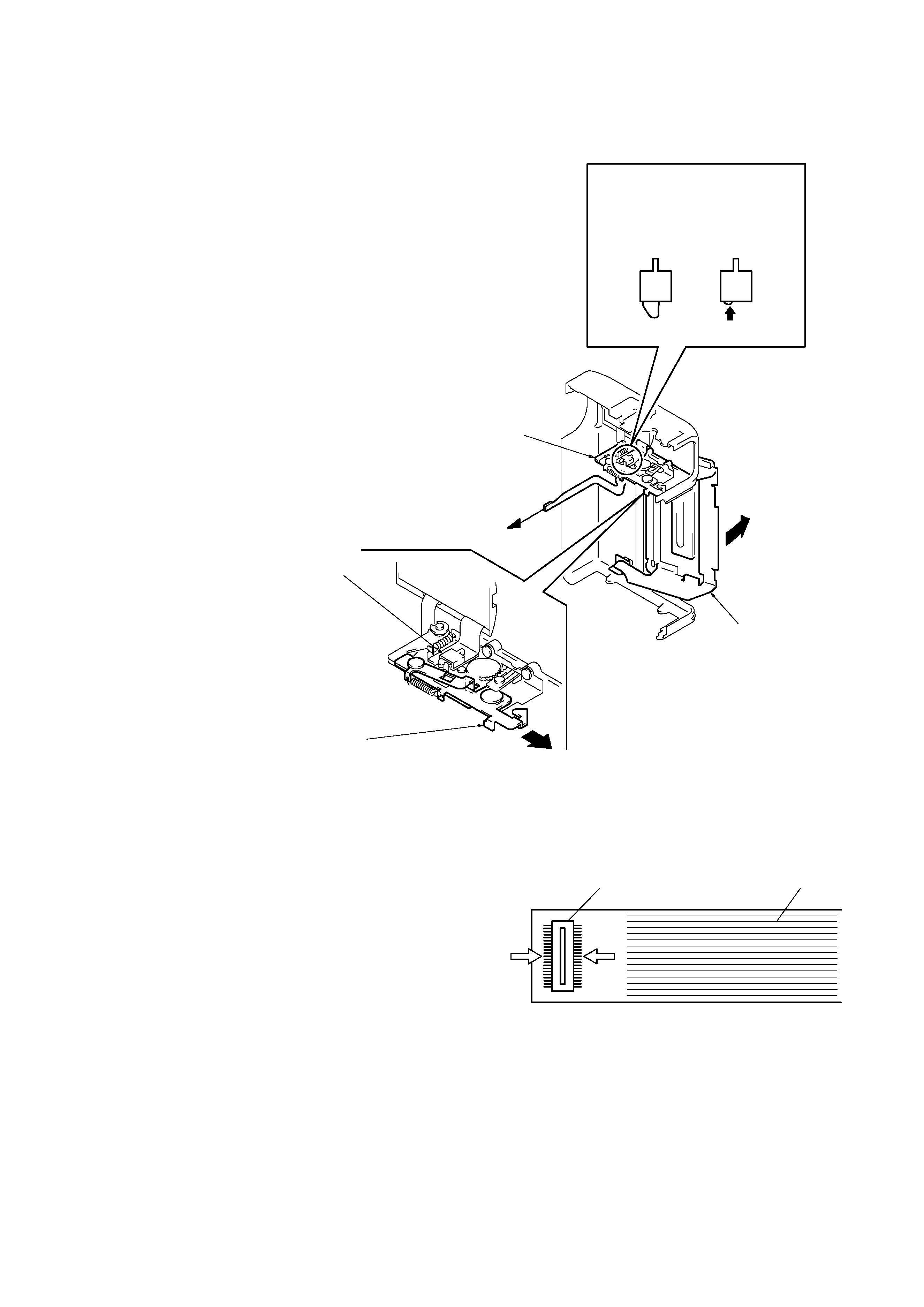 1 Ejecting with the cabinet (L) assembly removed
Refer to "2. DISASSEMBLY", and supply power with the
cabinet (L) assembly removed (however leave the flexible board
connecting the cabinet (L) assembly and main unit connected).
Operate the CS bracket assembly, open the cassette lid, turn
OFF the CC DOWN SW, and press the Eject button again.
2 Handling the VC. MR board
Never heat the VC and MR boards with hot air. (Malfunctions
Also remove after dehumidifying.
3 Special precautions on disconnection of connector
attached to the flexible board
Apply force in the arrow direction and disconnect.
Do not apply force in the
direction as this will cause the solder
(of the pin) to float easily.
When touching the pins with the solder iron, do not touch other
parts. (deformation may occur.)
Ensure no folding lines are formed on the flexible board.
(This will cause the internal copper film to cut easily.)
Slide the CS lock plate in the arrow
direction, and open the cassette lid.
Connect to the main unit.
---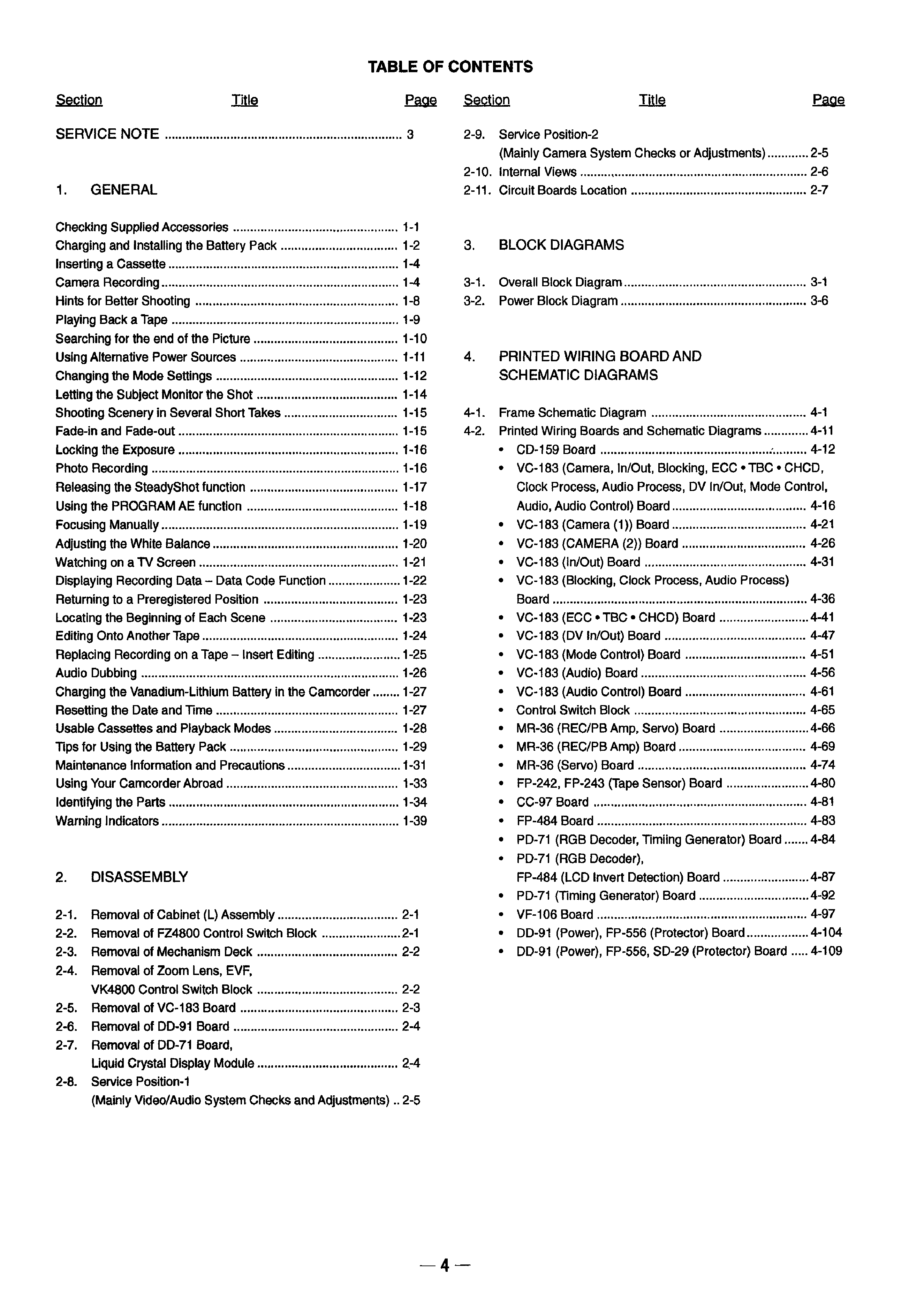 ---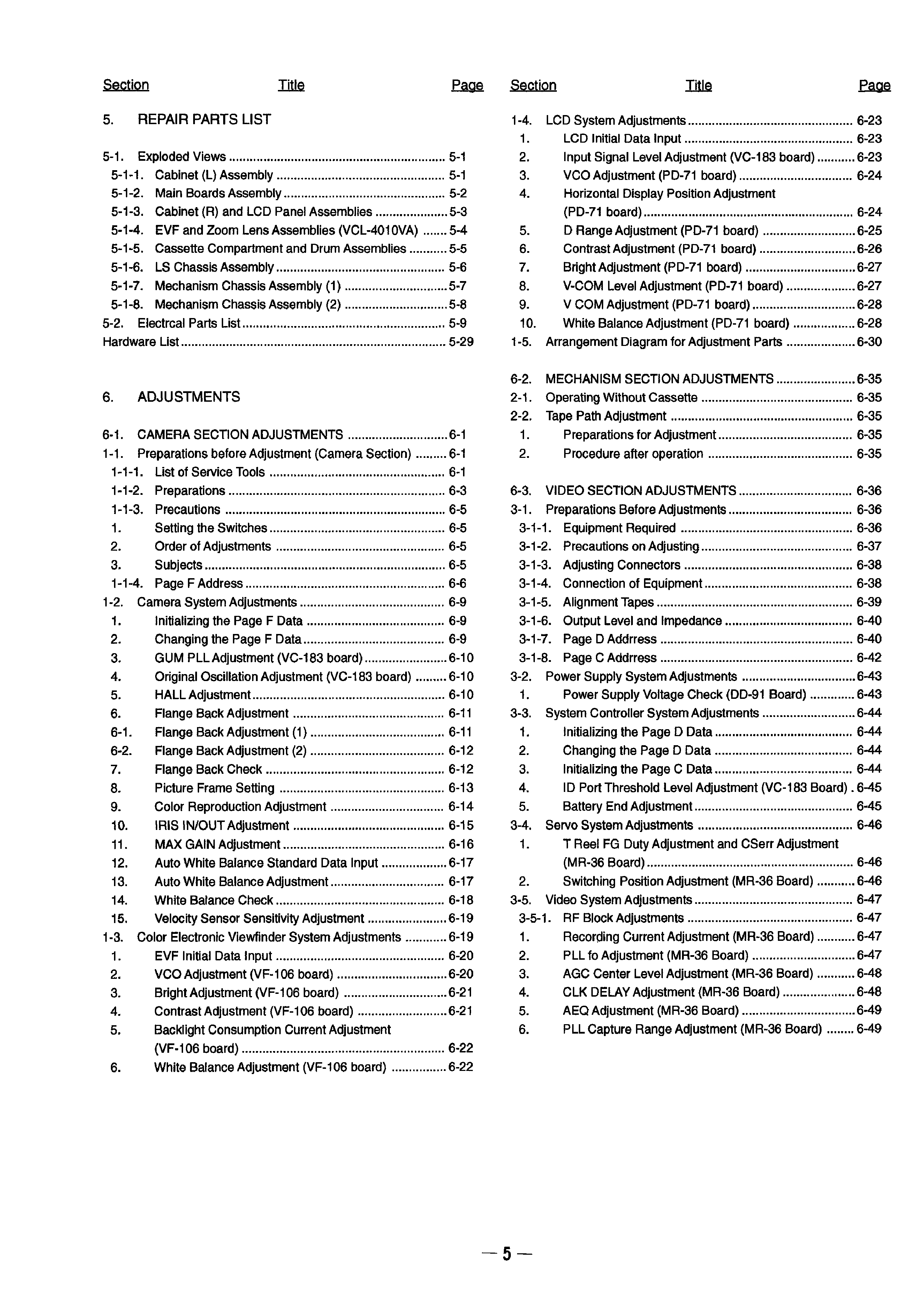 ---