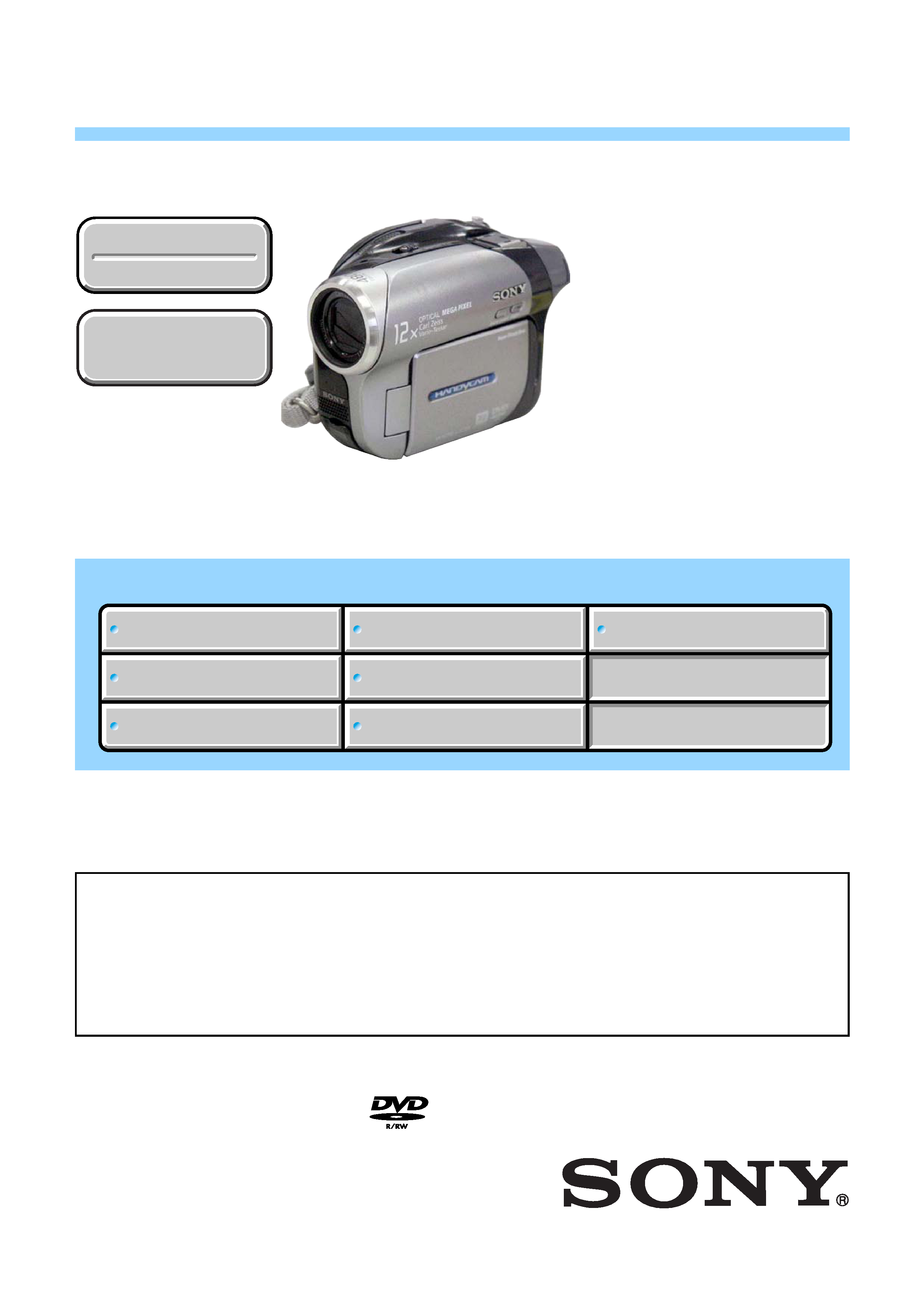 DIGITAL VIDEO CAMERA RECORDER
· For ADJUSTMENTS (SECTION 6), refer to SERVICE MANUAL, ADJ (9-876-866-51).
· Reference number search on printed wiring boards is available.
· TO TAKE OUT A DISC WHEN DISC COVER DOES NOT OPEN (FORCE OPEN)
On the CD-564, VF-167, MD-114, MD-120 and VC-396 board
This service manual provides the information that is premised the circuit board replacement service and not intended repair
inside the CD-564, VF-167, MD-114, MD-120 and VC-396 board.
Therefore, schematic diagram, printed wiring board, waveforms, mounted parts location and electrical parts list of the CD-564,
VF-167, MD-114, MD-120 and VC-396 board are not shown.
The following pages are not shown.
Mounted parts location ....................... Pages 4-99 to 4-102
Electrical parts list .............................. Pages 5-16 to 5-28
Schematic diagram ............................. Pages 4-17 to 4-64
Printed wiring board ............................ Pages 4-77 to 4-94
Waveforms ........................................... Pages 4-96 to 4-97
Published by DI Technical Support Section
DCR-DVD202E/DVD203/DVD203E
DCR-DVD202E/DVD203/DVD203E/DVD703/DVD703E
---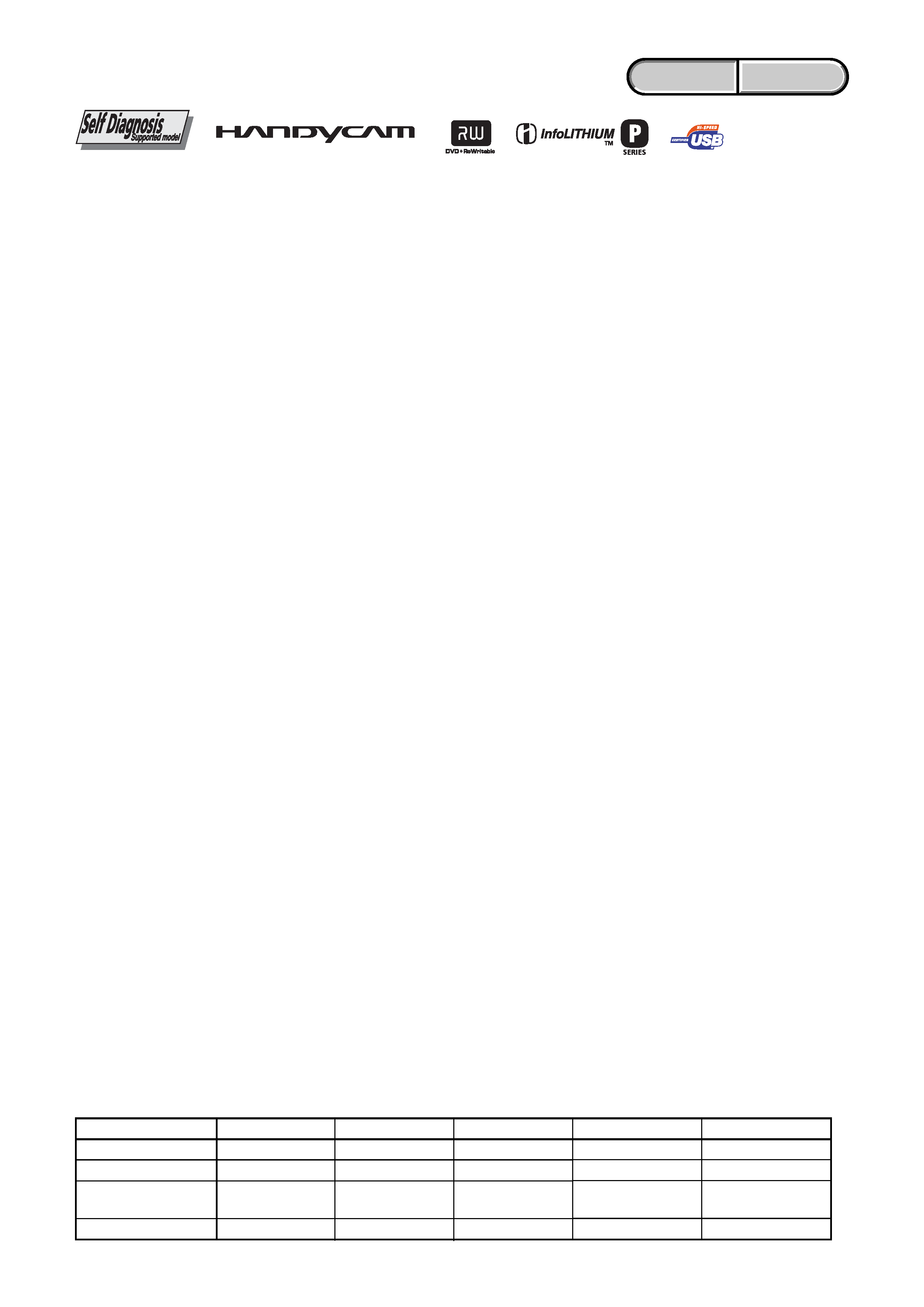 DCR-DVD202E/DVD203/DVD203E/DVD703/DVD703E
Color temperature [AUTO], [ONE PUSH],
0 lx (lux) (in the NightShot
*1
"Exif" is a file format for still images,
established by the JEITA (Japan Electronics
and Information Technology Industries
Association). Files in this format can have
additional information such as your camcorder's
setting information at the time of recording.
*2
In 16:9 mode, the focal length figures are actual
figures resulting from wide angle pixel readout.
*3
Objects unable to be seen due to the dark can be
shot with infrared lighting.
Manufactured under license from Dolby
Luminance signal: 1 Vp-p, 75
Chrominance signal: 0.286 Vp-
Audio signal: 327 mV (at Load
Input inpedance more than
impedance less than 2.2 k
Stereo mini-minijack (Ø 2.5
6.9 cm (2.7 type, aspect ratio
During camera recording using
°C to + 40°C (32°F to 104°F)
440 g (15 oz) main unit only
500 g (1 lb 1 oz) including the
NP-FP50 rechargeable battery
°C to + 40°C (32°F to 104°F)
excluding the projecting parts
190 g (6.7 oz) excluding the
*
See at the label of AC adaptor for other
Rechargeable battery pack
°C to + 40°C (32°F to 104°F)
Design and specifications are subject to change
MPEG2/JPEG (Still images)
Dolby Digital 5.1 Creator
(DVD202E/DVD203E/DVD703E)
PAL color, CCIR standards
Filter diameter:30mm (1 3/16
Optical:12, Digital:24, 480
f=3.0 - 36 mm (1/8 - 1 7/16 in.)
When converted to a 35 mm
46 - 628.5mm (1 13/16 - 24 3/4
48 - 576mm (1 15/16 - 22 3/4
40 - 480mm (1 5/8 - 19 in.)
(DVD202E/DVD203E/DVD703E)
Table for difference of function
---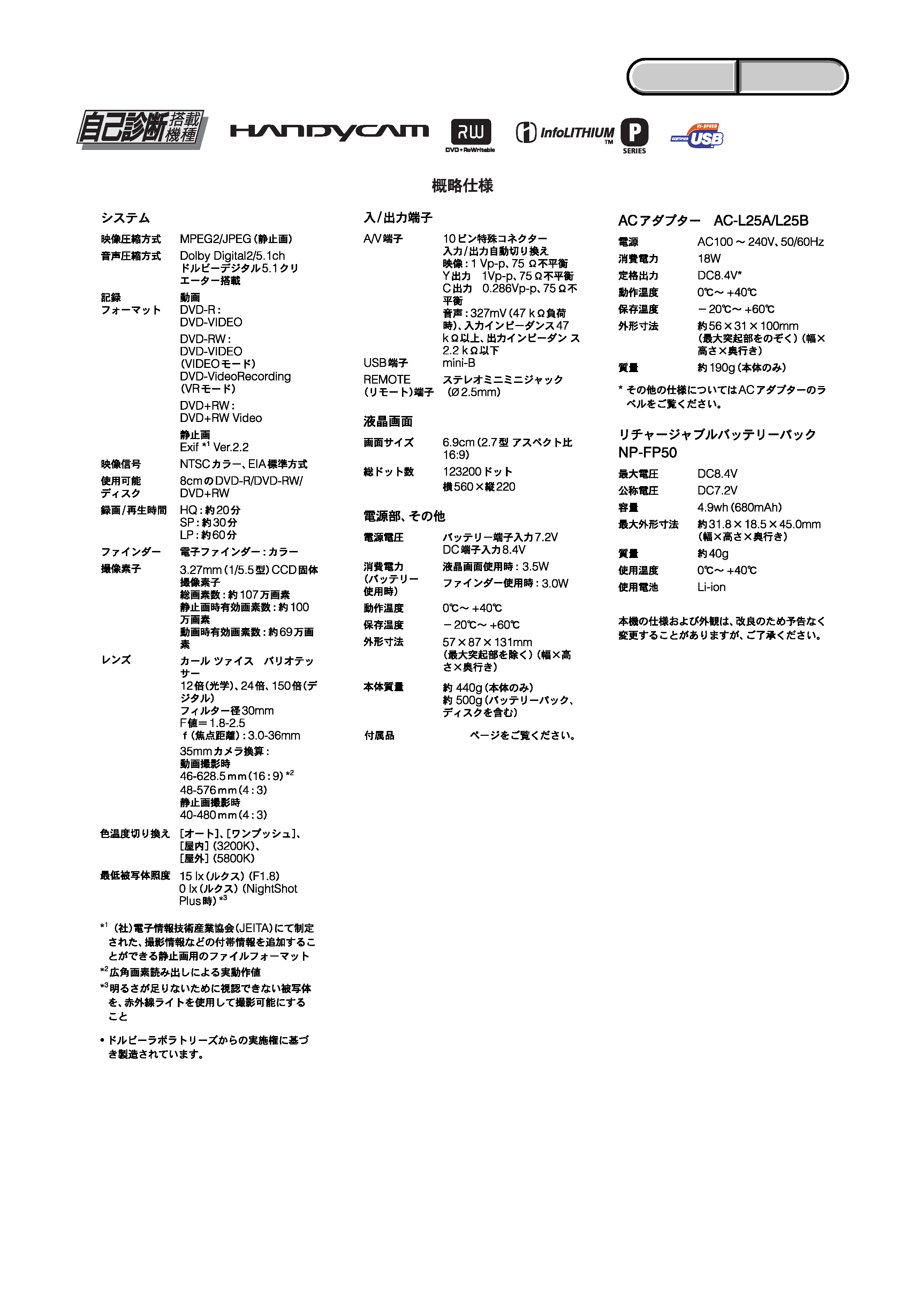 DCR-DVD202E/DVD203/DVD203E/DVD703/DVD703E
---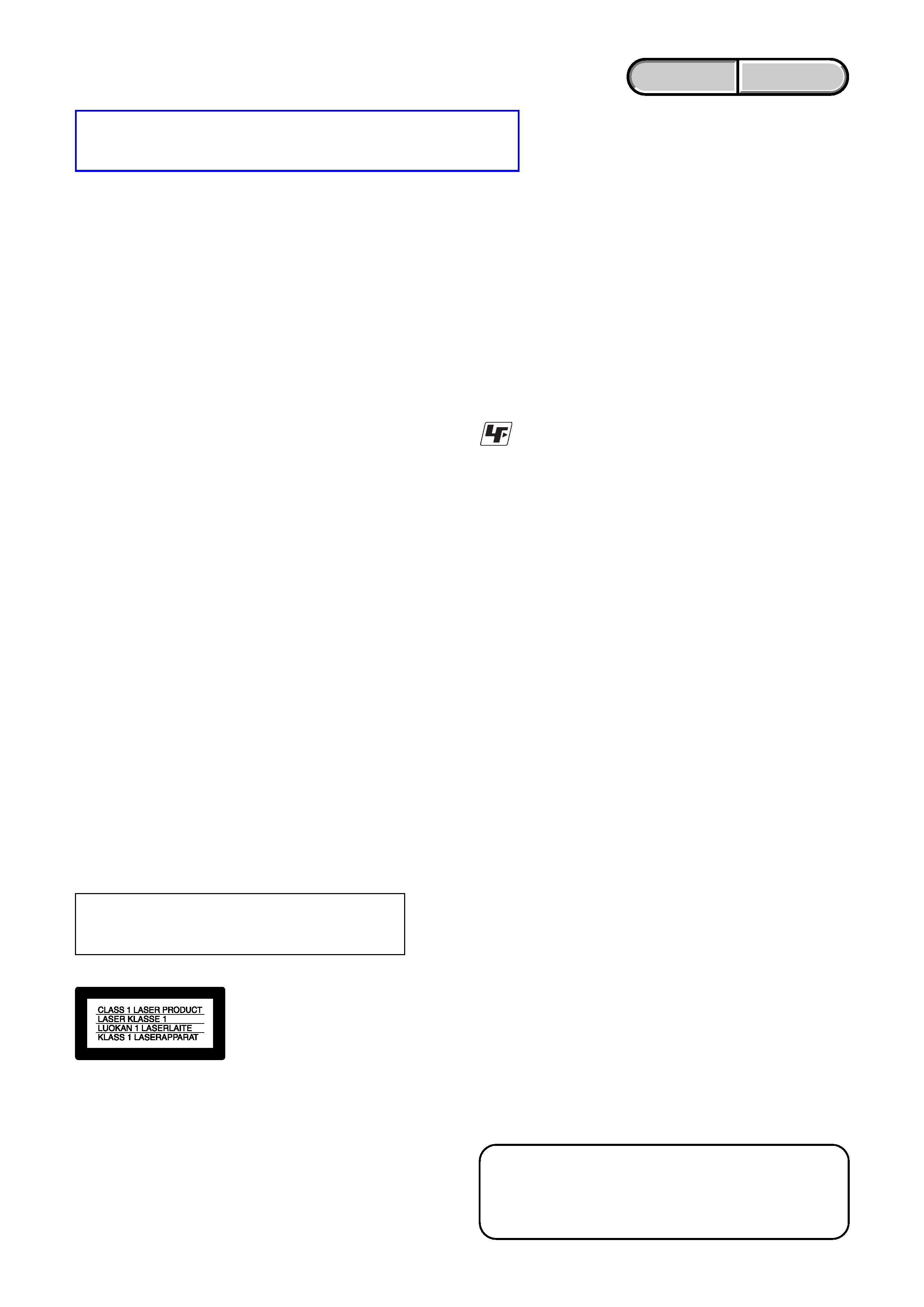 DCR-DVD202E/DVD203/DVD203E/DVD703/DVD703E
Check the area of your repair for unsoldered or poorly-soldered
connections. Check the entire board surface for solder splashes
Check the interboard wiring to ensure that no wires are
"pinched" or contact high-wattage resistors.
Look for unauthorized replacement parts, particularly
transistors, that were installed during a previous repair. Point
them out to the customer and recommend their replacement.
Look for parts which, through functioning, show obvious signs
of deterioration. Point them out to the customer and
recommend their replacement.
Check the B+ voltage to see it is at the values specified.
Flexible Circuit Board Repairing
· Keep the temperature of the soldering iron around 270°C
· Do not touch the soldering iron on the same conductor of the
circuit board (within 3 times).
· Be careful not to apply force on the conductor when soldering
Boards requiring use of unleaded solder are printed with the lead-
free mark (LF) indicating the solder contains no lead.
(Caution: Some printed circuit boards may not come printed with
the lead free mark due to their particular size.)
Unleaded solder has the following characteristics.
· Unleaded solder melts at a temperature about 40
Ordinary soldering irons can be used but the iron tip has to be
applied to the solder joint for a slightly longer time.
Soldering irons using a temperature regulator should be set to
Caution: The printed pattern (copper foil) may peel away if the
heated tip is applied for too long, so be careful!
Unleaded solder is more viscous (sticky, less prone to flow) than
ordinary solder so use caution not to let solder bridges occur such
· Usable with ordinary solder
It is best to use only unleaded solder but unleaded solder may
also be added to ordinary solder.
After correcting the original service problem, perform the following
safety checks before releasing the set to the customer.
SAFETY-RELATED COMPONENT WARNING!!
COMPONENTS IDENTIFIED BY MARK 0 OR DOTTED LINE WITH
MARK 0 ON THE SCHEMATIC DIAGRAMS AND IN THE PARTS
LIST ARE CRITICAL TO SAFE OPERATION. REPLACE THESE
COMPONENTS WITH SONY PARTS WHOSE PART NUMBERS
APPEAR AS SHOWN IN THIS MANUAL OR IN SUPPLEMENTS
ATTENTION AU COMPOSANT AYANT RAPPORT
LES COMPOSANTS IDENTIFÉS PAR UNE MARQUE 0 SUR LES
DIAGRAMMES SCHÉMATIQUES ET LA LISTE DES PIÈCES SONT
CRITIQUES POUR LA SÉCURITÉ DE FONCTIONNEMENT. NE
REMPLACER CES COMPOSANTS QUE PAR DES PIÈSES SONY
DONT LES NUMÉROS SONT DONNÉS DANS CE MANUEL OU
DANS LES SUPPÉMENTS PUBLIÉS PAR SONY.
Danger of explosion if battery is incorrectly replaced.
Replace only with the same or equivalent type.
There are two types of the MD board of this model.
One is the MD-114 board and the other is the MD-120 board.
Method of identifying the two different MD boards is shown on page 6.
Use of controls or adjustments or performance
procedures other than those specified herein may
result in hazardous radiation exposure.
WHEN SERVICING, DO NOT APPROACH THE LASER
EXIT WITH THE EYE TOO CLOSELY. IN CASE IT IS
NECESSARY TO CONFIRM LASER BEAM EMISSION,
BE SURE TO OBSERVE FROM A DISTANCE OF MORE
OBJECTIVE LENS ON THE OPTICAL PICK-UP BLOCK.
The use of optical instrument with this product will increase eye
---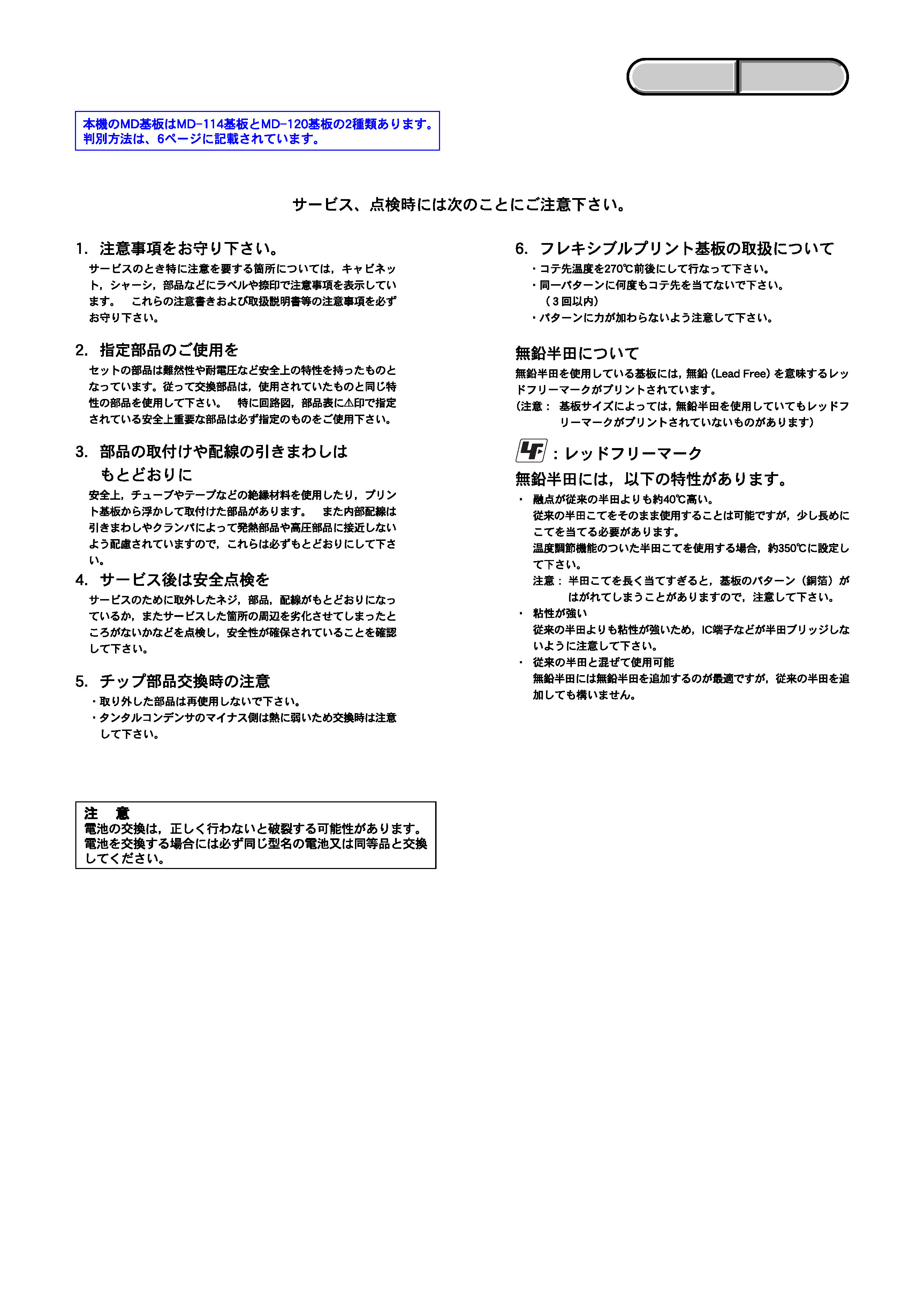 DCR-DVD202E/DVD203/DVD203E/DVD703/DVD703E
---