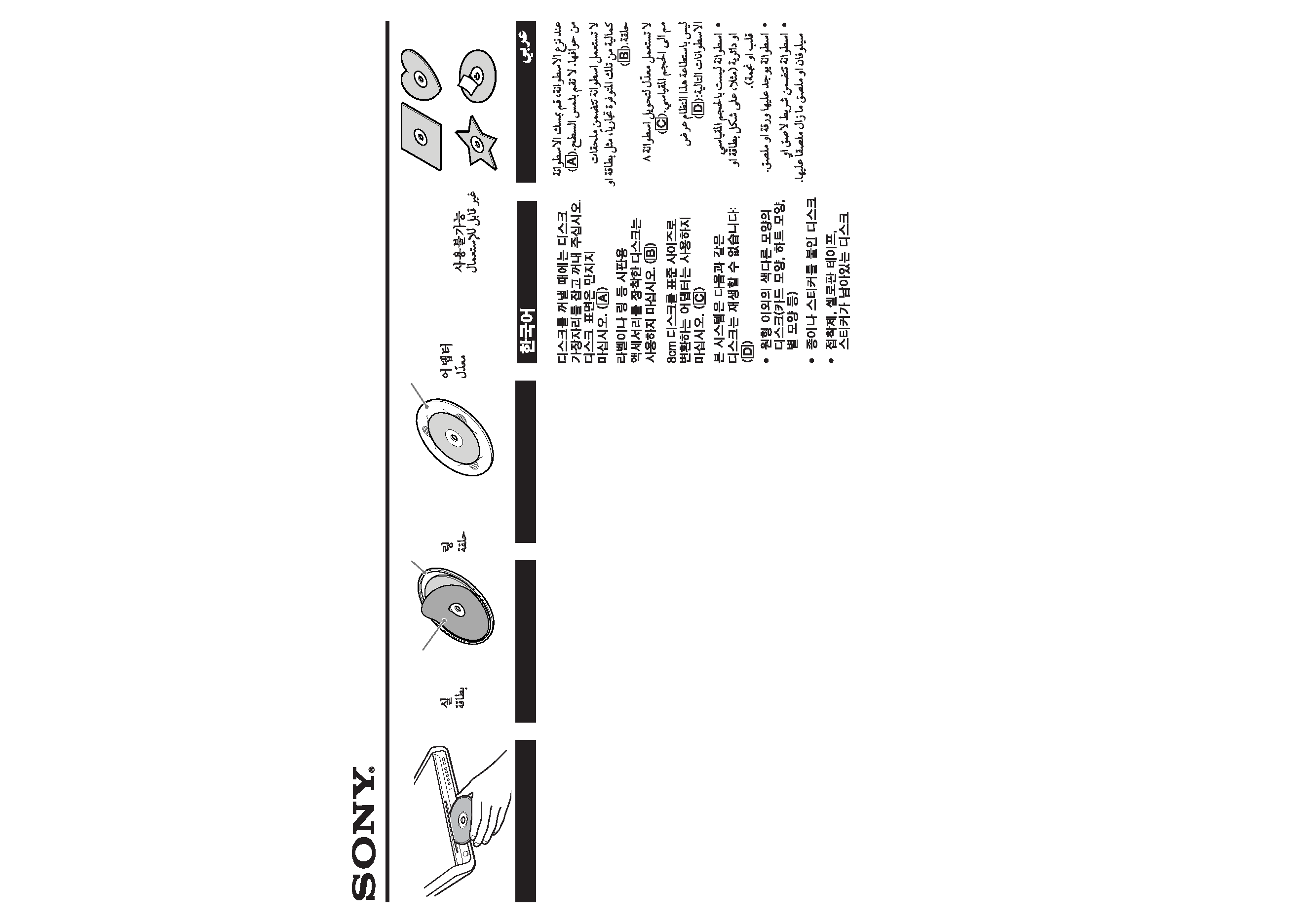 Sony Corporation ©2004 Printed in Korea
handle the disc by its edge. Do
not touch the surface. (
A
)
Do not use a disc that has a
accessory attached, such as a
This system cannot play the
·A disc that is neither standard
nor circular (e.g., card, heart,
·A disc with paper or stickers
·A disc that has the adhesive,
cellophane tape, or a sticker
Lorsque vous retirez le disque,
tenez le disque par le bord. Ne
touchez pas la surface du
accompagné d'un accessoire
disponible dans le commerce,
comme une étiquette ou un
N'utilisez pas d'adaptateur
pour convertir un disque de
8 cm au format standard. (
C
)
Le système n'est pas en mesure
de lire les disques suivants: (
D
)
·les disques qui ne sont pas
circulaire (par exemple, en
forme de carte, de coeur ou
·les disques comportant du
papier ou des autocollants.
·les disques sur lesquels il
reste des traces de bande
adhésive ou d'autocollant.
Cuando extraiga el disco,
sujételo por los bordes. No
No utilice un disco que tenga
fijado un accesorio disponible
ejemplo, una etiqueta o un
No utilice un adaptador para
convertir un disco de 8 cm al
El sistema no puede reproducir
los siguientes discos: (
D
)
·Discos de forma no circular o
estándar (p. ej., con forma de
tarjeta, corazón o estrella)
·Discos con papel o adhesivos.
·Discos que aún tengan el
adhesivo, cinta de celofán o
---