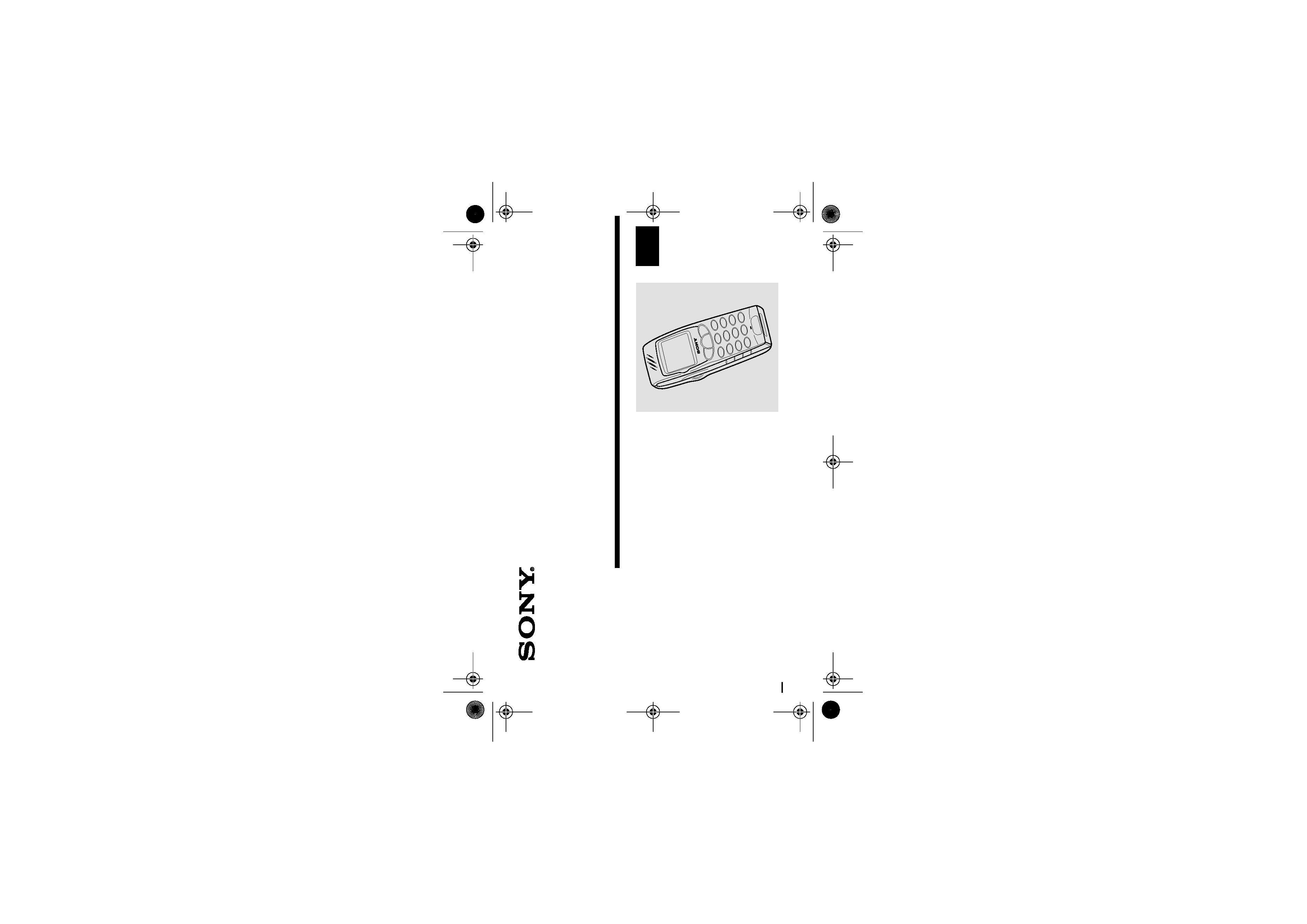 © 2001 Sony Ericsson Mobile Communications AB
The instructions in this manual are for the
two models CMD-J7, CMD-J70. The
CMD-J7 is the model used for illustration
Otherwise, the model name is indicated in
the illustrations. Any differences in
operation are clearly indicated in the text,
for example "CMD-J7 only".
01GB01COV-AE4.book Page 1 Tuesday, October 16, 2001 11:59 AM
--- For easy reference, please record the
following identification numbers for your
phone and SIM Card. This information will
assist you in customer inquiries to your retail
dealer, manufacturer or Network Operator/
Service Provider. In case of loss or theft of
your phone and/or SIM Card, call your
Network Operator/Service Provider
immediately to prevent misuse.
(Instruction purpose only.)
___________________________________
Operator Customer Service Number:
___________________________________
(Printed on your SIM Card)
___________________________________
My Phone's ID Number (IMEI):
(Printed on the label underneath the battery pack)
___________________________________
Contact your Network Operator/
Service Provider for details
01GB01COV-AE4.book Page 2 Tuesday, October 16, 2001 11:59 AM
--- · Do not use your phone in an aircraft,
hospitals, petrol stations, or in places where
mobile phones are prohibited.
· Note that in some countries using a cellular
phone without a hands-free kit while
· Do not expose your phone to extreme
conditions such as high humidity/rain, high
temperatures, direct sunlight, caustic/harsh
· Do not allow children to play with your
· Take special care in the disposal of your
battery, using a special facility where
available. Do not puncture, burn, or short
· Limit the distance between the mains
socket and the phone when charging for
· Consult your physician or the manufacturer
of personal medical devices (pacemakers,
hearing aids. etc.) regarding any restrictions
on the use of a mobile telephone.
· Use only Sony Ericsson Mobile
Communications AB-approved CMD-J7/
J70 batteries and accessories with your
· Do not touch the External Antenna
Connector. Use always Sony Ericsson
Mobile Communications AB original
· Do not put your mobile phone in a
microwave oven; this may cause damage
either to the oven or the phone.
01GB01COV-AE4.book Page 3 Tuesday, October 16, 2001 11:59 AM
--- · Unauthorised batteries, chargers, and
accessories will invalidate any approvals
and warranty given for your phone and may
· For use in the car, please connect your
GSM mobile phone to an external antenna.
The external antenna can be connected to
your mobile phone via the appropriate
accessory, e.g. Hands-free Kit. Please
contact your car manufacturer concerning
the appropriate position of the external
This carton's top layer is made from 85% recycled paper, fluting and inner layer are made
from 100% recycled paper.
Power consumption of AC adapter in no-load mode:
Halogenated flame retardant not used in cabinets.
Halogenated flame retardant not used in printed wiring boards.
Lead free solder is used for soldering in certain portions.
01GB01COV-AE4.book Page 4 Tuesday, October 16, 2001 11:59 AM
--- Welcome to Sony CMD-J7/J70 . . . . . 7
What's Included in Your Kit . . . . . . . . . . . . . . . . 7
Attaching the Hand Strap . . . . . . . . . . . . . . . . . . . 7
Quick Reference . . . . . . . . . . . . . . . . . . . . . . . . . . 8
Basic Features of Your Phone . . . . . . . . . . . . . . . 8
The Jog Dial . . . . . . . . . . . . . . . . . . . . . . . . . . . 8
The Centre Key . . . . . . . . . . . . . . . . . . . . . . . . . 9
Loudspeaker . . . . . . . . . . . . . . . . . . . . . . . . . . . 9
The Voicemail Key . . . . . . . . . . . . . . . . . . . . . . 9
Manner Mode . . . . . . . . . . . . . . . . . . . . . . . . . . 9
Keypad Lock . . . . . . . . . . . . . . . . . . . . . . . . . 10
Icon Glossary . . . . . . . . . . . . . . . . . . . . . . . . . 10
Menu Overview . . . . . . . . . . . . . . . . . . . . . . . . 11
Getting Started. . . . . . . . . . . . . . . . 12
Inserting the Battery Pack . . . . . . . . . . . . . . . . . 12
Inserting the SIM Card . . . . . . . . . . . . . . . . . . . . 12
Charging the Battery Pack . . . . . . . . . . . . . . . . . 13
Switching on Your Phone . . . . . . . . . . . . . . . . . . 15
Connecting to the Network . . . . . . . . . . . . . . . . . 15
Basic Operation . . . . . . . . . . . . . . . 17
Making Calls (Saving Phonebook Entries) . . . . 17
Answering/Ending Calls . . . . . . . . . . . . . . . . . . 18
During a call . . . . . . . . . . . . . . . . . . . . . . . . . . . . 19
Entering Text . . . . . . . . . . . . . . . . . 21
Standard Text Entry . . . . . . . . . . . . . . . . . . . . . . 21
T9 Text Entry . . . . . . . . . . . . . . . . . . . . . . . . . . . 22
Phonebook . . . . . . . . . . . . . . . . . . . 23
Phonebook Organisation . . . . . . . . . . . . . . . . . . 23
Saving Phonebook Entries from Standby Mode 23
Making Calls from the Phonebook . . . . . . . . . . 23
Phonebook Menu . . . . . . . . . . . . . . . . . . . . . . . . 24
Voicemail . . . . . . . . . . . . . . . . . . . . . . . . . . . . . . 26
Search . . . . . . . . . . . . . . . . . . . . . . . . . . . . . . . . . 26
Editing the Phonebook . . . . . . . . . . . . . . . . . . . . 26
01GB01COV-AE4.book Page 5 Tuesday, October 16, 2001 11:59 AM
---