 ©1999 by Sony Corporation
---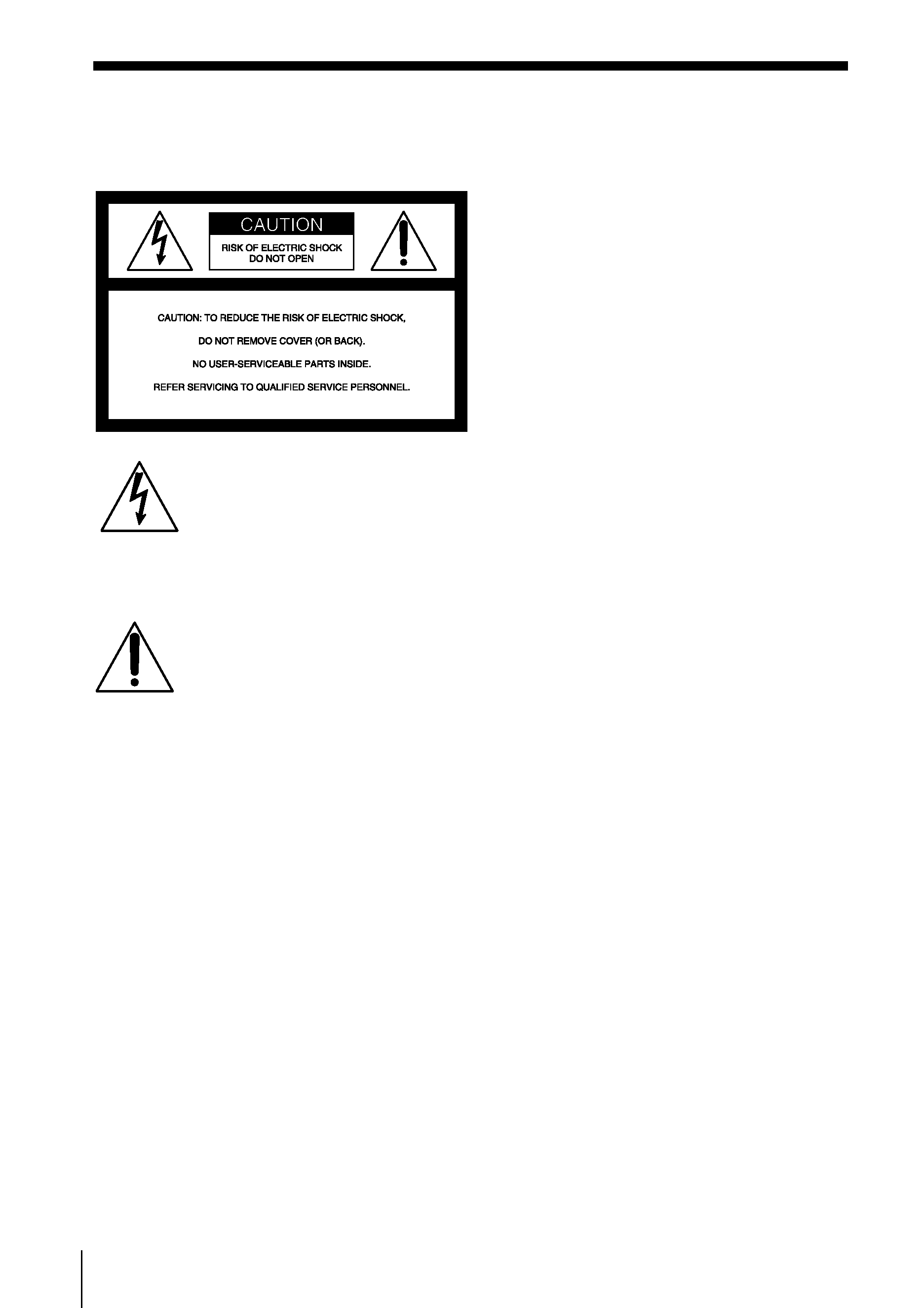 To prevent fire or shock hazard, do
not expose the player to rain or
This symbol is intended to alert
the user to the presence of
uninsulated "dangerous voltage"
within the product's enclosure
that may be of sufficient
magnitude to constitute a risk of
electric shock to persons.
This symbol is intended to alert
the user to the presence of
instructions in the literature
accompanying the appliance.
The use of optical instruments with this
product will increase eye hazard.
Do not install the appliance in a confined
space, such as a bookcase or built-in cabinet.
To prevent electric shock, match wide blade
of plug to wide slot, fully insert.
For customers in the United States
This equipment has been tested and found to
comply with the limits for a Class B digital
device, pursuant to Part 15 of the FCC Rules.
These limits are designed to provide
reasonable protection against harmful
interference in a residential installation. This
equipment generates, uses and can radiate
radio frequency energy and, if not installed
and used in accordance with the instructions,
may cause harmful interference to radio
communications. However, there is no
guarantee that interference will not occur in a
particular installation. If this equipment does
cause harmful interference to radio or
television reception, which can be determined
by turning the equipment off and on, the user
is encouraged to try to correct the
interference by one or more of the following
--Reorient or relocate the receiving antenna.
--Increase the separation between the
--Connect the equipment into an outlet on a
circuit different from that to which the
--Consult the dealer or an experienced
radio/TV technician for help.
You are cautioned that any changes or
modifications not expressly approved in this
manual could void your authority to operate
The model number is located at the rear of
the CD radio cassette-corder and the serial
number is located in the battery
Record these numbers in the spaces provided
below. Refer to these numbers whenever you
call upon your Sony dealer regarding this
Model No. _______________________
Serial No. ________________________
The instructions in this manual are for
the CFD-ZW700, CFD-ZW705, CFD-
ZW750 and CFD-ZW770. Before you
start reading, check your model number.
The CFD-ZW770 is the model used for
---

Locating a specific point in a
Playing tracks repeatedly
Playing tracks in random order
Creating your own program
Enjoying sound effects (LOOP/
Presetting radio stations
Playing preset radio stations
Selecting the audio emphasis
---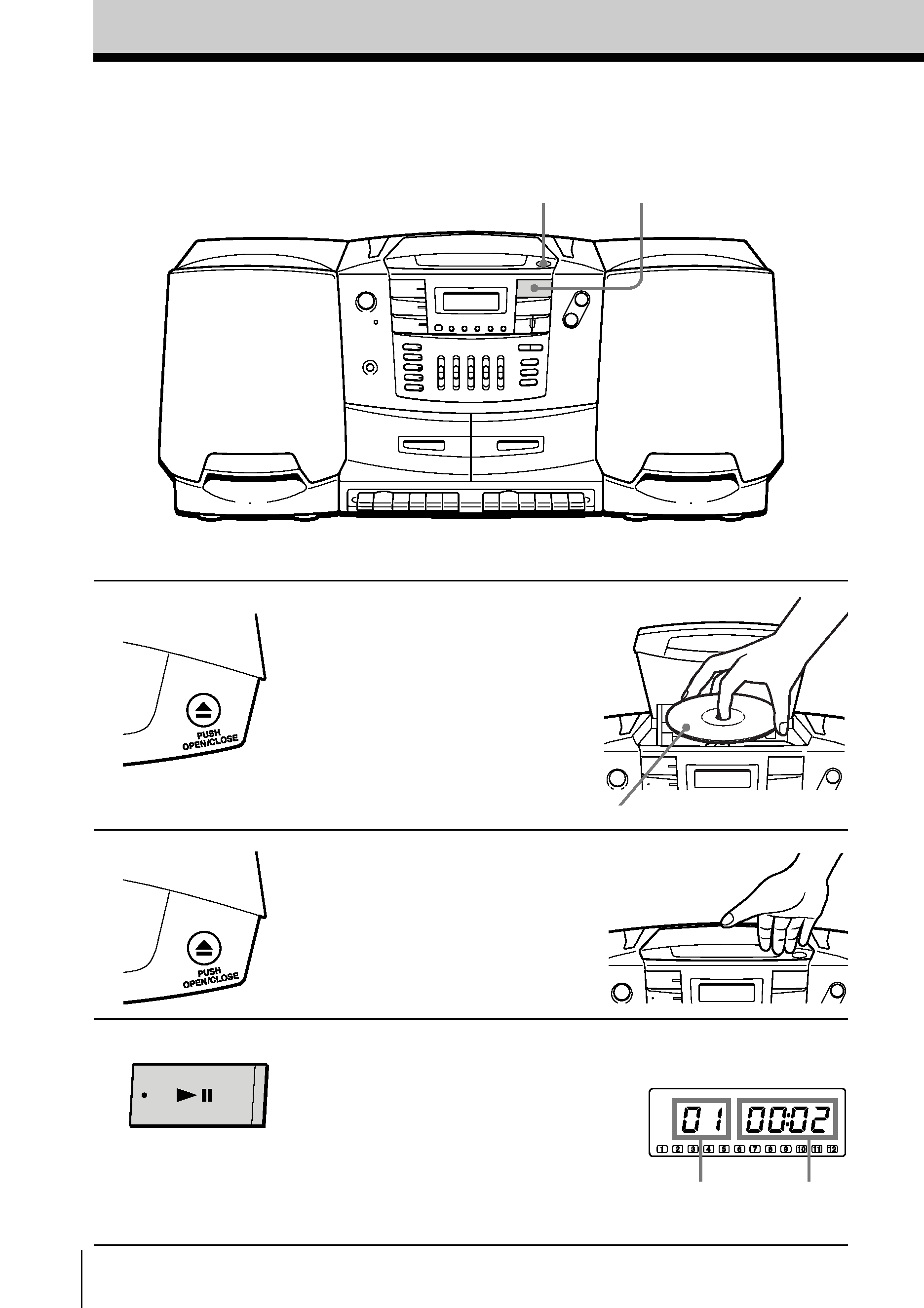 Track number Playing time
For hookup instructions, see pages 25 ­ 27.
compartment and place the CD
The player turns on (direct
power-on) and plays all the tracks
---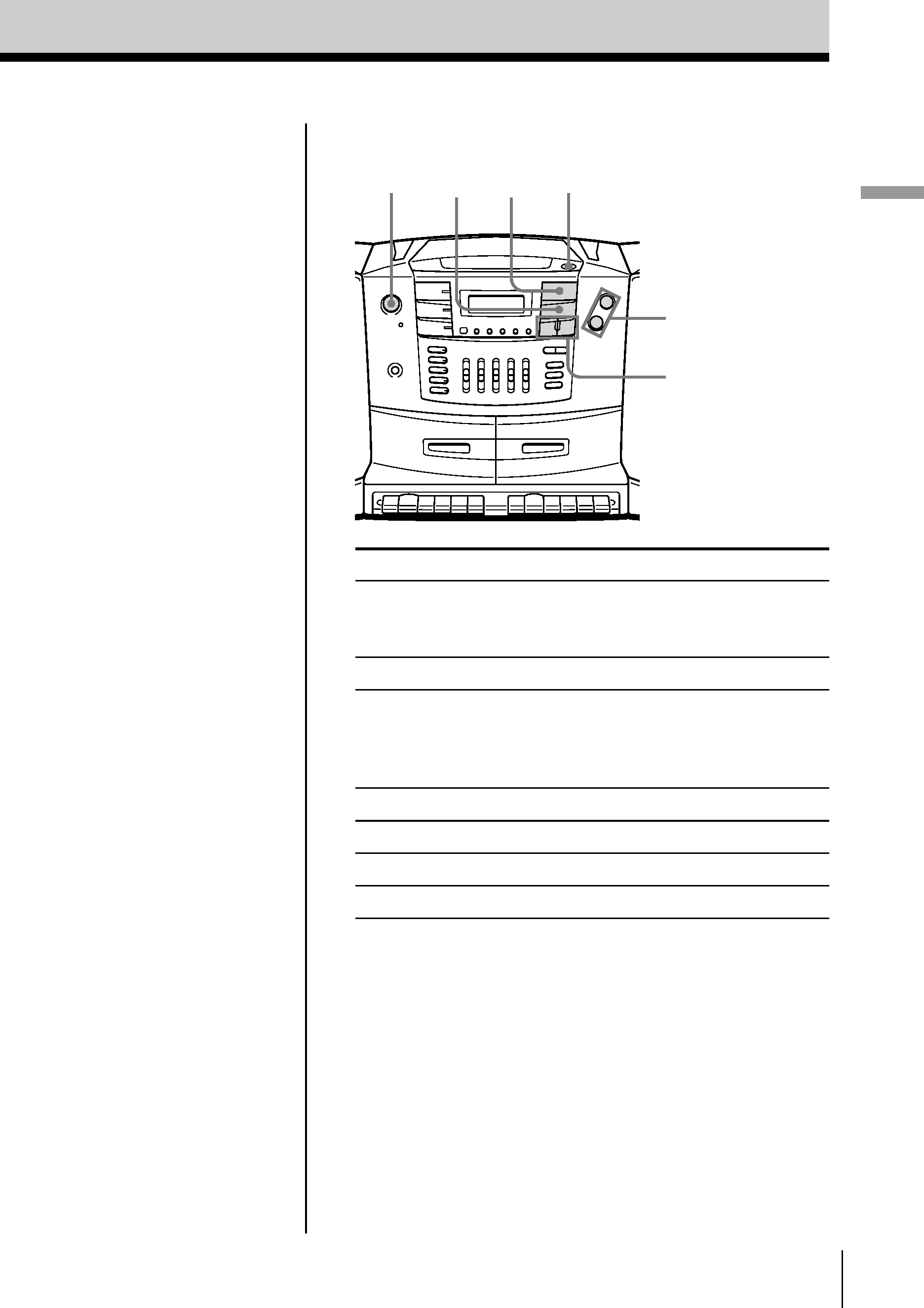 Use these buttons for additional operations
listen to a CD, just press
Press the button again to
go back to the previous track
---