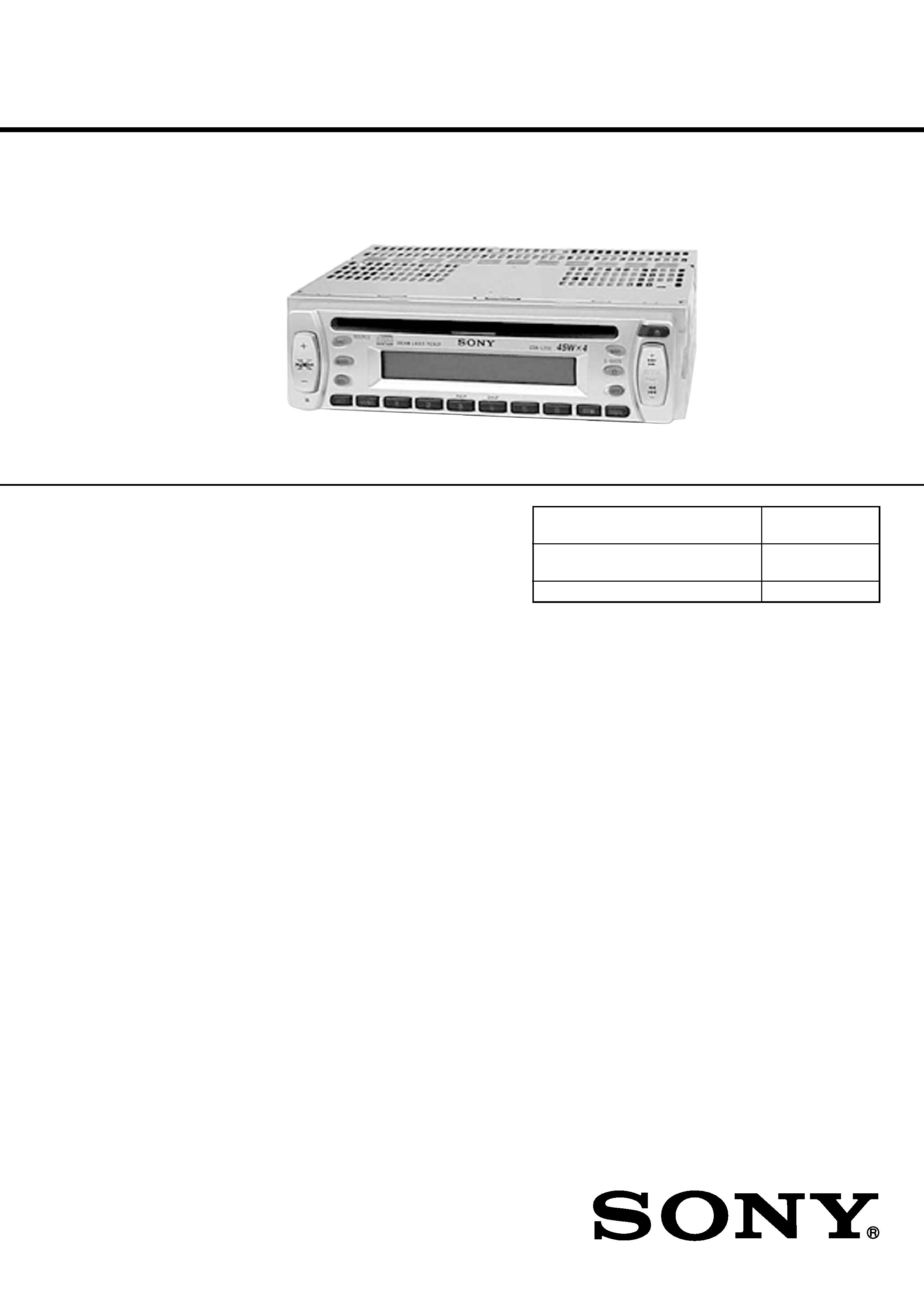 Model Name Using Similar Mechanism
FM/AM COMPACT DISC PLAYER
· The CD sections have no adjustments.
AUDIO POWER SPECIFICATIONS (US Model)
POWER OUTPUT AND TOTAL HARMONIC DISTORTION
22 watts per channel minimum continuous average power into
4 ohms, 4 channels driven from 20 Hz to 20 kHz with no more
than 5% total harmonic distortion.
Laser Diode Properties (CDX-L300)
* This output is the value measured at a distance
of 200 mm from the objective lens surface on the
External antenna connector
Intermediate frequency 10.7 MHz
Harmonic distortion at 1 kHz
External antenna connector
Intermediate frequency 10.7 MHz/450 kHz
Maximum power output 45 W
­ Continued on next page ­
Published by Sony Engineering Corporation
---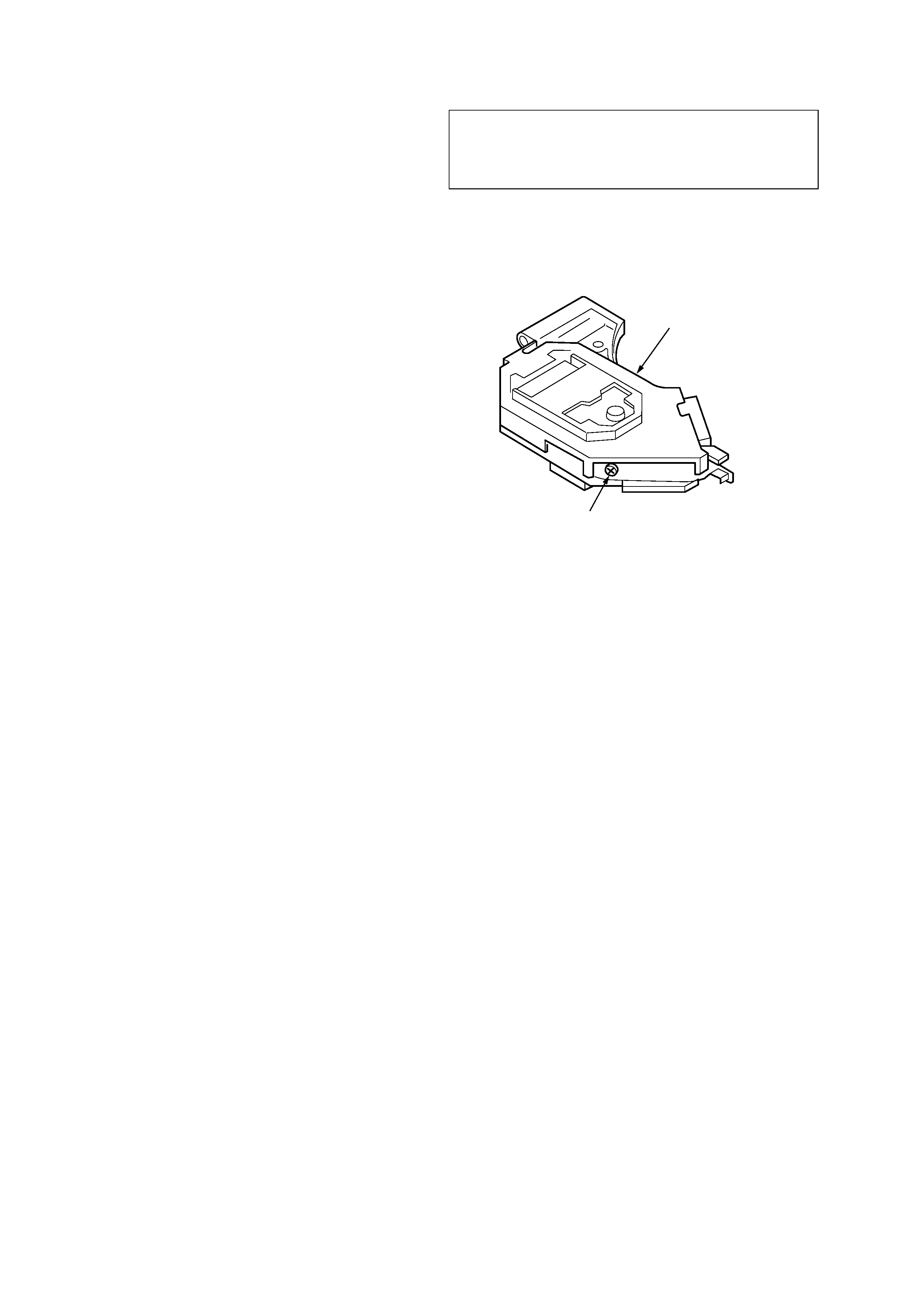 Power amplifier control lead
Power aerial relay control
Bass ±10 dB at 20 Hz (CDX-L300)
Treble ±10 dB at 20 kHz (CDX-L300)
Bass ±9 dB at 100 Hz (CDX-L460X)
Treble ±9 dB at 10 kHz (CDX-L460X)
Approx. 1.2 kg (2 lb. 10 oz.)
Parts for installation and
This unit cannot be connected to a digital
preamplifier or an equalizer.
Design and specifications are subject to change without
SAFETY-RELATED COMPONENT WARNING!!
COMPONENTS IDENTIFIED BY MARK 0 OR DOTTED LINE
WITH MARK 0 ON THE SCHEMATIC DIAGRAMS AND IN
THE PARTS LIST ARE CRITICAL TO SAFE OPERATION.
REPLACE THESE COMPONENTS WITH SONY PARTS WHOSE
PART NUMBERS APPEAR AS SHOWN IN THIS MANUAL OR
IN SUPPLEMENTS PUBLISHED BY SONY.
NOTES ON HANDLING THE OPTICAL PICK-UP BLOCK
The laser diode in the optical pick-up block may suffer electrostatic
breakdown because of the potential difference generated by the
charged electrostatic load, etc. on clothing and the human body.
During repair, pay attention to electrostatic breakdown and also use
the procedure in the printed matter which is included in the repair
The flexible board is easily damaged and should be handled with
NOTES ON LASER DIODE EMISSION CHECK
The laser beam on this model is concentrated so as to be focused on
the disc reflective surface by the objective lens in the optical pick-
up block. Therefore, when checking the laser diode emission, ob-
serve from more than 30 cm away from the objective lens.
Notes on Chip Component Replacement
· Never reuse a disconnected chip component.
· Notice that the minus side of a tantalum capacitor may be dam-
ATTENTION AU COMPOSANT AYANT RAPPORT
LES COMPOSANTS IDENTIFIÉS PAR UNE MARQUE 0 SUR LES
DIAGRAMMES SCHÉMATIQUES ET LA LISTE DES PIÈCES
SONT CRITIQUES POUR LA SÉCURITÉ DE FONCTIONNEMENT.
NE REMPLACER CES COMPOSANTS QUE PAR DES PIÈCES
SONY DONT LES NUMÉROS SONT DONNÉS DANS CE MANUEL
OU DANS LES SUPPLÉMENTS PUBLIÉS PAR SONY.
If the optical pick-up block is defective, please replace the whole
Never turn the semi-fixed resistor located at the side of optical
Use of controls or adjustments or performance of procedures
other than those specified herein may result in hazardous
This set can playback CD-R and CD-ROM discs. The following
test discs should be used to check the capability:
CD-R test disc TCD-R082LMT (Part No. J-2501-063-1)
CD-RW test disc TCD-W082L (Part No. J-2501-063-2)
---

Notes for Inspection of the Mechanism Deck
The CDX-L300 uses two types of mechanism decks.
Former type: MG-393X-121//K
New type: MG-393XA-121//K
The CDX-L460X only uses the MG-393XA-121//K.
When inspecting and/or serving, check the model No. printed on
MG-393X//K:MG-393X-121//K
MG-393XA//K:MG-393XA-121//K
---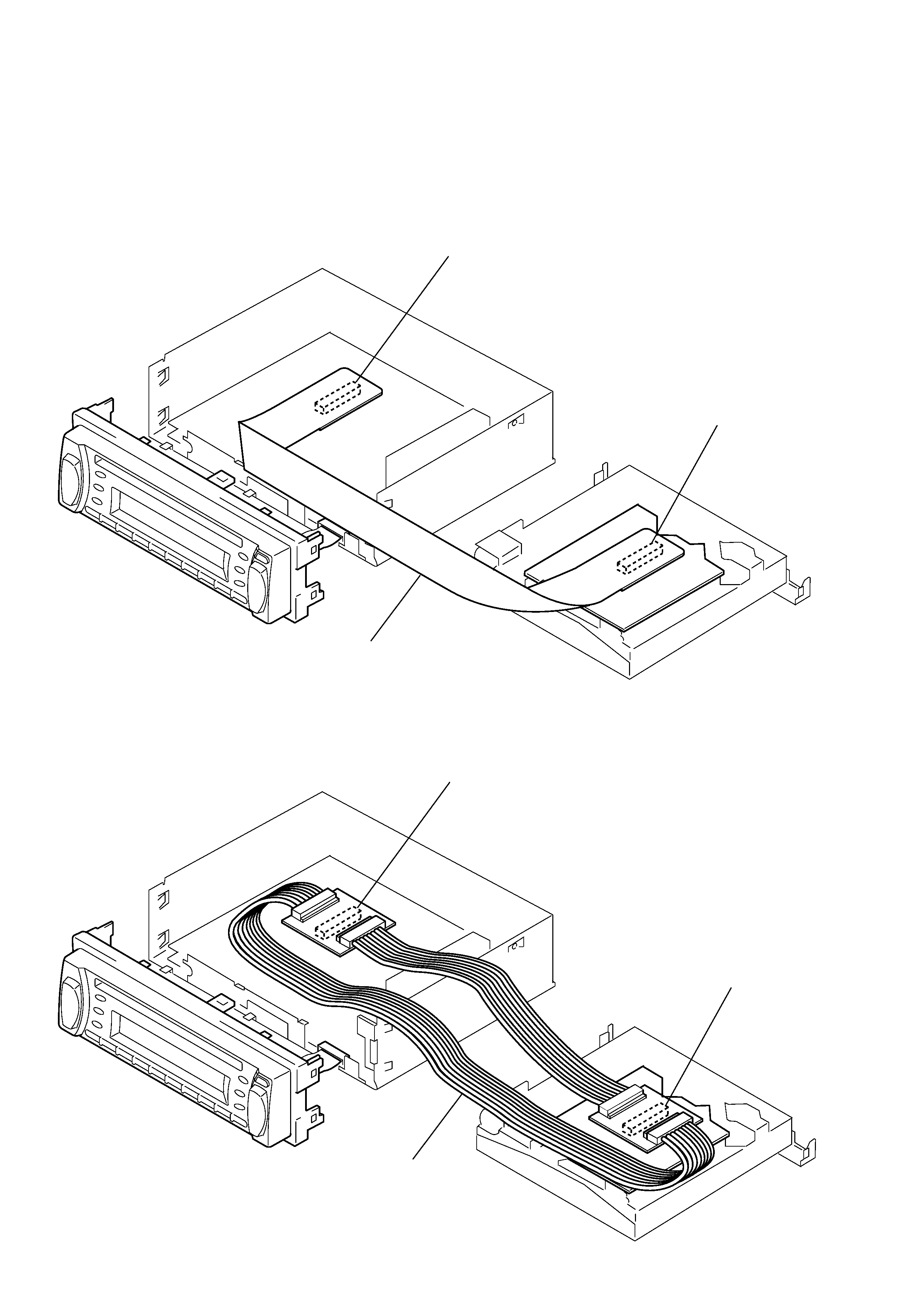 EXTENSION CABLE AND SERVICE POSITION
When repairing or servicing this set, connect the jig (extension cable)
· Connect the MAIN board (CNP701) and the SERVO board (CN1)
with the extension cable (Part No. J-2502-011-1).
· Connect the MAIN board (CNP701) and the SERVO board (CN1)
with the extension cable (Part No. J-2502-062-1).
---

Location of controls (L300) .................................................... 6
Location of controls (L460X) .................................................. 6
Getting Started ......................................................................... 6
CD Player ................................................................................ 7
Radio ....................................................................................... 7
Other Functions ....................................................................... 8
Additional Information ............................................................ 8
Connections (L300) ................................................................. 9
Connections (L460X) ............................................................ 11
2-1. Front Panel Assy ............................................................... 13
2-2. CD Mechanism Block ....................................................... 14
2-3. Main Board ....................................................................... 14
2-4. Heat Sink ........................................................................... 15
2-5. Chassis (T) Sub Assy ........................................................ 15
2-6. Lever Section ..................................................................... 16
2-7. Servo Board ....................................................................... 16
2-8. Shaft Roller Assy .............................................................. 17
2-9. Floating Block Assy .......................................................... 17
2-10. Optical Pick-up Block ....................................................... 18
3-1. IC Pin Description ............................................................. 19
3-2. Block Diagram ­CD Section­ ........................................... 21
3-3. Block Diagram ­Tuner Section­ ....................................... 22
3-4. Block Diagram ­Display Section­ .................................... 23
3-5. Circuit Boards Location .................................................... 24
­CD Mechanism Section (MG-393X-121//K)­ ................ 25
3-7. Printed Wiring Boards
­CD Mechanism Section (MG-393X-121//K)­ ................ 26
3-8. Printed Wiring Boards
­CD Mechanism Section (MG-393XA-121//K)­ ............. 28
­CD Mechanism Section (MG-393XA-121//K)­ ............. 30
3-10. Printed Wiring Board ­Main Section­ .............................. 31
3-11. Schematic Diagram ­Main Section (1/2)­ ........................ 32
3-12. Schematic Diagram ­Main Section (2/2)­ ........................ 33
3-13. Printed Wiring Board ­Display Section­ .......................... 34
3-14. Schematic Diagram ­Display Section­ ............................. 35
4-1. Chassis Section ................................................................. 38
4-2. Front Panel Section ........................................................... 39
4-3. CD Mechanism Section (1) (MG-393X-121//K) .............. 40
4-4. CD Mechanism Section (2) (MG-393X-121//K) .............. 41
4-5. CD Mechanism Section (3) (MG-393X-121//K) .............. 42
4-6. CD Mechanism Section (1) (MG-393XA-121//K) ........... 43
4-7. CD Mechanism Section (2) (MG-393XA-121//K) ........... 44
4-8. CD Mechanism Section (3) (MG-393XA-121//K) ........... 45
5. ELECTRICAL PARTS LIST
........................................ 46
---