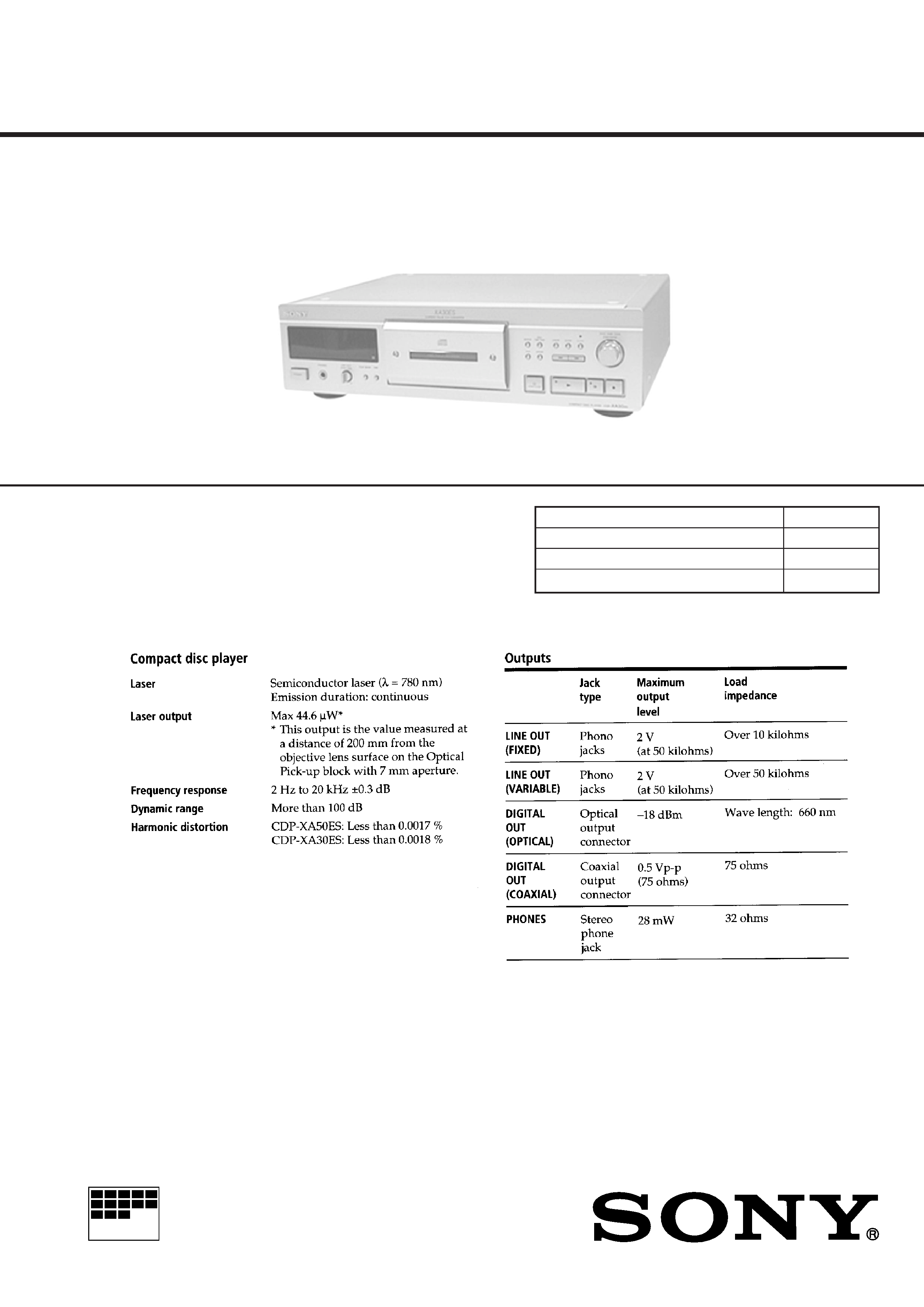 ­ Continued on next page ­
Model Name Using Similar Mechanism
---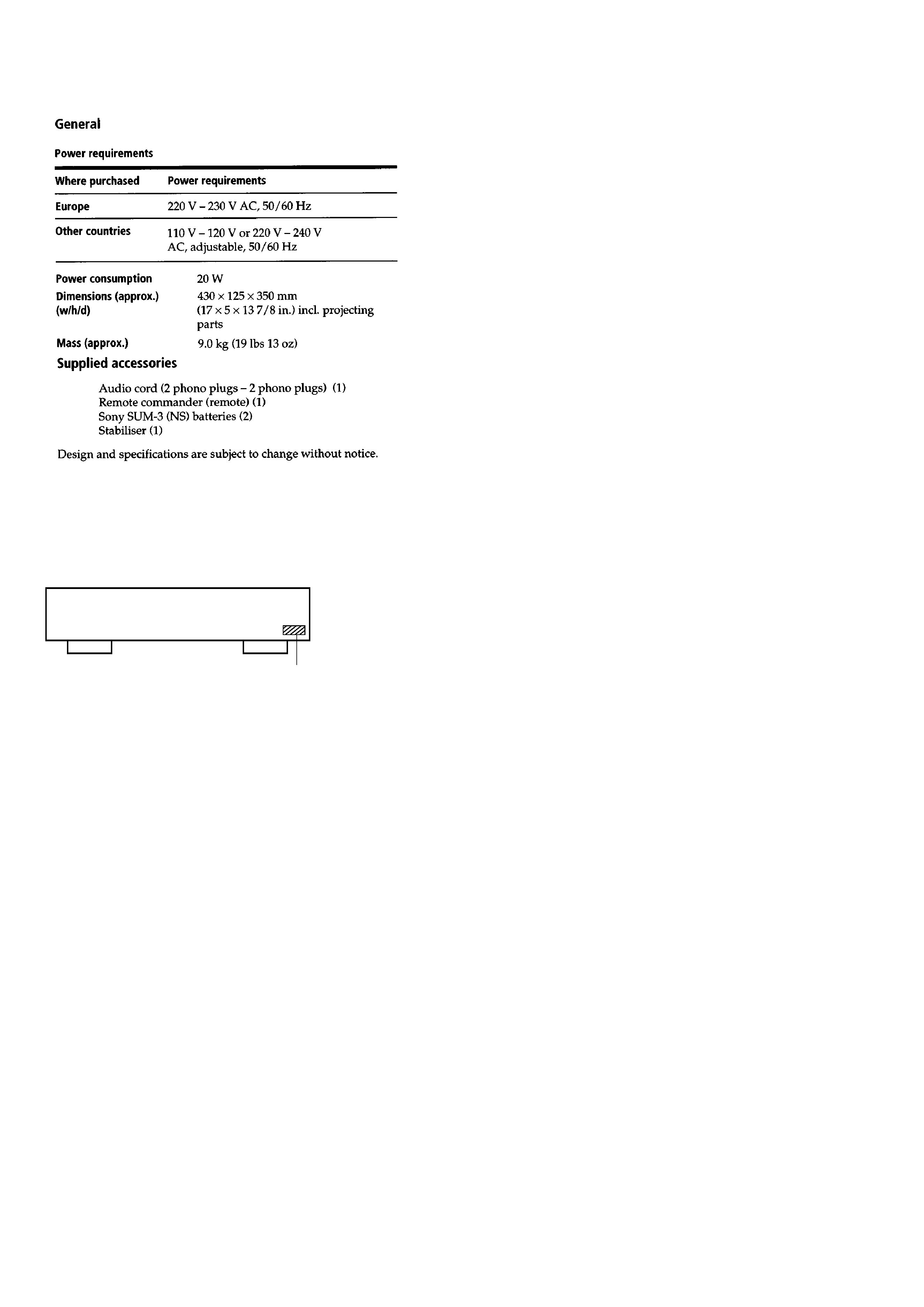 How to Open the Disc Tray When Power Switch
Turns Off .......................................................................... 3
Preparation for Adjustment and Measurement ................ 3
GENERAL
................................................................... 4
DISASSEMBLY
.......................................................... 15
AF Mode .......................................................................... 19
ADJ Mode ....................................................................... 20
ELECTRICAL ADJUSTMENTS
.......................... 21
IC PIN FUNCTION DISCRIPTION ............................... 23
Block Diagram ................................................................. 35
Printed Wiring Boards ­BD Section ­ ............................. 38
Schematic Diagram -- BD Section -- ............................ 41
Schematic Diagram -- MAIN Section -- ....................... 46
Printed Wiring Boards -- MAIN Section -- ................... 51
Schematic Diagram -- PANEL Section -- ..................... 55
Printed Wiring Boards -- PANEL Section -- ................. 59
EXPLODED VIEWS
................................................. 61
ELECTRICAL PARTS LIST
.................................. 66
SAFETY-RELATED COMPONENT WARNING!!
COMPONENTS IDENTIFIED BY MARK
! ON THE SCHEMATIC DIAGRAMS
AND IN THE PARTS LIST ARE CRITICAL TO SAFE
OPERATION. REPLACE THESE COMPONENTS WITH
SONY PARTS WHOSE PART NUMBERS APPEAR AS
SHOWN IN THIS MANUAL OR IN SUPPLEMENTS PUB-
---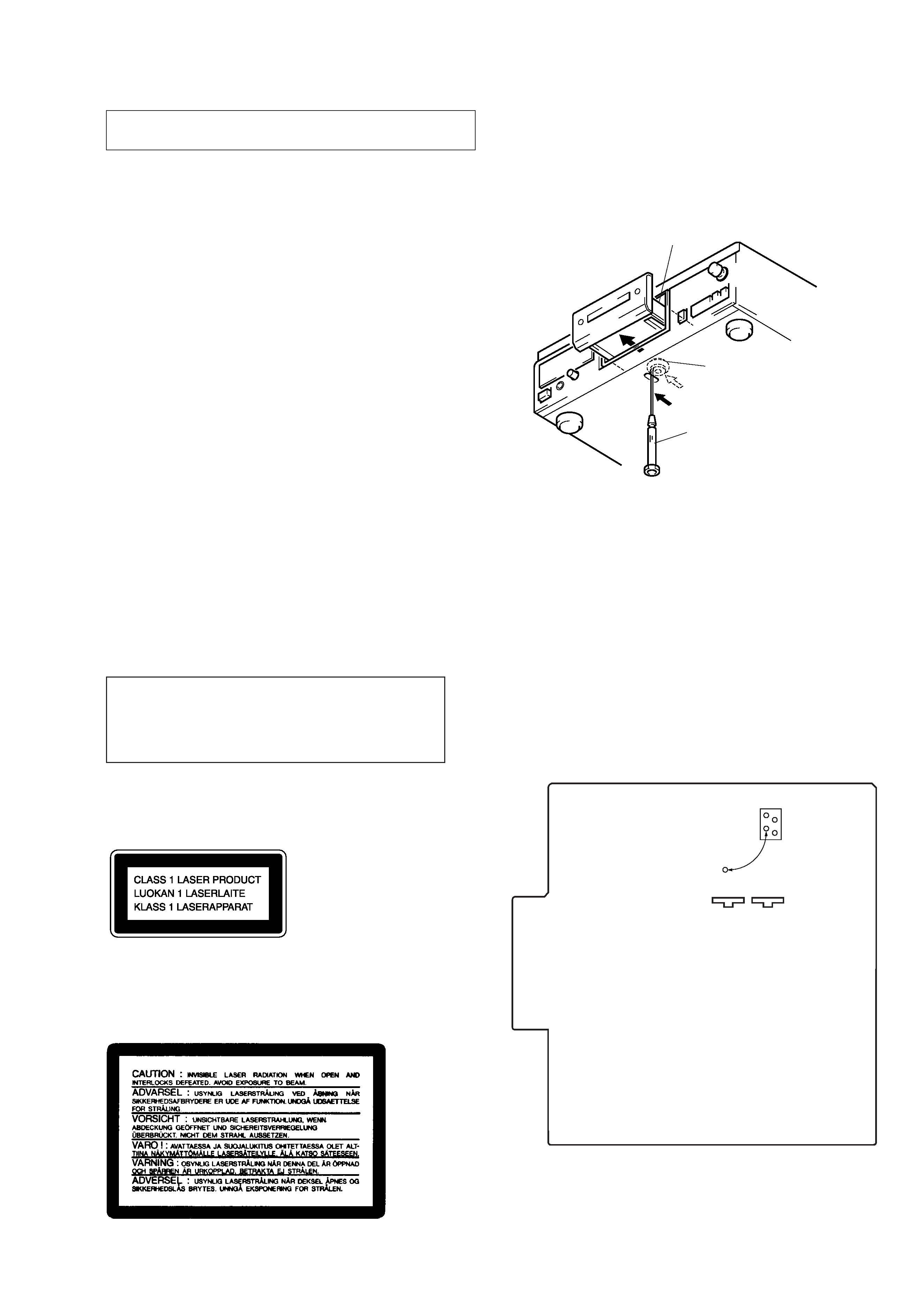 NOTES ON HANDLING THE OPTICAL PICK-UP
The laser diode in the optical pick-up block may suffer electro-
static break-down because of the potential difference generated
by the charged electrostatic load, etc. on clothing and the human
During repair, pay attention to electrostatic break-down and also
use the procedure in the printed matter which is included in the
The flexible board is easily damaged and should be handled with
NOTES ON LASER DIODE EMISSION CHECK
The laser beam on this model is concentrated so as to be focused
on the disc reflective surface by the objective lens in the optical
pick-up block. Therefore, when checking the laser diode emis-
sion, observe from more than 30 cm away from the objective lens.
Notes on chip component replacement
· Never reuse a disconnected chip component.
· Notice that the minus side of a tantalum capacitor may be dam-
Flexible Circuit Board Repairing
· Keep the temperature of the soldering iron around 270 °C dur-
· Do not touch the soldering iron on the same conductor of the
circuit board (within 3 times).
· Be careful not to apply force on the conductor when soldering
This appliance is classified as a CLASS 1 LASER product.
The CLASS 1 LASER PRODUCT MARKING is located on
Laser component in this product is capable of emitting radiation
exceeding the limit for Class 1.
The following caution label is located inside the unit.
Use of controls or adjustments or performance of
procedures other than those specified herein may
result in hazardous radiation exposure.
PREPARATION FOR ADJUSTMENT AND
Perform connecting the IC361 pin 2 of BD board to the line of
+5V because this unit does not work without the stabilizer struc-
HOW TO OPEN THE DISC TRAY WHEN
1 Insert a tapering driver into the aperture of the unit bottom,
and move the limiter (LEVER) to direction of the arrow A.
2 Pull the tray to direction fo the arrow B.
* To close the disc tray, move the driver in
the reverse direction (to IN direction).
---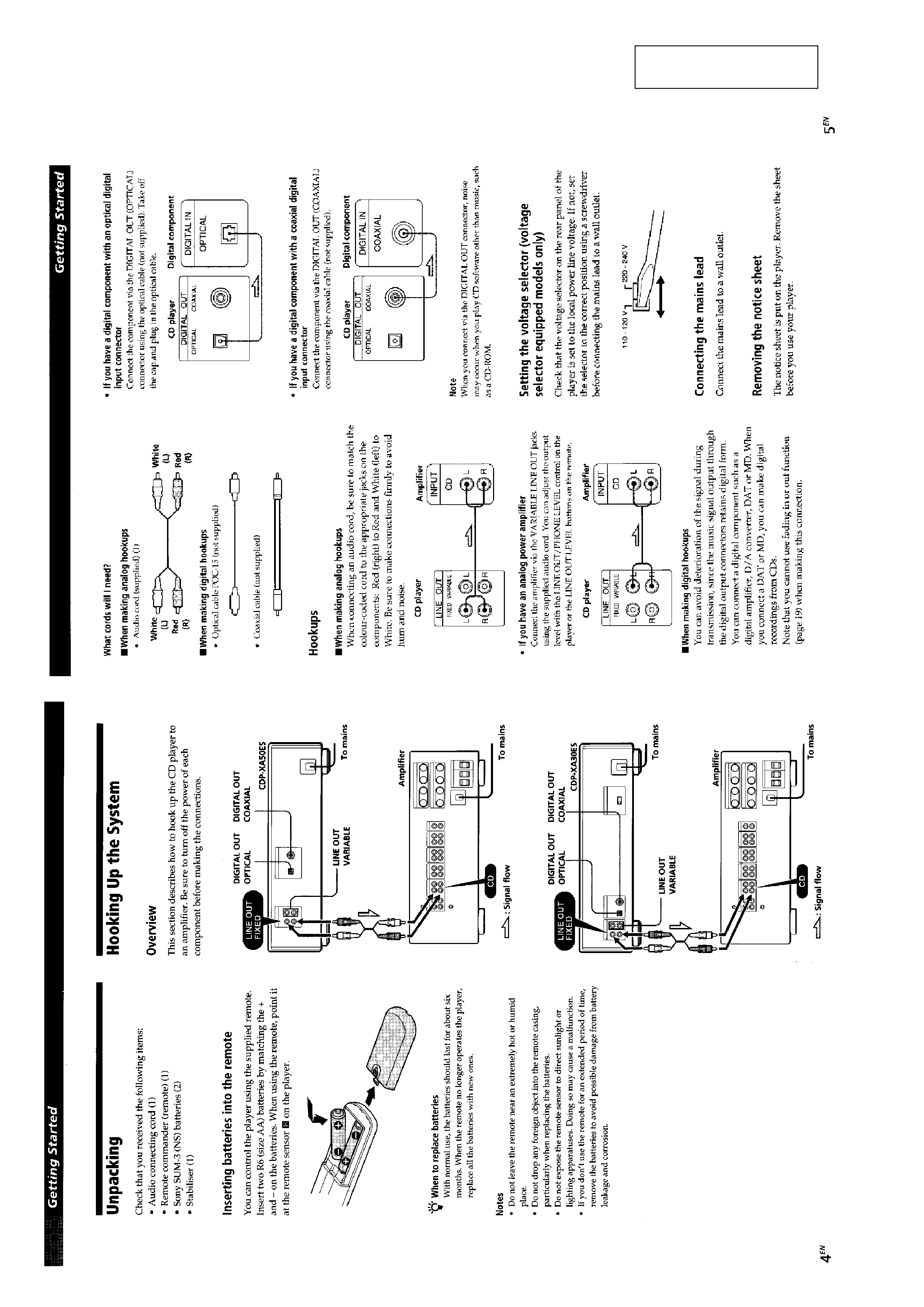 This section is extracted
---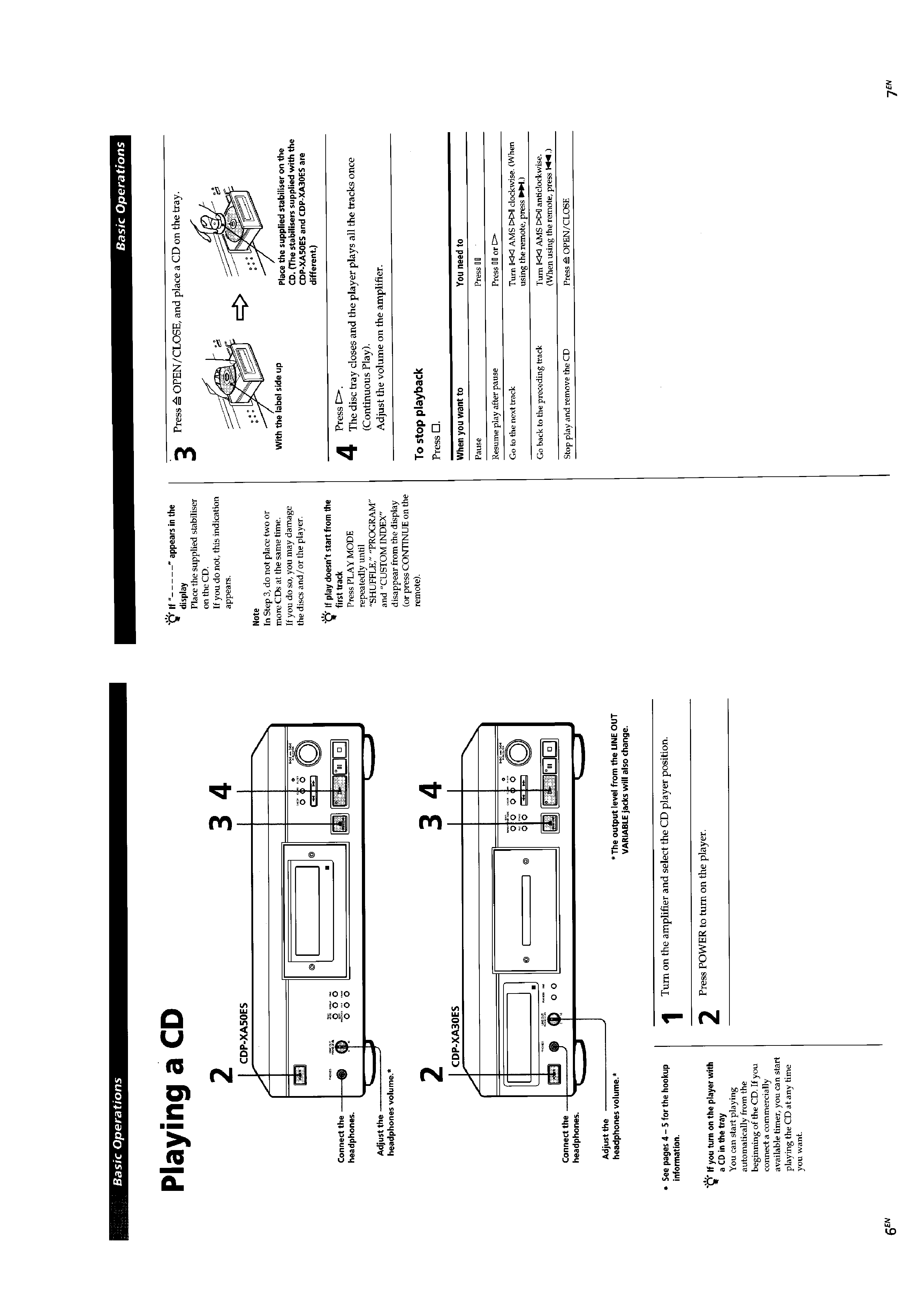 ---