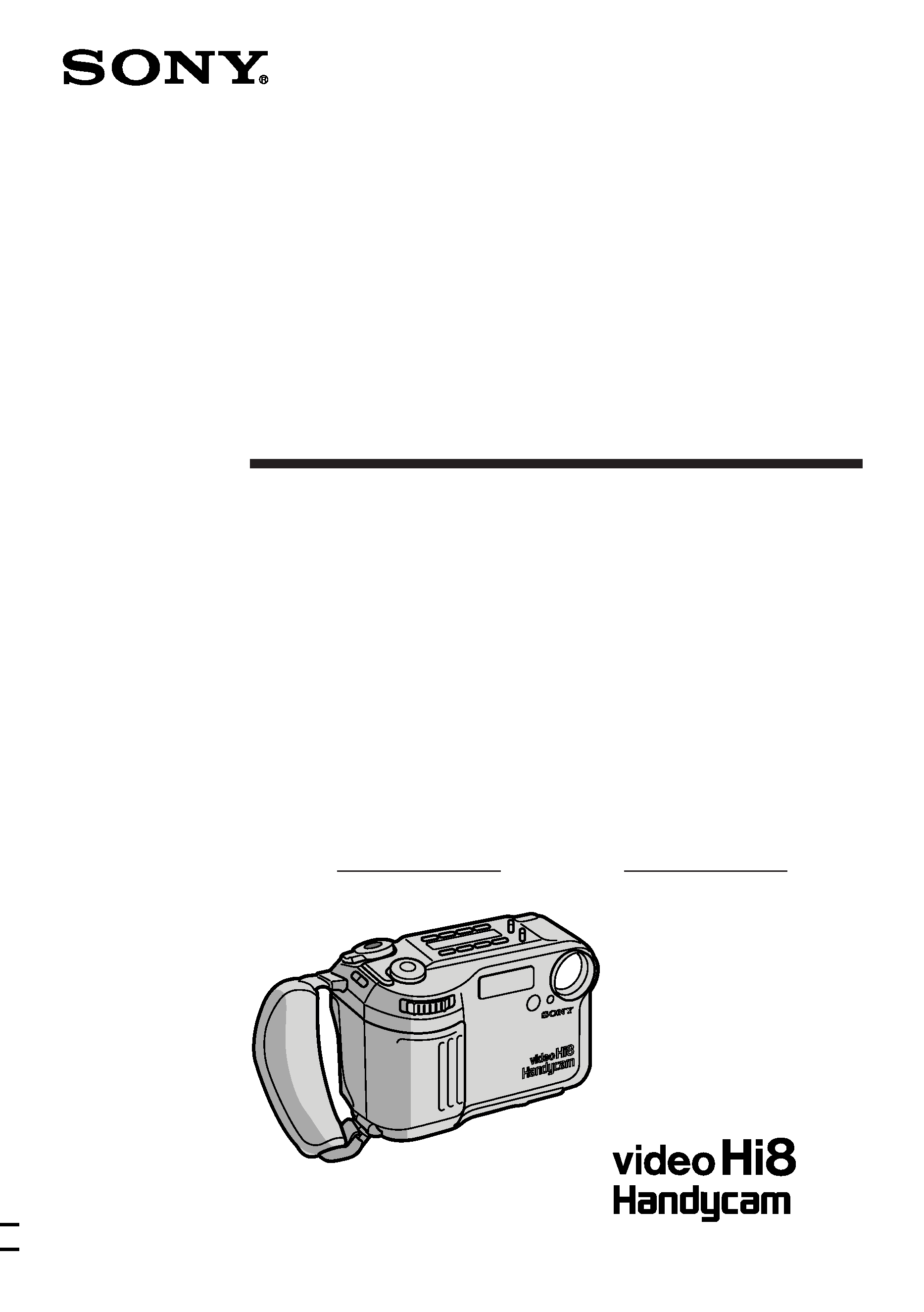 Before operating the unit, please read this manual thoroughly,
and retain it for future reference.
Antes de utilizar la unidad, lea este manual por completo y
consérvelo para consultar.
The model and serial numbers are located on the bottom. Record
the serial number in the space provided below. Refer to these
numbers whenever you call upon your Sony dealer regarding this
©1996 by Sony Corporation
---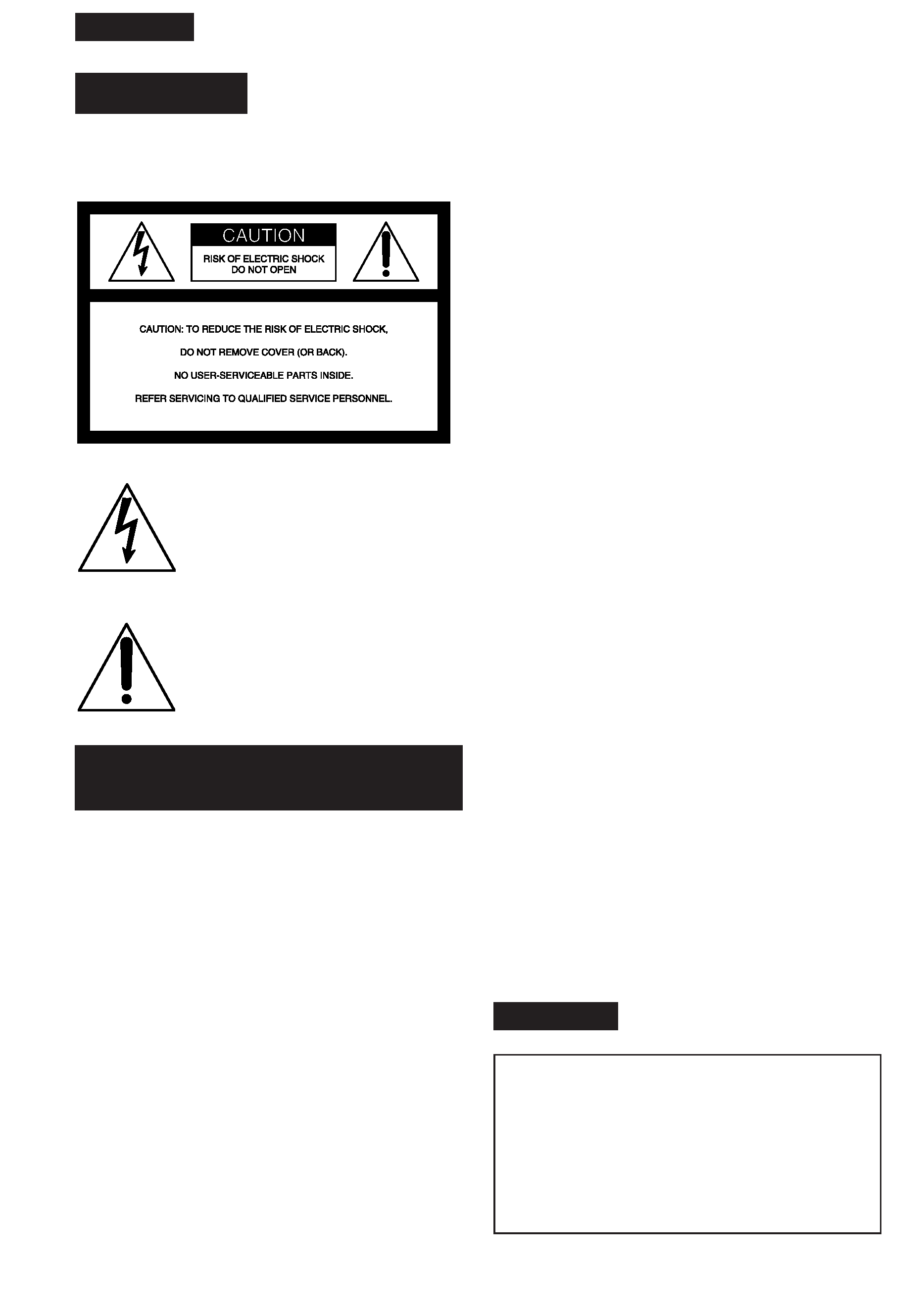 To prevent fire or shock hazard, do
not expose the unit to rain or
This symbol is intended to alert the
user to the presence of uninsulated
"dangerous voltage" within the
product's enclosure that may be of
sufficient magnitude to constitute
a risk of electric shock to persons.
This symbol is intended to alert the
user to the presence of important
operating and maintenance
(servicing) instructions in the
literature accompanying the
DISPOSAL OF LITHIUM ION BATTERY
AND VANADIUM-LITHIUM BATTERY.
LITHIUM ION BATTERY AND VANADIUM-
You can return your unwanted lithium ion batteries
and vanadium-lithium batteries to your nearest
Sony Service Center or Factory Service Center.
Note: In some areas the disposal of lithium ion
batteries and vanadium-lithium batteries in
household or business trash may be
For the Sony Service Center nearest you call 1-800-
222-SONY (United States only)
For the SONY Factory Service Center nearest you
call 416-499-SONY (Canada only)
Caution: Do not handle damaged or leaking lithium
ion batteries and vanadium-lithium batteries.
For the customers in the U.S.A.
This equipment has been tested and found to
comply with the limits for a Class B digital device,
pursuant to Part 15 of the FCC Rules. These limits
are designed to provide reasonable protection
against harmful interference in a residential
installation. This equipment generates, uses, and
can radiate radio frequency energy and, if not
installed and used in accordance with the
instructions, may cause harmful interference to
radio communications. However, there is no
guarantee that interference will not occur in a
particular installation. If this equipment does cause
harmful interference to radio or television reception,
which can be determined by turning the equipment
off and on, the user is encouraged to try to correct
the interference by one or more of the following
- Reorient or relocate the receiving antenna.
- Increase the separation between the equipment and
- Connect the equipment into an outlet on a circuit
different from that to which the receiver is connected.
- Consult the dealer or an experienced radio/TV
You are cautioned that any changes or modifications
not expressly approved in this manual could void
your authority to operate this equipment.
For the customers in CANADA
TO PREVENT ELECTRIC SHOCK, DO NOT USE
THIS POLARIZED AC PLUG WITH AN
EXTENSION CORD, RECEPTACLE OR OTHER
OUTLET UNLESS THE BLADES CAN BE FULLY
INSERTED TO PREVENT BLADE EXPOSURE.
Para evitar riesgos de incendio o descargas,
no exponga la unidad a la lluvia ni a la
Para evitar descargas eléctricas, no abra la
unidad y solicite asistencia técnica sólo a
---

Checking supplied accessories 6
Charging and installing the battery pack 7
Using the zoom feature 17
Hints for better shooting 19
Displaying the date or time when you
recorded ­ data code function 24
Searching for the end of the picture 26
Using alternative power sources 27
Using the house current 27
Changing the mode settings 30
Letting the subject monitor the shot 34
Recording with the date or time 36
Enjoying picture effect 39
Using the wide mode function 41
Shooting scenery in several short takes 43
Making your own original titles 47
Releasing the STEADYSHOT function 49
Using the PROGRAM AE function 51
Shooting with backlighting 53
Optimizing the tape condition before recording 54
--for playing back/editing--
Watching on a TV screen 55
Searching the boundaries of recorded date 56
Returning to a pre-registered position 58
Locating the marking position 59
Writing the RC time code on a recorded tape 64
Editing onto another tape 66
Recording from a VCR or TV 68
Charging the vanadium-lithium battery in the
Resetting the date and time 71
Usable cassettes and playback modes 73
Tips for using the battery pack 74
Maintenance information and precautions 78
Using your camcorder abroad 82
Comprobación de accesorios suministrados 6
Carga e instalación del paquete de baterías 7
Inserción de videocassettes 11
Grabación con la cámara 13
Uso de la función de zoom 17
Consejos para mejorar la videofilmación 19
Reproducción de cintas 21
Visualización de fecha u hora de grabación
­ función de código de datos 24
Búsqueda del final de la imagen 26
Uso de fuentes de alimentación alternativas 27
Uso de corriente doméstica 27
Cambio de los ajustes de modo 30
--para videofilmación con la cámara--
Control de videofilmación por el sujeto 34
Grabación con fecha u hora 36
Aparición y desaparición gradual 37
Uso del efecto de imagen 39
Uso de la función de modo panorámico 41
Videofilmación de escenarios en varias tomas cortas
Sobreimpresión de títulos 44
Creación de títulos originales 47
Desactivación de la función STEADYSHOT 49
Uso de la función PROGRAM AE 51
Videofilmación con iluminación a contraluz 53
Optimización de las condiciones de la cinta antes de
--para reproducción/edición--
Reproducción en pantallas de televisior 55
Búsqueda de los límites de la fecha de grabación 56
Localización de posiciones registradas de antemano
Localización de posiciones marcadas 59
Escritura del código de tiempos RC en cintas
Grabación desde una videograbadora o un televisor
Carga de la pila de vanadio-litio en la videocámara
Reajuste de fecha y hora 71
Videocassettes utilizables y modos de reproducción
Consejos para usar el paquete de baterías 74
Información y precauciones de mantenimiento 78
Uso de la videocámara en el extranjero 82
Comprobación de errores 87
Identificación de componentes 93
---

Congratulations on your purchase of this
Sony Handycam
®
camcorder. With your
Handycam you can capture life's precious
moments with superior picture and sound
Your Handycam is loaded with advanced
features, but at the same time it is very easy
to use. You will soon be producing home
video that you can enjoy for years to come.
As you read through this manual, buttons and
settings on the camcorder are shown in capital
e.g., Set the POWER switch to CAMERA.
in the illustrations, you can
hear the beep sound to confirm your operation.
TV color systems differ from country to country.
To view your recordings on a TV, you need a
Television programs, films, video tapes, and
other materials may becopyrighted.
Unauthorized recording of such materials may
be contrary to the provision of the copyright
Enhorabuena por haber adquirido esta
videocámara Sony Handycam
®
. Con ella
podrá captar los momentos más preciados de
su vida con una imagen superior y gran
Esta Handycam está provista de funciones
avanzadas, pero a la vez resulta muy fácil de
usar. Pronto podrá grabar sus vídeos
domésticos y disfrutarlos durante muchos
Al leer este manual observará que los botones y
ajustes de la videocámara se indican en
Por ejemplo, Ajuste el interruptor POWER en
cámara emitirá un pitido para confirmar la
Nota sobre sistemas de color de
Los sistemas de color de televisión difieren de un
país a otro. Para visualizar las grabaciones en un
televisor, éste debe basarse en el sistema NTSC.
Precauciones sobre los derechos
Los derechos de autor de programas de
televisión, películas, cintas de vídeo y otros
materiales pueden estar registrados. La
grabación no autorizada de dichos materiales
puede infringir las disposiciones de la legislación
---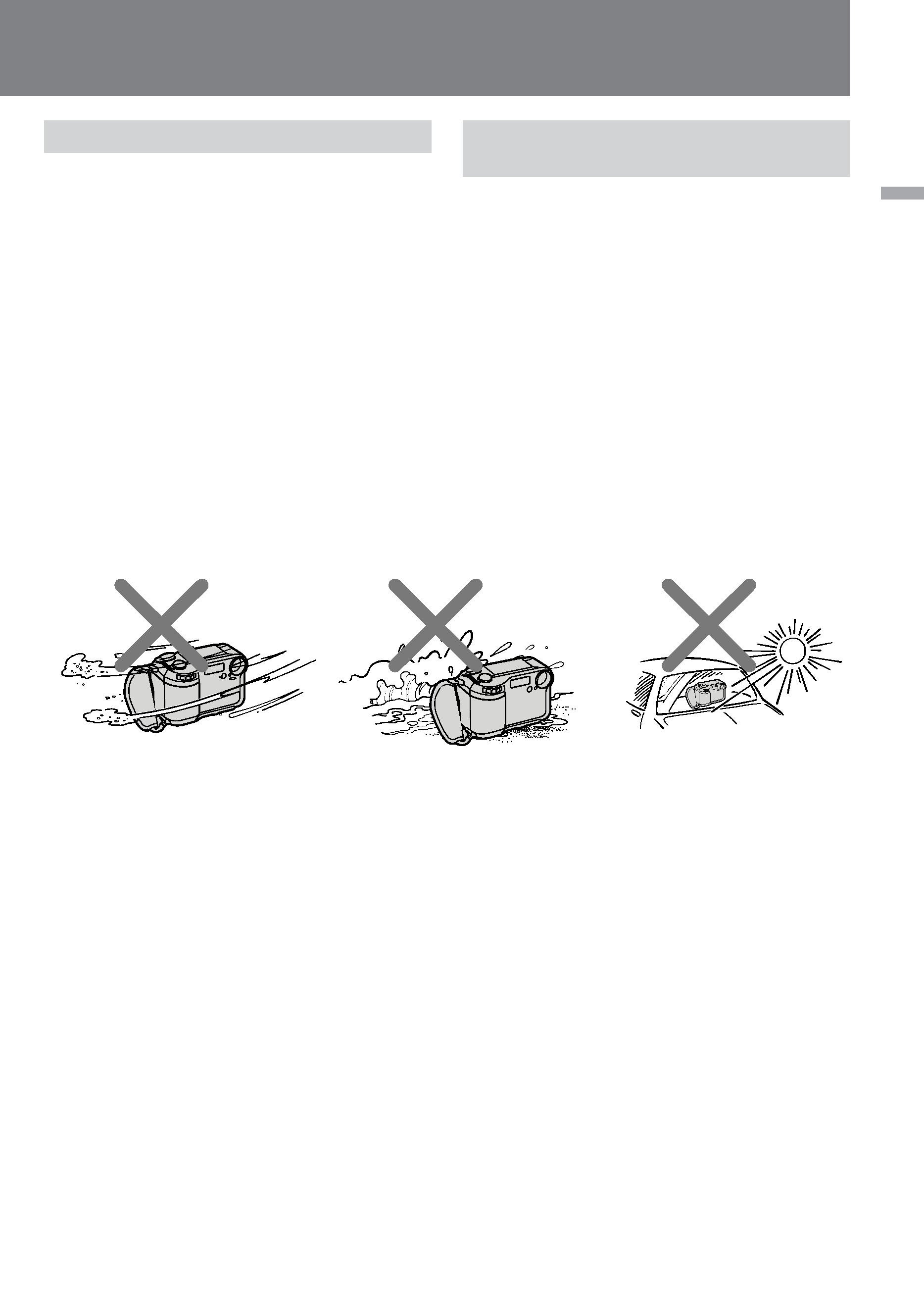 Precautions on camcorder care
· Do not let sand get into the camcorder.
When you use the camcorder on a sandy
beach or in a dusty place, protect it from the
sand or dust. Sand or dust may cause the
unit to malfunction, and sometimes this
malfunction cannot be repaired [a].
· Do not let the camcorder get wet. Keep the
camcorder away from rain and sea water.
Letting the camcorder get wet may cause
the unit to malfunction, and sometimes the
malfunction cannot be repaired [b].
· Never leave the camcorder exposed to
a car parked in the sun or under direct
Precauciones sobre el cuidado
· Impida que entre arena en la videocámara. Si
utiliza la videocámara en playas de arena o
en lugares polvorientos, protéjala de la
arena y el polvo. La arena y el polvo pueden
provocar anomalías en el funcionamiento de
la unidad que a veces no pueden repararse
· Impida que la videocámara se moje.
Manténgala alejada de la lluvia y el agua del
mar. El agua puede ocasionar anomalías en
el funcionamiento de la unidad que a veces
· No deje nunca la videocámara expuesta a
temperaturas superiores a 140
como en un automóvil aparcado al sol o bajo
la luz solar directa [c].
---