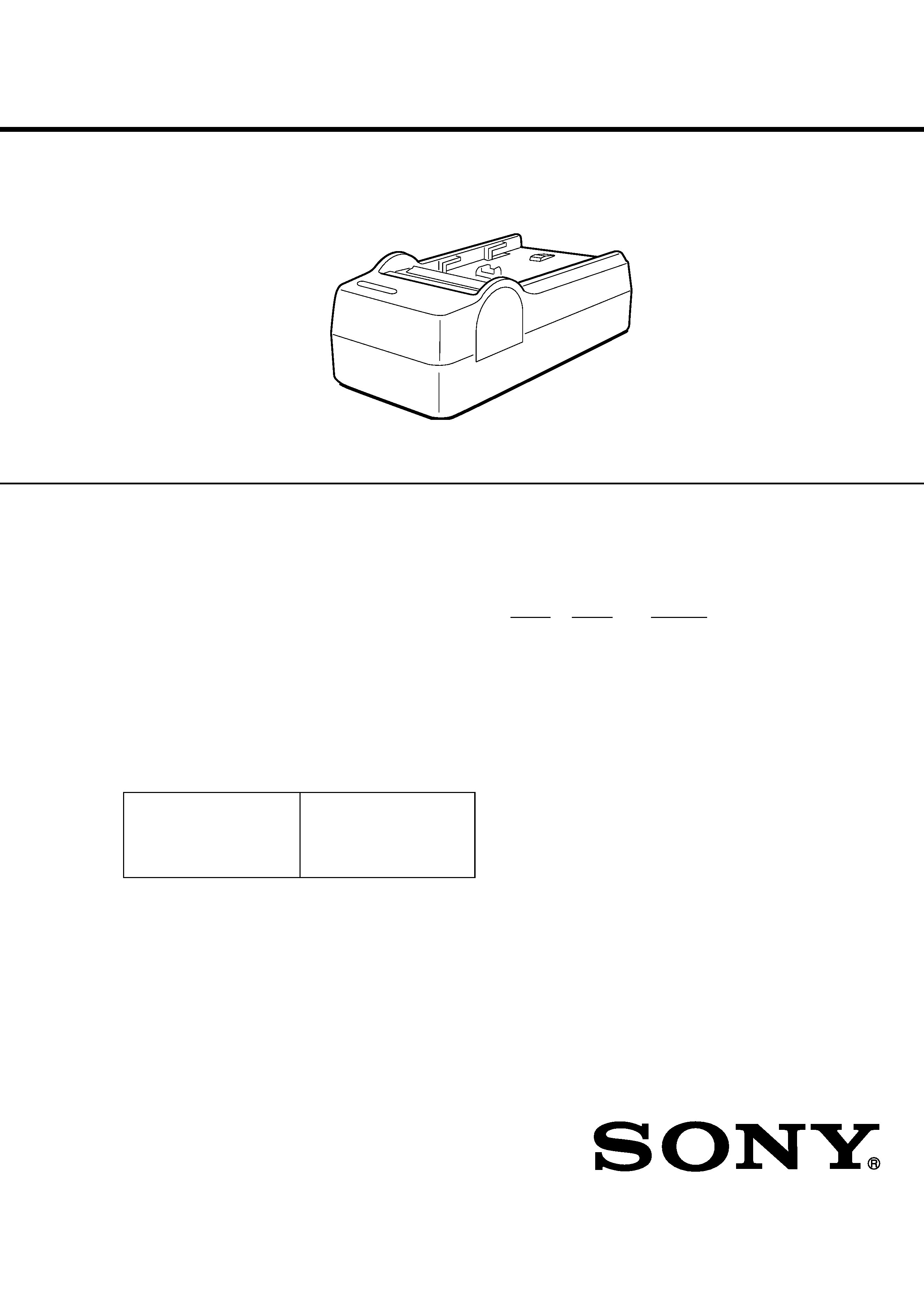 1-418-775-12 CHARGER, BATTERY (AEP,UK,E,Hong Kong,
1-418-775-21 CHARGER, BATTERY (US,Canadian)
1-418-775-41 CHARGER, BATTERY (Chinese)
1-569-008-11 ADAPTOR, CONVERSION 2P (E)
1-769-608-11 CORD, POWER (AEP)
1-555-074-21 CORD, POWER (AUS)
1-782-476-12 CORD, POWER (Chinese)
1-783-374-11 CORD, POWER (Hong Kong,UK)
1-790-107-22 CORD, POWER (US,Canadian)
3-059-964-11 MANUAL, INSTRUCTION (ENGLISH,FRENCH,
GERMAN) (US,Canadian,AEP,UK,E,
3-059-964-21 MANUAL, INSTRUCTION (ITALIAN,SPANISH,
3-059-964-31 MANUAL, INSTRUCTION (RUSSIAN,
PORTUGUESE,DANISH,FINNISH) (AEP,E)
3-059-964-41 MANUAL, INSTRUCTION (KOREAN,
TRADITIONAL CHINESE,SIMPLIFIED
3-059-964-51 MANUAL, INSTRUCTION (KOREAN)
14 VA (100 V AC), 21 VA (240 V AC)
Sony battery pack NP-FM50/FM70/FM90/
0 °C to 40 °C (32 °F to 104 °F)
­20 °C to 60 °C (­4 °F to 140 °F)
Design and specifications are subject to change without notice.
This set does not support the repair of individual faulty parts.
In case of failure, the battery charger assembly must be replaced.
The part code of battery charger assembly is as listed below.
The components identified by
mark 0 or dotted line with mark
0 are critical for safety.
Replace only with part number
Les composants identifiés par une
marque 0 sont critiques pour la
Ne les remplacer que par une piéce
portant le numéro spécifié.
Personal VIDEO Products Company
Published by Safety & Service Engineering Dept.
---