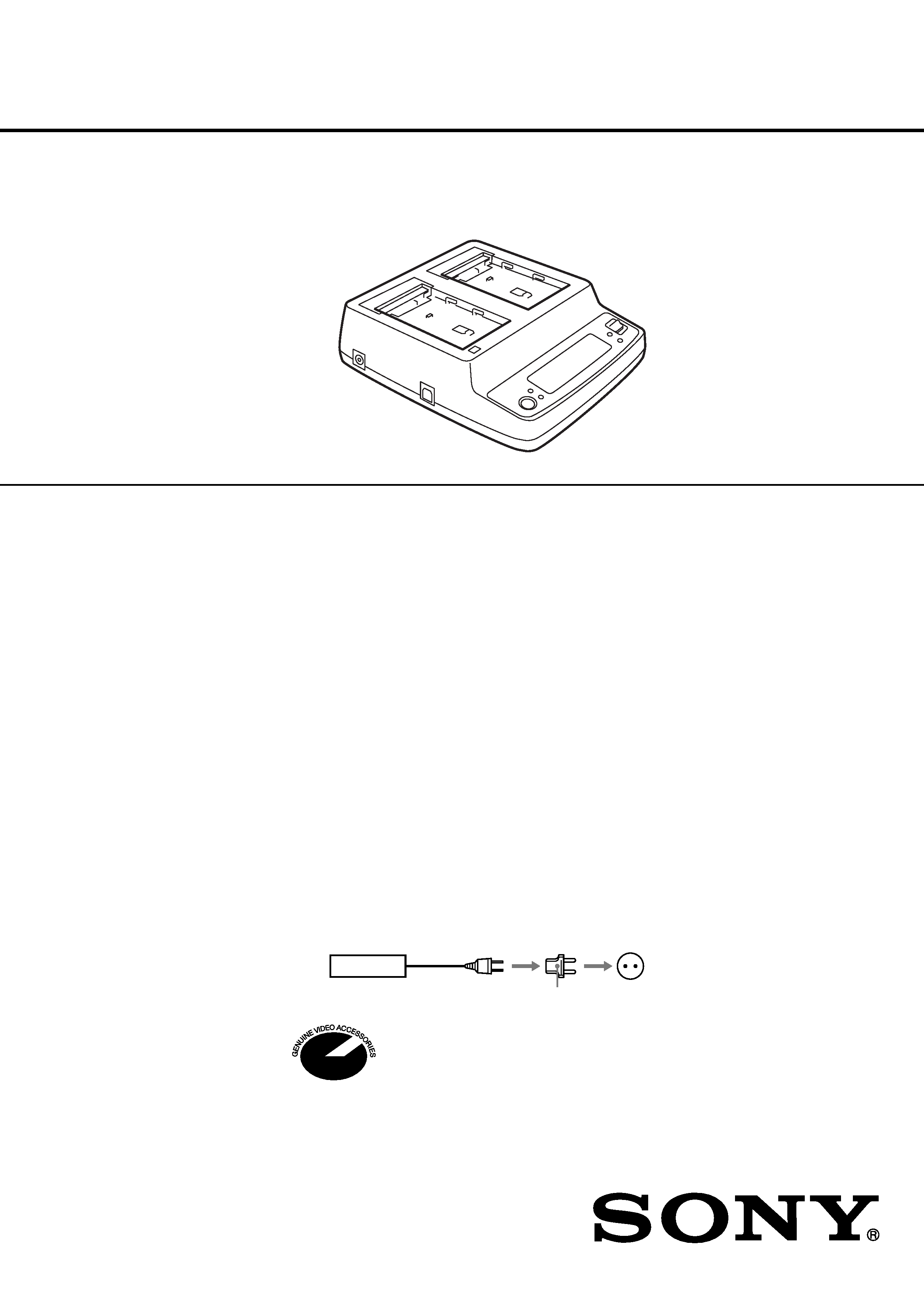 (only for negative grounded cars)
56 VA (100 V AC), 74 VA (240 V AC)
37 VA (100 V AC), 49 VA (240 V AC)
8.4 V, 2.0 A in operating mode
8.4 V, 2.9 A in charge mode
°C to 40 °C (32 °F to 104 °F)
°C to 60 °C (­4 °F to 140 °F)
(Projections are not included (4
1
/
2
× 1
10
/
16
× 5
1
/
4
inches)
Connecting cord DK-215 (1), AC power cord (1)
Design and specifications are subject to change without notice.
Use a commercially available AC plug adaptor, if necessary, depending on
the design of the wall outlet.
This mark indicates that this product is a genuine
accessory for Sony video products. When purchasing
Sony video products, Sony recommends that you
purchase accessories with this "GENUINE VIDEO
---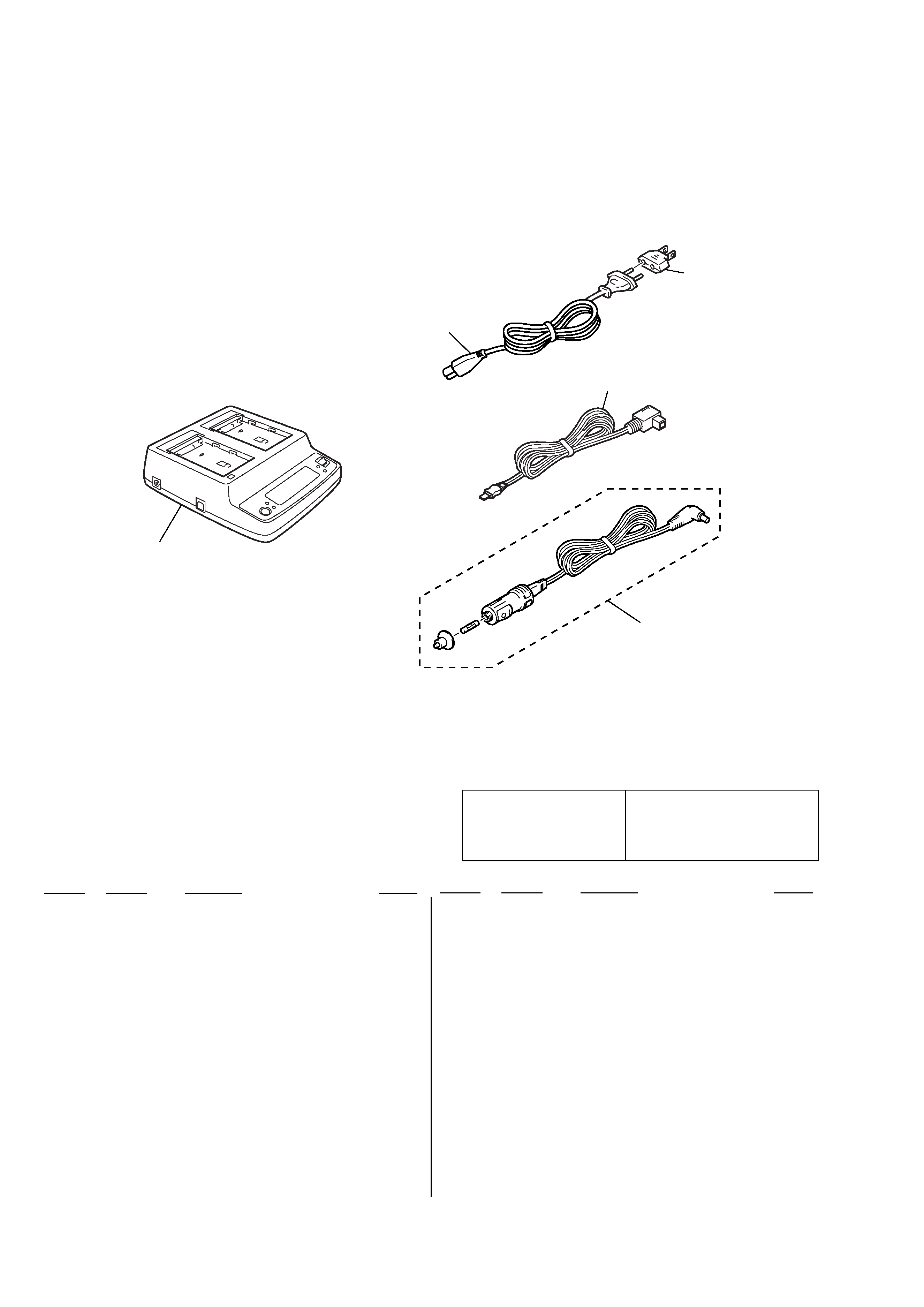 Published by DI Customer Center
The components identified by
mark 0 or dotted line with
mark 0 are critical for safety.
Replace only with part num-
Les composants identifiés par une
marque 0 sont critiques pour la
Ne les remplacer que par une pièce
portant le numéro spécifié.
1-476-635-31 BATTERY CHARGER, AC ADAPTOR
(AC-SQ950D) (US, Canadian)
1-476-635-41 BATTERY CHARGER, AC ADAPTOR
(AC-SQ950D) (AEP, UK, E, Hong Kong,
1-476-635-51 BATTERY CHARGER, AC ADAPTOR
1-476-635-61 BATTERY CHARGER, AC ADAPTOR
1-555-074-21 CORD, POWER (Australian)
1-690-827-11 CORD SET, POWER (AEP)
1-769-608-11 CORD, POWER (E)
1-775-843-52 CORD, POWER (WITH FILTER) (UK)
1-776-985-11 CORD, POWER (Korea)
1-782-476-11 CORD, POWER (Chinese)
1-783-374-11 CORD, POWER (Hong Kong)
1-783-952-11 CORD, POWER (Argentina)
1-790-107-22 CORD, POWER (US, Canadian)
1-569-008-21 ADAPTOR, CONVERSION 2P (E)
1-783-710-12 CORD, CONNECTION (DK-215)
1-792-186-11 CORD, CAR BATTERY (DCC-VQ1)
1-792-186-21 CORD, CAR BATTERY (DCC-VQ1)
3-072-818-11 MANUAL, INSTRUCTION (EXCEPT Korea)
(ENGLISH, FRENCH, PORTUGUESE,
3-072-818-21 MANUAL, INSTRUCTION (GERMAN, DUTCH,
ITALIAN, PORTUGUESE) (AEP, E)
3-072-818-31 MANUAL, INSTRUCTION
(DANISH, FINNISH, SWEDISH) (AEP)
3-072-818-41 MANUAL, INSTRUCTION (RUSSIAN,
TRADITIONAL CHINESE, KOREAN, ARABIC)
(AEP, E, Hong Kong, Korea, Chinese)
---

---