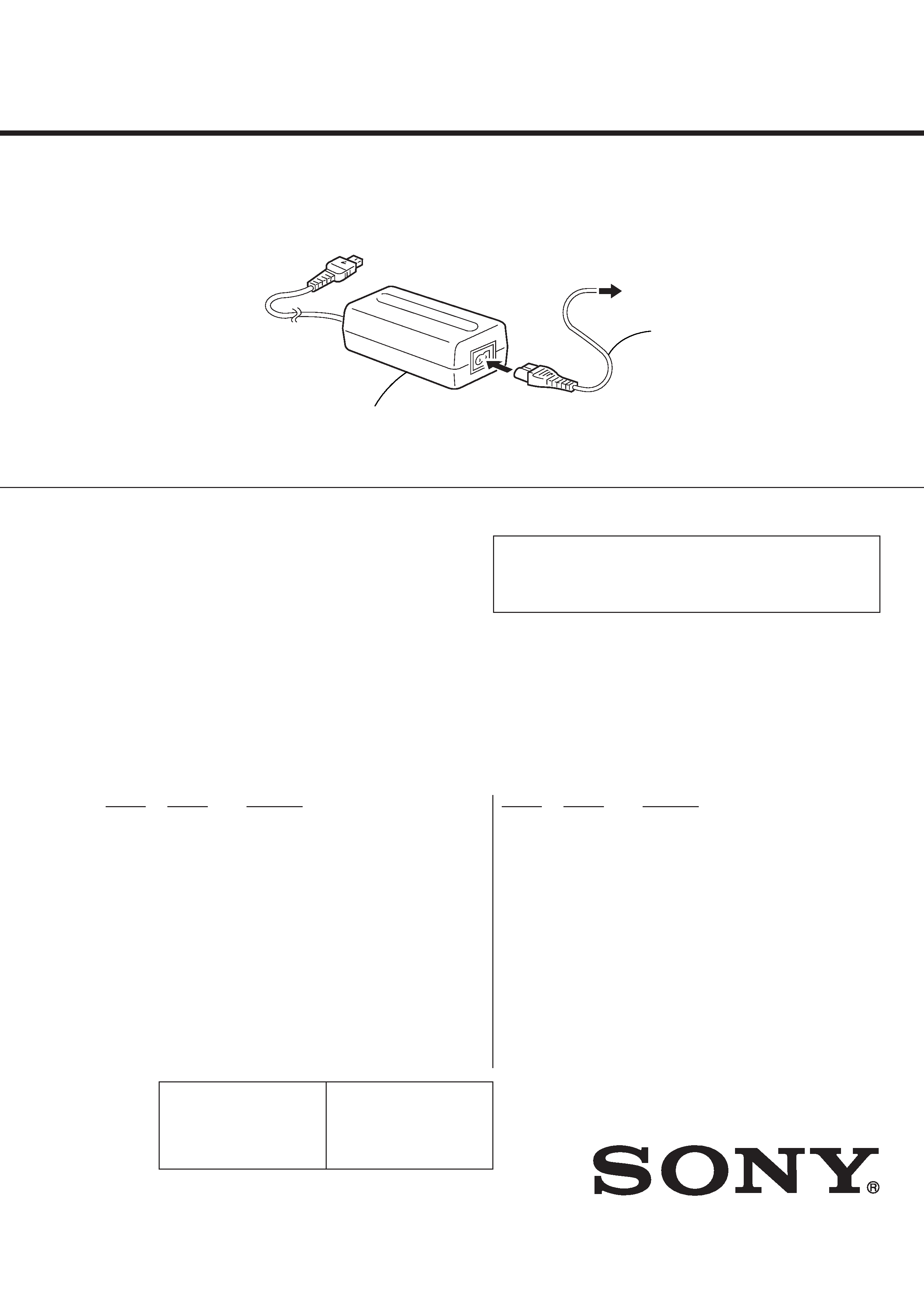 Published by PV Customer Center
1-476-332-11 ADAPTOR, AC (AC-LS1) (US,CND)
1-476-332-21 ADAPTOR, AC (AC-LS1) (CN)
1-476-332-31 ADAPTOR, AC (AC-LS1) (KR)
1-476-332-41 ADAPTOR, AC (AC-LS1) (AEP,UK,E,AUS,HK,AR)
1-555-074-22 CORD, POWER (AUS)
1-690-827-11 CORD SET, POWER (AEP)
1-769-608-11 CORD, POWER (E)
1-775-843-52 CORD, POWER (WITH FILTER)(UK)
1-776-985-11 CORD, POWER (KR)
1-782-476-12 CORD, POWER (CN)
1-783-374-11 CORD, POWER (HK)
1-783-952-21 CORD, POWER (AR)
1-790-107-22 CORD, POWER (US,CND)
1-543-798-11 FILTER, CLAMP (FERRITE CORE) (AEP)
1-543-798-21 FILTER, CLAMP (FERRITE CORE) (UK,AUS)
°C to 40°C (32°F to 104°F)
°C to 60°C (­4°F to 140°F)
Design and specifications are subject to change without notice.
The model name with the alphanumeric suffix character
such as AC-LS1A, is shown on the AC ADAPTOR.
The alphanumeric suffix character is determined by the
The components identified by
mark 0 or dotted line with mark
0 are critical for safety.
Replace only with part number
Les composants identifiés par
une marque 0 sont critiques
Ne les remplacer que par une
pièce portant le numéro spécifié.
1-569-008-11 ADAPTOR, CONVERSION 2P (E)
3-069-068-11 MANUAL, INSTRUCTION
(ENGLISH/FRENCH/SPANISH/SIMPLIFIED CHINESE)
3-069-068-21 MANUAL, INSTRUCTION
(GERMAN/DUTCH/ITALIAN/PORTUGUESE) (AEP,E)
3-069-068-31 MANUAL, INSTRUCTION
(SWEDISH/DANISH/FINNISH) (AEP)
3-069-068-41 MANUAL, INSTRUCTION
(RUSSIAN/ARABIC/TRADITIONAL CHINESE/KOREAN)
3-069-068-51 MANUAL, INSTRUCTION (KOREAN) (KR)
---

---