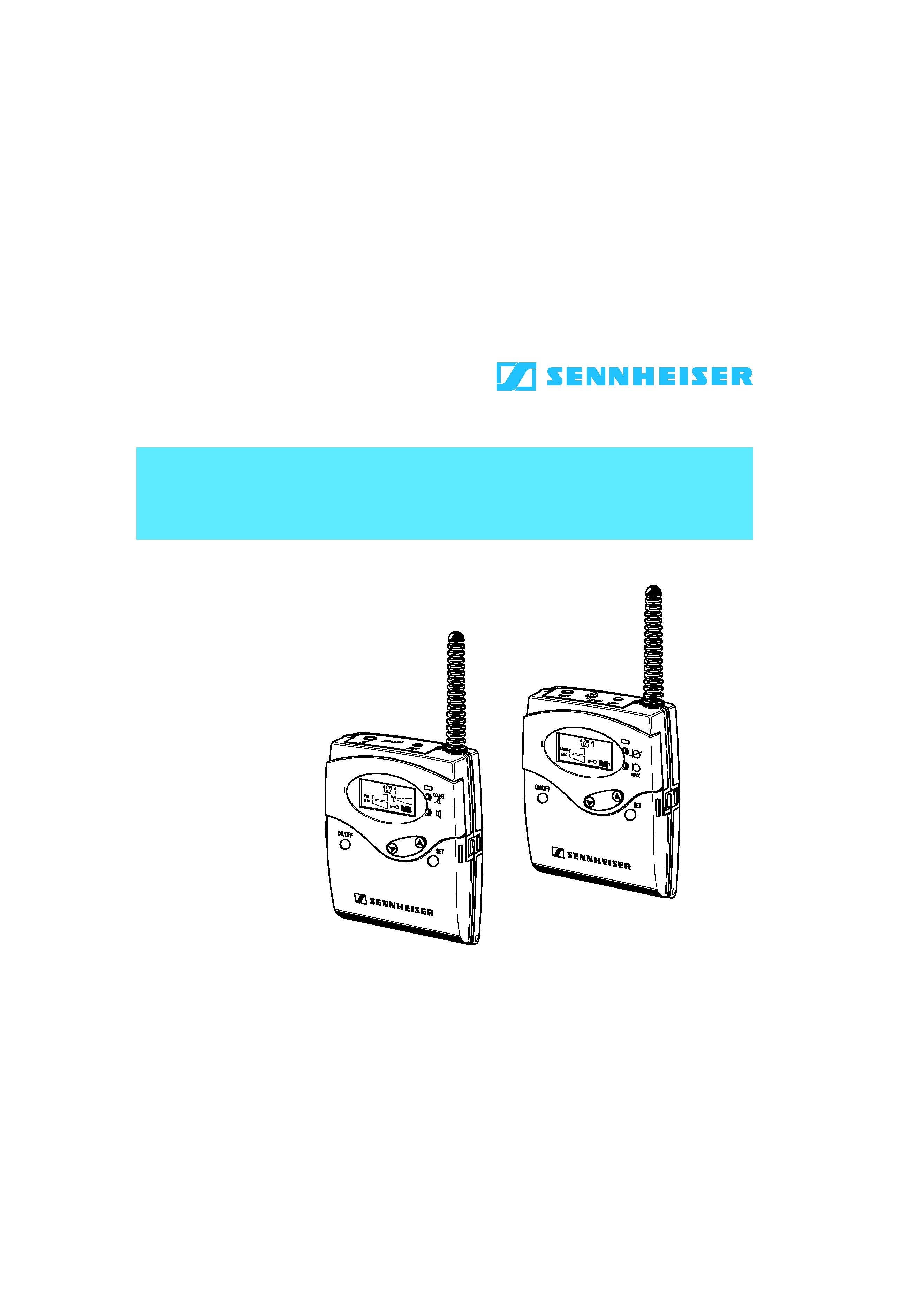 ---

Bedienungsanleitung........................................................................................3
Instructions for use ........................................................................................ 55
Notice d'emploi .............................................................................................105
Istruzioni per l'uso........................................................................................157
Instrucciones de uso ....................................................................................209
Gebruiksaanwijzing .....................................................................................261
Sennheiser, Mikroport und Soundfield sind eingetragene Warenzeichen
der Sennheiser electronic GmbH & Co. KG, Wedemark
Sennheiser, Mikroport and Soundfield are registrated trademarks of
Sennheiser electronic GmbH & Co. KG, Wedemark, Germany
Sennheiser, Mikroport et Soundfield sont des marques déposées de
Sennheiser electronic GmbH & Co. KG, Wedemark, Allemagne
Sennheiser, Mikroport e Soundfield sono marchi commerciali registrati della
società Sennheiser electronic GmbH & Co. KG, Wedemark, Germania
Sennheiser, Mikroport y Soundfield son marcas registradas de la sociedad
Sennheiser electronic GmbH & Co. KG, Wedemark, Alemania
Sennheiser, Mikroport en Soundfield zijn geregistreerde merknamen van
Sennheiser electronic GmbH & Co. KG, Wedemark, Duitsland
---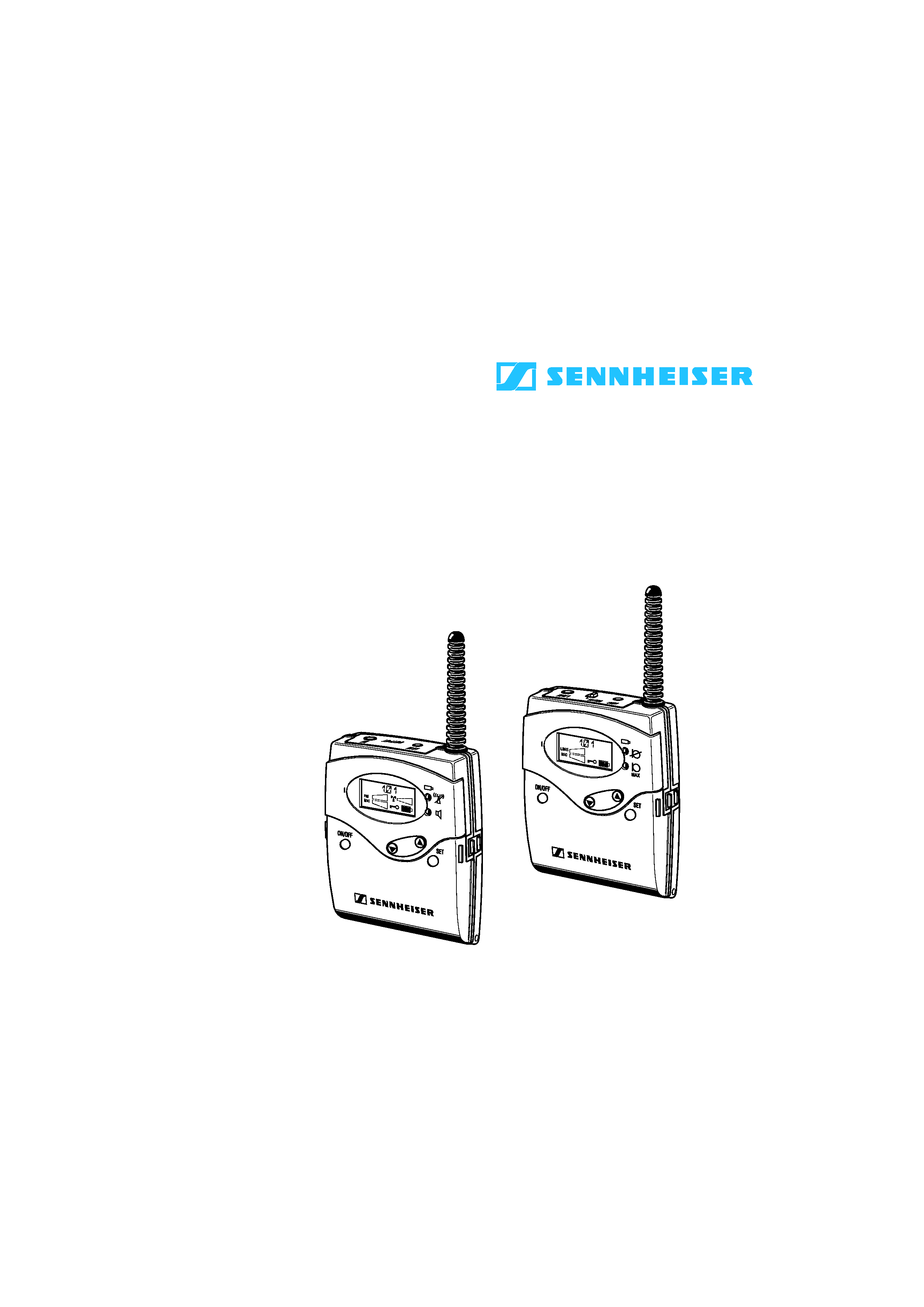 ---

Never open an electronic unit! If units are opened by customers in breach of
this instruction, the warranty becomes null and void.
Keep the units away from central heating radiators and electric heaters.
Never expose them to direct sunlight.
Use the units in dry rooms only.
Use a damp cloth for cleaning the units. Do not use any cleansing agents or
Thank you for choosing Sennheiser!
We have designed these products to give you reliable operation over many
years. Over half a century of expertise in the design and manufacture of
high-quality electro-acoustic equipment have made Sennheiser a world-
leading company in this field.
Please take a few moments to read these instructions carefully, as we want
you to enjoy your new Sennheiser products quickly and to the fullest.
---

Safety instructions ......................................................................56
The 2015 Mikroport® System ...................................................59
The operating principle of the 2015 Mikroport® System ................ 59
Delivery includes ..........................................................................60
Operating controls of the EK 2015 receiver ...........................61
Indications and displays on the receiver ............................................. 62
Operating controls of the SK 2015 transmitter ....................64
Indications and displays on the transmitter ...................................... 65
Preparing the units for use ........................................................67
Transporting the transmitter and receiver ......................................... 67
Inserting the battery pack/batteries (transmitter and receiver) .. 67
Connecting sound sources to the transmitter ................................... 68
Connecting the receiver to hearing aids or headphones ................. 70
Attaching the transmitter or receiver to clothing ............................. 71
Using the receiver ........................................................................72
Switching the receiver on/off ................................................................ 72
Activating/deactivating the lock mode .............................................. 72
Adjusting the level of the received audio signal ............................... 73
Adjusting the level of the internal microphone ................................. 73
Switching the channel ............................................................................. 73
Displaying the frequency ....................................................................... 74
Operating menu of the EK 2015 receiver ............................................ 75
Using the transmitter .................................................................76
Switching the transmitter on/off ......................................................... 76
Muting the microphone .......................................................................... 76
Activating/deactivating the lock mode .............................................. 77
Displaying the frequency ....................................................................... 77
Working with the transmitter's operating menu .............................. 78
Overview of menus .................................................................................. 80
Operating menu of the SK 2015 transmitter ..................................... 81
Adjustment tips for the operating menu of the transmitter .......... 82
---