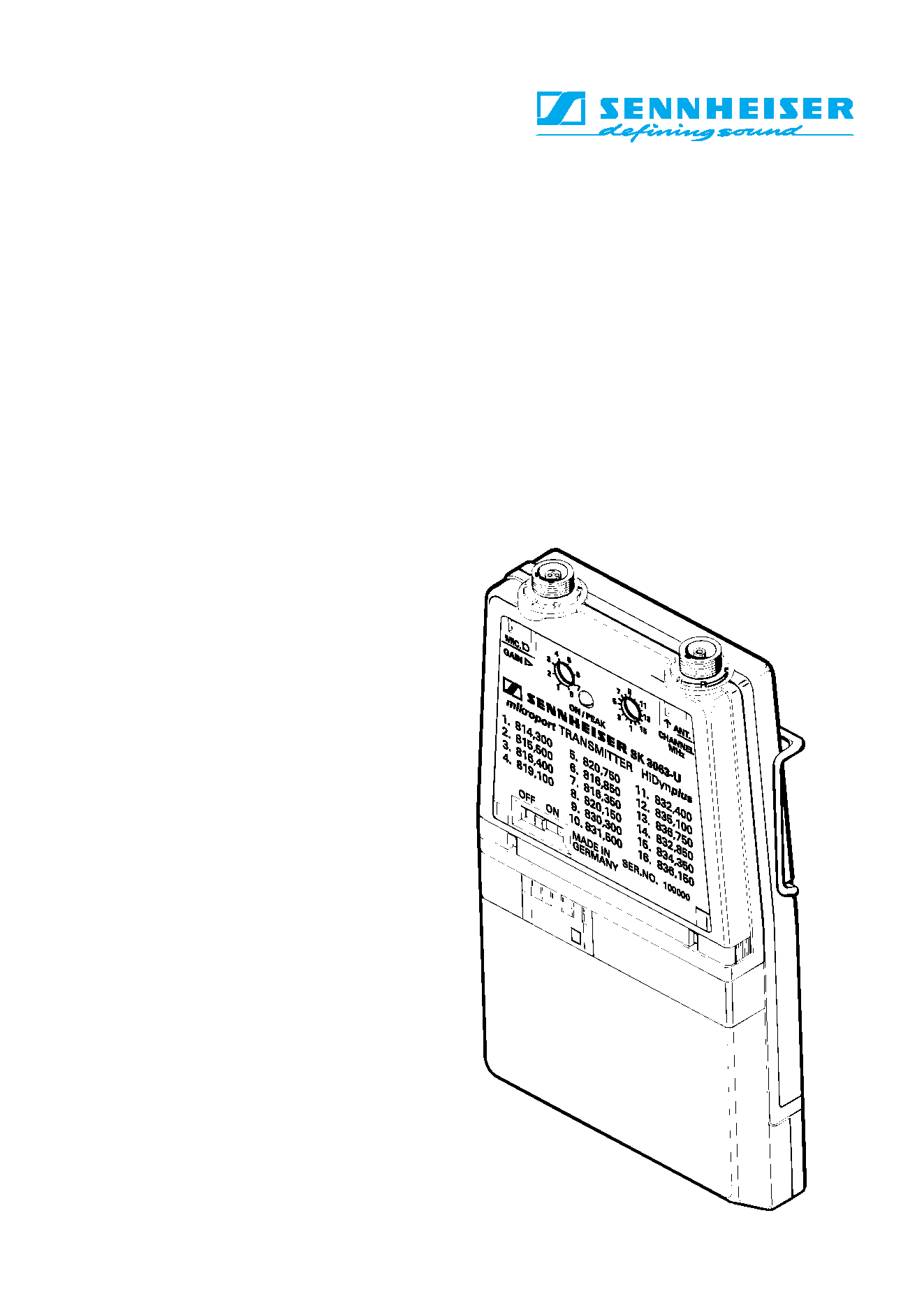 MIKROPORT BODY-PACK TRANSMITTER
---

Brief description SK 3063-U
In combination with a connected microphone, the transmitter can be used
as a wireless microphone. Its flat shape and small dimensions make this
design especially well-suited for particular applications in which an
inconspicuous appearance is required, as is the case with film and
television productions, for example. To reduce interference and to
improve the signal-to-noise ratio, SK 3063-U transmitters are equipped
with the "
HiDyn plus
" noise reduction system. In combination with a
receiver which is also equipped with this system (e.g. EM 3031/32-U /
EM 3532-U), a connection can be established, which is characterised by
excellent operational reliability and supreme transmission quality.
· Metal injection-moulded casing with quick-change energy pack
· State-of-the-art PLL technology, 16 switchable channels
· Sennheiser "HiDyn plus" noise reduction system
· Signal-to-noise ratio > 112 dB (A)
· Integratal voltage converter for constant output power
through to complete discharge of the battery or rechargeable battery
· Operating time display with blinking warning
· Battery status transmitted to the receiver
· Operation and peak deviation indicator
---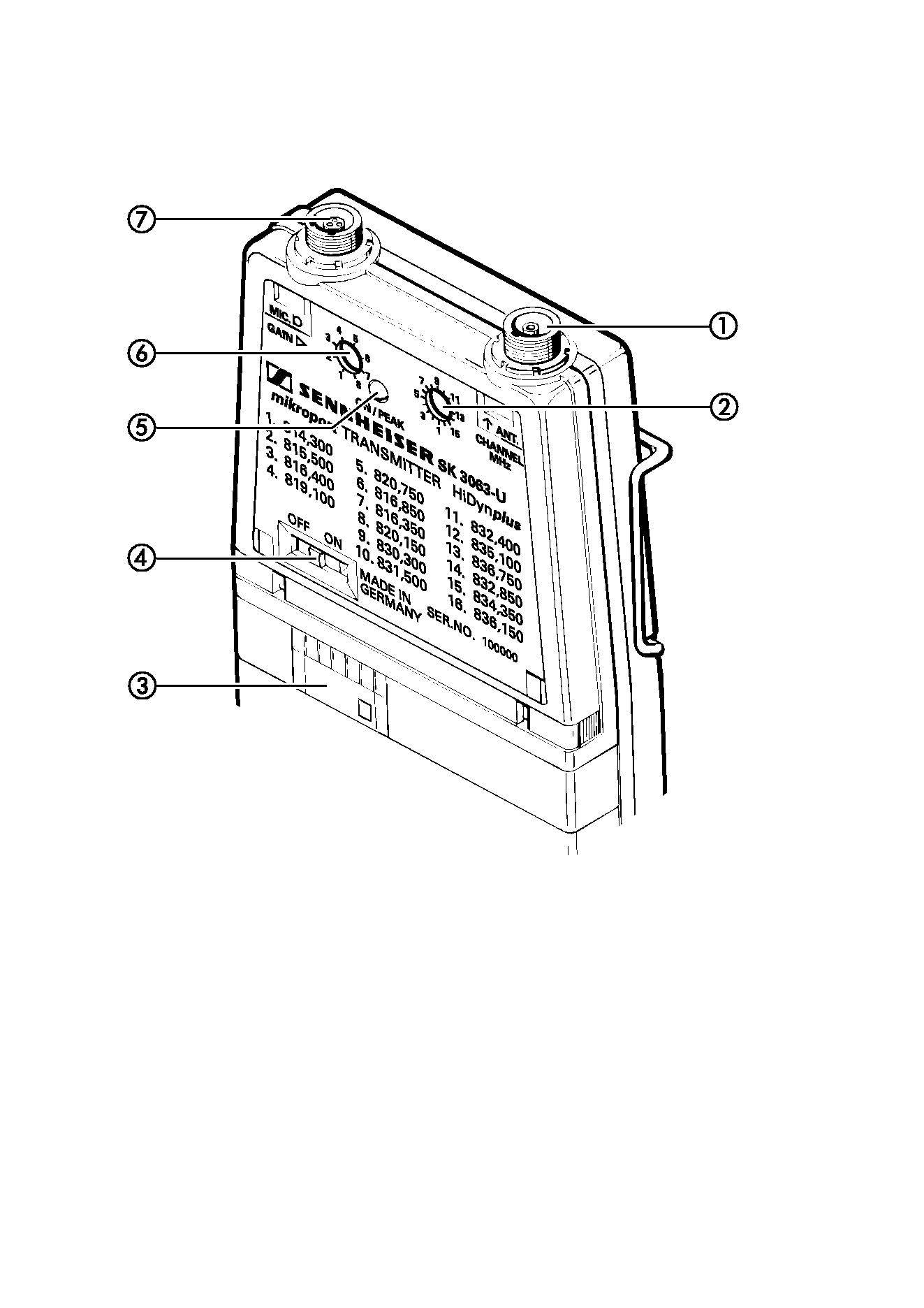 2 CHANNEL SELECTOR SWITCH
5 OPERATION / PEAK DEVIATION INDICATOR
6 SENSITIVITY SELECTOR SWITCH FOR MICROPHONE INPUT
---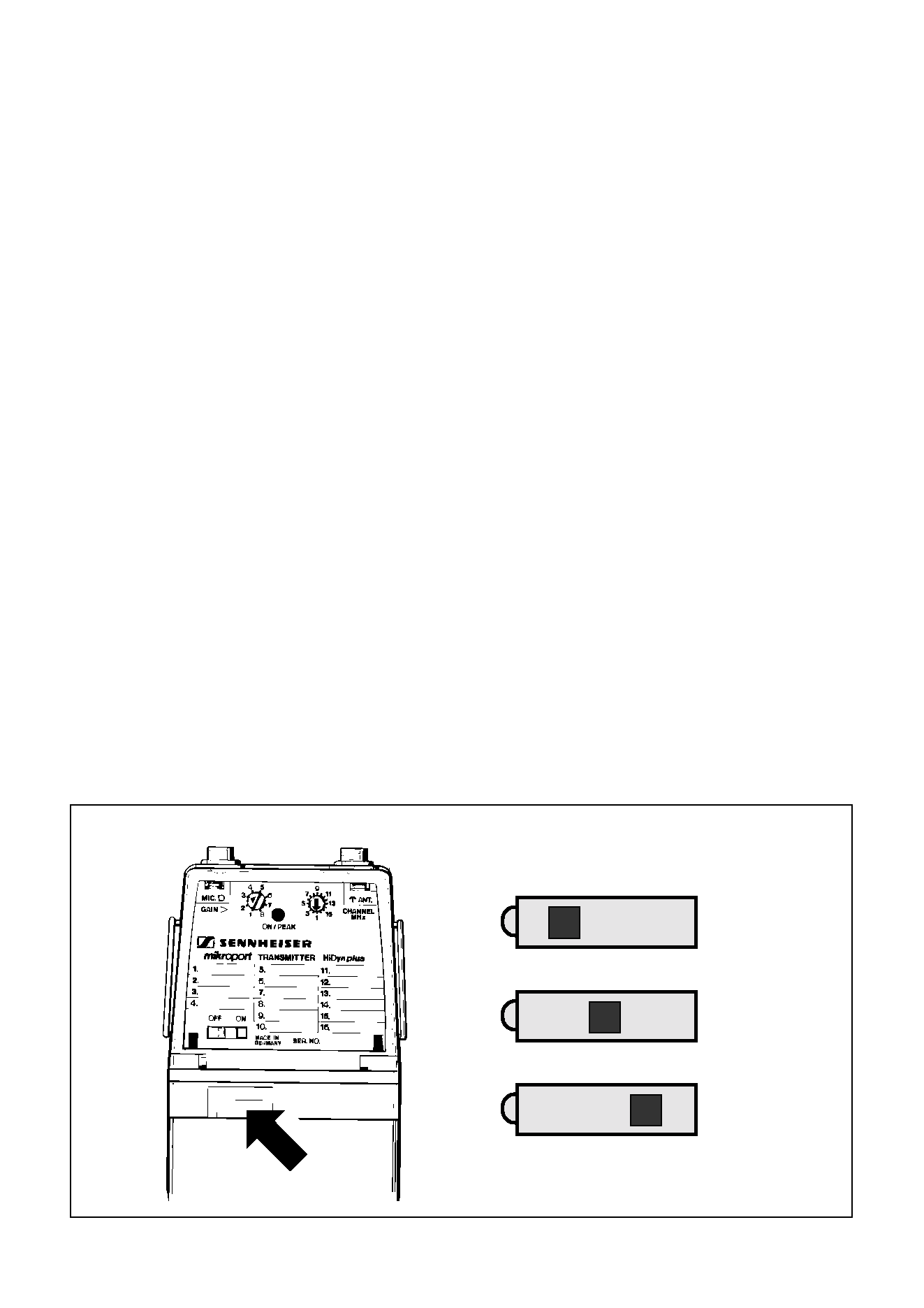 S
TARTS BLINKING IF THE REMAINING
OPERATING TIME FALLS BELOW 30 MIN.
The MKE 2-4, MKE 102-4 (omnidirectional pick-up pattern) and
MKE 40-4, MKE 104-4 (cardioid pick-up pattern) clip-on microphones
are available. They are equipped with a special Lemo plug. The plug is
disconnected by unscrewing the threaded collar.
The voltage necessary to operate these microphones is available at the
microphone input of the transmitter. Dynamic microphones and other
low-impedance sources can be connected through an external coupling
B 50 / B 250 quick-change energy pack
Insert the batteries as described on page 15, Fig. 2 and Fig. 3 (delivery
includes power pack B 50).
After inserting the batteries, the cover of the quick-change energy pack is
to be snapped into place. The LED display on the front side of the energy
pack (fig. 1) serves as a battery control display.
---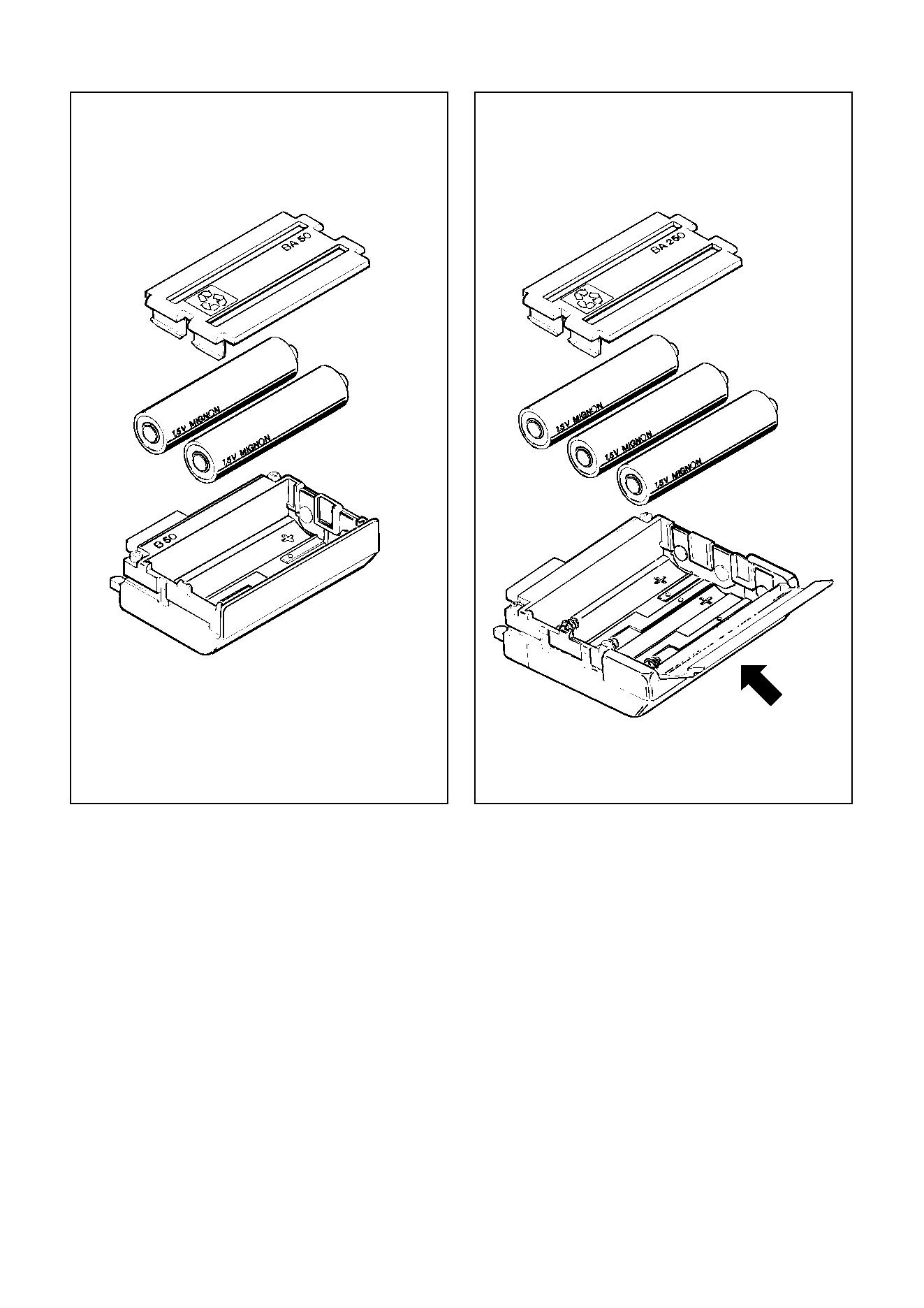 ALKALINE-MANGANESE LRC AA TYPE BATTERIES
ARE TO BE USED EXCLUSIVELY. PERFECT FUNCTIONING OF THE
TRANSMITTER IS GUARANTEED ONLY WITH THIS TYPE OF BATTERY.
---