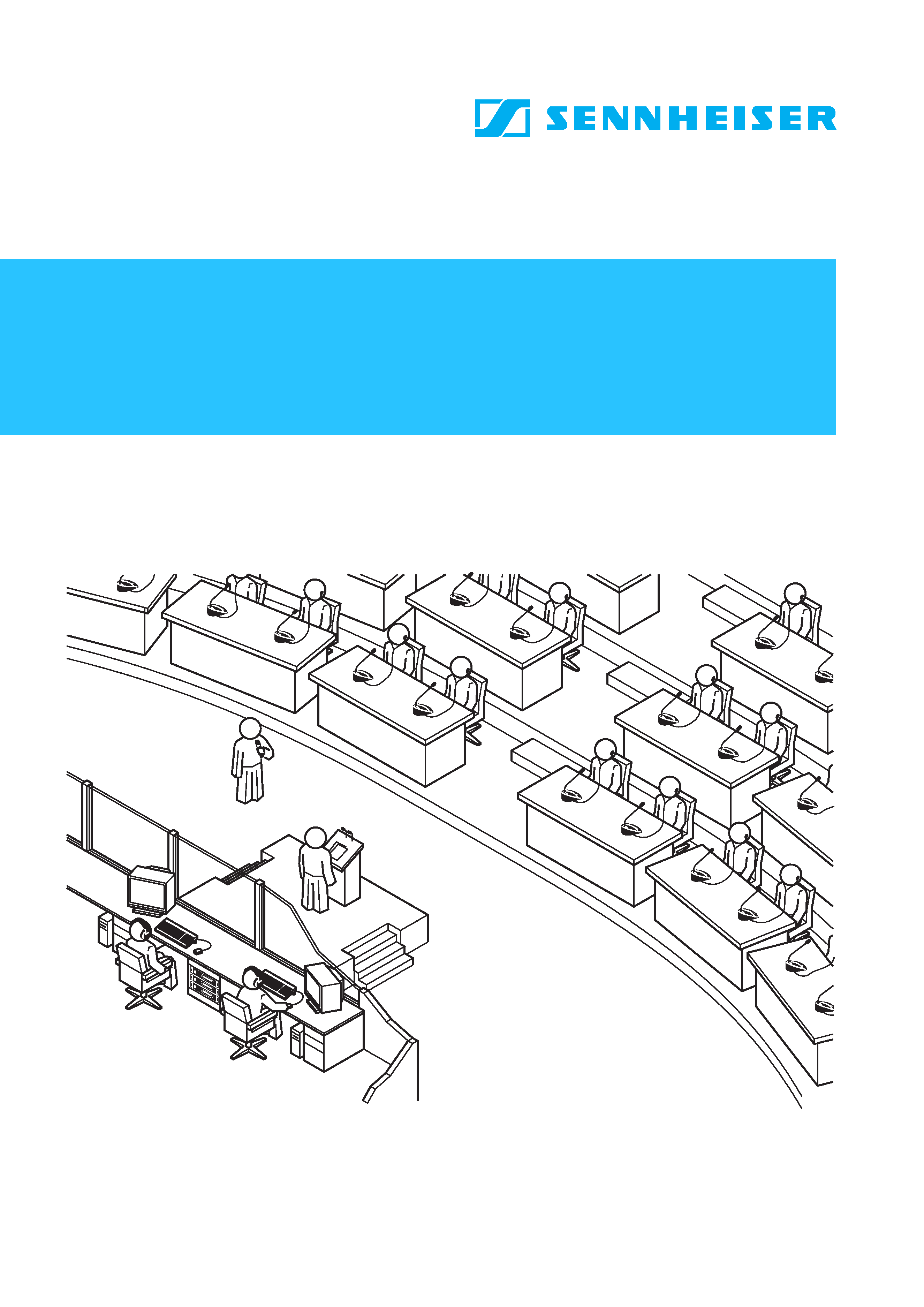 ---

Thank you for choosing Sennheiser!
We have designed this product to give you reliable operation over many
years. Over half a century of accumulated expertise in the design and man-
ufacture of high-quality electro-acoustic equipment have made Sen-
nheiser a world-leading company in this field.
Please take a few moments to read these instructions carefully, as we want
you to enjoy your new Sennheiser products quickly and to the fullest.
---

Important safety instructions ..................................................................................................................................... 6
Important safety information ..................................................................................................................................... 7
SDC 8200 ­ the digital conference and interpretation system ............................................................................... 9
Overview of the components of the
SDC 8200 system ......................................................................................................................................................... 10
The conference consoles ...................................................................................................................................................... 10
The interpreter consoles ...................................................................................................................................................... 11
The central units ................................................................................................................................................................... 11
The SDC 8200 CU central unit ....................................................................................................................................... 11
The SDC 8200 CU-M central unit .................................................................................................................................. 12
The SDC 8200 AO analog output unit ......................................................................................................................... 12
The system cables ................................................................................................................................................................. 12
The software control ............................................................................................................................................................ 12
The technology used ............................................................................................................................................................ 13
The components of the SDC 8200 system in detail ................................................................................................ 14
The consoles ........................................................................................................................................................................... 14
The SDC 8200 CU central unit ............................................................................................................................................. 23
The SDC 8200 CU-M central unit ........................................................................................................................................ 24
The SDC 8200 AO analog output unit (optional) ........................................................................................................... 25
The system cables ................................................................................................................................................................. 26
Operating the components of the SDC 8200 system ............................................................................................. 27
Turning the conference and interpretation system on/off .......................................................................................... 27
Turning on the central unit for the first time ............................................................................................................ 27
Turning interconnected SDC 8200 CU central units on/off .................................................................................... 28
Operating the delegate units .............................................................................................................................................. 28
Taking the floor / Making a request to speak ........................................................................................................... 28
Turning off the microphone / Cancelling a request to speak ................................................................................. 32
Adjusting the volume of the headphones connected to a conference console .................................................. 32
Selecting an interpretation channel ............................................................................................................................ 33
Voting ................................................................................................................................................................................ 33
Using the chip card slot of a conference console ...................................................................................................... 34
Operating the VIP units ........................................................................................................................................................ 34
Operating the chairman unit .............................................................................................................................................. 35
Turning all active conference consoles off (priority) ............................................................................................... 35
Starting a voting session ............................................................................................................................................... 35
Assigning a participant the "speaking right" ........................................................................................................... 36
Showing the request-to-speak list on the displays of the conference consoles ................................................ 36
Operating the interpreter consoles ................................................................................................................................... 37
Adjusting the volume and the middle and treble response of the headphones connected to
the interpreter console .................................................................................................................................................. 37
Adjusting the volume of the interpreter consoles' built-in loudspeakers .......................................................... 38
Configuring the B-channel of an interpreter console .............................................................................................. 38
Setting the channel to be output via the interpreter console's built-in loudspeaker ...................................... 38
Selecting an interpretation channel ............................................................................................................................ 39
Using the interpreter console ....................................................................................................................................... 39
Switching between the A-channel and the B-channel ............................................................................................ 39
---

Muting the microphone of the interpreter console ................................................................................................. 40
Displaying text messages on the interpreter console's display ............................................................................ 40
Operating the central unit ................................................................................................................................................... 40
Adjusting the volume of the consoles' built-in loudspeakers ............................................................................... 40
Restarting the conference and interpretation system ............................................................................................ 40
The F1, F2 and F3 function keys .................................................................................................................................. 41
The menu operating controls ....................................................................................................................................... 41
Working with the central unit's operating menu ..................................................................................................... 42
Structuring the SDC 8200 system ............................................................................................................................. 44
The three expansion stages ................................................................................................................................................ 44
Determining maximum cable lengths ............................................................................................................................... 47
Structuring an interpretation system ............................................................................................................................... 47
Selectable modes between or within interpreter booths ............................................................................................. 48
Using external equipment ................................................................................................................................................... 51
Setting up the SDC 8200 system ............................................................................................................................... 52
Preparing the SDC 8200 system components for set up .............................................................................................. 52
Interconnecting the SDC 8200 system components ...................................................................................................... 54
Interconnecting the consoles ....................................................................................................................................... 54
Connecting a cable string to the central unit ............................................................................................................ 54
Interconnecting several central units in master/slave mode
(SDC 8200 CU central units only) ................................................................................................................................ 54
Activating the master/slave mode ............................................................................................................................. 55
Exiting the "slave" mode of a central unit ................................................................................................................ 55
Connecting additional equipment ..................................................................................................................................... 56
Configuring the SDC 8200 system ............................................................................................................................. 60
Introduction to the central unit's operating menu ........................................................................................................ 60
The start display ............................................................................................................................................................. 60
The six main menus ........................................................................................................................................................ 60
Setting the volume of the consoles' built-in loudspeakers .......................................................................................... 85
Configuring the conference system .................................................................................................................................. 85
Automatically initializing all conference consoles ................................................................................................... 85
Manually initializing all conference consoles ............................................................................................................ 85
Loading the factory-preset default configuration for the conference system .................................................. 86
Adding a conference console to an already existing configuration ..................................................................... 86
Removing a conference console from an already existing configuration ........................................................... 86
Reserving a microphone number ................................................................................................................................. 87
Selecting a conference mode ........................................................................................................................................ 88
Setting the speaker limit ............................................................................................................................................... 88
Adjusting the audio settings for the consoles' built-in loudspeakers ................................................................. 88
Adjusting the audio settings for the consoles' microphones ................................................................................ 89
Configuring additional chairman units (Chairmen) ................................................................................................. 90
Deleting the list of chairman units (Chairmen) ........................................................................................................ 90
Configuring additional VIP units (VIP) ........................................................................................................................ 91
Deleting the list of VIP units (VIP) ............................................................................................................................... 91
Activating/deactivating the special rights of the VIP units (VIP) ........................................................................ 91
Resetting the conference system (Reset) ................................................................................................................. 91
Testing the consoles' built-in loudspeakers .............................................................................................................. 92
Testing the consoles' microphones ............................................................................................................................. 92
Activating/deactivating the flashing of the signal light ring ................................................................................ 92
Configuring the display of the voting options .......................................................................................................... 93
---

Configuring the interpretation system ............................................................................................................................. 93
Working with the interpreter configuration ............................................................................................................. 93
Creating a new interpreter configuration .................................................................................................................. 94
Modifying the currently active interpreter configuration ...................................................................................... 95
Loading a previously saved interpreter configuration ............................................................................................ 95
Options .............................................................................................................................................................................. 96
Setting the max. number of interpreter booths/languages .................................................................................. 96
Setting the max. number of interpreter consoles per booth ................................................................................. 96
Configuring the operating mode between booths ................................................................................................... 96
Configuring the operating mode within a booth ...................................................................................................... 97
Configuring the language options for the interpreter booths ............................................................................... 97
Configuring the main target language (A-channel) of a booth ............................................................................ 98
Configuring the second target language (B-channel) of a booth ......................................................................... 98
Enabling the auto-relay interpretation function (Auto-floor) .............................................................................. 99
Half-automatically initializing all interpreter consoles on the central unit ........................................................ 99
Manually assigning an interpreter console an individual booth number ......................................................... 100
Manually assigning an interpreter console an individual desk number (interpreter console number) ..... 101
Displaying the booth and desk number of an interpreter console .................................................................... 102
Adding interpreter consoles to an existing configuration .................................................................................. 102
Loading the factory-preset default configuration for the interpretation system .......................................... 102
Resetting the interpretation system ....................................................................................................................... 103
Configuring the audio inputs and outputs of the central unit and the anaolog output unit ............................. 103
Making a system diagnosis .............................................................................................................................................. 109
Configuring connected additional components ........................................................................................................... 110
Turning on/off a camera control .............................................................................................................................. 110
Turning on a connected control panel ..................................................................................................................... 110
Configuring an "ambient sound" console ............................................................................................................... 111
Software, language and license ...................................................................................................................................... 112
If problems occur... .................................................................................................................................................... 114
Accessories ................................................................................................................................................................. 115
Specifications ............................................................................................................................................................. 116
Features of the central units ........................................................................................................................................... 116
Consoles ............................................................................................................................................................................... 117
Central units ........................................................................................................................................................................ 118
SDC 8200 AO analog output unit .................................................................................................................................... 119
RJ 45 cable ........................................................................................................................................................................... 119
Appendix A: Camera control protocol ..................................................................................................................... 120
Commands: .................................................................................................................................................................... 121
Appendix B: Control panel protocol ........................................................................................................................ 122
The commands sent by the central unit and received by the control panel: ................................................... 123
The commands sent by the control panel and received by the central unit: ................................................... 123
Appendix C: Repeater for the SDC 8200 system ................................................................................................... 124
Manufacturer declarations ....................................................................................................................................... 125
Warranty regulations ........................................................................................................................................................ 125
CE Declaration of Conformity ........................................................................................................................................... 125
FCC Rules .............................................................................................................................................................................. 125
---