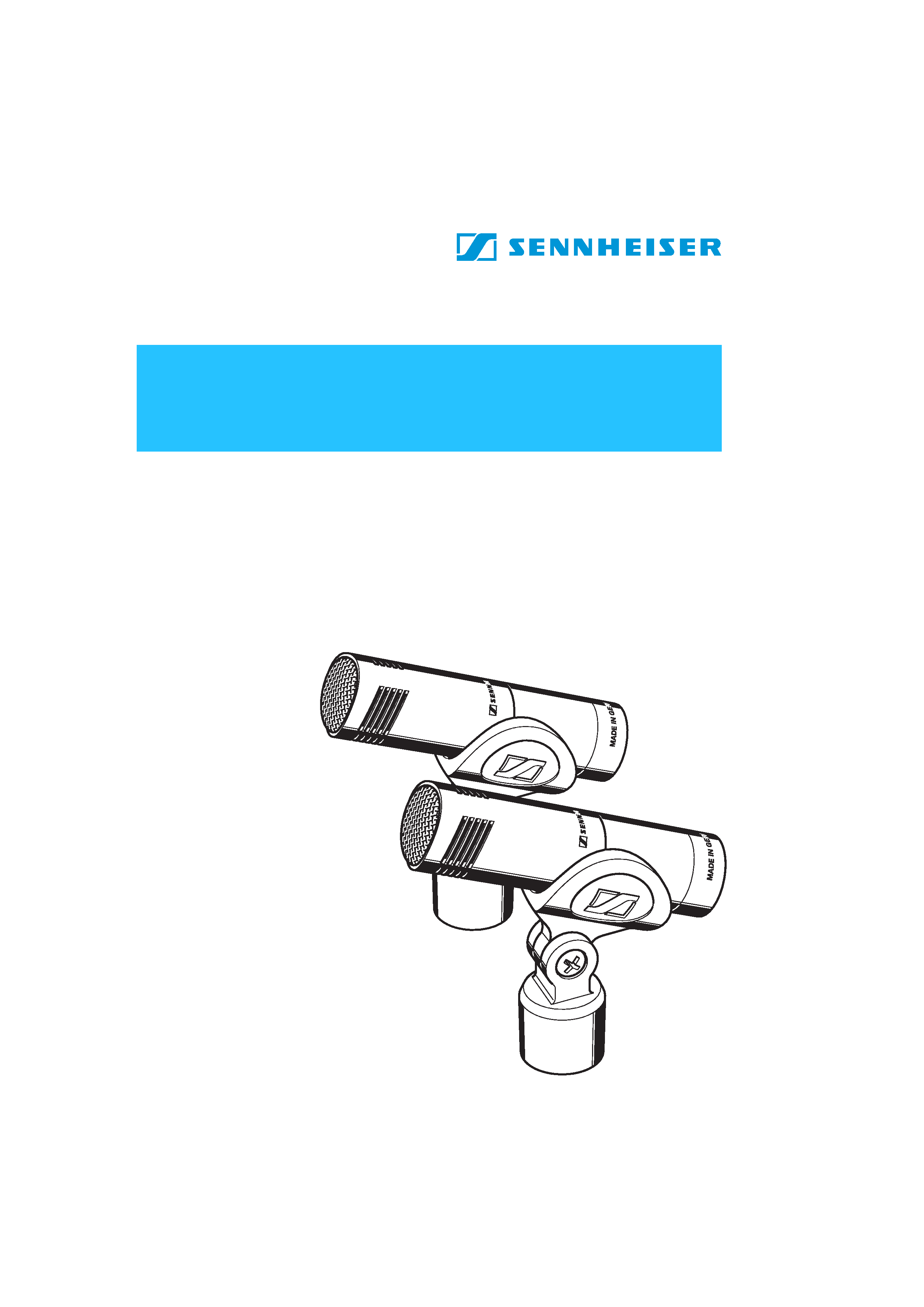 MKH8040Stereo_524139_0607_SP6.book Seite 1 Montag, 23. Juli 2007 10:53 10
---

MKH8040Stereo_524139_0607_SP6.book Seite 2 Montag, 23. Juli 2007 10:53 10
---

Important safety information ........................................................ 2
The MKH 8040 ................................................................................... 3
Delivery includes ............................................................................... 4
Putting the microphone into operation ....................................... 5
Connecting the microphone ...................................................... 5
Attaching the microphone using the microphone clip ......... 5
Using the windshield .................................................................. 5
Suitable stereo recording techniques ........................................... 6
Exchanging the microphone head ................................................. 7
Accessories ........................................................................................ 7
Specifications .................................................................................... 8
Manufacturer Declarations ........................................................... 10
Thank you for choosing Sennheiser!
We have designed this product to give you reliable operation
over many years. Over 60 years of accumulated expertise in the
design and manufacture of high-quality electro-acoustic
equipment have made Sennheiser a world-leading company in
this field. Please take a few moments to read these instructions
carefully, as we want you to enjoy your new Sennheiser
products quickly and to the fullest.
MKH8040Stereo_524139_0607_SP6.book Seite 1 Montag, 23. Juli 2007 10:53 10
---

Important safety information
Please read these instructions carefully and completely
before using the microphone.
Make these instructions easily accessible to all users at all
Always include these instructions when passing the
microphone on to third parties.
Never open the microphone. If devices are opened by
customers in breach of this instruction, the warranty
Water entering the housing of the microphone can cause a
short-circuit and damage the electronics. Protect the
microphone from wetness. Use only a slightly damp cloth to
Do not expose the microphone to extreme temperatures
(normal operating temperatures: 10 °C to 35 °C).
Use the microphone with care and store it in a clean, dust-
Intended use of the microphone
having read these instructions, especially the chapter
"Important safety information" on page 2,
using the microphone within the operating conditions and
limitations described in this instruction manual.
"Improper use" means using the microphone other than as
described in these instructions, or under operating conditions
which differ from those described herein.
MKH8040Stereo_524139_0607_SP6.book Seite 2 Montag, 23. Juli 2007 10:53 10
---

The MKH 8040 is a high-end cardioid studio condenser
microphone from the modular MKH 8000 microphone series.
This series has the following features:
Exceptionally low inherent self-noise prevents masking of
filigree sound structures
Symmetrical transducer technology ensures extremely low
Extremely wide frequency response for an optimum
resolution of the finest details
Transformerless and fully floating balanced output provides
for easy connection at minimal distortion
High sensitivity ensures interference-free transmission with
minimum colouration in the direct and diffuse field
Rugged metal housing with non-reflective Nextel coating,
making the microphone the ideal choice for in-vision use
Compact design and small diameter allow the unobtrusive
positioning of the microphone, even close to instruments
Modular design provides for easy exchange of the
microphone heads and the use of specially-tailored
accessories to suit every application
MKH8040Stereo_524139_0607_SP6.book Seite 3 Montag, 23. Juli 2007 10:53 10
---