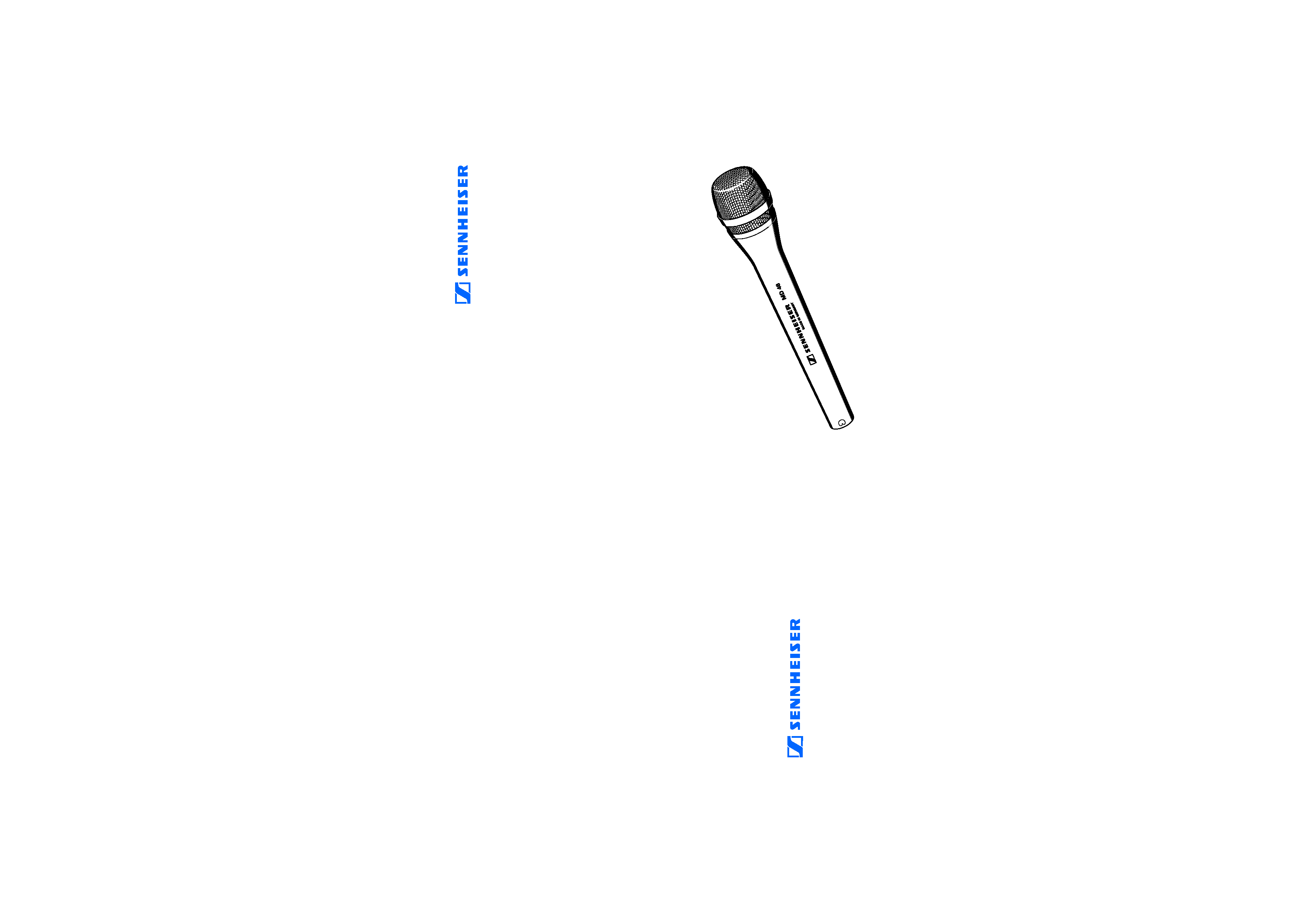 Sennheiser electronic GmbH & Co. KG
---

High-quality hand-held microphone with cardioid pick-up pattern. Designed
for rugged routine use in radio and TV reporting. Easy to handle - the
special design minimizes wind and handling noise.
· Excellent speech clarity due to optimised frequency response.
· Specially designed rugged housing for tough use.
· Good recording results.
· Excellent rejection of handling noise.
· Special protection against wind and pop noise due to double layer
RECOMMENDED ACCESSORIES
(NOT SUPPLIED)
· Quick release clamp MZQ 800, Cat. No. 04711.
· Foam windshield MZW 5000 (black), Cat. No. 03824.
· Foam windshield MZW 65 PRO (black, velour), Cat. No. 03757.
Other colours and imprints are available on request, please order from
your local Sennheiser dealer.
Pressure-gradient microphone
Rejection at 1 kHz at 180º
Sensitivity (free field, no load) at 1 kHz
(= ­54 dBV with 0 dB = 1 V/Pa)
(= ­74 dBV with 0 dB = 1V/
Nominal impedance at 1 kHz
Min. terminating impedance
Magnetic field interference factor
Ø 49 mm, length 250 mm / approx. 360 g
MD 46 DYNAMISCHES MIKROFON
Hochwertiges Handmikrofon mit Nierencharakteristik. Entwickelt für den
rauhen Routineeinsatz bei Reportagen, für Funk und Fernsehen. Einfach zu
handhaben - der spezielle Aufbau vermeidet Probleme mit Wind und
· Hohe Sprachverständlichkeit durch optimierten Frequenzgang
· Handlich und stabil durch einen speziell konstruierten Griff
· Besonders unempfindlich gegen Körperschall
· Erhöhter Schutz gegen Wind- und Poppgeräusche durch doppelte Gaze-
Einlage im Einsprachekorb
ZUBEHÖR
(NICHT IM LIEFERUMFANG)
· Schnellwechselklemme MZQ 800, Art.Nr. 04711
· Windschutz MZW 5000 (schwarz), Art.Nr. 03824
· Windschutz MZW 65 PRO (schwarz, velourisiert), Art.Nr. 03757
Sonderfarben und Bedruckung auf Wunsch. Bestellung über den zustän-
digen Sennheiser-Vertragshändler.
Max. Auslöschung bei 1 kHz bei 180º 20 dB
Feldleerlauf-Übertragungsfaktor
(= ­54 dBV mit 0 dB = 1 V/Pa)
(= ­74 dBV mit 0 dB = 1 V/
Magnetfeldstörfaktor bei 50 Hz
Ø 49 mm, Länge 250 mm / ca. 360 g
---

Microfono manuale di alta qualità con caratteristica cardioide. Sviluppato
per il duro impiego di routine nei reportage, per la radio e la televisione.
Semplice da usare - la struttura speciale evita problemi con il vento e le
· Elevata comprensibilità della voce grazie alla risposta armonica ottimizzata.
· Maneggevole e stabile grazie alla speciale costruzione della scatola in vetro-
· Una buona qualità di registrazione viene raggiunta anche da utenti inesperti.
· Insensibilità alle vibrazioni del corpo.
· Elevata protezione anti-vento e contro i rumori popp grazie all´inserimento
di uno strato doppio di garza nella maglia del puntale.
ACCESSORI (NON COMPRESI NELLA FORNITURA)
· Morsetto a cambio rapido MZQ 800, n. art. 04711.
· Protezione paravento MZW 5000 (nero), n. art. 03824.
· Protezione paravento MZW 65 PRO (nero, vellutato), n. art. 03757.
Colori speciali e dicitura su richiesta. Ordinazione tramite i
concessionari Sennheiser competenti.
Ricevitore a gradiente di pressione
Caratteristica di direttività
Cancellazione max. a 1 kHz a 180º
Sensitività circuito aperto
(= ­54 dBV mit 0 dB = 1 V/Pa)
(= ­74 dBV mit 0 dB = 1 V/
Impedenza nominale a 1 kHz
in campo magnetico a 50 Hz
Ø 49 mm, lunghezza 250 mm / ca. 360 g
MICROPHONE DYNAMIQUE MD 46
Microphone à main haut de gamme avec directivité cardioïde. Développé
pour une utilisation dans les reportages radio et TV. Maniement aisé et sûr
grâce à une construction spéciale du microphone le rendant insensible aux
bruits mécaniques et aux bruits de vent.
· Excellente intelligibilité de la parole grâce à une réponse en fréquence optimisée.
· Maniable et solide grâce à la conception spécial de revêtement du micro.
· Très bonne qualité audio.
· Excellente insensibilité aux bruits de manipulation.
· Bonne protection contre le vent et les pops grâce à une grille de
protection double couche.
ACCESSOIRES RECOMMANDÉS
(NON INCLUS)
· Pince de fixation rapide MZQ 800, N
· Bonnette anti-vent MZW 5000 (noir), N
· Bonnette anti-vent MZW 65 PRO (noir, couverture velours), N
D´autres couleurs et impressions sur demande, veuillez les commander
chez votre agent Sennheiser.
CARACTÉRISTIQUES TECHNIQUES
Microphone à gradient de pression
Rapport de directivité à 1 kHz à 180º 20 dB
Facteur de transmission à vide (à 1 kHz) 2,0 mV/Pa
(= ­54 dBV avec 0 dB = 1 V/Pa)
(= ­74 dBV avec 0dB = 1V/
Impédance nominale à 1 kHz
Impédance minimale de charge
Facteur de perturbation magnétique
Sous réserve de modification.
---

MD 46 DYNAMISCHE MICROFOON
Hoogwaardige handmicrofoon met nierkarakteristiek. Ontwikkeld voor de
ruwe routinetoepassing bij reportages, voor radio en televisie. Eenvoudig te
hanteren - de speciale opbouw vermijdt problemen met wind en lichaams-
Hoge spraakduidelijkheid door geoptimaliseerde frequentiekarakteristiek
Handig en stabiel door speciaal geconstrueerde greep.
Bijzonder ongevoelig tegen contactgeluid.
Verhoogde bescherming tegen wind- en plopgeluid door dubbele
gaasvoering in de spreekcel.
ACCESSOIRES (NIET INBEGREPEN)
Snelwisselklem MZQ 800, Art.Nr. 04711.
Windbescherming MZW 5000 (zwart), Art.Nr. 03824.
Windbescherming MZW 65 PRO (zwart, velours-bekleding), Art.Nr. 03757.
Speciale kleuren en opschrift naar wens. Bestelling via de
verantwoordelijke Sennheiser-dealer.
Keerverlies bij 1 kHz bij 180º
onbelaste werking bij 1 kHz
(= ­54 dBV mit 0 dB = 1 V/Pa)
(= ­74 dBV mit 0 dB = 1 V/
Nominale impedantie bij 1 kHz
Magneetveld-stoorfaktor bij 50 Hz
Ø 49 mm, lengte 250 mm/ca. 360 g
Micrófono de mano de alta calidad, con característica cardioide, diseñado
para el rudo trabajo de rutina en reportajes, en la radio y en la televisión.
Muy sencillo de manejar - la estructura especial evita los problemas
ocasionados por el viento y los ruidos corporales.
· Muy buena comprensión vocal, gracias a la respuesta optimizada.
· Manejable y estable gracias a la carcasa, especialmente construida.
· Incluso los usuarios inexpertos pueden lograr grabaciones de buena
· Especialmente insensible al sonido corporal.
· Mayor protección contra ruidos producidos por el viento y ruidos secos
gracias al inserto de gasa colocado en la rejilla del micrófono.
ACCESORIOS (NO INCLUIDOS EN EL SUMINISTRO)
· Presilla de cambio rápido MZQ 800, no. art. 04711.
· Caperuza antiviento MZW 5000 (negro) no. art. 03824.
· Caperuza antiviento MZW 65 PRO (negro, aterciopelado) no. art. 03757
Colores especiales e impresión sobre demanda. Los pedidos deben
efectuarse al concesionario Sennheiser competente.
Receptor de gradiente de presión
Característica direccional
Atenuación max. a 1 kHz a 180º
Factor de transmisión de campo
(= ­54 dB mit 0 dB = 1 V/Pa)
(= ­74 dB mit 0 dB = 1 V/
Impedancia nominal a 1 kHz
Factor de interferencia magnética a 50 Hz
49 mm Ø, largo 250 mm / aprox. 360g
Reserva de modificaciones
---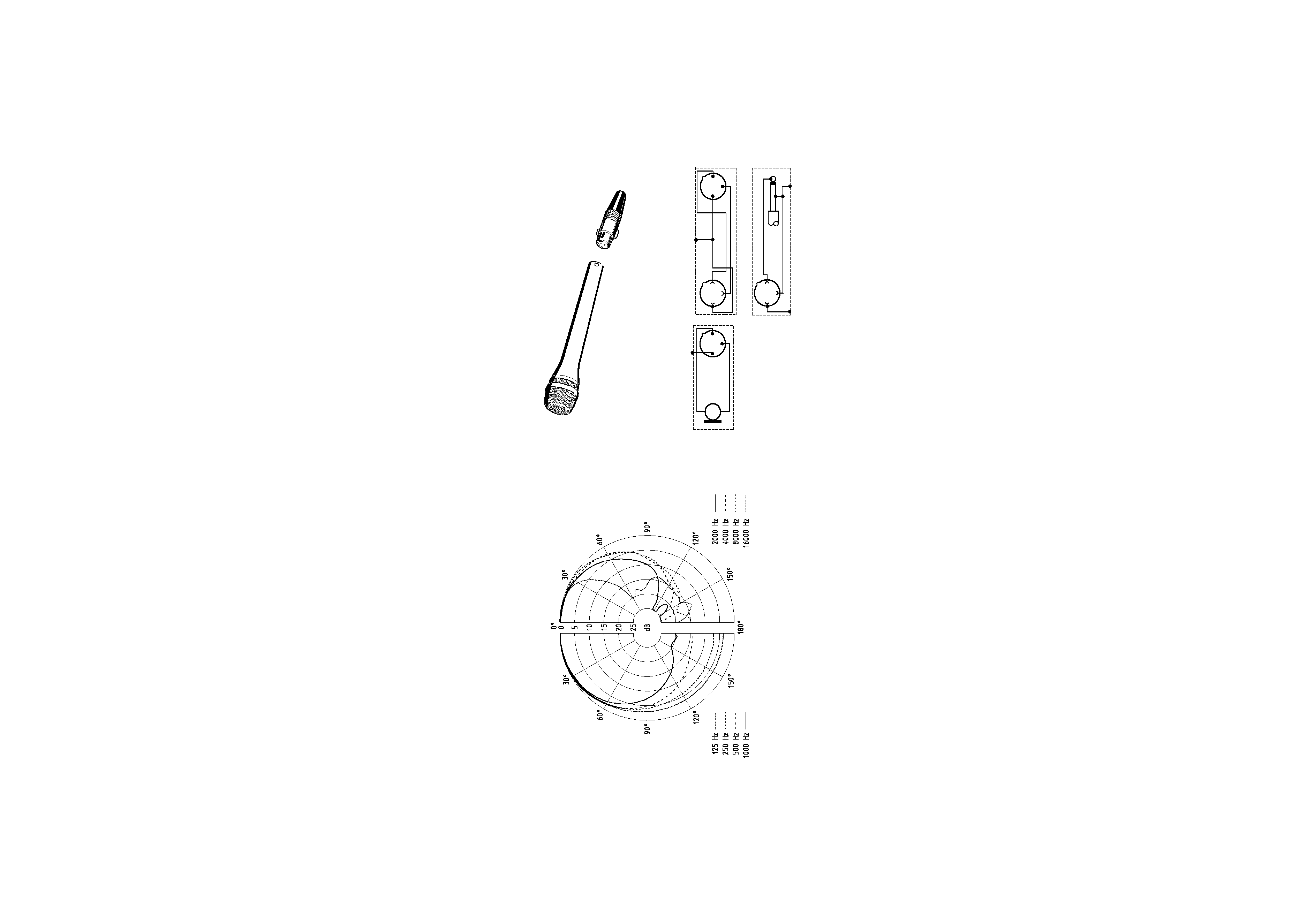 RACCORDEMENT DU MICROPHONE
DIAGRAMME DE LA DIRECTIVITÉ
DIAGRAMA DE LA DIRECTIVIDAD
---