Le récepteur stéthoscopique HDE 2020 D fait partie du système pour
visite guidée 2020. Pour obtenir de plus amples informations sur
l'utilisation, veuillez vous reporter au mode d'emploi du système
complet (réf. 516509, 08/06). Ce mode d'emploi pourra vous être fourni
séparément par le biais du revendeur Sennheiser local ou du site Internet
³
Réglage du volume sonore
·
Touche de sélection de canal /
Récepteur correctement inséré dans le
LED émet une lumière rouge : Accu en cours de charge
LED émet une lumière verte :
Accu entièrement rechargé
LED émet une lumière rouge
La température de l'accu est trop élevée,
en clignotant lentement :
la recharge sera interrompue
Indicateur d'état de charge
Indicateur de volume sonore
Indicateur de signal radio
´
Mise sous/hors tension du récepteur
Le récepteur se met sous tension dès que vous écartez les oreillettes.
Caractéristiques techniques
Accu polymère lithium, 830 mAh
Il ricevitore a staffa sottomento HDE 2020 D è un componente del sistema
Tourguide 2020. Per informazioni dettagliate sul suo utilizzo, consultare le
istruzioni per l'uso generali (n. ID 516509, 08/06). Le istruzioni per l'uso
possono essere richieste separatamente attraverso il proprio rivenditore
Sennheiser oppure su Internet all'indirizzo www.sennheiser.com.
·
Tasto di selezione canale /
Il LED si illumina brevemente
il ricevitore è correttamente inserito nel
Il LED si illumina di rosso:
l'accumulatore è sotto carica
Il LED si illumina di verde:
la carica dell'accumulatore è completata
Il LED lampeggia lentamente
la temperatura dell'accumulatore è
troppo elevata, il processo di carica
Indicazione stato di carica
Indicazione segnale radio
´
Accensione/spegnimento del ricevitore
Il ricevitore si accende automaticamente non appena le staffe auricolari
Livello di pressione acustica
accumulatore ai polimeri di litio, 830 mAh
El receptor con estribo de barbilla HDE 2020 D forma parte del sistema
Tourguide 2020. Para detalles sobre el uso, sírvase consultar las
instrucciones del servicio del sistema global (nº ID 516509, 08/06). Las
instrucciones de servicio se pueden solicitar por separado a través de su
distribuidor Sennheiser o en Internet bajo www.sennheiser.com.
·
Tecla de selección de canal /
LED se enciende brevemente
Receptor colocado correctamente
en el compartimento de carga
LED encendido de color rojo:
Se está cargando la batería
LED encendido de color verde: Batería completamente cargada
Temperatura de la batería demasiado
alta; el proceso de carga se interrumpe
Indicación del estado de carga
Indicación de la señal de radiofrecuencia
´
Conexión/desconexión del receptor
El receptor se conecta automáticamente al abrir los estribos para la oreja.
Especificaciones técnicas
Gama de transmisión de baja
Batería de polímero de litio, 830 mAh
De kinbeugelontvanger HDE 2020 D is bestanddeel van het Tourguide
Systeem 2020. Voor details over het gebruik, zie de gebruiksaanwijzing
van het totale systeem (ID-nr. 516509, 08/06). De gebruiksaanwijzing
is apart verkrijgbaar via uw Sennheiser dealer of in het internet onder
Ontvanger correct in laadschacht geplaatst
LED knippert langzaam rood: Temperatuur van de accu is te hoog,
laadproces wordt onderbroken
´
Ontvanger in-/uitschakelen
De ontvanger schakelt automatisch in, zodra u de oorbeugels uit elkaar
geluidsdrukniveau bij 1 kHz
Lithium-polymeer-accu, 830 mAh
---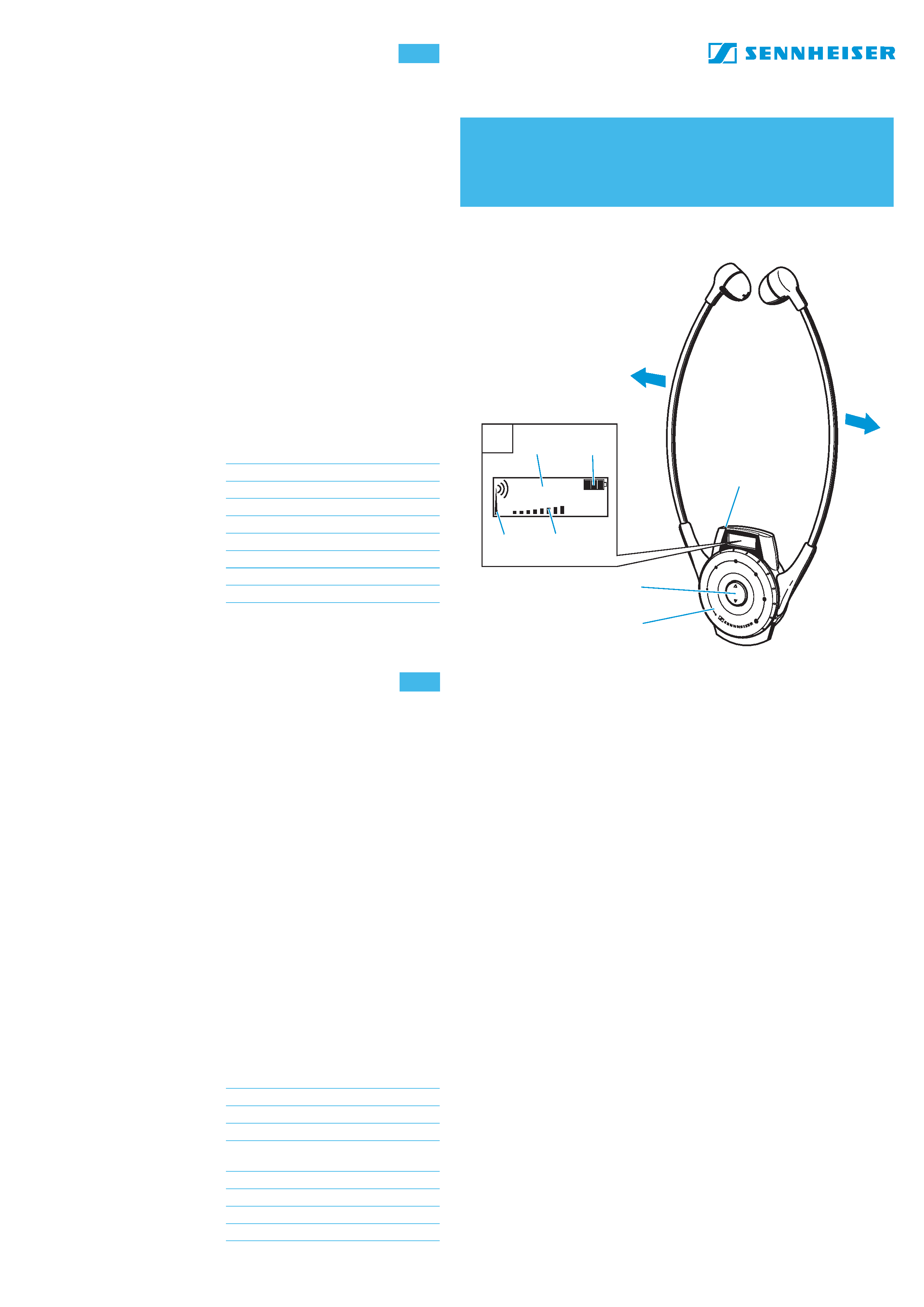 Der Kinnbügelempfänger HDE 2020 D ist Bestandteil des Tourguide
Systems 2020. Einzelheiten zum Gebrauch entnehmen Sie bitte der
Bedienungsanleitung des Gesamtsystems (ID-Nr. 516509, 08/06). Sie
erhalten die Bedienungsanleitung separat über Ihren Sennheiser
Fachhändler oder im Internet unter www.sennheiser.com.
LED leuchtet kurz grün: Empfänger korrekt in Ladeschacht eingesetzt
Akku vollständig aufgeladen
LED blinkt langsam rot: Temperatur des Akkus ist zu hoch, Ladevorgang
´
Empfänger ein/ausschalten
Empfänger schaltet sich automatisch ein, sobald Sie die Ohrbügel ausein-
Kennschalldruckpegel bei 1 kHz
Lithium-Polymer-Akku, 830 mAh
The HDE 2020 D stethoset receiver is part of the Tourguide 2020 system.
For operating instructions, refer to the user guide for the entire system
(ID no. 516509, 08/06). The user guide is available separately from your
Sennheiser dealer or on the Internet at www.sennheiser.com.
·
Channel select button /
LED briefly lights up green: Receiver is correctly positioned in
Battery completely charged
LED flashing slowly in red:
Battery temperature too high, charging
Receiver is switched on automatically as soon as you pull apart the ear
Rated sound intensity level
Lithium polymer battery, 830 mAh
Sennheiser electronic GmbH & Co. KG
---