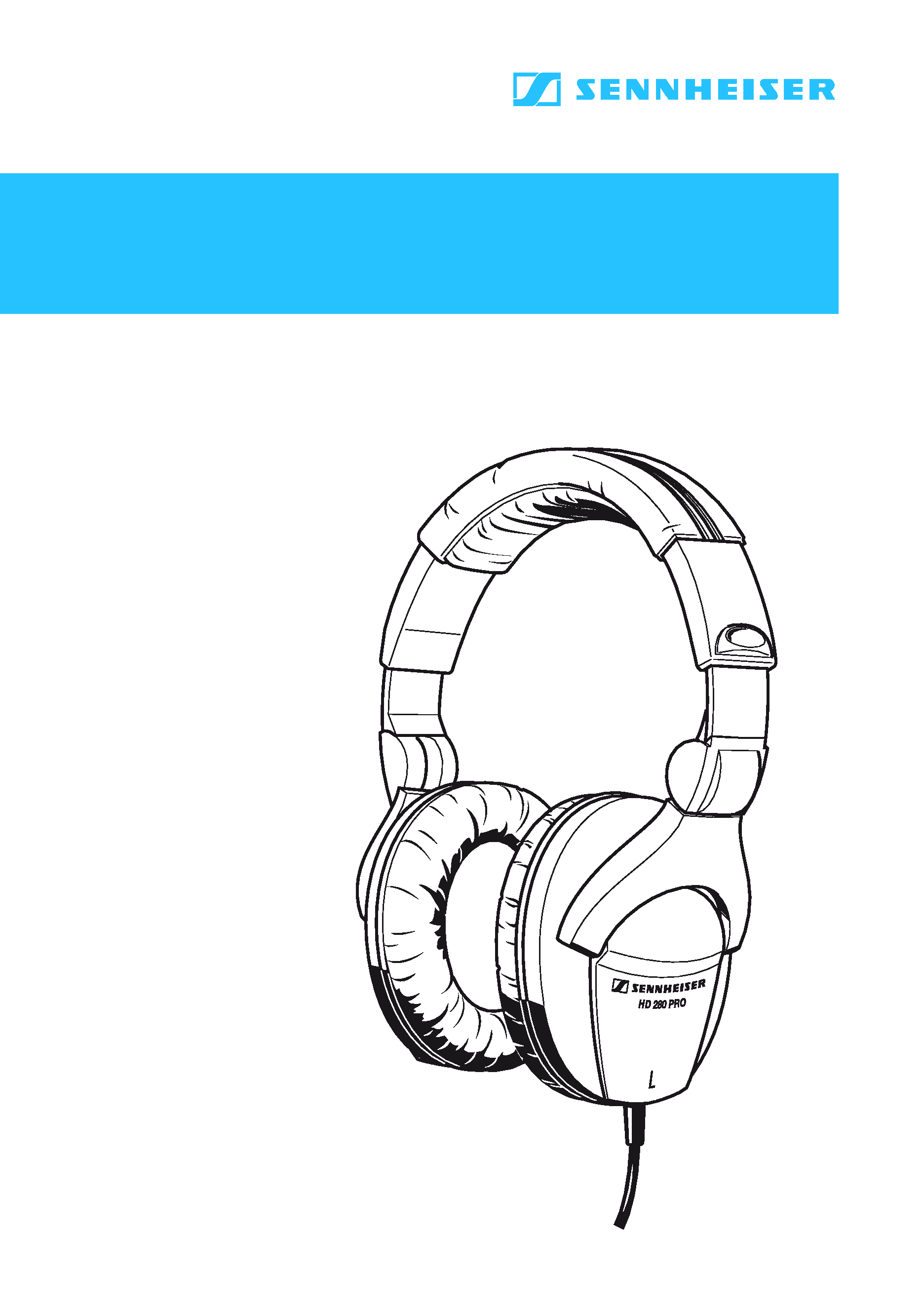 ---

Headphone features .............................................................................................. 2
HD 280 pro / HD 280 silver headphones ..................................................................... 2
HD 280 -13 headphones ................................................................................................. 2
Areas of application ............................................................................................... 3
Delivery includes .................................................................................................... 3
Safety instructions ................................................................................................. 4
Adjusting the headband ....................................................................................... 5
Folding up the headphones .................................................................................. 6
Cleaning the headphones ..................................................................................... 6
Replacing spare parts ............................................................................................ 7
Available accessories and spare parts .......................................................................... 7
Replacing the ear cushions ............................................................................................. 7
Replacing the headband padding ................................................................................. 7
Replacing the connecting cable ..................................................................................... 8
Converting the headphones into a headset ................................................................ 8
Specifications .......................................................................................................... 9
Frequency response curve .................................................................................. 10
Manufacturer declarations ................................................................................. 11
Thank you for choosing Sennheiser!
We have designed this product to give you reliable operation over many years. Over 60
years of accumulated expertise in the design and manufacture of high-quality electro-
acoustic equipment have made Sennheiser a world-leading company in this field.
Please take a few moments to read these instructions carefully, as we want you to
enjoy your new Sennheiser products quickly and to the fullest.
---

HD 280 pro / HD 280 silver headphones
Closed dynamic headphones
Accurate, linear sound reproduction for critical monitoring
Low impedance headphones (64 impedance)
Space-saving design features collapsible, rotating earcups
Up to 32 dB of ambient noise attenuation
Neodymium magnets for high maximum SPL
Very comfortable, even if used for long periods due to
soft, circum-aural ear cushions
padded, adjustable headband
Single-sided, coiled cable with 3.5 mm jack plug and lockable
adapter to 1/4" (6.3 mm) jack plug
Very rugged with user-replaceable parts
As HD 280 PRO, but high impedance variant (300
---

The headphones not only effectively attenuate external noise
but also minimise spillage from the headphones to the outside
world. They are especially suitable for
use as monitoring headphones in a noisy environment
broadcast and TV applications
film and theatre applications
Adapter to 1/4" (6.3 mm) jack plug
---

This is a professional pair of headphones. Commercial use is
subject to the rules and regulations of the trade association
responsible. Sennheiser, as the manufacturer, is therefore
obliged to expressly point out possible health risks arising from
This system is capable of producing sound pressure exceeding
85 dB(A). 85 dB(A) is the sound pressure corresponding to the
maximum permissible volume which is by law (in some
countries) allowed to affect your hearing for the duration of a
working day. It is used as a basis according to the specifications
of industrial medicine. Higher volumes or longer durations can
damage your hearing. At higher volumes, the duration must be
shortened in order to prevent damage.
The following are sure signs that you have been subjected to
excessive noise for too long a time:
You can hear ringing or whistling noise in your ears!
You have the impression (even for a short time only) that
you can no longer hear high frequencies!
---