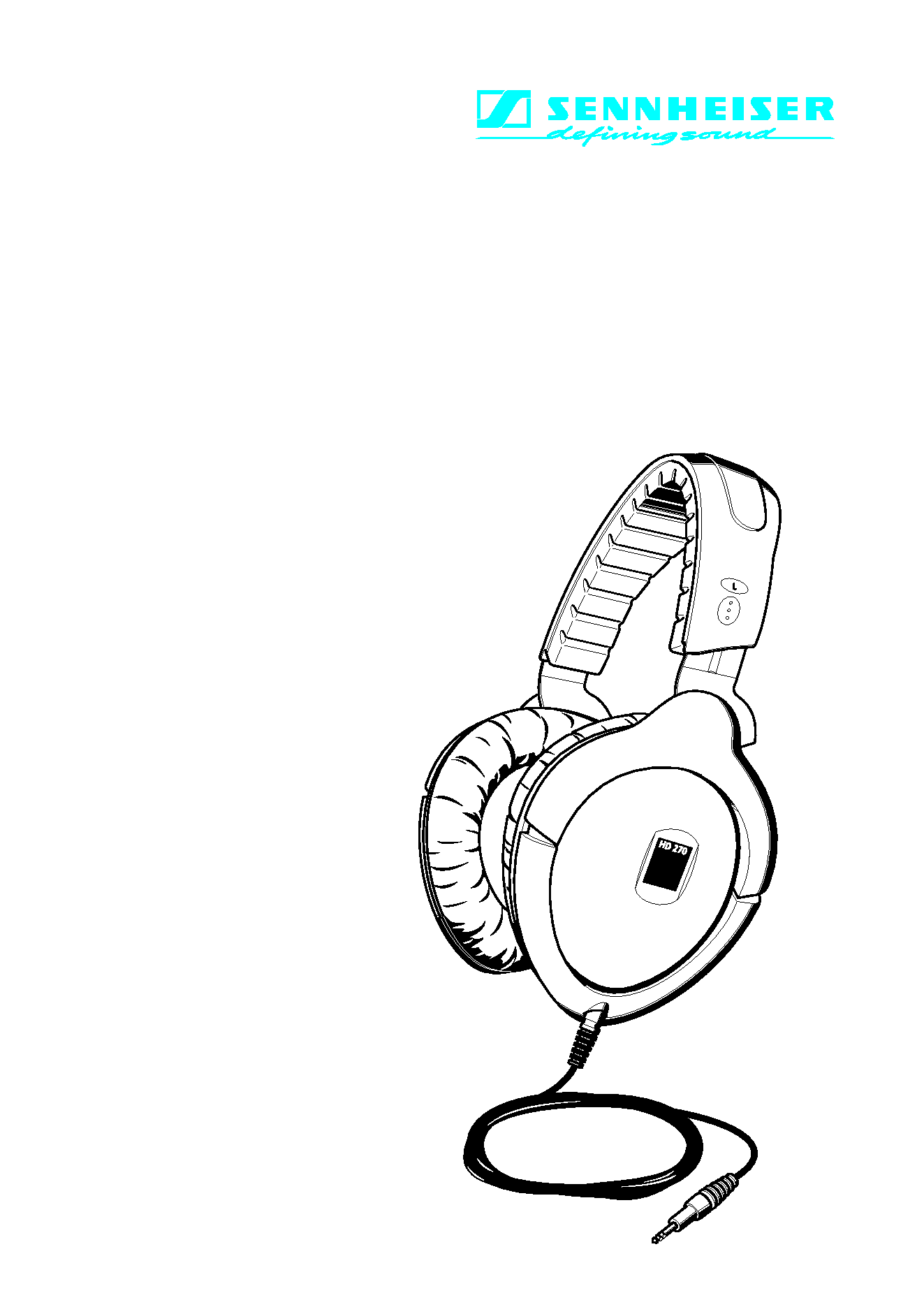 INSTRUCCIONES PARA EL USO
---

Der HD 270 Control ist ein geschlossener, ohrumschließender Stereo-Kopfhörer,
der höchsten professionellen Ansprüchen genügt. Sein Anwendungsbereich
reicht vom Einsatz an hochwertigen Hifi-Anlagen, bis zum professionellen
geschlossener, ohrumschließender High-Definition Stereo-Kopfhörer
optimaler Tragekomfort durch weltweit prämiertes BioNetic Design
Neodym-Magnete für kraftvolle Dynamik und hohen Schalldruckpegel
hoher maximaler Schalldruck
bestechend durch voluminöses, ausdrucksvolles Klangbild
neuartiges Dämpfungselement zur Kontrolle des Schwingverhaltens
Langlebigkeit durch leicht auswechselbare Einzelteile
einseitig, steckbares Anschlußkabel aus hochleitfähigem Kupfer
ohrumschliessend, geschlossen
12 - 22.000 Hz (-10dB bei 1kHz)
(Sauerstoffreies Kupfer), einseitig steckbar
3,5 mm Stereoklinke mit 6,3 mm Adapter
---

The HD 270 Control is a closed circum-aural set of stereo headphones which
satisfies the most stringent professional demands. It is equally suitable for use
with top of the range hi-fi-systems and for professional monitoring applications.
Closed circum-aural high definition stereo headphones
Very comfortable to wear due to BioNetic design
Neodymium magnets for powerful dynamics
High maximum sound pressure level
Full, expressive sound reproduction
New damping element for controlling diaphragm oscillation
Replaceable parts for long life
Single-sided, detachable connecting cable made
from highly conductive OFC copper
12­22,000 Hz (-10 dB at 1 kHz)
3.5 mm stereo jack plug with 1/4" adaptor
---

Le HD 270 Control est un casque hi-fi stéréo, de type fermé circum-aural,
satisfaisant à toutes les exigences professionnelles. Ses applications vont de
l'écoute sur chaîne hi-fi très haut de gamme au casque monitor pour studio
Casque hi-fi stéréo de grande définition sonore,
de type fermé et circum-aural
Port très confortable grâce au design BioNetic
Aimants au néodyme pour une grande dynamique
et une pression acoustique élevée
Pression acoustique maximale
Richesse sonore et chaleur de la reproduction
Nouvel élément d'atténuation assurant le contrôle
des oscillations de la membrane
Casque hi-fi modulaire (pièces interchangeables)
Câble de raccordement unilatéral déconnectable,
en cuivre à haute conductivité
Charactéristiques techniques
12­22.000 Hz (-10 dB à 1 kHz)
Niveau de pression acoustique
Distorsion harmonique (1 kHz)
Pression exercée par les écouteurs
en cuivre OFC, unilatéral,
---

La cuffia HD 270 Control è una cuffia stereo chiusa, circumaurale che è in grado
di soddisfare l'esigente domanda di un pubblico di audiofili. Questa cuffia può
essere impiegata con impianti HIFI di alto livello fino all'impiego nel monitoring
Cuffia stereo High Definition chiusa circumaurale
Estremamente confortevole da indossare grazie al BioNetic Design
Magnete al neodimio per una maggior potenza dinamica ed un SPL alto
riproduzione eccezionale del suono ad alta fedeltà
Innovativo elemento smorzante per il controllo delle oscillazioni
Componenti facilmente sostituibili garantiscono una lunga vita
Cavo di collegamento con singola connessione
in rame ad alta conduttività, isolato
12 - 22.000 Hz (-10dB - 1 kHz)
Pressione esercitata dall'archetto
3 m di cavo in rame OFC (rame senza
ossigeno) con singola connessione
lato apparecchio: 3,5mm presa jack stereo con
---