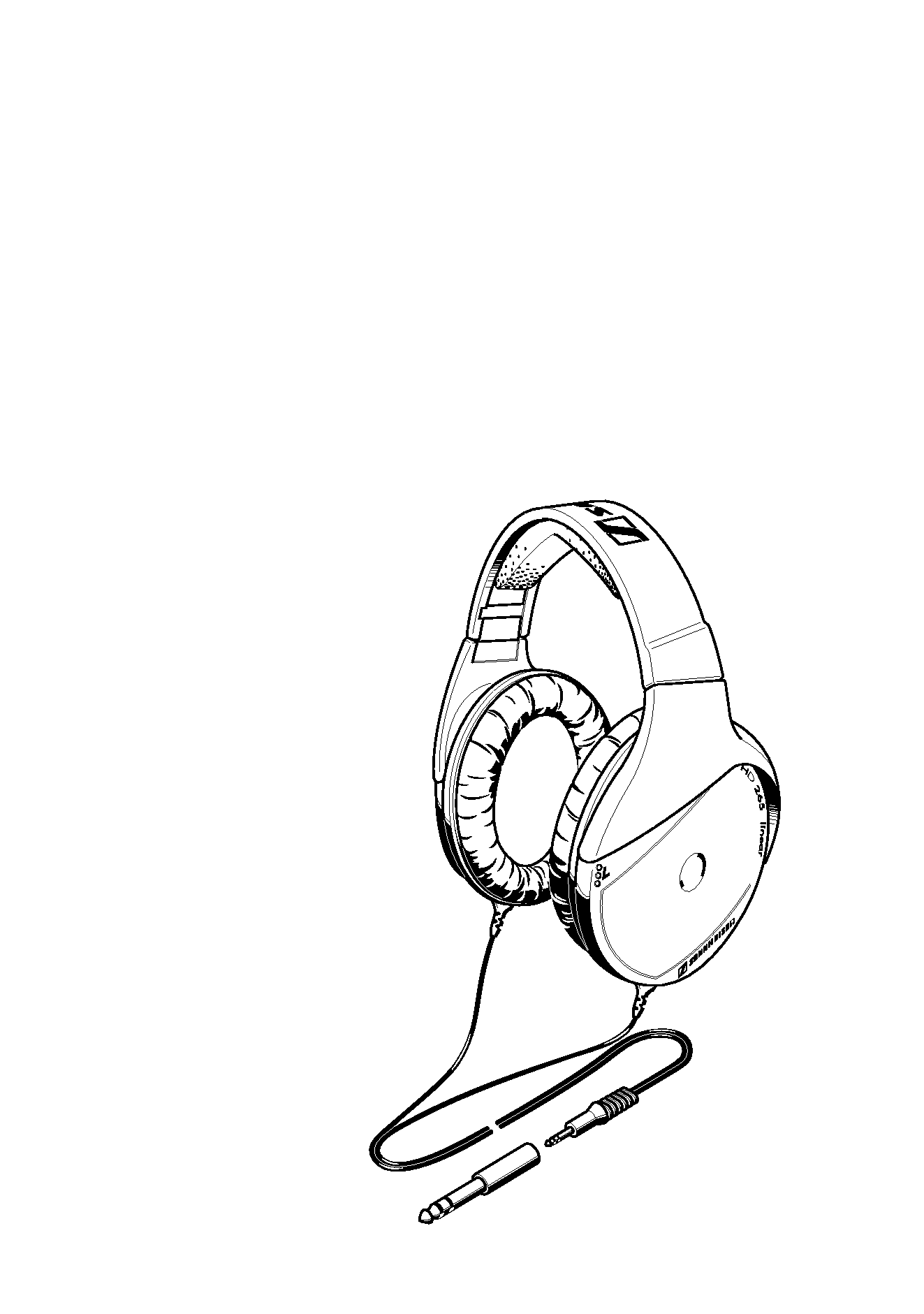 INSTRUCTIONS POUR L`USAGE
---

Geschlossener Hifi - Stereo - Kopfhörer der Spitzenklasse
Auch für professionelles Monitoring geeignet
Funktionales, fortschrittliches Design
nach ergonomischen Gesichtspunkten
Neodymmagnete für kraftvolle Dynamik und hohen Schalldruckpegel
Extrem leichte AlCu-Antriebsspulen für hohe Impulstreue
Duofol-Membran zur Verminderung von Partialschwingungen
Ausgewogenes, äußerst exaktes Klangbild
mit hervorragendem Baßverhalten
Steckbares, sehr robustes Anschlußkabel
aus Kupfer OFC, kevlarfaserverstärkt
Vergoldete Anschlußstecker zur dauerhaften Kontaktsicherheit
Höchster Tragekomfort - optimale Anpassung an die Kopfform
10 Hz - 30.000 Hz (-3 dB)
6 Hz - 35.000 Hz (-10 dB)
lautheitsdiffusfeldentzerrt
Art der Ankopplung an das Ohr
ohrumschließend (circumaural)
Gewicht ohne Anschlußkabel
3,5/6,3 mm ø, Stereoklinke
Kupferkabel OFC, 3m, steckbar
Aus hygienischen Gründen sollten Sie die Hörerpolster von Zeit zu Zeit
austauschen. Ohrpolster (1 Paar), Bestell-Nummer 66235.
---

10 Hz - 30,000 Hz (-3 dB)
6 Hz - 35,000 Hz (-10 dB)
diffuse-field luodness equalization
Sound coupling to the ear
around the ears (circumaural)
Headband caliper pressure
3.5/6.3 mm ø, stereo jack
3 m detachable copper cable (OFC)
For reasons of hygiene, ear pads should be replaced from time to time.
Ear cushions (1 pair), Order No. 66235.
Enclosed, top-of-the-range hi-fi stereo headphone
Also suitable for professional monitoring
Functional, advanced design which takes account of ergonomics
Neodynium magnets for powerful dynamics and high sensitivity
Extremely light AlCu power coils for high transient fidelity
Duofol membrane to reduce partial oscillations
Well-balanced, exceptionally precise sound with superb bass response
Very sturdy, plug-in connection cable of kevlar fibre-reinforced, OFC copper
Gold-plated connector plug, ensuring a connection with lasting reliability
for all playback equipment
Optimal wearer comfort - adjusts to allow a perfect fit
---

CARACTÉRISTIQUES TECHNIQUES
10 Hz - 30.000 Hz (-3 dB)
6 Hz - 35.000 Hz (-10 dB)
avec désaccentuatuin de volume
Pression acoustique caractéristique
99 dB, caractéristique pour 1 kHz
Taux de distorsion harmonique
Force d`appui sur l`oreille
Poids sans câble de raccordement
Pour des raisons hygiénique, les coussinets doivent être reemplacés de temps
en temps. Coussins (1 paire), référence 66235.
Casque fermé hifi-stéréo de la catégorie supérieure
Egalement adapté au monitoring professionnel
Design fonctionnel et moderne à l'ergonomie étudiée
Aimants néodymes pour dynamique puissante et niveau
de pression acoustique élevé
Bobines d'entraînement AlCu extrêmement légères pour
restitution élevée des impulsions
Membrane Duofol assurant la réduction des vibrations partielles
Son équilibré, extrêmement exact, offrant une restitution
Câble de raccordement enfichable, très robuste,
en cuivre OFC, renforcé aux fibres en kevlar
Connecteurs dorés garantissant une solidité durable des contacts
Confort de port maximal - adaptation optimale à la forme de la tête
---

10 Hz - 30.000 Hz (-3 dB)
6 Hz - 35.000 Hz (-10 dB)
Principio di funzionamento
Livello di pressione acustica a 1 kHz
Coefficiente di distorsione
Pressione esercitata dall`archetto
Per motivi igienici è consigliabile sostiturie i cuscinetti di volta in volta.
Cuscinetti (1paio), Code.n. 66235.
Con riserva di modifiche tecniche.
Cuffia hifi - stereo chiusa di qualità superiore
Adatta anche per il monitoring professionale
Design funzionale e moderno realizzato secondo criteri ergonomici
Magnete al neodimio per una dinamica potente e un elevato livello
Bobine di comando AlCu estremamente leggere per una elevata
Membrana Duofol per la riduzione delle oscillazioni parziali
Spettro acustico equilibrato, estremamente preciso
con eccellente comportamento dei bassi
Cavo di collegamento innestabile molto robusto in rame OFC,
rinforzato con fibre di kevlar
Spine di collegamento dorate per garantire un contatto permanente
su tutti gli apparecchi di riproduzione
Elevato confort di trasporto - adattamento ottimale alla forma della testa
---