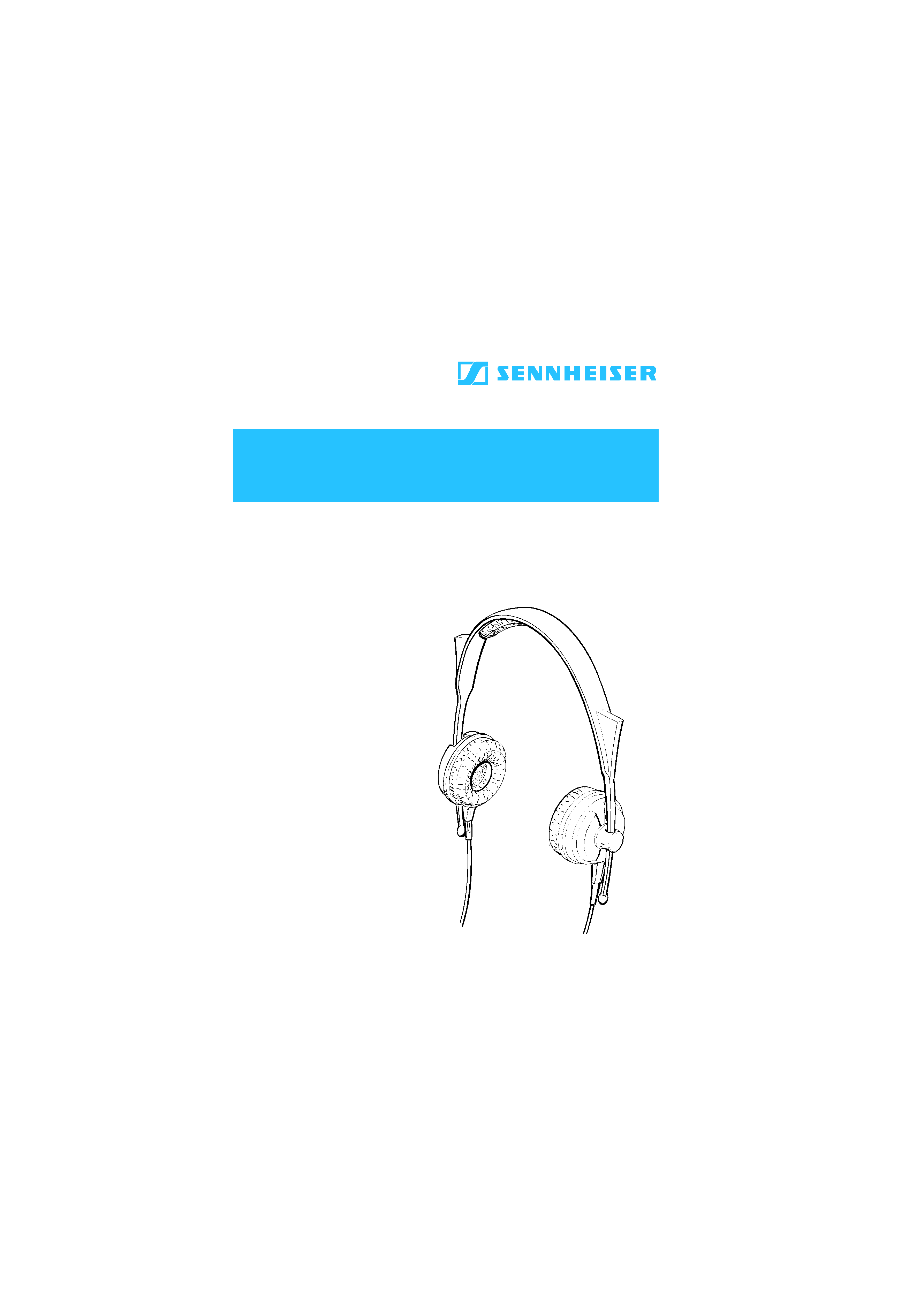 Instrucciones para el uso
---

Geschlossener dynamischer Kopfhörer für den Einsatz als Monitor-Hörer
im Studio, am Schnittplatz und in der Außenübertragung.
Sehr leichter Hörer für lange Abhörzeiten
Gute Abschirmung gegen Umgebungsschall, dadurch hohe
Rückkopplungssicherheit im Studio
hoher maximaler Schalldruck
vielseitig anschließbar durch 85
Stabiles, steckbares Stahladerkabel, austauschbar
NeoDym-Magnete mit hohem Wirkungsgrad, leichter
AlCu-Spulendraht für gute Impulstreue
Gesicherte Ersatzteilversorgung für 10 Jahre nach dem Kauf
Maximaler Schalldruckpegel
ohraufliegend, supraaural
3,5 / 6,3 mm ø Stereoklinke
---

Closed, dynamic headphone for use as monitor headphone in
professional studios, for cutting and during outdoor recordings.
Extremely lightweight headphone for long monitoring
Good screening against ambient noise, thus high feedback rejection
High maximum sound pressure level
Various connections possible due to a nominal impedance of 85
Sturdy, pluggable cable, exchangeable
Neodymium magnet systems with high efficiency, lightweight
AlCu coil wire for good transient response
Spare parts available for a period of ten years after purchase
Max. sound pressure level
6.3 mm ø stereo phone plug
3.5 / 6.3 mm ø stereo phone plug
---

Casque dynamique, type ouvert, pour applications comme casque
moniteur au studio, à la coupe ou des transmissions extérieures.
Casque ultraléger pour des temps d´écoute prolongués
Excellente protection contre le son d´environnement et ainsi
excellente sécurité contre les réactions acoustiques au studio
Pression acoustique max. élevée
nombreux possibilités de connexion grâce à l´impédance
·Câble à conducteur en acier, stabile, échangeable
Aimant néodyme de rendement élevé, fil en AlCu léger pour
transmission fidèle des impulsions
Fourniture de pièces détachées assurée pendant 10 ans après achat
CARACTÉRISTIQUES TECHNIQUES
Pression acoustique caractéristique
Pression acoustique max.120 dB
Nature de couplage avec l´oreillesur l´oreille, supra-aural
Force d´appui sur l´oreille
3,5 / 6,3 mm ø jack stéréo
Sous réserve de modifications.
---

Cuffia dinamica chiusa per l'impiego come ricevitore per monitor in
studio, nell'editing elettronico e nella trasmissione esterna.
Ricevitore molto leggero per permettere lunghi tempi di ascolto
Buono schermaggio contro il rumore ambientale e quindi elevata
resistenza all'autooscillazione in studio
Elevata pressione acustica massima
Molte possibilità di collegamento grazie all'impedenza nominale di 85
Stabile cavo a filo di acciaio innestabile, sostituibile
Magneti al neodimio di elevato rendimento, filo bobina leggero di
AlCu per buona fedeltà degli impulsi
Alimentazione assicurata dei pezzi di ricambio per 10 anni
Principio del convertitore
Livello di pressione acustica
Massimo livello di pressione acustica 120 dB
Applicazione all'orecchio
6,3 mm ø spina jack stereo
3,5 / 6,3 mm ø spina jack stereo
---