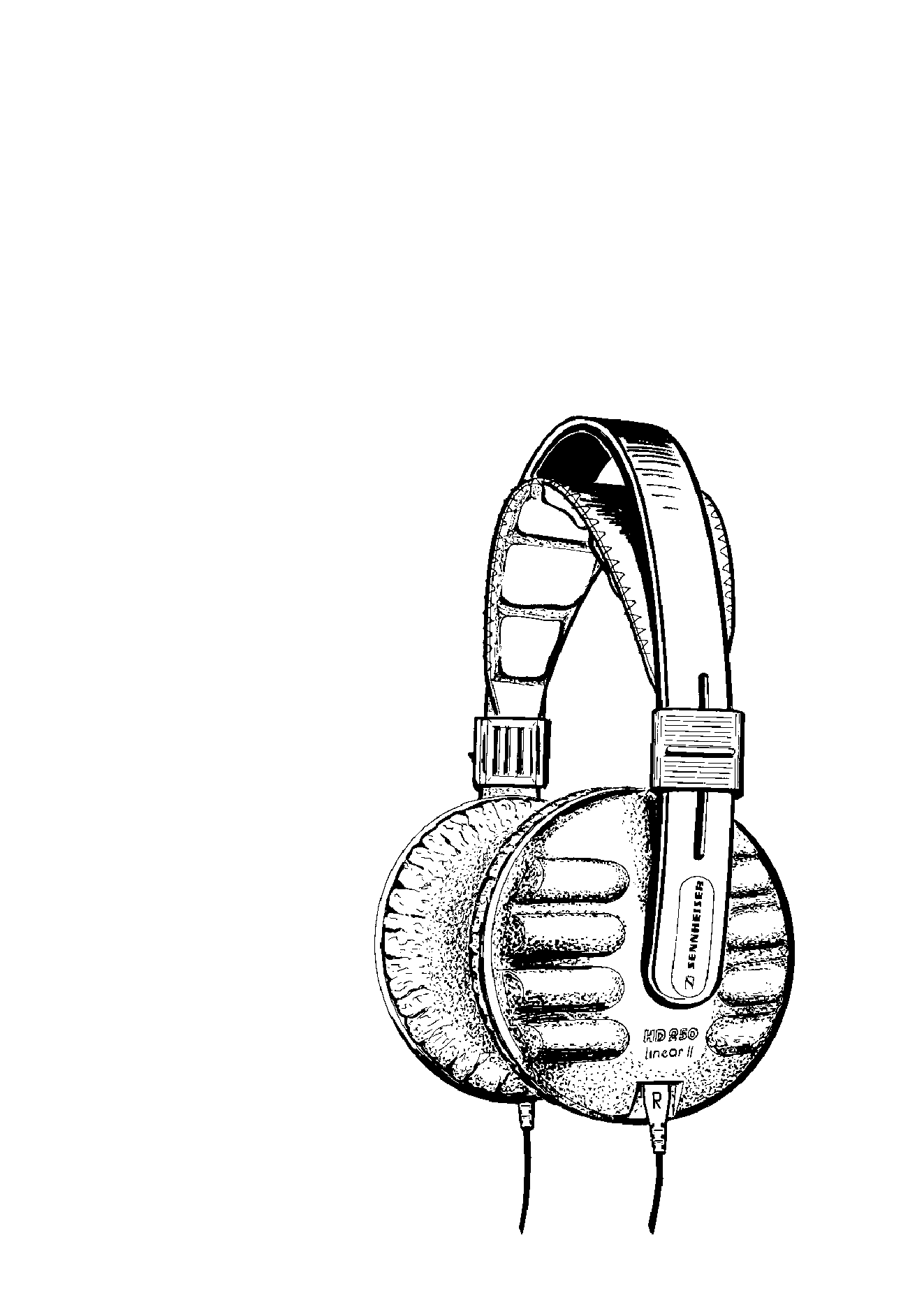 INSTRUCTIONS POUR L`USAGE
---

Der HD 250 linear II ist ein geschlossener, dynamischer Stereo-Kopfhörer,
der auch professionellen Ansprüchen genügt. Sein Anwendungsbereich
reicht vom Monitorhörer in der professionellen Studiotechnik, bis hin zum
Einsatz an hochwertigen Hifi-Anlagen für ungestörten Musikgenuß.
Ausgezeichnete Impulstreue durch die
geringe Masse der Aluminium-Antriebsspule
Lautheitsdiffusfeldentzerrter Frequenzgang für unverfälschtes Hören
Anschlußkabel aus hochleitfähigem Kupfer (OFC), steckbar,
minimierte Körperschallempfindlichkeit
Kennschalldruckpegel bei 1 kHz
Nennbelastbarkeit (nach DIN 45582)
Klirrfaktor (nach DIN 45500)
Art der Ankopplung an das Ohr
Aus hygienischen Gründen sollten Sie die Hörerpolster von Zeit zu Zeit
austauschen. Ohrpolster (1 Paar), Bestell-Nummer 34183.
lautheitsdiffusfeldentzerrt
ohrumschließend (circumaural)
---

Audiophile quality, dynamic stereo headphone using sealed ear chamber
principle. The HD 250 linear II is a dual purpose monitor/audiophile
headphone which can either be used in professional studios or at home for
fatigue-free musical enjoyment.
Excellent transient response thanks to its lightweight
triple wound aluminum voice coil
Balanced, full frequency reproduction gives
fatigue-free musical performance
Oxygen Free Copper signal cable for strength and
contact noise elimination
Sound coupling to the ear
Length of connection cable
For reasons of hygiene, ear pads should be replaced from time to time.
Ear cushions (1 pair), Order No. 34183.
200 mW (as per DIN 45582)
around the ears (circumaural)
6.3 / 3.5 ø stereo phone plug
---

Le HD 250 linear II est un casque hi-fi dynamique stéréo fermé, haut de
gamme. Il est approprié aux systèmes hi-fi, notamment aux lecteurs CD et
DAT ainsi que pour une utilisation en studio comme casque moniteur.
Fidélité du rendu même dans les basses fréquences grâce à sa
bobine en aluminium ultra-légère
Réponse en fréquence avec égalisation déterminée
par le volume dans le champ diffus
Câble de raccordement enfichable en fil de cuivre OFC, excellente
conductibilité, grande résistance, bruit de structure minimal
Caractéristiques techniques
caractéristique pour 1 kHz
Puissance admissible (selon DIN 45582)
Taux de distorsion (selon DIN 45500)
Poids sans câble de raccordement
Pour des raisons hygiénique, les coussinets doivent être reemplacés de
temps en temps. Coussins (1 paire), référence 34183.
égalisation déterminée par le
volume dans le champs diffus.
---

L'HD 250 linear II è una cuffia stereo dinamica, chiusa, in grado di
soddisfare anche requisiti professionali. Il suo campo di applicazione va da
quello di ricevitore per monitor nella tecnica professionale degli studi
all'impiego su impianti hifi di elevata qualità per un ascolto musicale senza
Comportamento eccellente degli impulsi grazie alla massa minima
della bobina di comando in alluminio
Sistemi magnetici di neodimio-ferro per una sensibilità e dinamica
Cavo di collegamento in rame di elevata conduttività (OFC),
innestabile, sensibilità minimizzata al rumore di struttura.
Principio di funzionamento
Livello di pressione acustica a 1 kHz
Coefficiente di distorsione
Pressione esercitata dall`archetto
Per motivi igienici è consigliabile sostiturie i cuscinetti di volta in volta.
Cuscinetti (1paio), Code.n. 34183.
Con riserva di modifiche tecniche.
compensazione mediante volume
200 mW (a norma DIN 45582)
< 0.2 % (a norma DIN 45500)
---