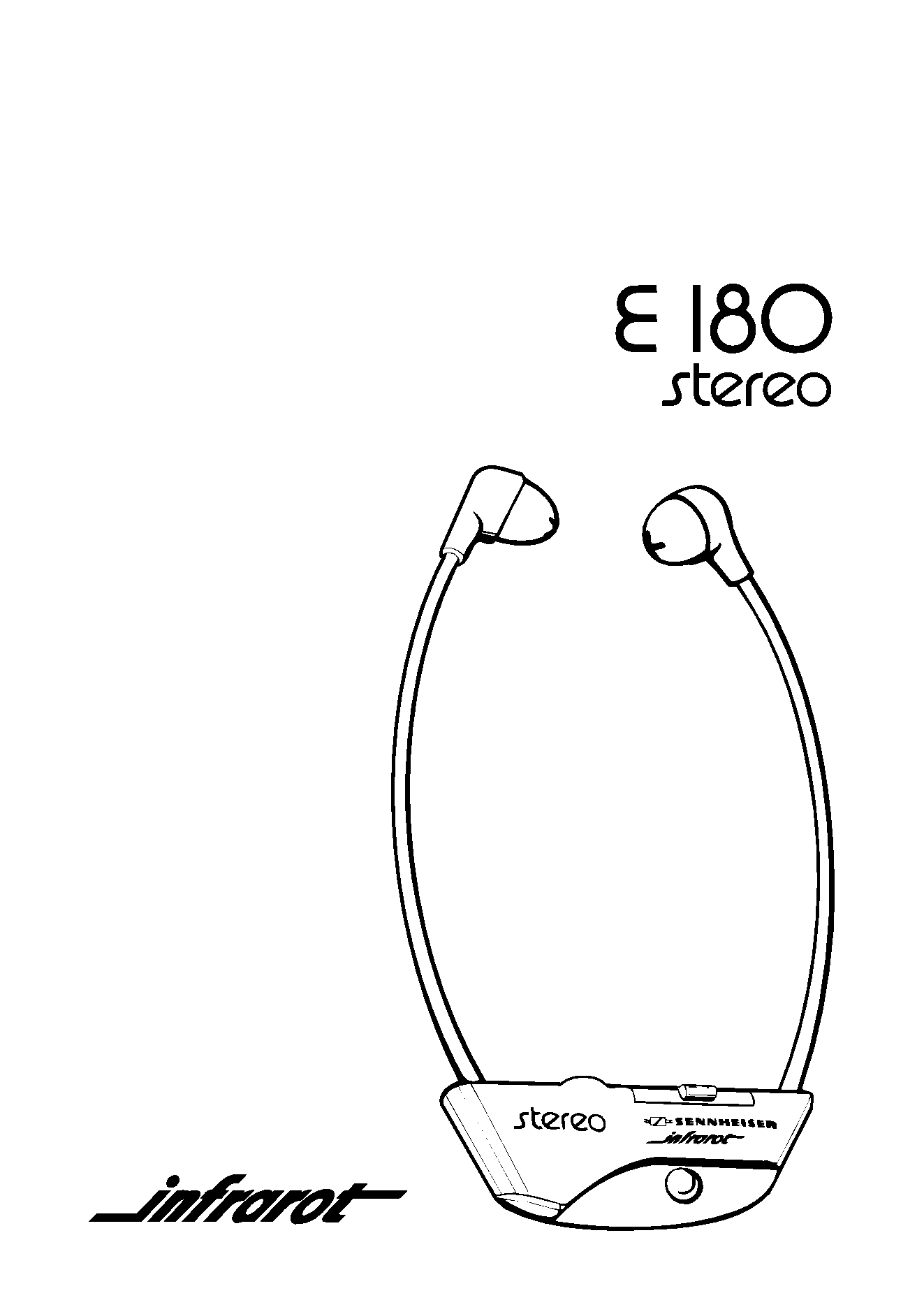 Instructions pour l`usage
---

E 180 Infrarot-HiFi-Stereo-Empfänger
Der Infrarot-HiFi-Stereo-Empfänger E 180 empfängt kabellos Musik und Sprache, die
von einem passenden Infrarot-Sender abgestrahlt werden.
· Zur Stereo-Tonübertragung
· als Delegiertenhörer, auch in Dolmetscheranlagen
· im Theater oder Vortrag als Hörunterstützung
· HiFi-Klangqualität, stereo
· wirtschaftlicher, umweltfreundlicher Akku-Betrieb
· Ladung des Akkusteckers BA 90 im Ladeschacht
des Senders oder im Steckerladegerät L 90.
Max. Schalldruck bei 1 kHz
Akkustecker BA 90 (Art.Nr. 03261)
ca. 43 g ( mit Akkustecker)
Sender nicht in Betrieb oder defekt
Lautstärkeregler aufgedreht,
Tonsignal fehlt, Senderanschluß kontrollieren !
Lautstärke für Kopfhörerbuchse separat regelbar ?
Betriebsanleitung TV/HiFi-Komponenten lesen !
Akku erschöpft, bitte sofort laden !
Ausrichtung des Senders nicht optimal,
der Empfang wird "abgeschattet".
Vor erstem Gebrauch Akku 24 Stunden laden !
Nach Gebrauch bitte ausschalten !
Ohrpolster (abnehmbar) von Zeit zu Zeit mit einer leichten Seifenlauge reinigen !
---

E 180 infrared stereo hi-fi receiver
The wireless infrared stereo hi-fi receiver E 180 receives music and speech radiated
by an appropriate infrared transmitter.
· stereo sound reproduction
· as a delegate headphone, for interpreter systems
· in theatres or during conferences as a hearing aid
· extremely light in weight
· economic accu operation
· causing no harm to the environment
· recharging of BA 90 accus in the charging port of
the transmitter or using the L 90 charging unit
Max. sound pressure level
BA 90 accu (Item No.03261 )
approx. 43 g (including accu plug)
Transmitter is not set into opertion or it is defective
Signal is missing, check connection to transmitter!
Volume can be adjusted separately at headphone
socket? See manual of TV/hi-fi components!
Accu is completely discharged, please recharge
The transmitter is not positioned in an optimum way,
Before using it for the first time, the accu has to be charged for 24 hrs!
Please switch off the device after use!
Ear cushions (removable) have to be cleaned with soap-suds from time to time!
---

Récepteur Hi-Fi stéréo à infrarouge E 180
Récepteur Hi-Fi stéréo à infrarouge E 180 pour transmission sans fil de la musique
et de la parole émis par un émetteur à infrarouge approprié.
· Pour la transmission du son stéréo
· Casque délégués, pour des systèmes interprètes
· Au théâtre ou dans des conférences pour
une meilleure intelligibilité
· Fonctionnement économique sur accumulateur
· Chargement des accumulateurs BA 90 dans l'émet-
teur ou à l'aide du dispositif de chargement L 90.
Caractéristiques techniques:
Pression acoustique maximale 110 dB environ à 1 kHz
Distorsion harmonique à 1 kHz < 0,8 %
43 g environ (avec accumulateur)
Pas de son. Bruit de fond
Emetteur non raccordé au secteur ou pas
Signal trop faible, contrôler le branchement sur
l'émetteur! Est-ce que le volume sur prise casque
peut être réglé séparément? Voir mode d'emploi
des appareils TV et Hi-Fi.
Accumulateur déchargé, rechargez le tout de suite!
L'émetteur n'est pas orienté de manière optimale, la
réception est interrompue.
Avant la première mise en service du récepteur,
recharger l'accumulateur pendant au moins 24 heures!
Après chaque utilisation, mettre hors circuit le récepteur!
Les coussinets doivent être nettoyés à l`eau légèrement savonneuse de temps en
Sous réserve de modification technique.
---

Ricevitore stereo HiFi a raggi infrarossi
Il ricevitore stereo HiFi a raggi infrarossi E 180 è in grado di ricevere senza cavo musica
e voce, irradiati da un trasmettitore adatto a raggi infrarossi.
· Per trasmissione del tono TV e HiFi
· Con funzione di ricevitore delegato, anche in impianti
· In teatro o per conferenze con funzione di
· Esercizio economico ed ecologico dell'accumulatore
· Carica della spina dell'accumulatore BA 90 nel vano
di carica del trasmettitore o nell'apparecchio di
Rapporto segnale-disturbo
Separazione canali a 1 kHz
Fattore di distorsione a 1 kHz
Spina accumulatore BA 90 (n. art. 03261)
ca. 43 g (con spina accumulatore)
Lista di controllo guasti:
Solo rumore percettibile?
Trasmettitore non in servizio o difettoso.
Segnale tono assente, controllare l'attacco del
trasmettitore! Volume regolabile separatamente
per presa altoparlante? Leggere le istruzioni sull'uso
Accumulatore scarico, caricare immediatamente!
Direzionalità non ottimale del trasmettitore, il ricevitore
Caricare l'accumulatore per 24 ore prima del primo impiego!
Dopo l'impiego disinserire!
Pulire l'imbottitura dell'auricolare (smontabile) ad intervalli regolari con una soluzione
---