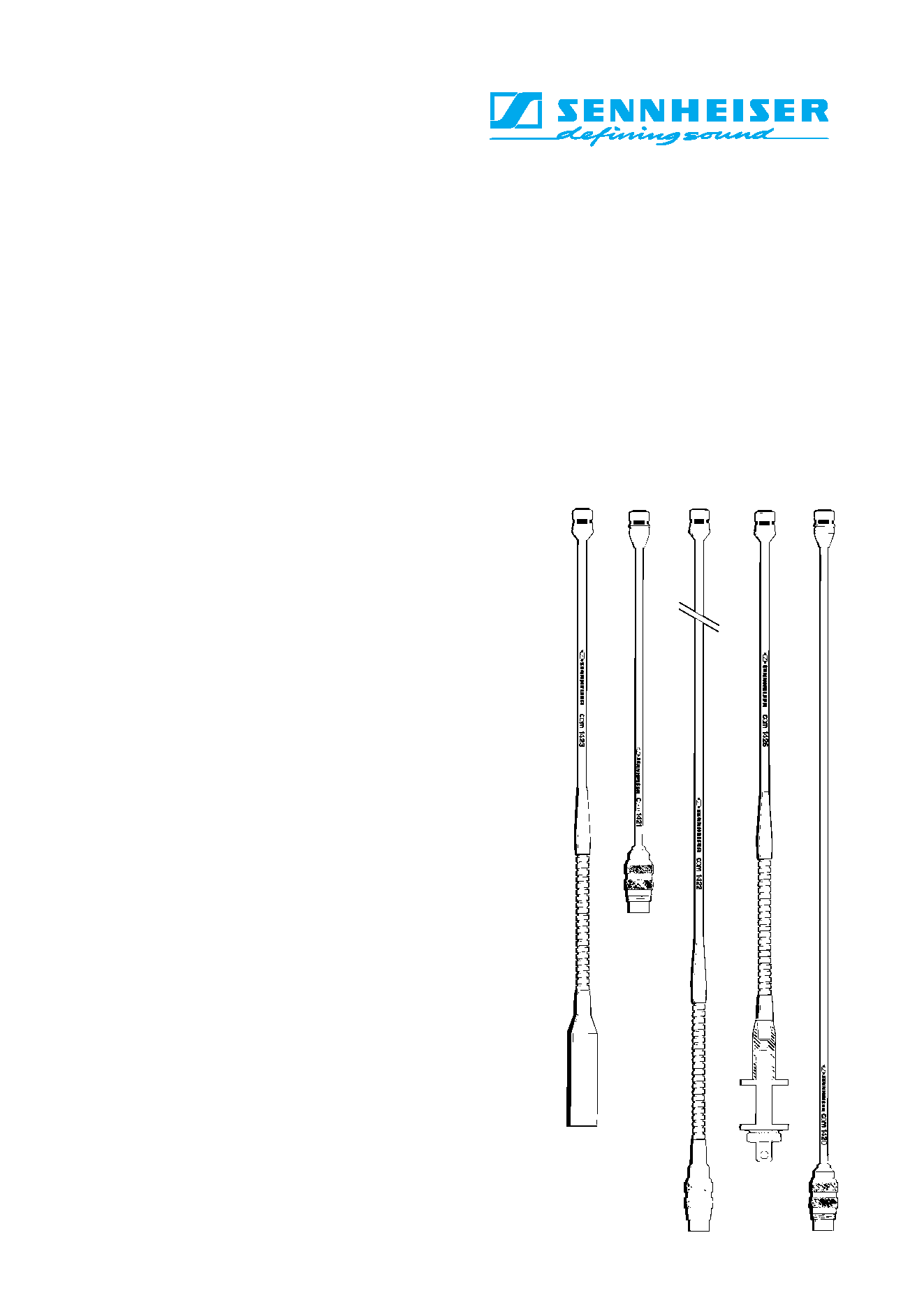 INSTRUCCIONES PARA EL USO
---

COM 1420-1425 Kondensatormikrofone
Die Mikrofone der Baureihe COM 1420 - 1425 sind dauerpolarisierte Kondensator-
mikrofone mit nierenförmiger Richtcharakteristik für die Anwendungsbereiche
Konferenz, Beschallung und Studiotechnik.
· Hohe Klangqualität durch Back-Elektret-Kondensatortechnik
· Einfache Stromversorgung aus Gleichspannungsquelle 4-24V
oder Phantomspeisung 12-48 V
· Reflexarmes, mattschwarzes Gehäuse
· Pop-Schutz im Lieferumfang
Feldleerlauf-Übertragungsfaktor
± 2,5 dB (= 62 dB) bei 1 kHz
Minimale Abschlußimpedanz
Störspannungsabstand nach
Phantomspeisung 12-48 V / XLR
unsymmetrische Speisung +4 bis +24V
---

COM microphones are extremely versatile permanently polarized condenser micro-
phones for public address use. They feature a cardioid pick-up pattern.
· excellent sound reproduction due to back electret condenser principle
· excellent feedback attenuation due to cardioid pick-up pattern
· Simple power supply from 4-24V DC-supplies or 12-48 V phantom powered
· matt black surface finish
· delivery includes a pop shield
8-pin plug acc. to DIN 45326
8-pin plug acc. to DIN 45326
8-pin plug acc. to DIN 45326
pressure gradient transducer
Min. terminating impedance
12-48 V phantom powered/XLR
unterminated cable, +4 bis +24V
We reserve the right to alter specifications.
COM 1420-1425 condenser microphones
---

Microphones électrostatiques COM 1420-1425
Les microphones COM sont des micros statiques auto-polarisés à caractéristique
cardioide. Ils sont plus particulièrement étudiés pour les transmissions sonores,
conférences, sonorisation et studio.
· excellente qualité grace au principe statique auto-polarisé
· alimentation par source de courant continu 4-24V
ou alimentation fantome 12-48 V
· bonnette de proximité incluse
Caractéristiques techniques
capteur à gradient de pression
Rapport signal/bruit selon
+4 á +24V par la broche 8
1 bonnette de proximité MZW 42
Sous réserve de modification ou perfectionnement technique.
---

Microfoni a condensatore COM 1420-1425
I microfoni della serie COM 1420-..25 sono microfoni a condensatore in elettrete
aventi una caratteristica di direttività a cardioide per le applicazioni nel campo delle
conferenze, della sonorizzazione e della tecnica di studio.
· Elevata qualità del suono grazie alla tecnica a condensatore in elettrete Back
· Alimentazione a corrente cuntinua da 4-24V o alimentazione virtuale 12-48 V
· Scatola povera di riflessi, in colore nero opaco
· Protezione per l'impiego da vicino compresa nella fornitura
Ricevitore a gradiente di pressione
Caratteristica di direttività
Impedenza di terminazione
Rapporto segnale/rumore secondo
Alimentazione virtuale 12-48 V/XLR
Estremità aperte del cavo, +4 a +24V
1 protezione impiego da vicino MZW 42
Con riserva di modifiche.
Estremità aperte del cavo
---