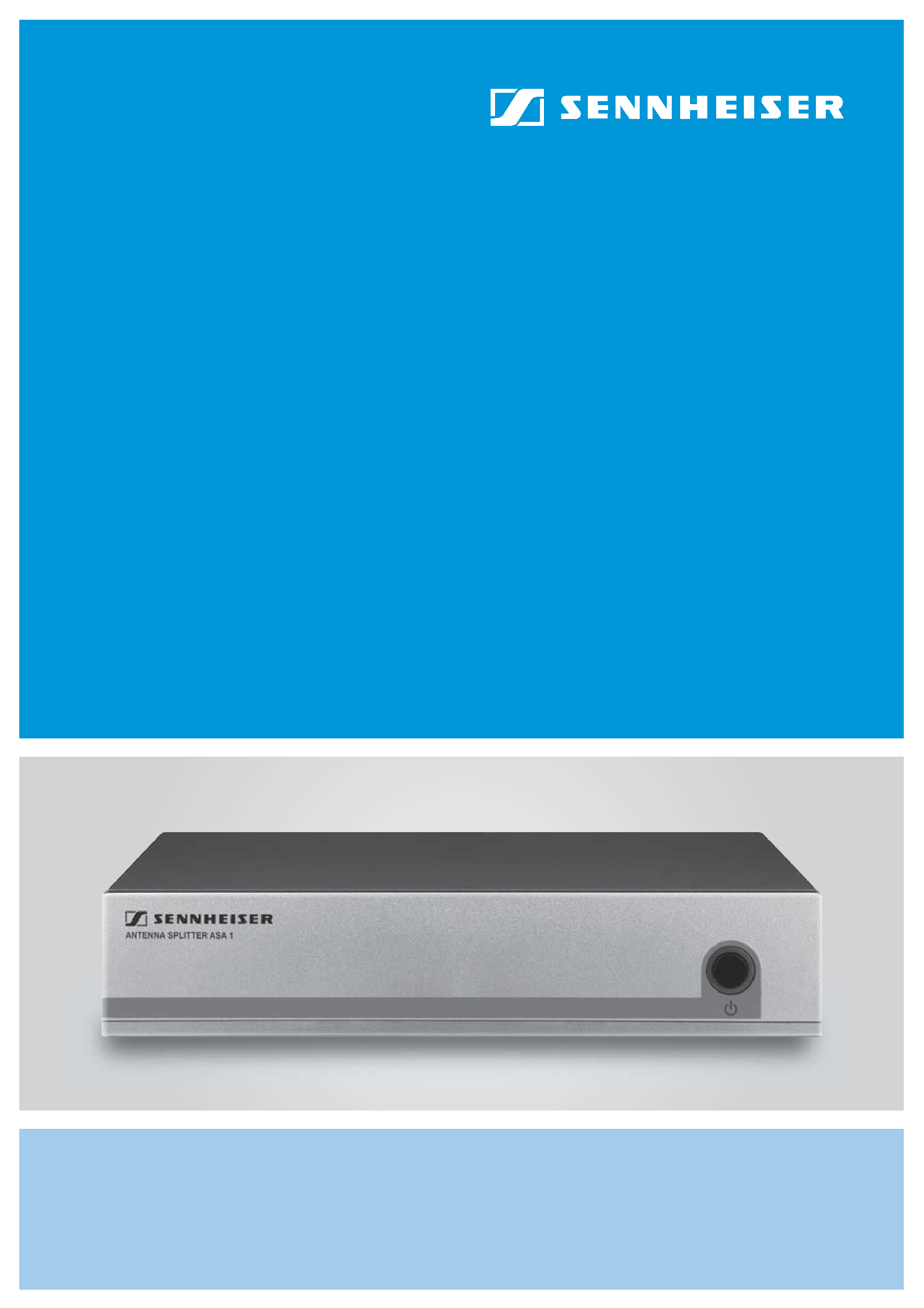 ---

---

Important safety instructions ........................................................ 2
The ASA 1 active antenna splitter ................................................ 4
Delivery includes ............................................................................... 4
Operating elements ......................................................................... 5
Putting the ASA 1 into operation .................................................. 7
Preparing the ASA 1 for use ................................................................. 7
Connecting devices to the ASA 1 and
switching the ASA 1 on ....................................................................... 12
Making an 8-channel system using the ASA 1 ............................... 14
Cleaning the ASA 1 ......................................................................... 16
If a problem occurs ... ..................................................................... 16
Accessories and spare parts ......................................................... 17
Specifications .................................................................................. 18
Manufacturer Declarations ........................................................... 19
Thank you for choosing Sennheiser!
We have designed this product to give you reliable operation
over many years. Over 60 years of accumulated expertise in
the design and manufacture of high-quality electro-acoustic
equipment have made Sennheiser a world-leading company in
Please take a few moments to read these instructions carefully,
as we want you to enjoy your new Sennheiser products quickly
---

Important safety instructions
Important safety instructions
· Read this instruction manual.
· Keep this instruction manual. Always include this instruction
manual when passing the device on to third parties.
· Heed all warnings and follow all instructions.
· Clean only with a slightly damp cloth.
· Refer all servicing to qualified service personnel.
Servicing is required if the device has been damaged in any
way, liquid has been spilled, objects have fallen inside, the
device has been exposed to rain or moisture, does not operate
properly or has been dropped.
· WARNING: To reduce the risk of fire or electric shock, do not
use the device near water and do not expose it to rain or
moisture. Do not place objects filled with liquids, such as
vases or coffee cups, on the device.
· Only use the NT 1-1 mains unit.
· Do not block any ventilation openings. Install the device in
accordance with the instructions given in this manual.
· Do not install the device near any heat sources.
· Only use attachments/accessories specified by Sennheiser.
When replacement parts are required, be sure the service
technician uses replacement parts specified by Sennheiser or
those having the same characteristics as the original part.
Unauthorized substitutions may result in fire, electric shock, or
Upon completion of any service or repairs to this device, ask the
service technician to perform safety checks to determine that
the device is in a safe operating condition.
---

Important safety instructions
Intended use of the device
Intended use of the ASA 1 includes:
· having read and understood this instruction manual
especially the chapter "Important safety instructions" on
· using the device within the operating conditions and
limitations described in this instruction manual.
"Improper use" means using the ASA 1 other than as described
in this instruction manual, or under operating conditions which
differ from those described herein.
---