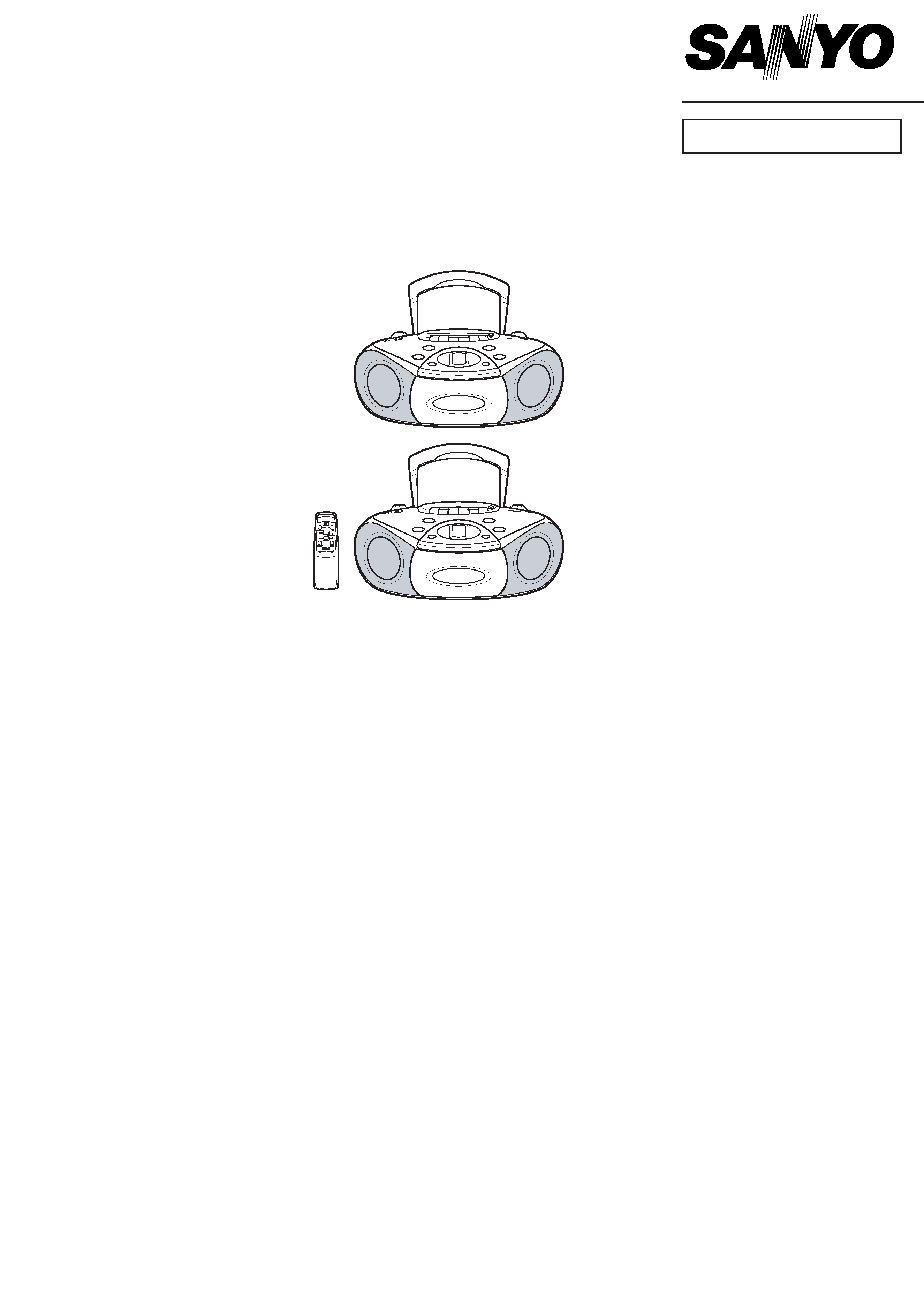 Laser Beam Safety Precaution ........................................ 1
IC Block ............................................................................ 1,8
Tuner Adjustment ............................................................. 2
Tape Adjustment .............................................................. 3
Exploded View (Cabinet & Chassis) ................................ 4
Parts List .......................................................................... 5
Schematic Diagram (MAIN) ............................................. 10
Schematic Diagram (Tuner) ............................................. 12
Wiring Diagram (CD MAIN) .............................................. 14
Wiring Diagram (DISPLAY, TUNER, and RECTIFIER) .. 15
Wiring Connection ............................................................ Rear
---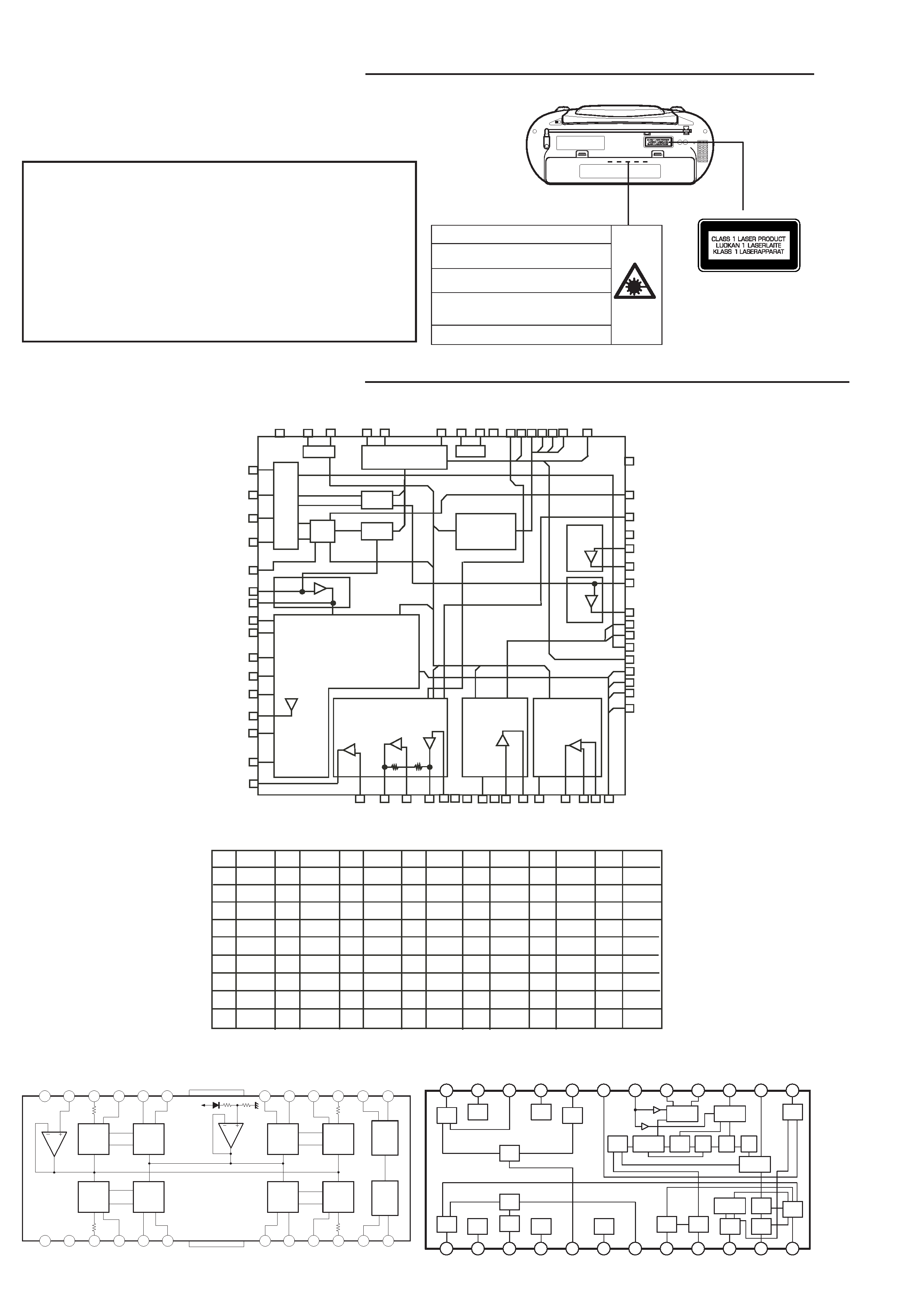 · Pickup that emits a laser beam is used on this CD section.
USE OF CONTROLS OR ADJUSTMENTS OR
PERFORMANCE OF PROCEDURES OTHER
THAN THOSE SPECIFIED HEREIN MAY RESULT
IN HAZARDOUS RADIATION EXPOSURE.
LASER OUTPUT ................ 0.6 mW Max. (CW)
WAVE LENGTH ................. 790 nm
LASER BEAM SAFETY PRECAUTION
IC BLOCK DIAGRAM & DESCRIPTION
CAUTION-INVISIBLE LASER RADIATION WHEN OPEN AND
INTERLOCKS DEFEATED. AVOID EXPOSURE TO BEAM.
ADVARSEL-USYNLIG LASER STR LING VED BNING, N R
SIKKERHEDSAFBRYDERE ER UDE AF FUNKTION, UNDG
VARNING-OSYNLIG LASER STR LNING N R DENNA DEL
VORSICHT! -UNSICHTBARE LASERSTRAHLUNG TRITT
VARO !-Avattaessa ja suojalukitus ohitettaessa olet alttiina
n kym tt m lle lasers teilylle.
---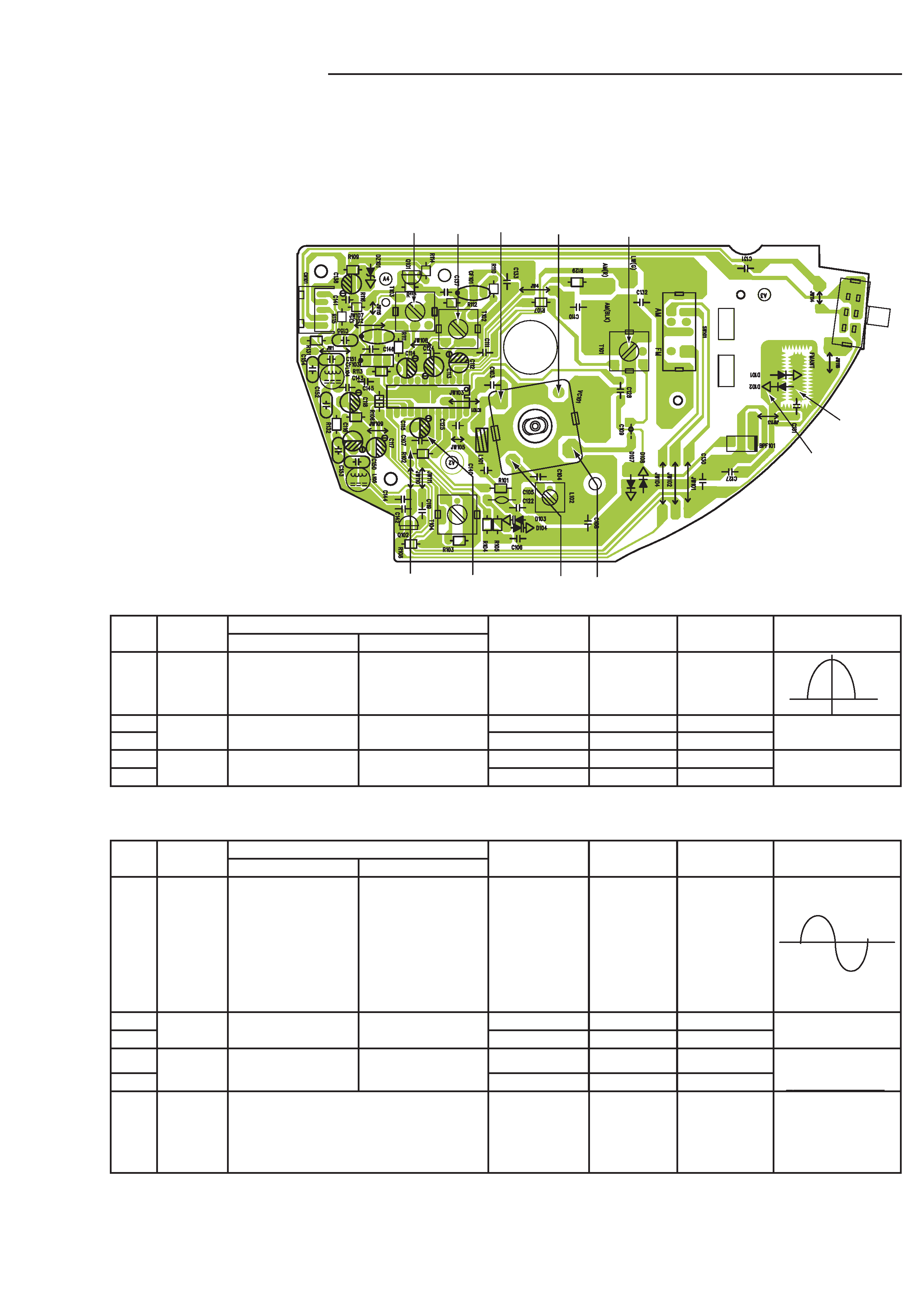 Use a plastic screw driver for adjustments.
Adjust the intermediate frequency of AM and FM to the frequency of ceramic filter.
Speaker impedance : 8 ohms
FM Dummy antenna : 75 ohms unbalance
---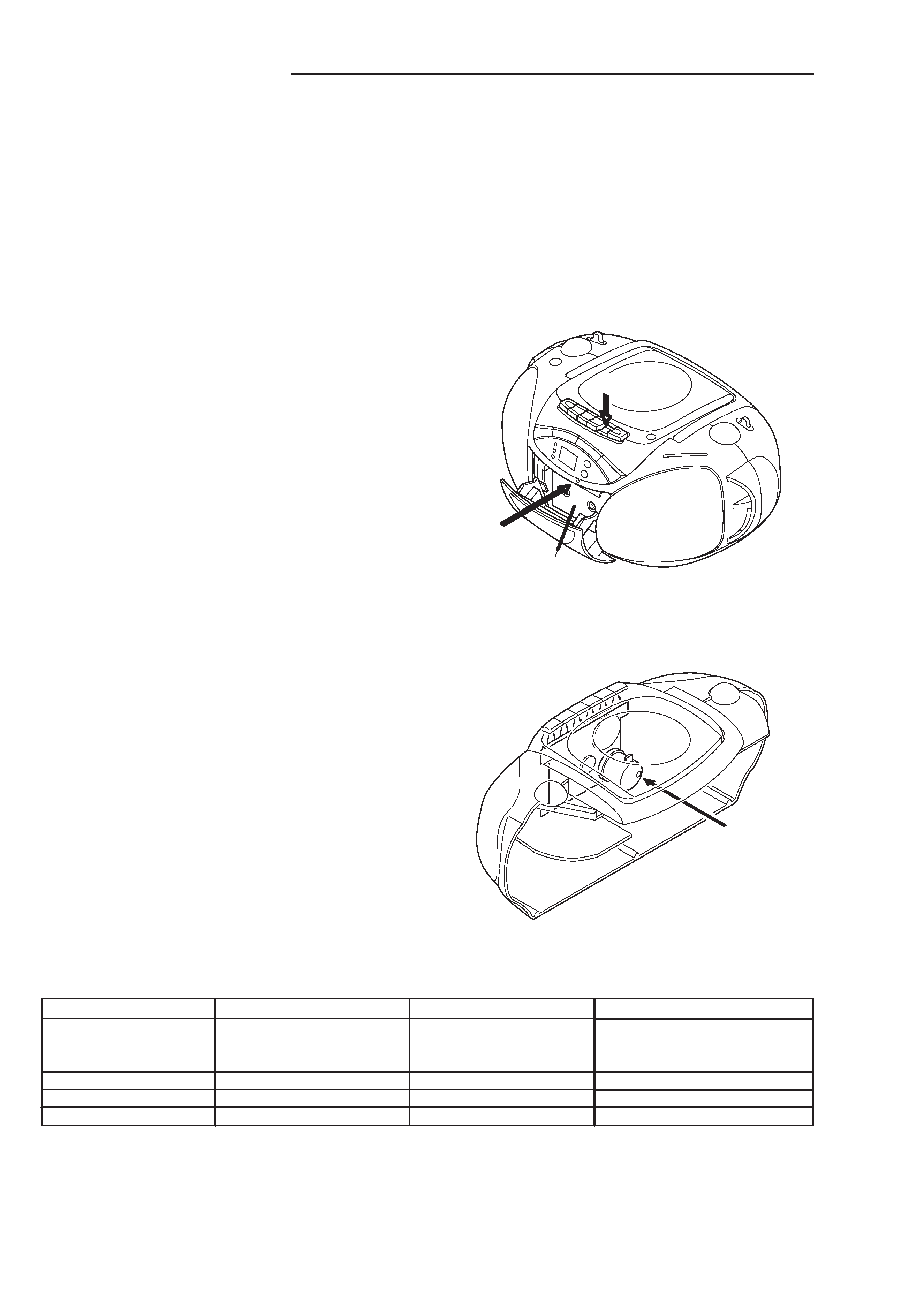 After replacement, demagnetize. the heads by using a degausser.
Be sure to clean the heads before attempting to make any adjustments.
All wiring should be returned to the original position after work is completed.
2. HEAD AZIMUTH ADJUSTMENT
(1) Load the test tape(VTT-703, etc., 10 KHZ) for azimuth
(2) Press the PLAY button.
(3) Use a cross-tip screwdriver to turn the screw for azimuth
adjustment so thae the left and right output are maximized
(4) Press the STOP button.
(5) After completion of the adjustment, use thread lock(TB-1401B)
to secure the azimuth-adjustment screw.
4 AC BIAS FREQUENCY ADJUSTMENTS
(1) connect counter to T201(BS);
(2) R/P swith in recording state;
(3)Adjusting T801 use a plastic screw,AC bias frequency: 80KHZ..
(1) Insert the test tape(MTT-111N, etc., 3,000 HZ)
(2) Press the PLAY button.
(3) Use a flat-tip screwdriver to turn the SVR(located inside the
rear of the motor) to adjust SVR so that the frequency counter
6. CHECKING THE MECHANISM TORQUSE AND TENSION
Clean the head, capstan and pinch roller making any measurement.
---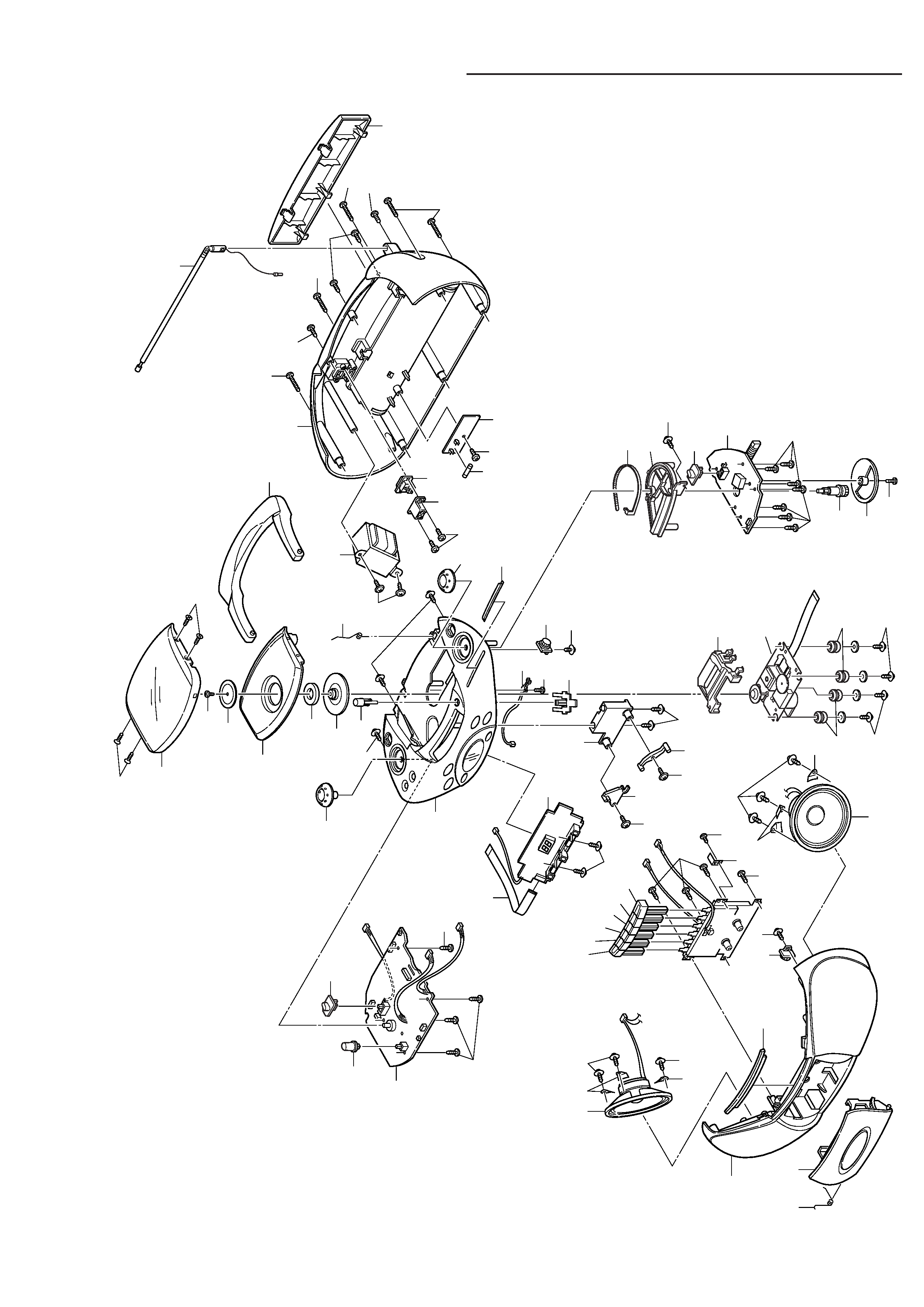 EXPLODED VIEW(CABINET & CHASSIS)
---