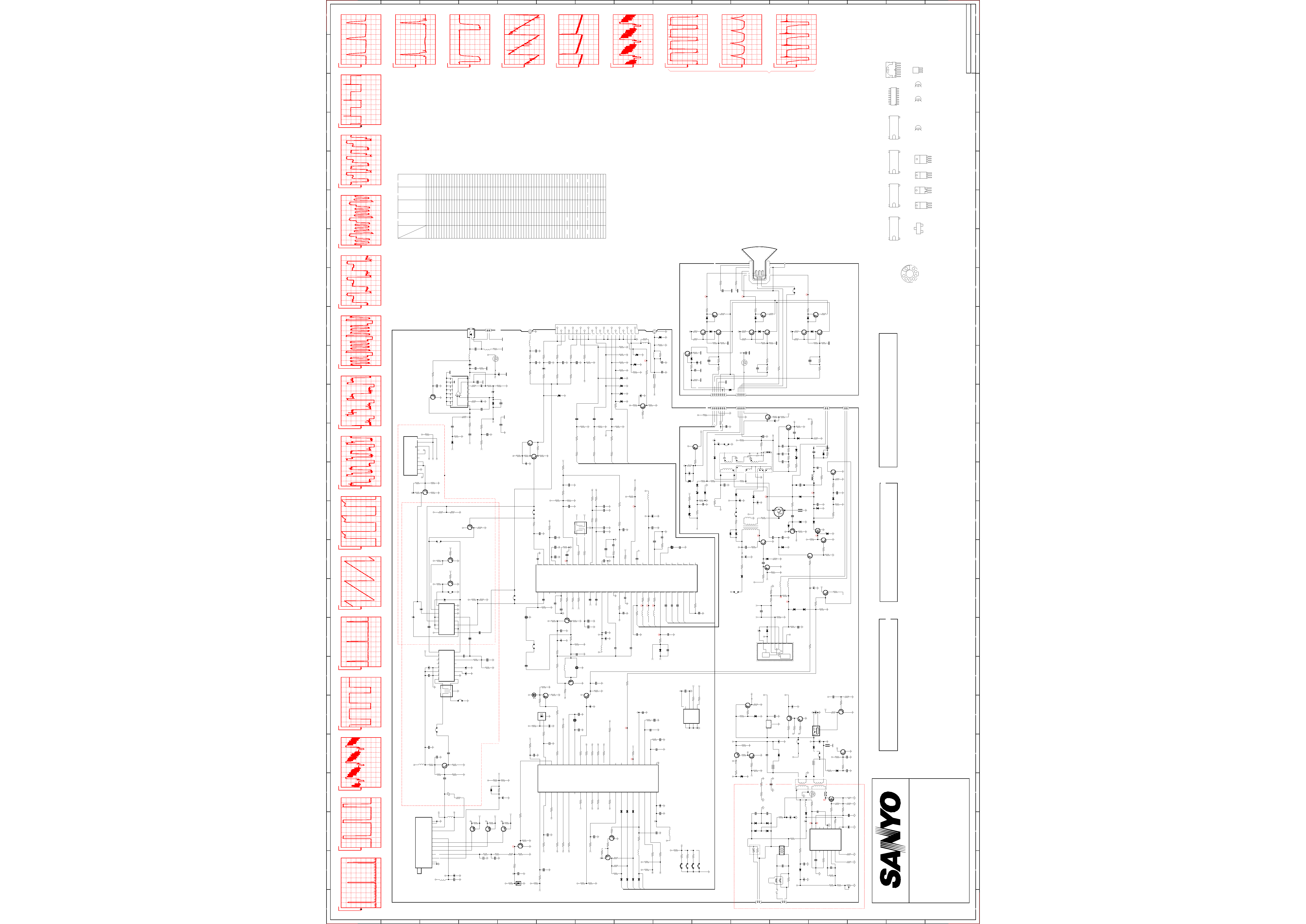 When any TV receptor component is substituted, it is necessary to check
the list of components in the Service Manual and all of those marked
with * or ! must be replaced with original spare SANYO parts.
WARNING! This TV set contains components that are particularly sensitive
to static electricity (ESD). It is recommended that all due precaution be taken
out with a TV set tuned to channel-21, normal adjustments
particularly sensitive handling integrated circuits and semiconductors.
1.- Resistor values are expressed in Ohm K=1000, M=1000000.
4.- The measurements of voltages and oscillograms were carried
2.- Capacitor values lower than 1 are expressed in uF and values
higher than 1 are expressed in pF.
3.- The information in this scheme is correct at the beginning of
the series; SANYO reserves the right to modify this in
accordance with on-going product improvement policy.
NOTA SUL RISPETO DELLE NORME
Quando si sosttituisce qualsiasi componente del recevitore TV si deve consultare
l'elenco dei componenti nel Manuale per la Manutenzione. Tutti i componenti
contrassengati con * o ! devono essere sostituiti con ricambi originali SANYO.
normalizzate e immagine del monoscopio.
ATTENZIONE! Questo televisore contiene elementi specialmente sensibili all'elettricità
statica (ESD). Consigliamo di realizzare gli interventi sui circuiti integrati e sui
effettuati con la TV sintonizzata sul canale 21, regolazioni
semiconduttori con le dovute precauzione.
1.- Tutti i valori delle resistenze sono in OHM, K=1.000, M=1.000.000.
4.- Le miure di tensione e gli oscillogrami sono stati
2.- I valori de capacità indicati con un numero minori di 1 sono
in uF maggiori di 1 sono in pF.
3.- Tutte le informacioni di questo schema sono corrette all'inizio della serie.
Seguendo la propria politica di continuo miglioramento dei propri prodotti,
la SANYO si riserva el diritto di apportare modifiche senza preavviso.
NOTA DE CUMPLIMIENTO DE NORMAS
Cuando se sustituye cualquier componente del receptor TV hay que consultar la
indicados con * o ! deben ser sustituidos por recambios originales SANYO.
ATENCIÓN este televisor contiene elementos especialmente sensibles a la
electricidad estática (ESD).Recomendamos que se realice la manipulación de
circuitos integrados y semiconductores con las debidas precauciones.
1.- Los valores de las resistencias están expresados en ohms
2.- Los valores de los condensadores menores de 1 están expresados
en uF, los valores mayores de 1 están expresados en pF.
3.- Toda la información de este esquema es correcta en el inicio de
la serie; SANYO se reserva el derecho de modificarlo para
mantener su política de mejora continua.
4.- Las medidas de tensiones y oscilogramas se han efectuado con
el TV sintonizado en el canal-21, ajustes normalizados e imagen
con carta de barras de color.
lista de componentes del Manual de Servicio, y todos los componentes que estén
Chassis: 2113 (Series EC7-B)
ZONA NON ISOLATA DALLA RETE
NOTIZIE SULLA SICUREZZA DI FUNZIONAMENTO
L'area racchiusa dal tratteggio è collegata
direttamente alla rete di alimentazione,
di procedere all riparazione.
inserie un trasformatore separatore prima
---