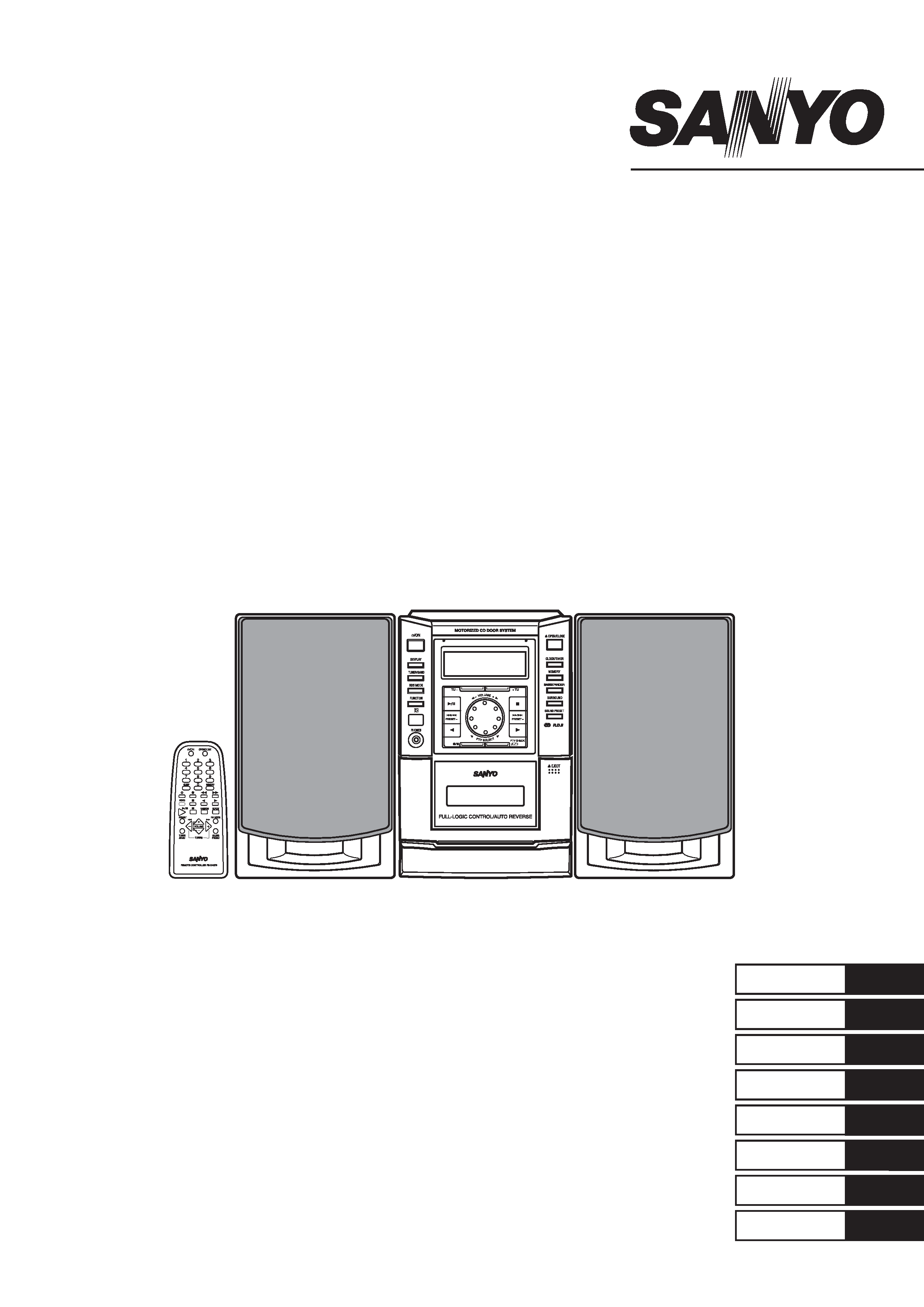 Sistema a microcomponenti
---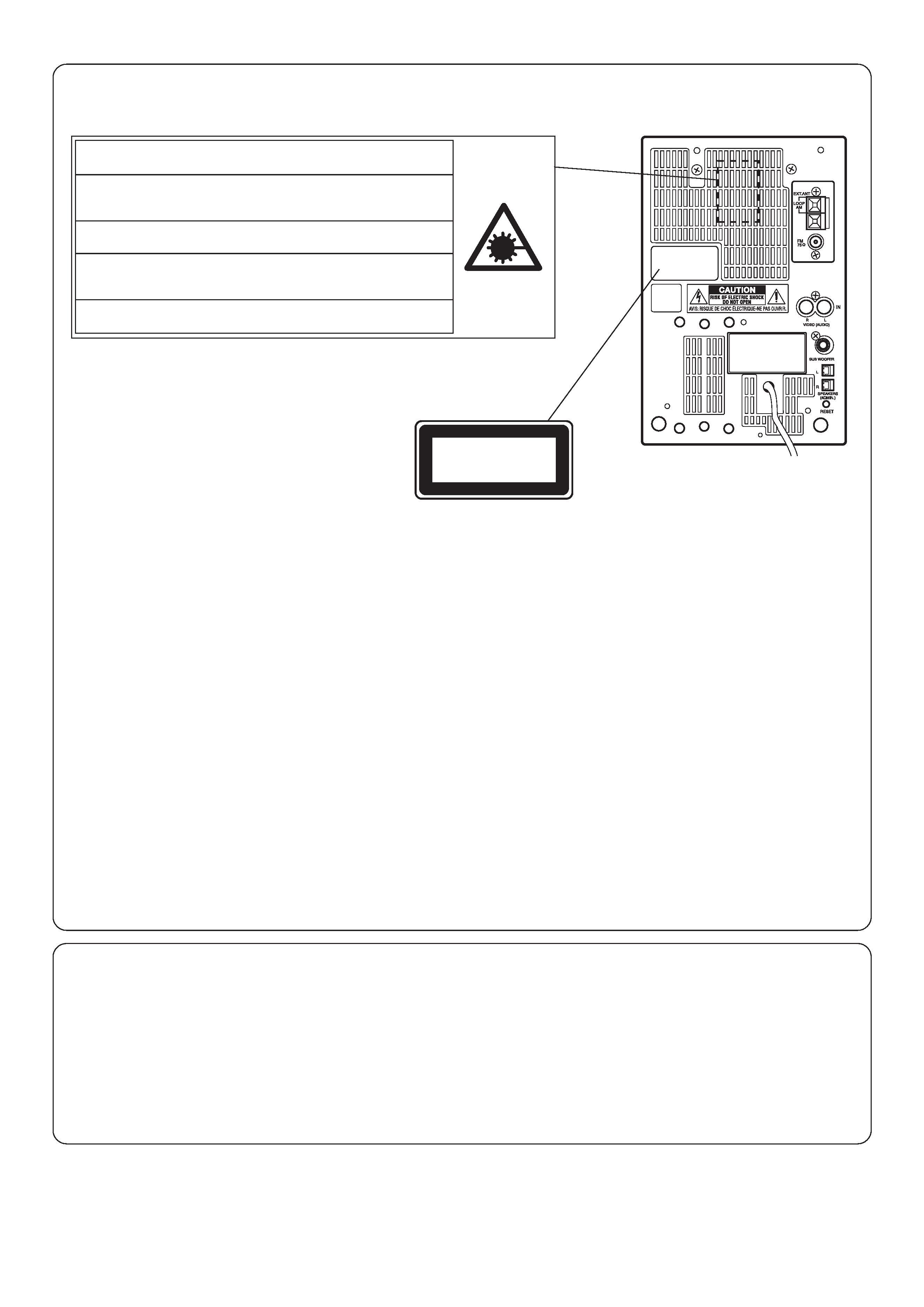 CAUTION ­ INVISIBLE LASER RADIATION WHEN OPEN AND
INTERLOCKS DEFEATED. AVOID EXPOSURE TO BEAM.
ADVARSEL ­ USYNLIG LASER STRÅLING VED ÅBNING, NÅR
SIKKERHEDSAFBRYDERE ER UDE AF FUNKTION, UNDGÅ UDS ÆTTELSE
VARNING ­ OSYNLIG LASER STRÅLNING NÄR DENNA DEL ÄR ÖPPNAD
OCH SPÄRR ÄR URKOPPLAD. STRÅLEN ÄR FARLIG.
VORSICHT ­ UNSICHTBARE LASERSTRAHLUNG TRITT AUS, WENN
DECKEL GEÖFFNET UND WENN SICHERHEITSVERRIEGELUNG
ÜBERBRÜCKT IST. NICHT, DEM STRAHL AUSSETZEN.
VARO ­ AVATTAESSA JA SUOJALUKITUS OHITETTAESSA OLET ALTTIINA
NÄKYMÄTTÖMÄLLE LASERSÄTEILYLLE. ÄLÄ KATSO SÄTEESEEN.
­ USE OF CONTROLS OR ADJUSTMENTS OR PERFORMANCE OF PROCEDURES OTHER THAN THOSE SPECIFIED HEREIN
MAY RESULT IN HAZARDOUS RADIATION EXPOSURE.
­ WENN ANDERE ALS DIE HIER SPEZIFIZIERTEN BEDIENUNGS- ODER JUSTIEREINRICHTUNGEN BENÜTZT ODER ANDERE
VERFAHRENS-WEISEN AUSGEFÜHRT WERDEN, KANN DIES ZU GEFÄHRLICHER STRAHLUNGSEXPOSITION FÜHREN.
­ L'EMPLOI D'ORGANES DE COMMANDE OU DE RÉGLAGE, OU L'EXÉCUTION DE PROCÉDURES, AUTRES QUE CEUX
SPÉCIFIÉS DANS LE MODE D'EMPLOI, PEUT PROVOQUER UNE EXPOSITION DANGEREUSE AU RAYONNEMENT.
­ HET GEBRUIK VAN REGELAARS OF HET MAKEN VAN AFSTELLINGEN E.D. DIE NIET IN DEZE GEBRUIKSAANWIJZING ZIJN
BESCHREVEN KAN LEIDEN TOT SCHADELIJKE STRALINGEN.
­ OM APPARATEN ANVÄNDS PÅ ANNAT SÄTT ÄN VAD SOM BESKEIV I DENNA BRUKSANVISNING, KAN ANVÄNDAREN
UTSÄTTAS FÖR OSYNLIG LASERSTRÅLNING, SOM ÖVERSKRIDER GRÄNSEN FÖR LASERKLASS 1.
­ LAITTEEN KÄYTTÄMINEN MUULLA KUIN TÄSSÄ KÄYTTÖOHJEESSA MAINITULLA TAVALLA SAATTAA ALTISTAA KÄYTTÄJÄN
TURVALLISUUSLUOKAN 1 YLITTÄVÄLLE NÄKYMÄTTÖMÄLLE LASERSÄTEILYLLE.
­ L'USO DI COMANDI, AGGIUSTAMENTI O PROCEDIMENTI DIVERSO DA QUELLO QUI SPECIFICATO PUÒ DAR LUOGO AD
ESPOSIZIONE A RADIAZIONI PERICOLOSE.
­ EL USO DE CONTROLES O AJUSTES, O PROCEDIMIENTOS DE OPERACION DIFERENTES DE LOS ESPECIFICADOS
EN ESTE DOCUMENTO RESULTARAN EN EXPOSICION PELIGROSA A LA RADIACION.
­ O USO DOS CONTROLOS OU AJUSTES OU DESEMPENHOS DE PROCEDIMENTOS OUTROS QUE NÃO OS ESPECIFICADOS
NAS INSTRUÇÕES DE OPERAÇÃO PODEM RESULTAR EM PERIGOSAS EXPOSIÇÕES À RADIAÇÃO.
This set complies with the EMC Directive 89/336 and with the LVD Directive 73/23.
Dieses Gerät entspricht der EMC-Direktive 89/336 und der LVD-Direktive 73/23.
Cet appareil est en conformité avec la directive EMC 89/336 et avec la directive BT 73/23.
Dit toestel is in overeenstemming met EMC-richtlijn 89/336 en met LVD-richtlijn 73/23.
Detta set uppfyller EMC-direktivet 89/336 och Lågspänningsdirektivet 73/23.
Questo set aderisce alle direttive EMC 89/336 e alle direttive LVD 73/23.
Este aparato cumple con la Directiva EMC 89/336 y con la Directiva LVD 73/23.
Este conjunto satisfaz a Directiva EMC 89/336 e a Directiva LVD 73/23.
---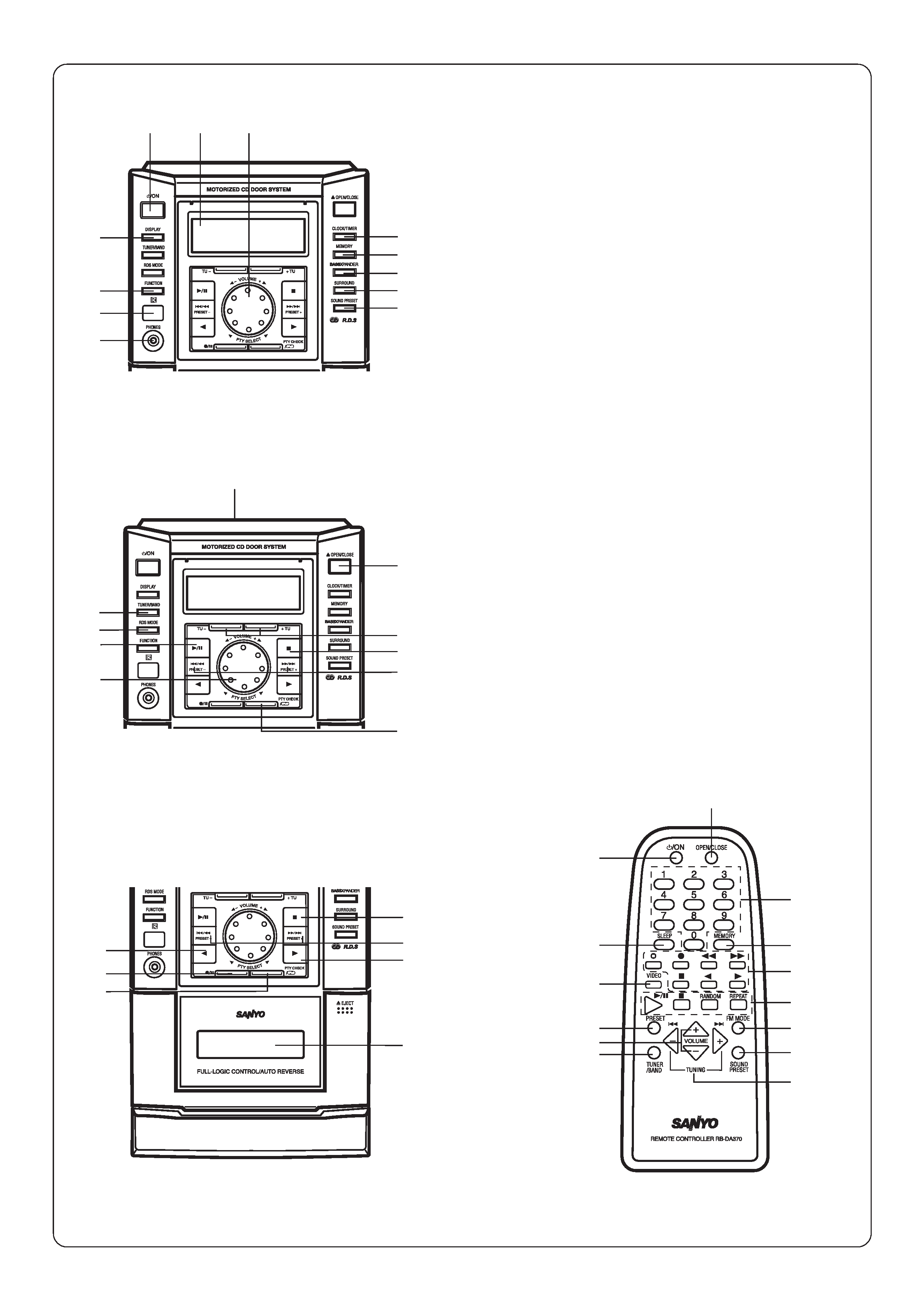 ---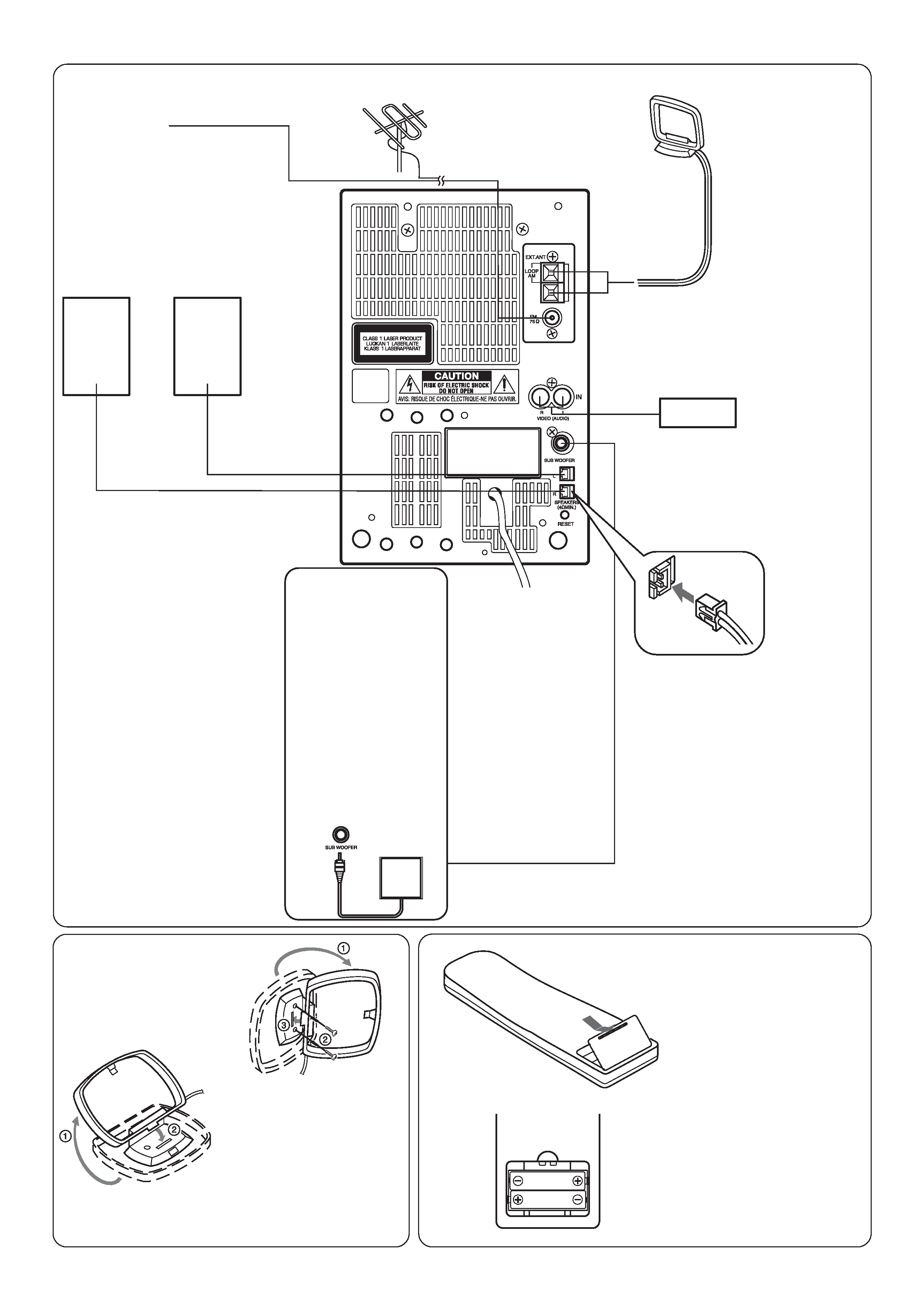 Video/Auxiliary equipment
Equipement vidéo/auxiliaire
Attrezzatura video/auxiliar
Equipamento video/auxiliar
Schrauben (nicht mitgeliefert)
Schroeven (niet bijgeleverd)
Tornillos (no suministrados)
Parafusos (não incluídos)
Deux piles de format R03/AAA
Två batterier typ R03/AA/SUM-3
Caisson de basse amplifiée
---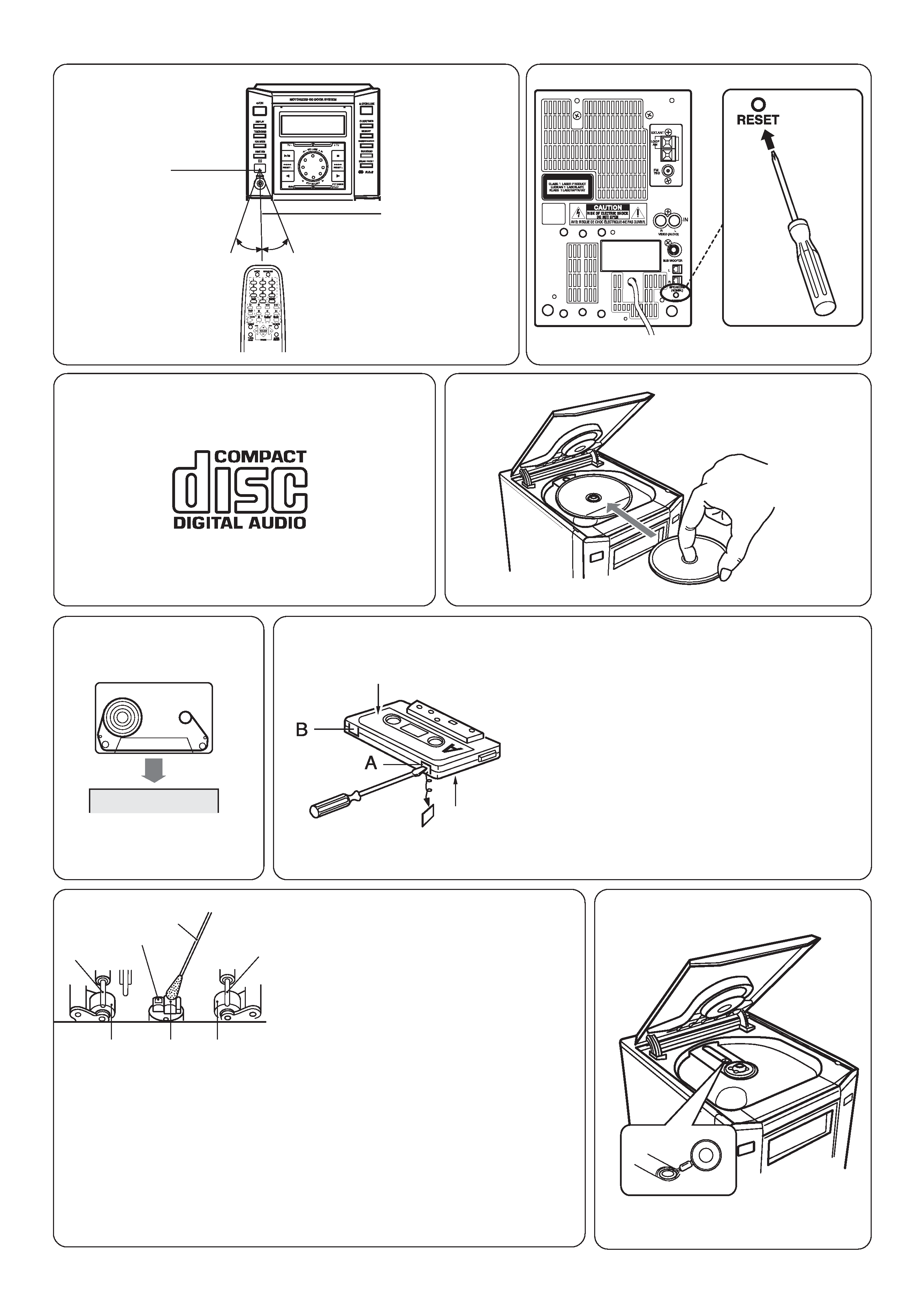 Break out tab A for side A.
Herausbrechen der Löschutzlasche A für Seite A.
Briser la languette A pour la face A.
Breek nokje A af voor kant A.
Bryt av flik A för A-sidan.
Spezzate la linguetta A per il lato A.
Romper lengüeta A del lado A.
Parta a patilha A para o lado A.
Break out tab B for side B.
Herausbrechen der Löschutzlasche B für Seite B.
Briser la languette B pour la face B.
Breek nokje B af voor kant B.
Bryt av flik B för B-sidan.
Spezzate la linguetta B per il lato B.
Romper lengüeta B del lado B.
Parta a patilha B para o lado B.
Détecteur de télécommande
---