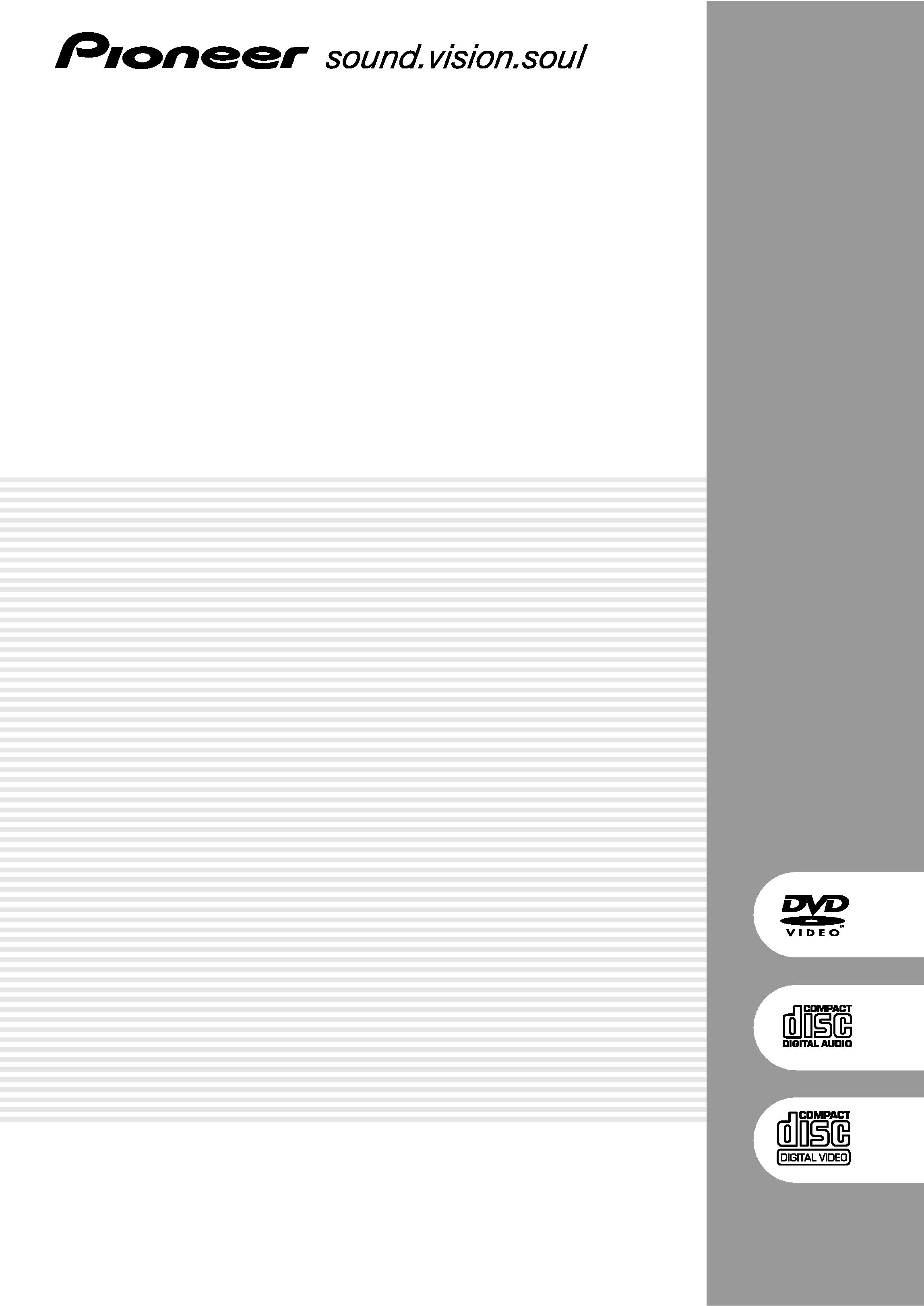 ---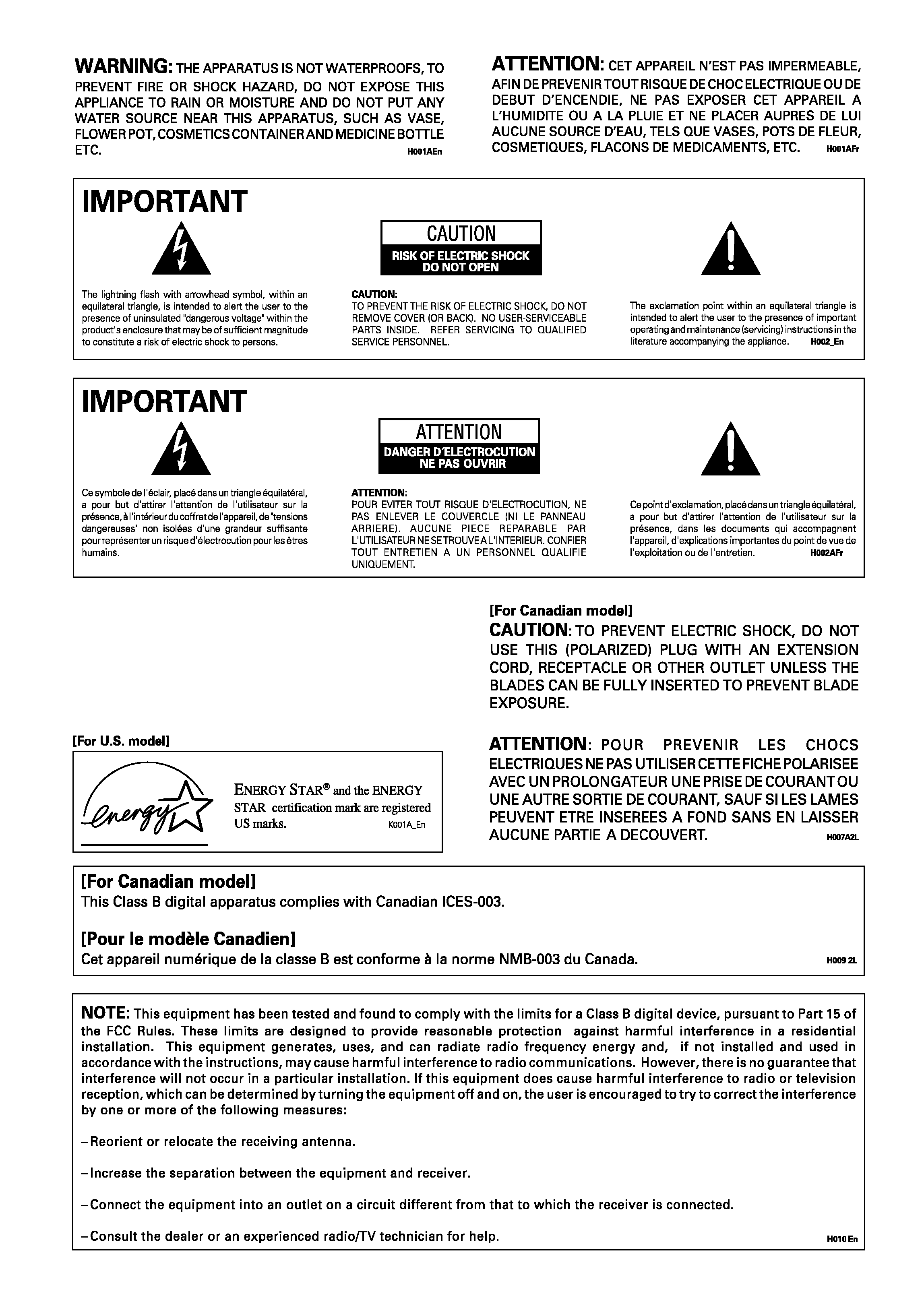 The serial number for this equipment is located in the
rear panel. Please write this serial number on your
enclosed warranty card and keep it in a secure area.
This is for your security.
---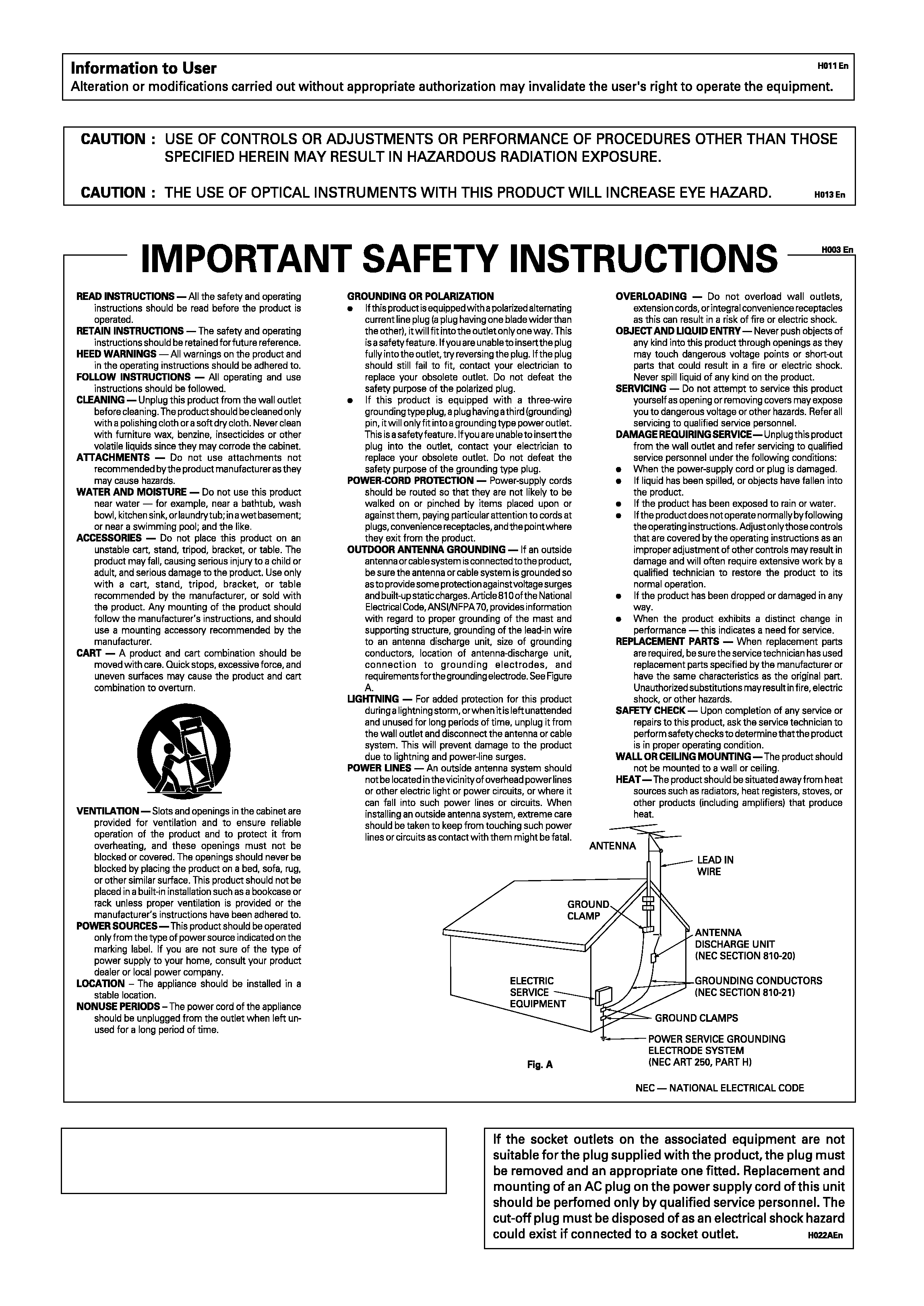 THE STANDBY/ON BUTTON IS SECONDARY CONNECTED
AND THEREFORE DOES NOT SEPARATE THE UNIT FROM
MAINS POWER IN STANDBY POSITION.
---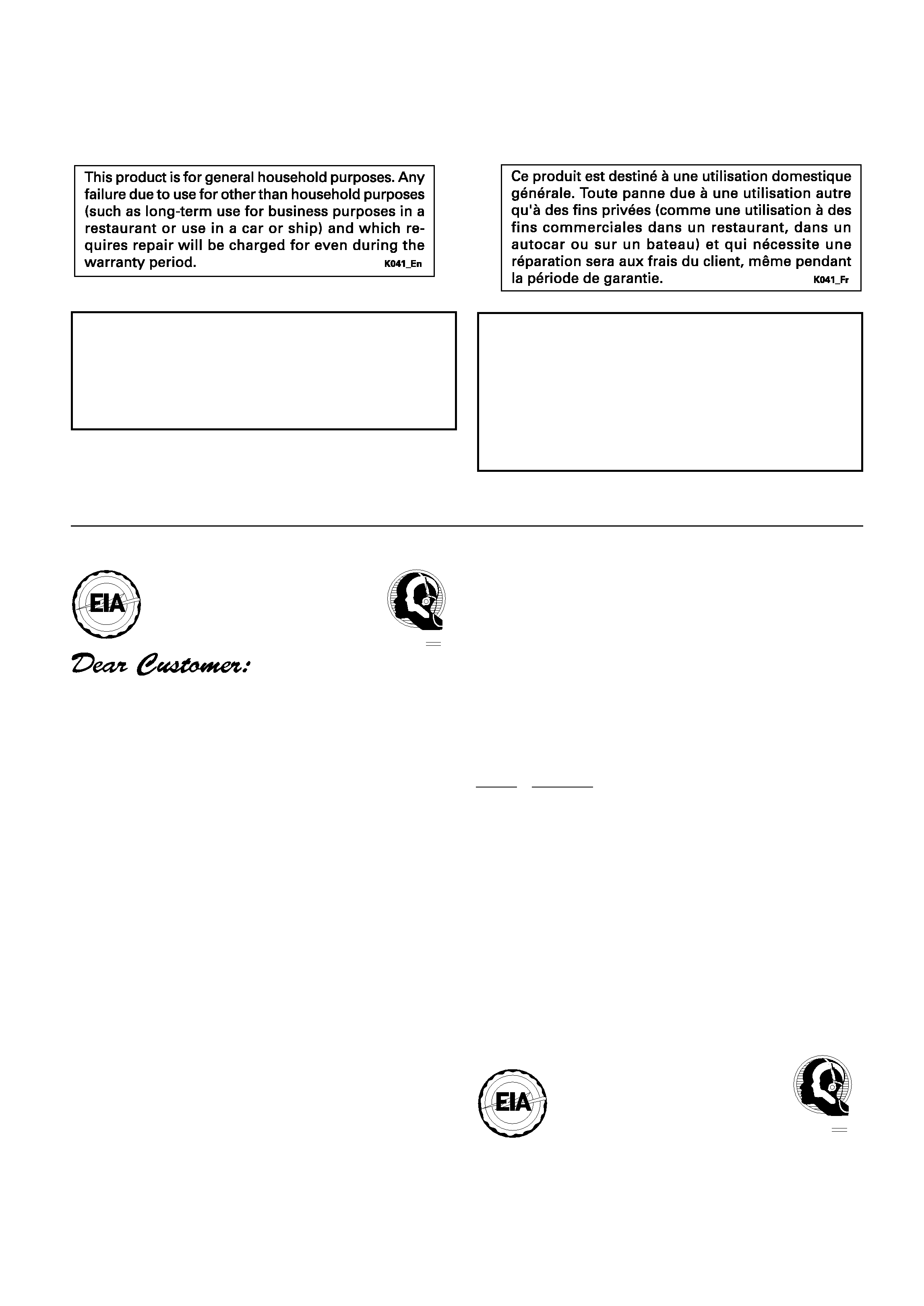 Selecting fine audio equipment such as the unit you've just
purchased is only the start of your musical enjoyment. Now
it's time to consider how you can maximize the fun and
excitement your equipment offers. This manufacturer and the
Electronic Industries Association's Consumer Electronics
Group want you to get the most out of your equipment by
playing it at a safe level. One that lets the sound come through
loud and clear without annoying blaring or distortion-and,
most importantly, without affecting your sensitive hearing.
Sound can be deceiving. Over time your hearing "comfort
level" adapts to higher volumes of sound. So what sounds
"normal" can actually be loud and harmful to your hearing.
Guard against this by setting your equipment at a safe level
BEFORE your hearing adapts.
To establish a safe level:
÷ Start your volume control at a low setting.
÷ Slowly increase the sound until you can hear it comfortably
and clearly, and without distortion.
Once you have established a comfortable sound level:
÷ Set the dial and leave it there.
Taking a minute to do this now will help to prevent hearing
damage or loss in the future. After all, we want you listening
We Want You Listening ForALifetime
Used wisely, your new sound equipment will provide a
lifetime of fun and enjoyment. Since hearing damage from
loud noise is often undetectable until it is too late, this
manufacturer and the Electronic Industries Association's
Consumer Electronics Group recommend you avoid prolonged
exposure to excessive noise. This list of sound levels is
included for your protection.
Information courtesy of the Deafness Research Foundation.
Subway, motorcycle, truck traffic, lawn mower
Garbage truck, chain saw, pneumatic drill
Rock band concert in front of speakers, thunderclap
THE FOLLOWING NOISES CAN BE
DANGEROUS UNDER CONSTANT EXPOSURE
Quiet library, soft whispers
Living room, refrigerator, bedroom away from traffic
Light traffic, normal conversation, quiet office
Air conditioner at 20 feet, sewing machine
Vacuum cleaner, hair dryer, noisy restaurant
Average city traffic, garbage disposals, alarm clock
This system is designed to use 1W of electricity
when power is switched to Standby.
Design économie d'énergie
Cet appareil est conçu pour utiliser 1 W
d'électricité quand l'alimentation est en veille.
SOME DISCS MAY NOT BE PLAYABLE DUE TO
DIFFERENT RECORDING FORMATS OR
PHYSICAL CONDITION OF THE DISC AT THE
TIME OF RECORDING OR PLAYBACK.
PLEASE SEE OWNERS MANUAL FOR FURTHER
IL EST POSIBLE QUE CERTAINS DISQUES NE
SOIENT PAS LISIBLES DÛ AUX DIFFÉRENTS
FORMATS D'ENREGISTREMENT OU À L'ÉTAT
PHYSIQUE DU DISQUE AU MOMENT DE
L'ENREGISTREMENT OU DE LA LECTURE.
VEUILLEZ CONSULTER LE MANUEL DU
PROPRIÉTAIRE POUR OBTENIR DES
INFORMATIONS SUPPLÉMENTAIRES.
---

Discs compatible with this system
Wall mounting the center and
Connecting the supplied antennas 16
Connecting external antennas
Connecting other components
Switching on and setting the clock 23
Setting up for surround sound
Setting the speaker distances
Balancing the surround sound
Using the Setup Navigator
Playing DVDs, CDs and Video CDs 29
Navigating DVD disc menus
Navigating Video CD PBC menus 32
Improving FM stereo sound
Listening to station presets
Listening to other components
Adjusting the bass and treble
Listening to surround-sound
Listening to other sources with
Adjusting the effect level
Finding what you want on a disc
Looping a section of a disc
Playing CDs only (CD Mode)
Bookmarking a place in a disc
Displaying disc information
Activating/deactivating the
Checking the timer settings
Adjusting channel volume levels 56
Changing the parental lock level 66
11 Additional Information
Switching the AM frequency
Setting the display brightness
Switching the time format
Taking care of your system
Taking care of your discs
Screen sizes and disc formats
Switching the demo mode on/off
Thank you for buying this Pioneer product.
Please read through these operating instructions so you will know how to operate your model properly. After you have finished
reading the instructions, put them away in a safe place for future reference.
In some countries or regions, the shape of the power plug and power outlet may sometimes differ from that shown in the explanatory
drawings. However the method of connecting and operating the unit is the same.
---