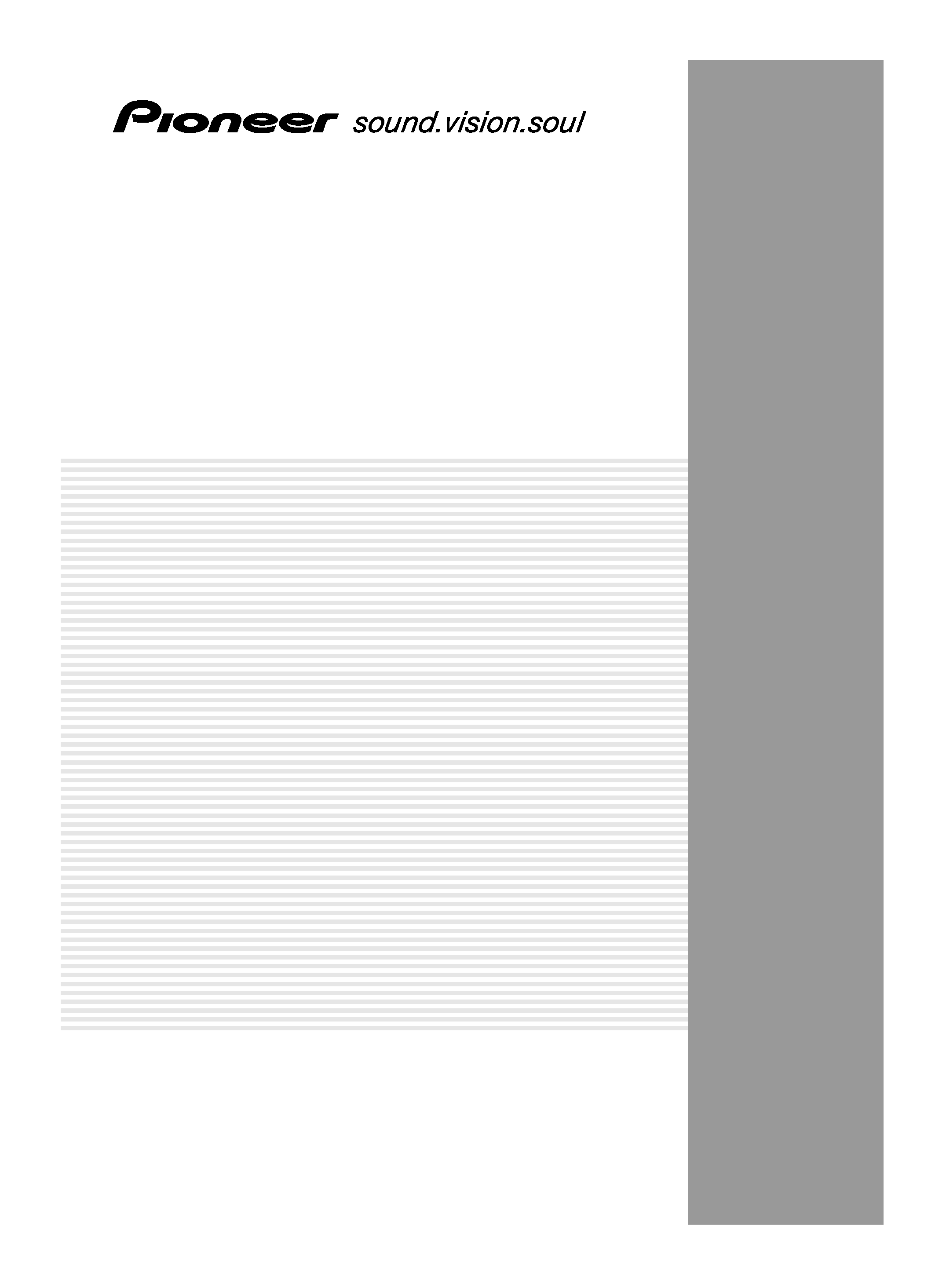 AUDIO/VIDEO MULTI-CHANNEL
---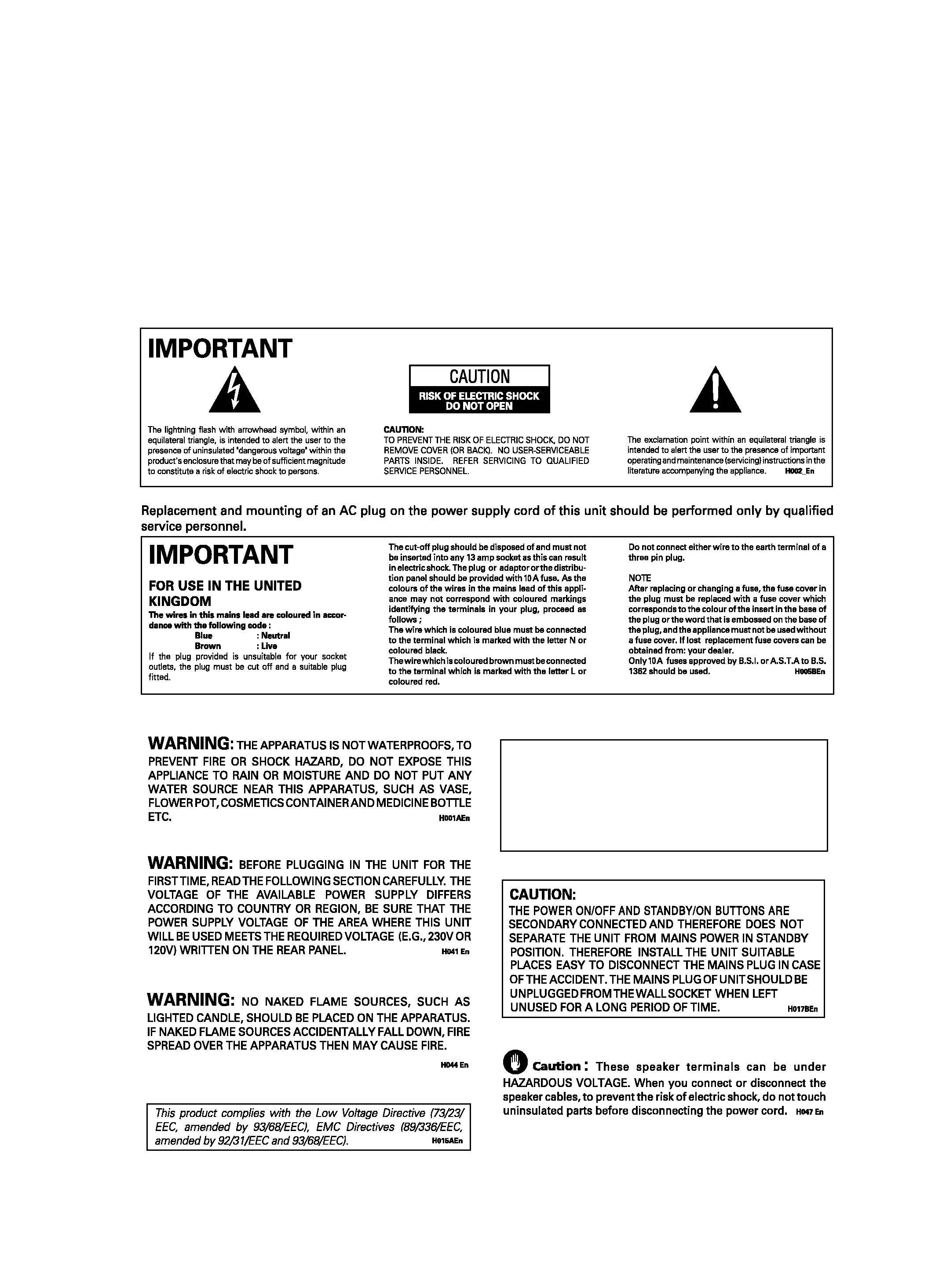 Thank you for buying this Pioneer product.
Please read through these operating instructions so you will know how to operate your model properly.
After you have finished reading the instructions, put them away in a safe place for future reference.
This product is for general household purposes.
Any failure due to use for other than household
purposes (such as long-term use for business
purposes in a restaurant or use in a car or ship)
and which requires repair will be charged for even
during the warranty period.
---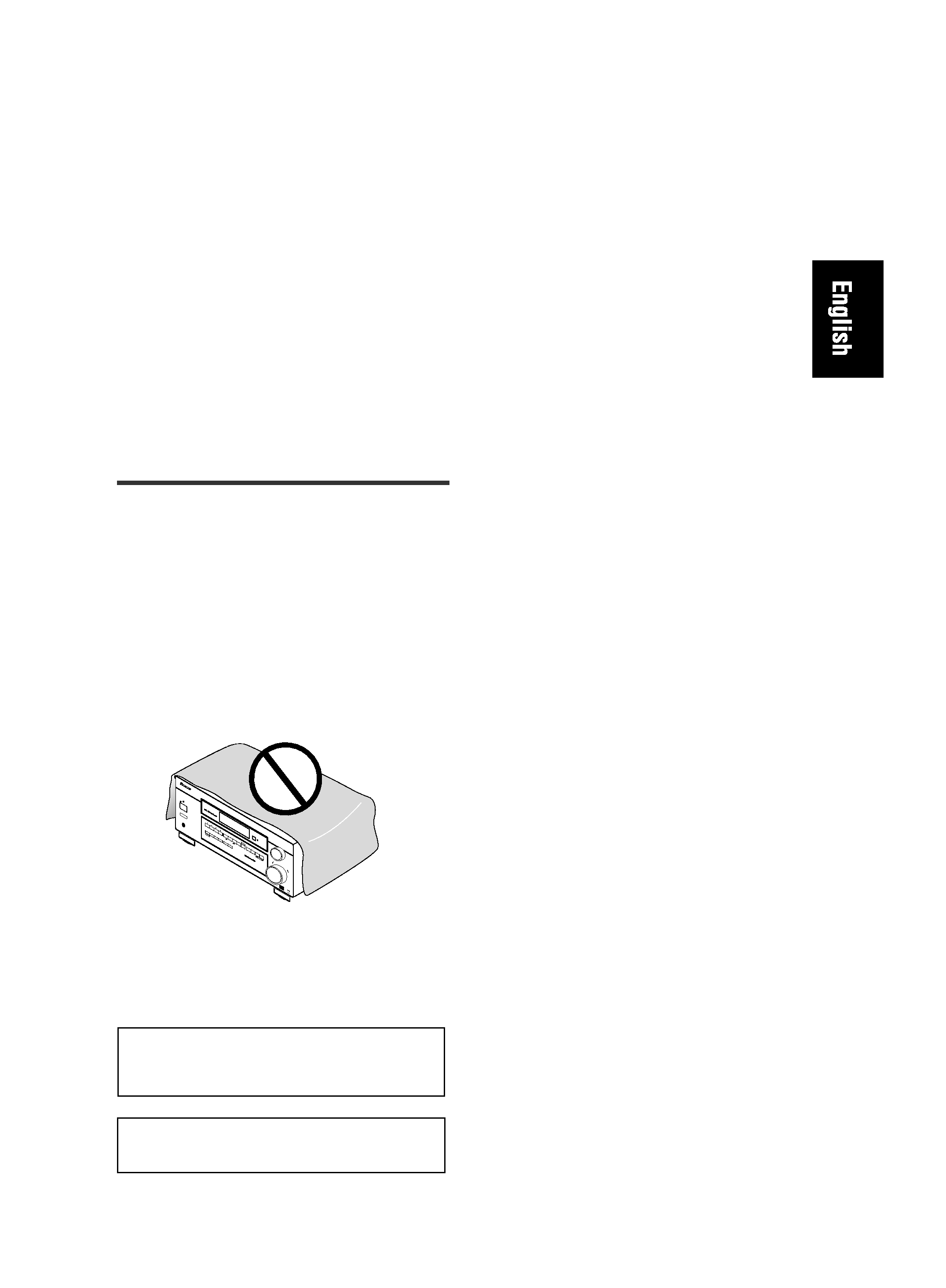 "DTS", and "DTS Digital Surround" are registered
trademarks of Digital Theater Systems, Inc.
Manufactured under license from Dolby Laboratories.
"Dolby", "Pro Logic" and the double-D symbol are
trademarks of Dolby Laboratories.
Operating environment temperature and humidity:
+5°C ­ +35°C (+41°F ­ +95°F); less than 85%RH
(cooling vents not blocked)
Do not install in the following locations
Location exposed to direct sunlight or strong
Location exposed to high humidity, or poorly
VENTILATION:
When installing this unit,
make sure to leave space around the unit for
ventilation to improve heat radiation (at least 60 cm
at top, 10 cm at rear, and 30 cm at each side).
WARNING:
Slot and openings in the cabinet
are provided for ventilation and to ensure reliable
operation of the product and to protect it from
overheating, to prevent fire hazard, the openings
should never be blocked and covered with items,
such as newspapers, tablecloths, curtains, etc. Also
do not put the apparatus on the thick carpet, bed,
sofa, or fabric having a thick pile.
---

Checking what's in the box ............................... 6
Making cable connections ................................ 6
Loading the batteries ......................................... 6
Operating range of remote control unit ........... 6
Introduction to home theater ............................ 7
Listening to Surround Sound ............................ 8
Using the Quick Setup ....................................11
Audio/Video cords ........................................... 12
Digital audio cords/Optical cables ................. 12
Connecting digital components .................... 13
Connecting audio components ...................... 13
Connecting DVD 5.1 channel components ... 14
Connecting video components ....................... 14
Connecting antennas ..................................... 15
FM wire antenna ..............................................15
AM loop antenna ..............................................16
Antenna snap connectors ........................ 16
Using external antennas ................................. 16
To improve FM reception ............................ 16
To improve AM reception ........................... 16
Connecting the speakers ................................ 17
Speaker terminals ..................................... 17
Hints on speaker placement ........................... 18
Front Panel ........................................................20
Display ............................................................. 22
Remote Control ............................................... 24
Introduction to Sound Modes ........................ 26
Stereo/Direct ...............................................26
Standard modes .........................................26
Advanced Surround modes ....................... 26
Choosing the input signal .............................. 27
Using Stereo/Direct .........................................27
Listening to multi-channel playback .............. 28
Using Advanced Surround ............................. 28
Using Loudness and Midnight listening ........ 28
Using the tone controls .................................. 29
Playing other sources ..................................... 29
Selecting the multi-channel analog inputs ... 30
6 Setting up the receiver
Choosing your receiver setup ........................ 31
Speaker setting .......................................... 32
Subwoofer setting ..................................... 32
Crossover frequency setting ...................... 32
LFE attenuator setting ................................ 33
Front speaker distance setting .................. 33
Center speaker distance setting .............. 33
Surround speaker distance setting .......... 33
Dynamic range control setting .................. 34
Dual mono setting ..................................... 34
Coaxial digital input setting ....................... 34
Optical digital input setting ....................... 35
Setting the relative volume level
of each channel ............................................... 35
---

Listening to the radio ...................................... 36
Improving FM stereo sound ....................... 36
Using the RF attenuator ............................ 36
Saving station presets ..................................... 37
Naming station presets .................................. 38
Listening to station presets ............................ 38
An introduction to RDS .................................. 39
Using the RDS display .............................. 40
Searching for RDS programs ................... 40
Basics of EON ................................................. 41
Using EON ................................................. 41
from the RDS or EON search ......................... 42
Making an audio or a video recording .......... 43
Monitoring your recording ........................ 43
Troubleshooting ............................................... 44
Specifications ................................................... 46
Cleaning the unit .............................................. 47
---