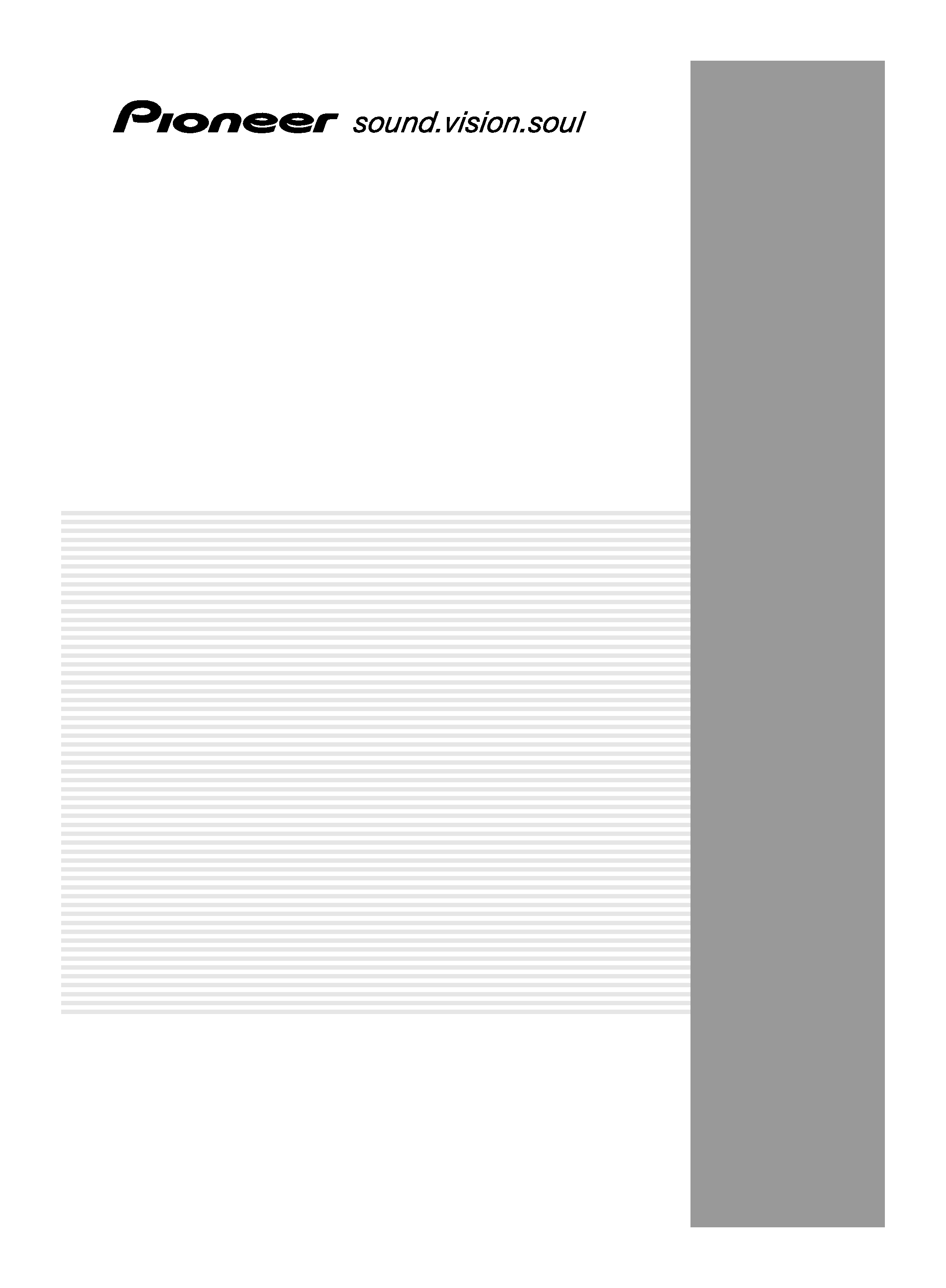 AUDIO/VIDEO MULTI-CHANNEL
---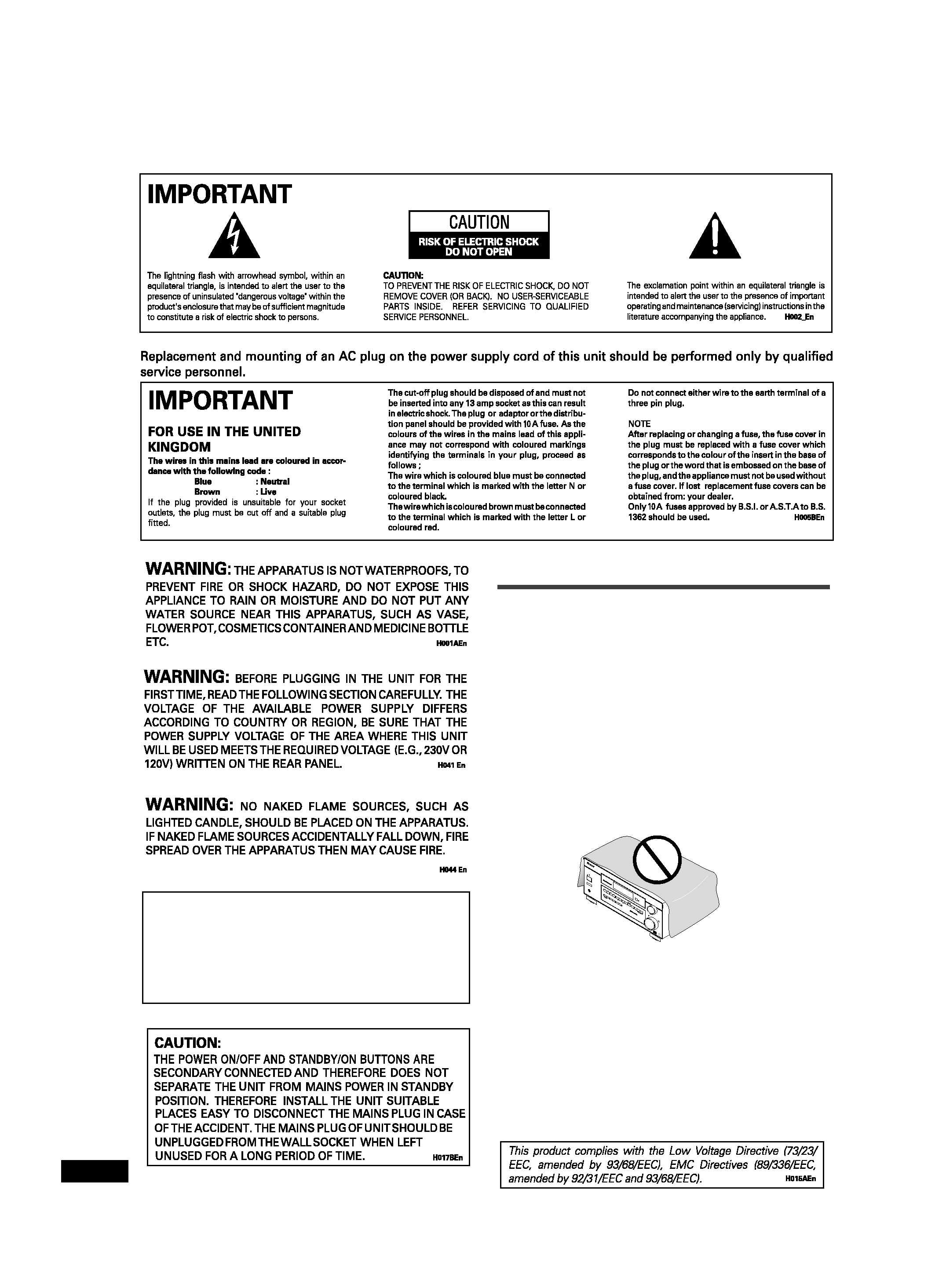 Thank you for buying this Pioneer product.
Please read through these operating instructions so you will know how to operate your model properly.
After you have finished reading the instructions, put them away in a safe place for future reference.
This product is for general household purposes.
Any failure due to use for other than household
purposes (such as long-term use for business
purposes in a restaurant or use in a car or ship)
and which requires repair will be charged for even
during the warranty period.
Operating environment temperature and humidity:
+5°C ­ +35°C (+41°F ­ +95°F); less than 85%RH
(cooling vents not blocked)
Do not install in the following locations
Location exposed to direct sunlight or strong
Location exposed to high humidity, or poorly
VENTILATION:
When installing this unit,
make sure to leave space around the unit for
ventilation to improve heat radiation (at least 60 cm
at top, 10 cm at rear, and 30 cm at each side).
WARNING:
Slot and openings in the cabinet
are provided for ventilation and to ensure reliable
operation of the product and to protect it from
overheating, to prevent fire hazard, the openings
should never be blocked and covered with items,
such as newspapers, tablecloths, curtains, etc. Also
do not put the apparatus on the thick carpet, bed,
sofa, or fabric having a thick pile.
---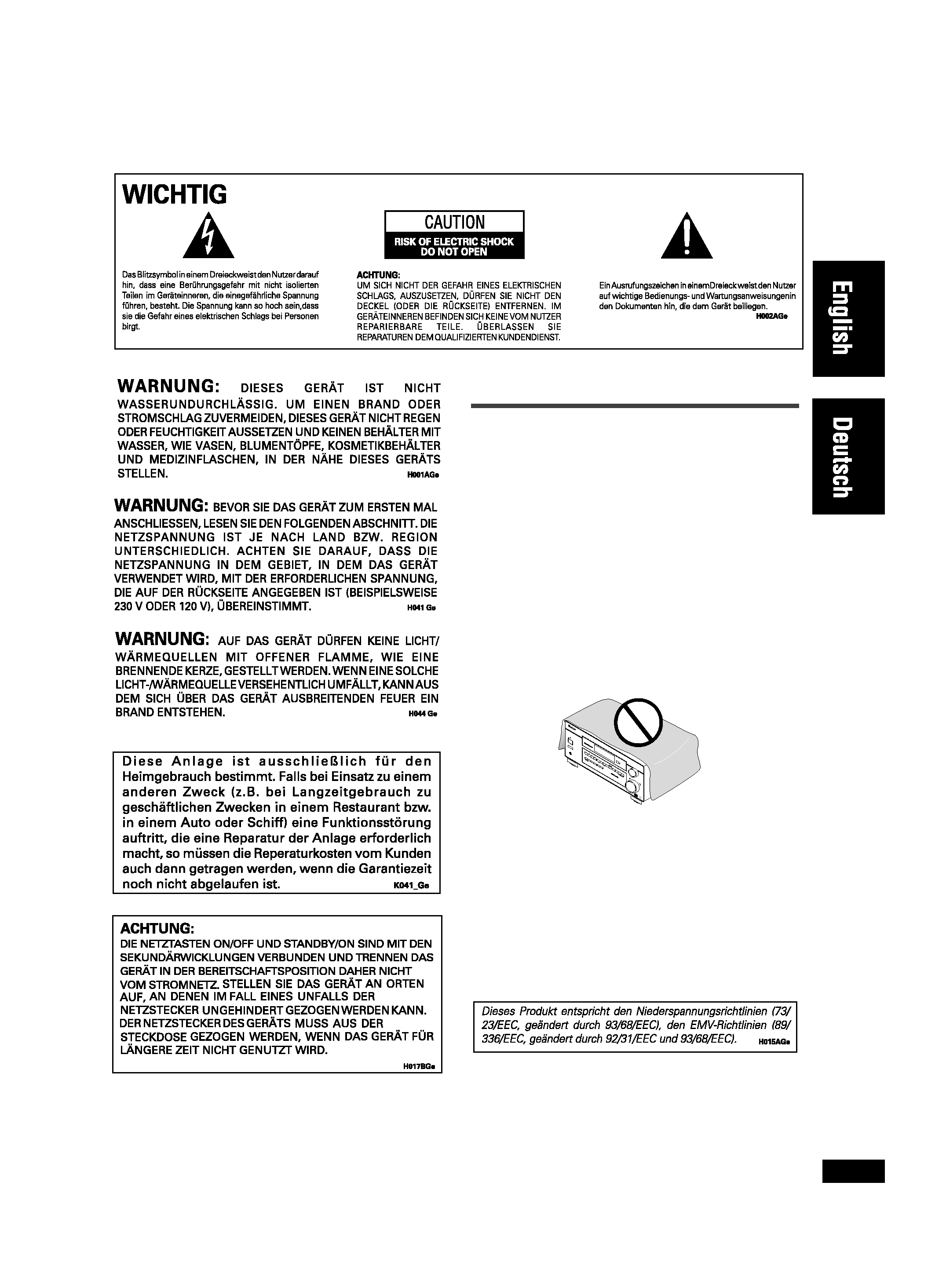 Betriebstemperatur und -feuchtigkeit:
+5°C ­ +35°C (+41 °F ­ +95 °F); weniger als 85% rel.
Luftfeuchtigkeit (Lüftungsöffnungen nicht blockiert)
Nicht an folgenden Orten aufstellen:
Orte, die direktem Sonnenlicht oder starkem
künstlichen Licht ausgesetzt sind
Orte mit hoher Luftfeuchtigkeit oder schlechter
BELÜFTUNG:
Wenn Sie dieses Gerät
installieren, achten Sie darauf, daß Sie um das Gerät
herum für die Belüftung Platz lassen, um die
Wärmeabstrahlung zu verbessern (mindestens 60
cm oben, 10 cm hinten und 30 cm an jeder Seite).
WARNUNG:
Schlitze und andere Öffnungen im
Gehäuse gewährleisten einen zuverlässigen Betrieb
des Geräts und schützen es vor Überhitzung. Um
Brandgefahr auszuschließen, dürfen die Öffnungen
niemals mit Gegenständen, wie Zeitungen,
Tischtüchern, Gardinen usw. blockiert bzw.
abgedeckt werden. Außerdem dürfen Sie das Gerät
nicht auf dicken Teppichen, Betten, Sofas oder
Stoffen mit dickem Flor aufstellen.
Wir danken lhnen für den Kauf dieses Pioneer-Produkts.
Lesen Sie sich bitte diese Bedienungsanleitung durch. Dann wissen Sie, wie Sie lhr Gerät richtig bedienen.
Bewahren Sie sie an einem sicheren Platz auf, um auch zukünftig nachschlagen zu können.
Aufstellung des Receivers
---

Checking what's in the box ............................... 6
Making cable connections ................................ 6
Loading the batteries ......................................... 6
Operating range of remote control unit ........... 7
Introduction to home theater ............................ 8
Listening to Surround Sound ............................ 9
Using the Quick Setup ....................................13
Audio/Video cords ........................................... 15
S-video cables ...................................................15
Digital audio cords/Optical cables ................. 16
Connecting digital components .................... 17
Connecting audio components ...................... 18
Connecting DVD 5.1 channel components ... 19
Connecting video components ....................... 20
Connecting antennas ..................................... 21
FM wire antenna ..............................................21
AM loop antenna ..............................................22
Antenna snap connectors ........................ 22
Using external antennas ................................. 23
To improve FM reception ............................ 23
To improve AM reception ........................... 23
Connecting the speakers ................................ 24
Speaker terminals ..................................... 24
Hints on speaker placement ........................... 26
Operating other Pioneer components .......... 28
Front Panel ........................................................29
Display ............................................................. 31
Remote Control ............................................... 34
Introduction to Sound Modes ........................ 38
Stereo/Direct ...............................................38
Standard modes .........................................38
Advanced Surround modes ....................... 39
Choosing the input signal .............................. 41
Using Stereo/Direct .........................................42
Listening to multi-channel playback .............. 43
Using Advanced Surround ............................. 44
Using Loudness and Midnight listening ........ 45
Using the tone controls .................................. 45
Playing other sources ..................................... 46
Selecting the multi-channel analog inputs ... 47
6 Setting up your receiver
Choosing your receiver setup ........................ 48
Speaker setting .......................................... 50
Subwoofer setting ..................................... 51
Crossover frequency setting ...................... 51
LFE attenuator setting ................................ 52
Front speaker distance setting .................. 53
Center speaker distance setting .............. 53
Surround speaker distance setting .......... 53
Dynamic range control setting .................. 54
Dual mono setting ..................................... 54
Coaxial digital input settings .................... 55
Optical digital input setting ....................... 55
Setting the relative volume
level of each channel ...................................... 56
Listening to the radio ...................................... 58
Improving FM stereo sound ....................... 59
Using the RF attenuator ............................ 59
Saving station presets .....................................60
Naming station presets .................................. 62
Listening to station presets ............................ 63
An introduction to RDS .................................. 64
Using the RDS display .............................. 66
Searching for RDS programs ................... 67
Basics of EON ................................................. 68
Using EON ................................................. 69
from the RDS or EON search ......................... 70
Making an audio or a video recording .......... 71
Monitoring your recording ........................ 72
Troubleshooting ............................................... 73
Specifications ...................................................77
Cleaning the unit ..............................................78
---

Überprüfen des mitgelieferten Zubehörs ........ 6
Kabelanschlüsse ................................................6
Einlegen der Batterien .......................................6
Betriebsreichweite der Fernbedienung ............ 7
Einleitung zum Heimkino ..................................8
Surround-Klang hören .......................................9
Verwendung von Quick Setup (Schnelle
Konfiguration) ................................................. 13
Audio/Videokabel ............................................ 15
S-Videokabel .................................................... 15
Digitale Audiokabel/Optische Kabel .............. 16
Anschluss von Digitalkomponenten .............. 17
Anschluss von Audiokomponenten .............. 18
Anschluss von DVD 5.1-Kanal-
Komponenten ................................................... 19
Anschluss von Videokomponenten ............... 20
Anschluss der Antennen ................................. 21
FM-Drahtantenne ............................................ 21
AM-Rahmenantenne ...................................... 22
Antennen-Klemmbuchsen ....................... 22
Nutzung von Außenantennen ........................ 23
Verbessern des FM-Empfangs .................. 23
Verbessern des AM-Empfangs .................. 23
Anschluss der Lautsprecher ........................... 24
Lautsprecherklemmen .............................. 24
Tipps zur Aufstellung der Lautsprecher ......... 26
Bedienung anderer Pioneer-Komponenten ... 28
4 Bedienelemente und Displays
Frontplatte ........................................................ 29
Display ............................................................. 31
Fernbedienung ................................................ 34
5 Wiedergabe von Signalquellen
Einleitung zu Klangmodi ................................. 38
Stereo/Direct ............................................... 38
Standardmodi ............................................ 38
Advanced Surround-Modi ......................... 39
Wahl des Eingangssignals ............................. 41
Verwendung von Stereo/Direct ....................... 42
Mehrkanal-Wiedergabe hören ....................... 43
Verwendung von Advanced Surround .......... 44
Verwendung von Loudness- und Midnight-
Hörfunktion ..................................................... 45
Verwendung der Klangfarbenregler .............. 45
Wiedergabe anderer Signalquellen ............... 46
Wahl der analogen Mehrkanal-Eingänge ..... 47
6 Konfiguration des Receivers
Wahl Ihrer Receiver-Konfiguration ................. 48
Einstellung der Lautsprecher ................... 50
Einstellung des Subwoofers ...................... 51
Überschneidungsfrequenz ....................... 51
Einstellung der LFE-Dämpfung ................. 52
Entfernungseinstellung der Front-
Lautsprecher ............................................... 53
Entfernungseinstellung des Center-
Lautsprecher ............................................... 53
Entfernungseinstellung der Surround-
Lautsprecher ............................................... 53
Einstellung des Dynamikumfangreglers ... 54
Dual Mono-Einstellung ............................. 54
Einstellungen des koaxialen digitalen
Eingangs .................................................... 55
Einstellung des optischen digitalen
Eingangs .................................................... 55
Einstellung des relativen Lautstärkepegels
jedes Kanals .................................................... 56
Radio hören ..................................................... 58
Verbessern des FM-Stereoklangs .............. 59
Verwendung des RF-Dämpfers ................. 59
Speichern von Festsendern ............................ 60
Benennen von Festsendern ............................ 62
Festsender hören ............................................ 63
Einleitung zu RDS .......................................... 64
Nutzung des RDS-Displays ....................... 66
Suche nach RDS-Programmen ................. 67
Grundlagen von EON ..................................... 68
Nutzung von EON ...................................... 69
Löschen aller Sender vom RDS- oder EON-
Suchlauf .......................................................... 70
8 Erstellen von Aufnahmen
Erstellen einer Audio- oder
Videoaufnahme ............................................... 71
Mithörkontrolle während der
Aufnahme ................................................... 72
9 Zusätzliche Informationen
Fehlersuche ..................................................... 75
Technische Daten ........................................... 79
Reinigen des Geräts ......................................... 80
---