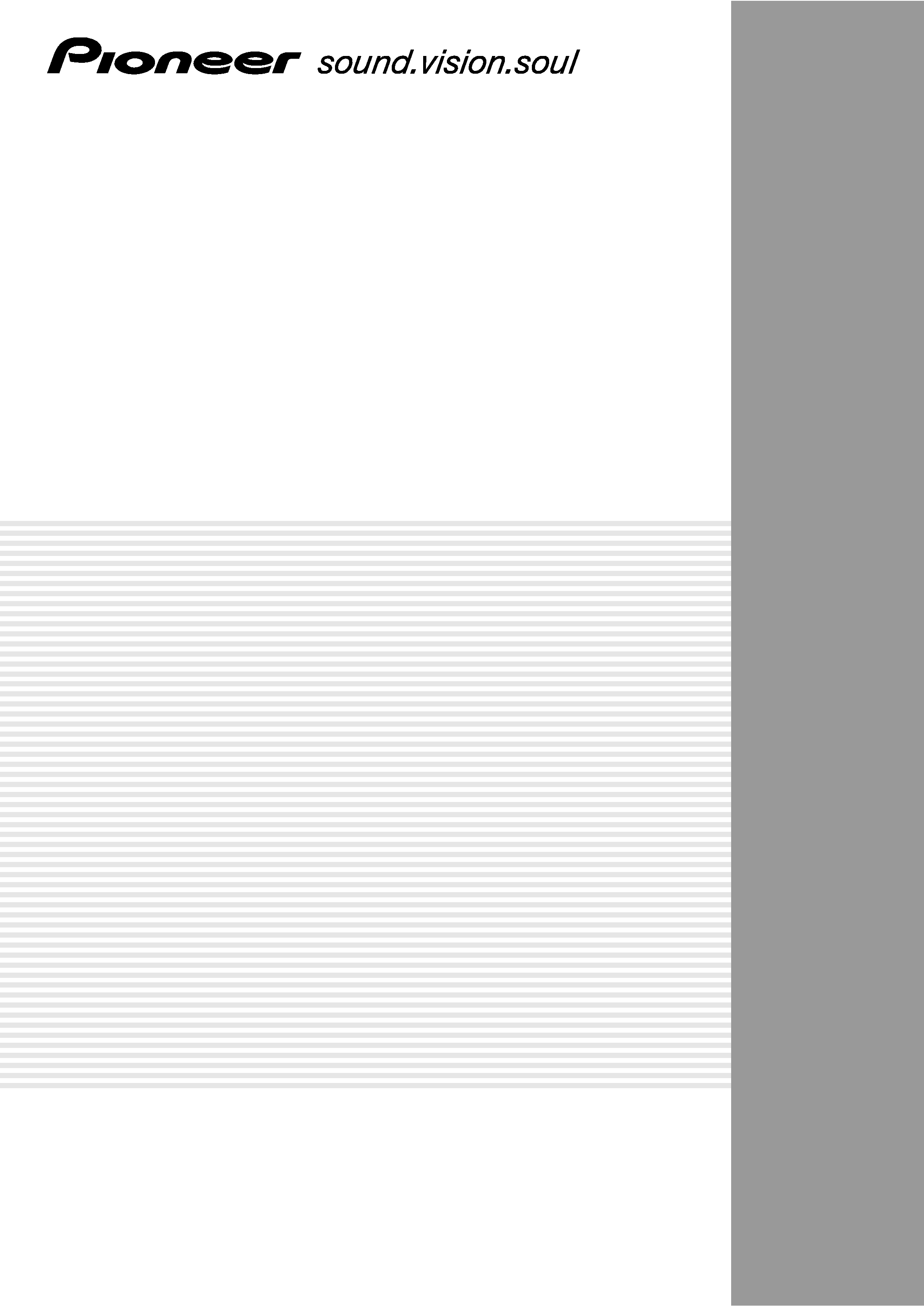 AUDIO/VIDEO MULTI-CHANNEL
---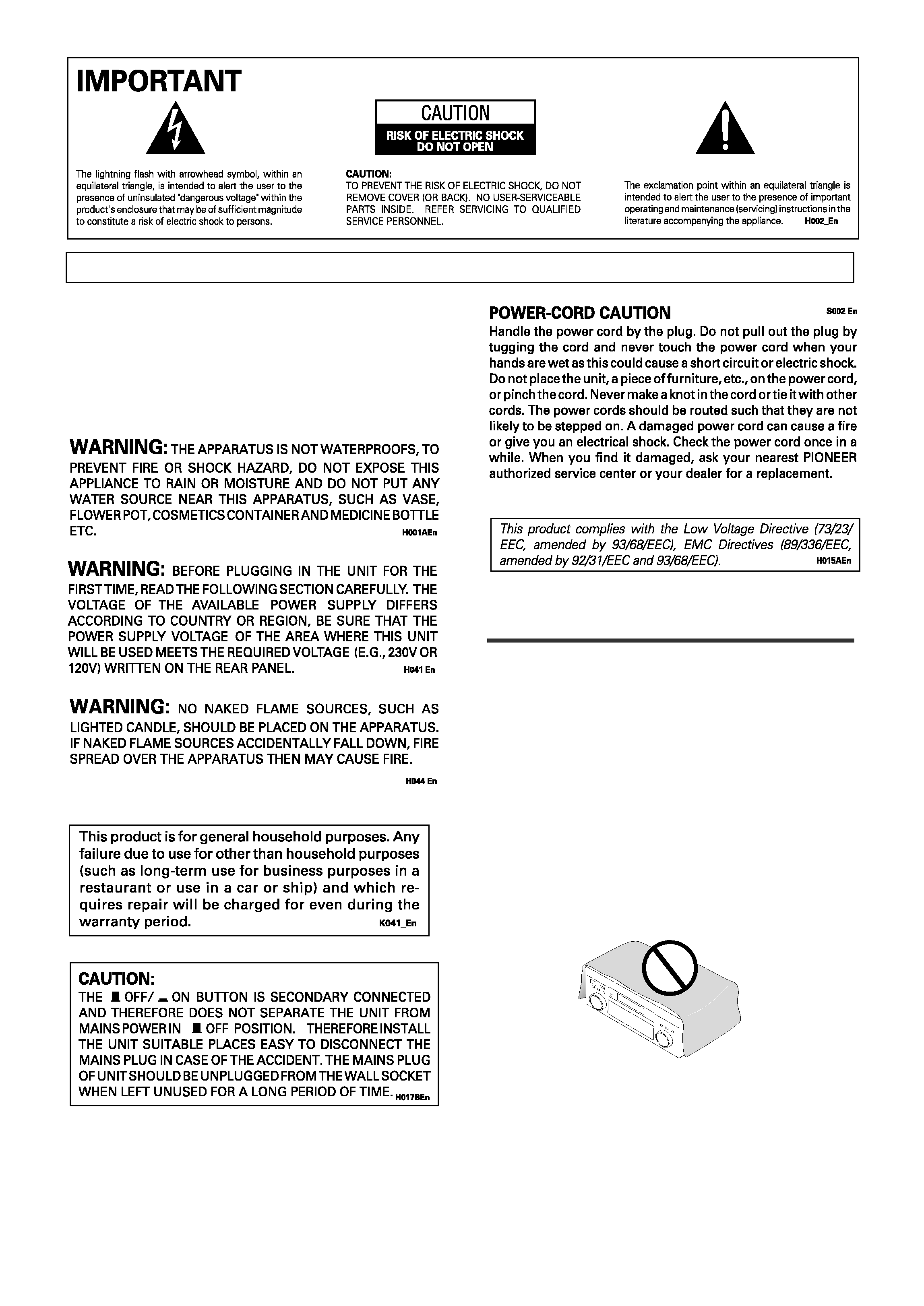 Thank you for buying this Pioneer product.
Please read through these operating instructions
so you will know how to operate your model
properly. After you have finished reading the
instructions, put them away in a safe place for
VENTILATION:
When installing this unit,
make sure to leave space around the unit for
ventilation to improve heat radiation (at least 60
cm at top, 10 cm at rear, and 30 cm at each side).
WARNING:
Slot and openings in the cabinet
are provided for ventilation and to ensure reliable
operation of the product and to protect it from
overheating, to prevent fire hazard, the openings
should never be blocked and covered with items,
such as newspapers, tablecloths, curtains, etc.
Also do not put the apparatus on the thick carpet,
bed, sofa, or fabric having a thick pile.
NOTE:
THE NO USER-SERVICEABLE PARTS COMPARTMENT WARNING IS LOCATED ON THE APPLIANCE BONNET
---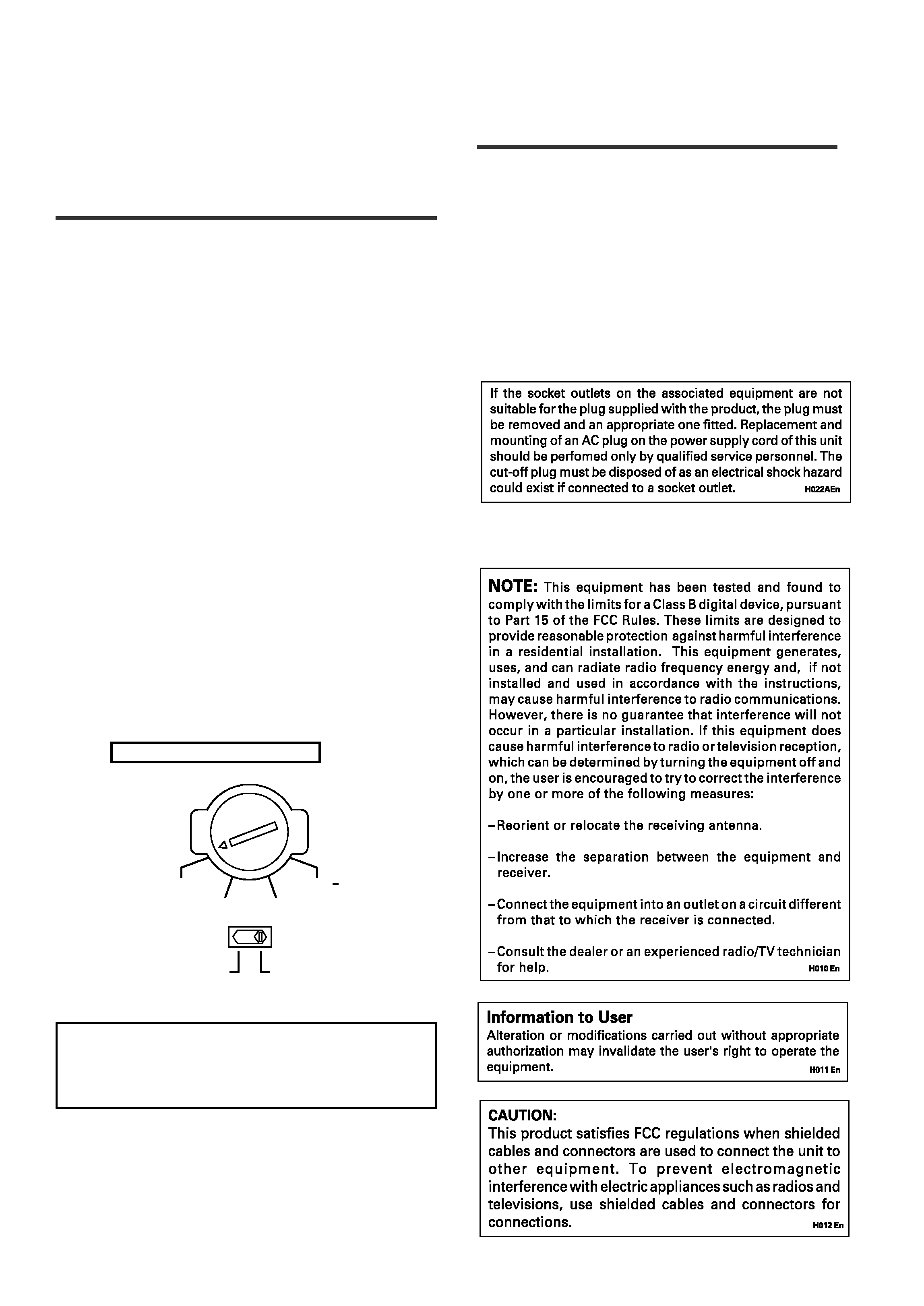 Operating environment temperature and
+5°C ­ +35°C (+41°F ­ +95°F); less than 85%RH
(cooling vents not blocked)
Do not install in the following locations
· Location exposed to direct sunlight or strong
· Location exposed to high humidity, or poorly
Only multi-voltage model is provided with these
switches. Mains voltages in Saudi Arabia are 127
V and 220 V only. Never use this model with the
110 V setting in Saudi Arabia.
Only multi-voltage model is provided with
this(these) switch(switches).
European models are not pro-vided with these
The line voltage selector switches are on the rear
panel. Check that they are set properly before
plugging the power cord into the household wall
socket. If the voltage is not properly set or if you
move to an area where the voltage requirements
differ, adjust the selector switches as follows.
1. Use a medium-size screwdriver.
2. First, insert the screwdriver in the groove of the
larger voltage selector, and adjust so that the tip
of the groove points to the voltage value of your
3. Next, insert the screwdriver in the groove of the
amaller voltage selector and adjust until the
voltage is the same as at the larger one.
Power source voltage is factory adjusted 220 volts. If
your area is different, change voltage selectors settings.
---

Features ................................................. 6
Before You Start .................................... 7
Checking the Supplied Accessories ........................... 7
Preparing the Remote Control .................................... 7
Loading the batteries ............................................. 7
Operating range of remote control unit ............... 8
Installing the Receiver ................................................. 8
Opening the Front Panel ............................................. 8
Easy Setup Guide Part 1 ....................... 9
Home Theater: The Basics .......................................... 9
1) Your Home System ............................................ 9
2) The Source Material ........................................... 9
3) The Listening Modes .......................................... 9
Conclusion .............................................................. 9
1 Hooking Up Your DVD Player & TV ..................... 10
Digital Connections .............................................. 10
2 Speaker Connections ........................................... 11
3 Setting up the Main Unit ...................................... 12
4 Assigning the Digital Inputs ................................ 12
Easy Setup Guide Part 2 ..................... 13
1 QUICK Setup ......................................................... 13
2 Playing a DVD with Surround Sound ................. 14
Connecting Your Equipment .............. 15
Connecting your TV ................................................... 15
Connecting Video Components ................................ 16
Connecting a DVD player ..................................... 16
Connecting VCRs or DVRs ................................... 17
Connecting a Video Component
to the Front Panel ................................................. 17
Connecting Satellite TV (SAT) Components ...... 18
Connecting Analog Audio Components .................. 19
Connecting to the Multi Channel Analog Inputs
(DVD-Audio or Super Audio CD (SACD) compatible
player) ............................................................................. 20
Connecting Digital Audio Components ................... 21
Digital Input Default Settings .............................. 22
Connecting the Radio Antennas ............................... 23
Using outdoor antennas ...................................... 23
Connecting Speakers ................................................. 24
Speaker impedance .............................................. 25
Placing Your Speakers ............................................... 26
Speaker placement ............................................... 26
AC Power Cord ........................................................... 26
AC Outlet [switched 100W max]
(European model only) .............................................. 26
Displays & Controls ............................ 27
Display ........................................................................ 27
Front Panel ................................................................. 28
Remote Control .......................................................... 30
Back Panel .................................................................. 32
Setting Up for Surround Sound ........ 34
SURRBACK SYSTEM (Surround Back System) ...... 35
NORMAL setup .......................................................... 36
SPEAKER SETTING .............................................. 37
CHANNEL LEVEL (channel balance) ................... 39
CHANNEL DELAY ................................................. 40
Basic Operation ................................... 41
Stereo and Multichannel Playback ........................... 41
Switching ANALOG/DIGITAL Signal Input ......... 42
Listening Modes ........................................................ 43
STEREO modes ..................................................... 43
MOVIE modes (SURROUND mode) .................... 44
MUSIC modes (SURROUND mode) .................... 45
Adjusting the Effect of a Listening Mode ........... 46
Adding/Adjusting the Effect in
Dolby Pro Logic II Music Mode ........................... 46
Listening with ACOUSTIC CALIBRATION EQ .......... 47
Reducing Noise During Playback
(DIGITAL NR Function) .............................................. 47
Listening in MIDNIGHT Mode ................................... 48
Listening in LOUDNESS Mode ................................. 48
Adjusting Bass and Treble (TONE CONTROL) ........ 49
Listening in HI­BIT/SAMPLING Mode ...................... 50
DVD-Audio/MULTI CHANNEL IN Playback .............. 50
SB CH MODE button .................................................. 51
SB CH MODE ......................................................... 51
VIRTUAL SURROUND BACK Mode ..................... 51
DUAL MONO setting and Playback .......................... 52
Using Headphones .................................................... 52
Video Select ............................................................... 53
Adjusting the Brightness of the Display
(DIMMER) ................................................................... 53
Using the Tuner ................................... 54
Automatic and Manual Tuning ................................. 54
MPX Mode ............................................................ 54
RF ATT Mode (European model only) ................ 54
Channel Step Setting (multi-voltage model only) ... 55
(multi-voltage model only) .................................. 55
Direct Access Tuning ................................................. 55
Memorizing Frequently Used Stations .................... 56
Naming Memorized Stations .................................... 57
Recalling Memorized Stations .................................. 58
---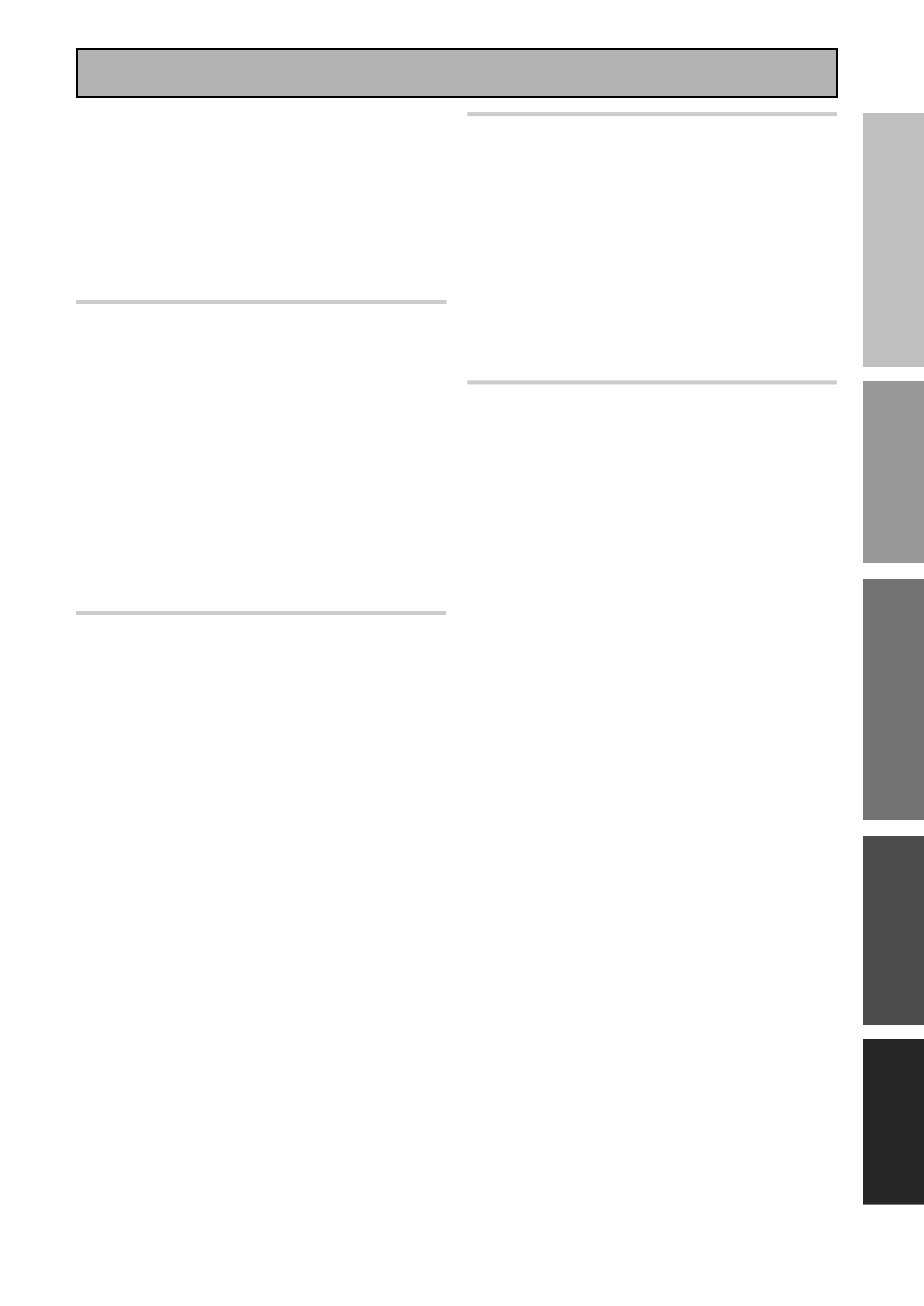 An introduction to RDS (European model only) ..... 59
Using the RDS display ......................................... 59
Searching for RDS programs
(European model only) .............................................. 60
Basics of EON (Enhanced Other Network
information) (European model only) ....................... 61
Using EON (European model only) .......................... 61
Clearing all stations from
the RDS or EON search (European model only) ..... 62
Components ........................................ 63
Setting Up the Remote Control to Control Other
Components ............................................................... 63
Recalling Settings Stored in the
Remote Control ..................................................... 63
Programming Signals from Other Remote
Controls (LEARNING Mode) ................................ 64
Using Remote Control with Other Components ..... 65
CD/MD/CD-R/VCR/DVD/LD/DVD Recorder/
Cassette Deck operations ..................................... 65
Digital TV/ TV operations ..................................... 66
Setting up the DIRECT FUNCTION ........................... 67
Using Other Functions ........................ 68
Recording from Audio/Video Components ............. 68
SECOND ZONE (Speaker System B)/FRONT BI-AMP
Setup ........................................................................... 69
Stereo playback in another room (SECOND
ZONE) .................................................................... 69
Bi-amping the front speakers
(FRONT BI-AMP) ................................................... 69
A/B Speaker Button .............................................. 70
Connecting Additional Amplifiers ............................ 71
Multi Operations ........................................................ 72
Performing Multi Operations ............................... 73
SYSTEM OFF .............................................................. 74
Using SYSTEM OFF .............................................. 75
The PIONEER SR System: Operating other PIONEER
components ............................................................... 75
Resetting the Remote Control .................................. 76
Erasing Multi Operations ..................................... 76
Erasing Learned Remote Control Commands ... 76
Erasing All Remote Control settings ................... 76
Resetting the Main Unit ............................................ 77
Fine Tuning Your System ................... 78
Other System Settings .............................................. 78
THX CINEMA Setup ................................................... 79
Assigning the Digital Inputs ...................................... 80
FUNCTION RENAME ................................................. 81
Expert Setup ............................................................... 82
CROSSOVER NETWORK ...................................... 83
FINE CHANNEL LEVEL ......................................... 84
FINE CHANNEL DELAY ........................................ 85
ACOUSTIC CAL EQ ............................................... 87
BASS PEAK LEVEL ............................................... 89
DYNAMIC RANGE CONTROL .............................. 90
Techno Tidbits & Problem-solving ..... 91
Dolby ........................................................................... 91
Dolby Digital ......................................................... 91
Dolby Pro Logic II ................................................. 91
Dolby Digital Surround EX .................................. 92
DTS ............................................................................. 92
DTS ........................................................................ 92
DTS-ES .................................................................. 92
DTS Neo:6 ............................................................. 92
DTS 96/24 .............................................................. 92
THX ............................................................................. 93
Speaker Placement Information ............................... 94
Preset Code List ......................................................... 96
Troubleshooting ......................................................... 98
Schemata of Setup .................................................. 103
Specifications (European model) ........................... 104
Specifications (multi-voltage model) ...................... 105
---