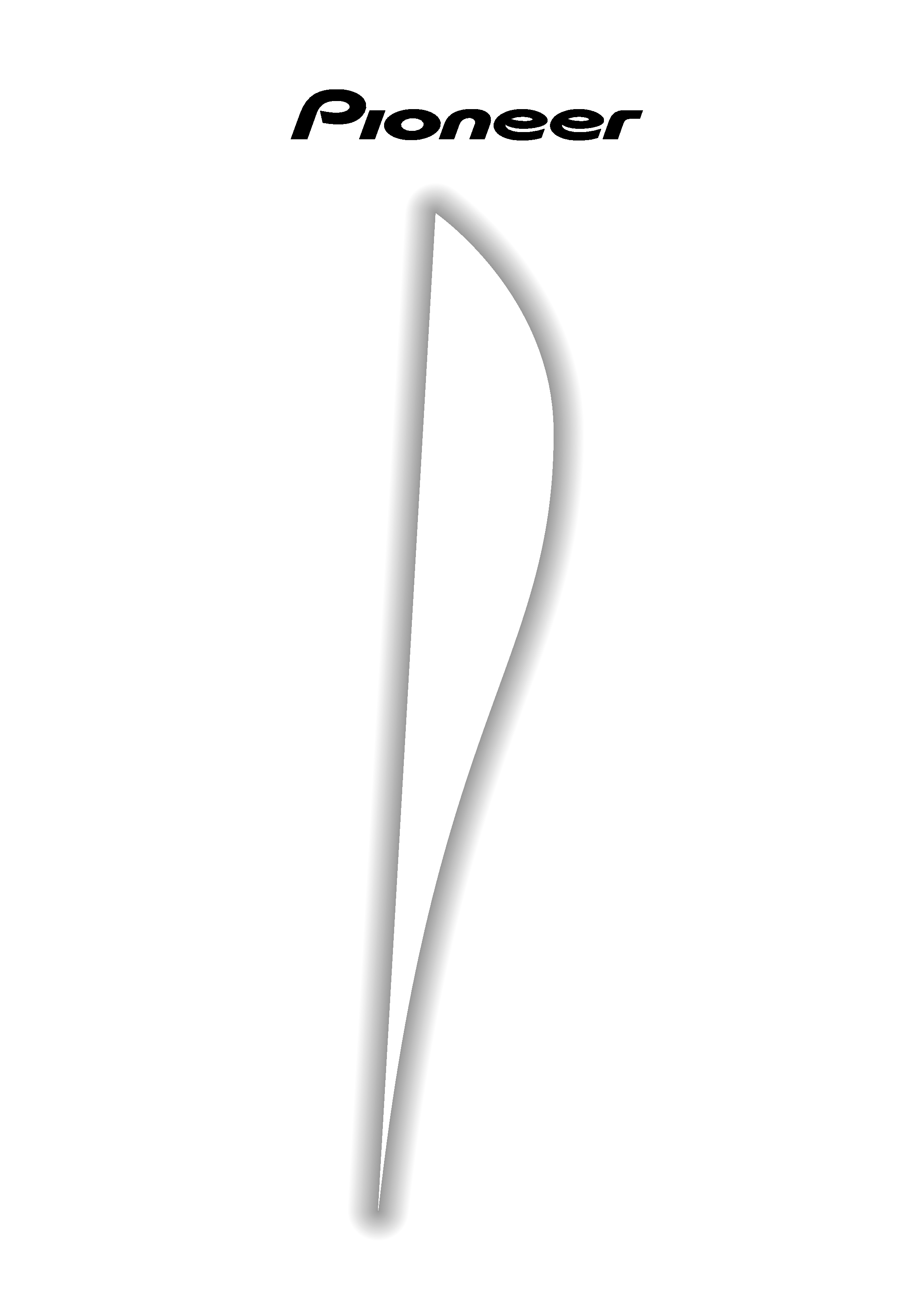 ---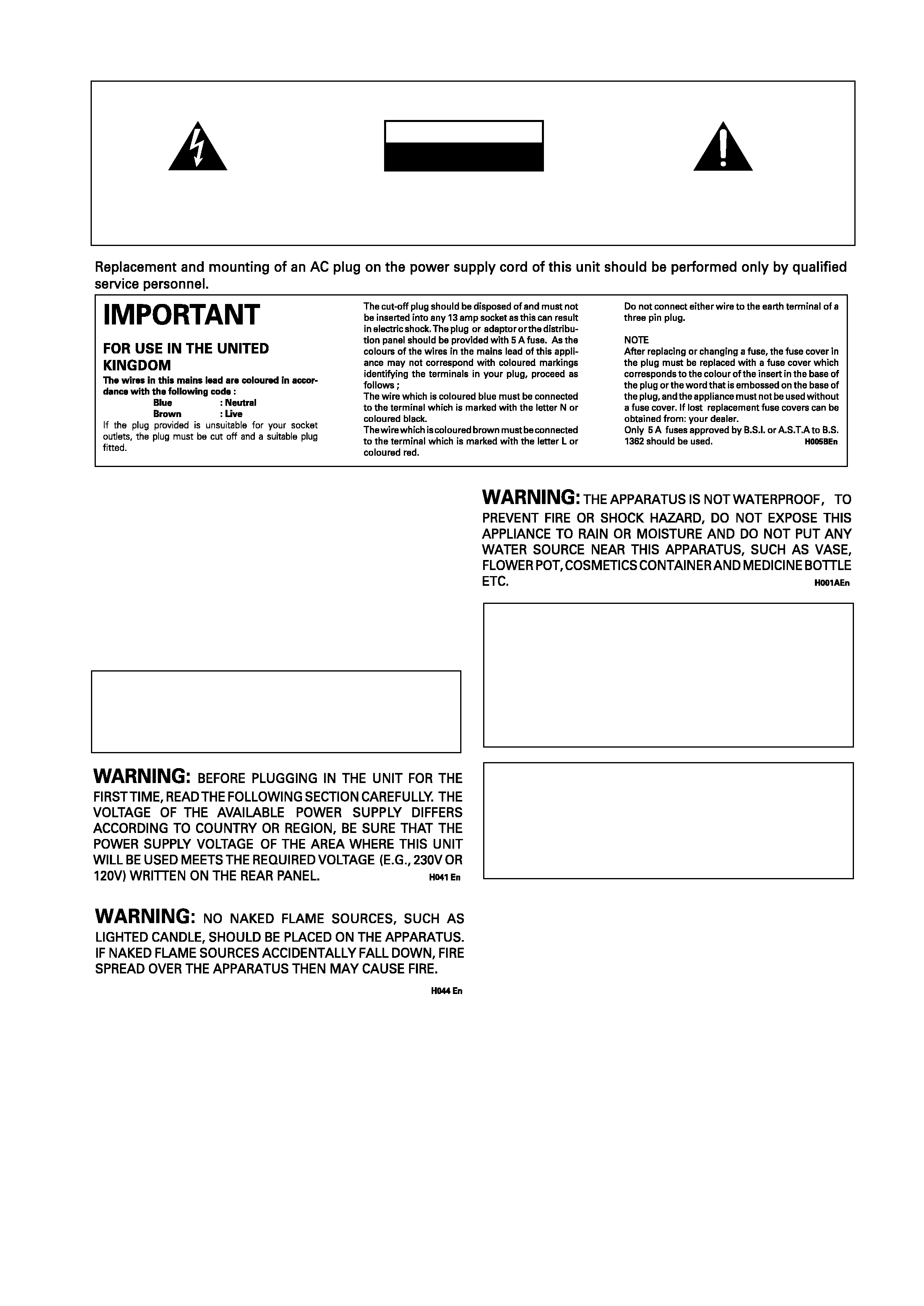 TO PREVENT THE RISK OF ELECTRIC SHOCK, DO
NOT REMOVE COVER (OR BACK).
SERVICEABLE PARTS INSIDE. REFER SERVICING TO
QUALIFIED SERVICE PERSONNEL.
The exclamation point within an equilateral triangle is
intended to alert the user to the presence of important
operating and maintenance (servicing) instructions in
the literature accompanying the appliance.
The lightning flash with arrowhead symbol, within an
equilateral triangle, is intended to alert the user to the
presence of uninsulated "dangerous voltage" within the
product's enclosure that may be of sufficient magnitude
to constitute a risk of electric shock to persons.
Thank you for buying this Pioneer product.
Please read through these operating instructions so you will
know how to operate your model properly. After you have
finished reading the instructions, put them away in a safe
place for future reference.
In some countries or regions, the shape of the power plug
may sometimes differ from that shown in the explanatory
drawings. However, the method of connecting and operat-
ing the unit is the same.
This product complies with the Low Voltage
Directive (73/23/EEC, amended by 93/68/EEC), EMC
Directives (89/336/EEC, amended by 92/31/EEC and
Operating Environment
H045 En
Operating environment temperature and humidity:
°
C ­ +35
°
C (+41
°
F ­ +95
°
F); less than 85%RH (cooling
Do not install in the following locations
· Location exposed to direct sunlight or strong artificial
· Location exposed to high humidity, or poorly
This product is for general household purposes. Any
failure due to use for other than household purposes
(such as long-term use for business purposes in a
restaurant or use in a car or ship) and which requires
repair will be charged for even during the warranty
--OFF/_ON BUTTON IS SECONDARY CONNECTED
AND THEREFORE DOES NOT SEPARATE THE UNIT FROM
MAINS POWER IN STANDBY POSITION. THEREFORE INSTALL
THE UNIT SUITABLE PLACES EASY TO DISCONNECT THE
MAINS PLUG IN CASE OF THE ACCIDENT. THE MAINS PLUG
OF UNIT SHOULD BE UNPLUGGED FROM THE WALL SOCKET
WHEN LEFT UNUSED FOR A LONG PERIOD OF TIME.
VENTILATION:
When installing this unit, make sure to leave space around the unit for ventilation to improve heat
radiation (at least 20 cm at top, 50 cm at rear and front, and 10 cm at each side).
WARNING:
Slot and openings in the cabinet are provided for ventilation and to ensure reliable operation of the product and
to protect it from overheating, to prevent fire hazard, the openings should never be blocked and covered with items, such as
newspapers, tablecloths, curtains, etc. Also do not put the apparatus on the thick carpet, bed, sofa, or fabric having a thick pile.
---

Manufactured under license from Dolby Labo-
ratories. "Dolby", "Pro Logic", and the double-D
symbol are trademarks of Dolby Laboratories.
Confidential unpublished works. © 1992-1997
Dolby Laboratories. All rights reserved.
"DTS" and "DTS Digital Surround" are
trademarks of Digital Theater Systems, Inc.
Compatibility with the Home
Dolby Digital, DTS Sound Decoders
These highly evolved multichannel sound formats are
the heart of home theater. They deliver realistic multi-
channel sound that can turn any living room into a
theater, reproducing all the sound effects of the original
movie. The VSX-C300/C300-S has the flexibility to
decode all these formats.
The MPEG-2 sound format is emerging as an important
medium to deliver multichannel soundtracks, especially
for music, and the VSX-C300/C300-S is fully equipped
to handle MPEG-2 format discs.
This was the first multichannel sound format and many
videos and other media can still be found in Pro Logic.
The VSX-C300/C300-S reproduces this long-standing
format with excellent clarity. With it you can get
multichannel surround sound even from two channel
and Dolby Surround sources. In addition, you can use
this decoder with the 5-D Theater mode for a stronger
Home Theater Listening Modes
Custom Designed Listening Modes (p.30)
These modes enhance the sound of sources from movies
and music to TV and video games for a more dramatic
effect. These are each designed to accentuate specific
sound qualities, giving the listener a wide range of
Virtual Listening Mode (p.30)
This especially designed listening mode uses only two
channels but through sound imaging imitates a full
surround sound. It allows you to experience surround
sound with only two speakers.
Headphones Surround Mode (p.30)
This new headphone mode allows the user to get a
surround-like sound while listening on headphones
designed to accommodate this technology.
Midnight Listening Mode (p.32)
The Midnight listening mode allows you to obtain
excellent surround sound effects even when listening at
low volumes, something that was previously impossible.
The Quiet mode provides good sound by smoothing out
harsh noises in the soundtrack. This is achieved by
reducing the bass and treble.
Easy-to-use Remote Control
This new remote control is extremely convenient to use.
One button is dedicated to one task in the control of the
receiver, eliminating confusing buttons whose purpose
are unclear. In addition, this remote can be used to
operate a variety of other components simply by
recalling the appropriate setup codes.
Easy Setup for Quick Home Use
This receiver features an automatic setup function that
senses which speakers you have hooked up and
automatically sets the receiver for proper surround
sound. Thus, you can start enjoying home theater
immediately after hooking up your speakers and
components, without worrying about difficult setup
This unit is designed to use less than 1 W of energy
when the receiver is in standby mode.
marks of SRS Labs, Inc. TruSurround technol-
ogy is incorporated under license from SRS
---

Checking the Supplied Accessories
When Making Cable Connections 9
Operating Range of Remote Control Unit
Maintenance of External Surfaces
Connecting Your Equipment
Connecting a DVD Player & a TV
Connecting a Digital Tuner/Set Top Box
Connecting a TV with an Internal Digital Tuner
Connecting Video Components
Hints on Speaker Placement
Operating other Pioneer Components with this
Automatic Switching between Analog & Digital
Checking the Settings on Your DVD (or other)
Fine Tuning Your Surround Sound
Personalizing Your Surround Sound
Setting the Volume Level of Each Channel
Selecting a Listening Mode
Tuning Directly to a Station
Naming Memorized Stations
Recalling Memorized Stations
Searching for RDS Programs
Changing the Display Brightness
Default Settings for the Receiver
Controlling the Rest of Your System
Changing the Remote Control Mode
Clearing the Preset Codes
CD/MD/CD-R/VCR/DVD/LD/DVD recorder/
Cable TV/Satellite TV/Digital TV/TV Controls
Understanding DVD Packaging
Congratulations on buying this fine Pioneer product.
Please read through these operating instructions so you will know how to operate your model properly. After you
have finished reading the instructions, put them away in a safe place for future reference.
---

Most consumers are used to using stereo equipment to listen to music but many people are not used to home theater
systems that give you many more options when listening to soundtracks. In fact, home theater is not really compli-
cated and this little guide should give you an understanding of basics.
The main reasons why it seems so difficult is that there are three different factors involved in home theater and each
will contribute to what kind of sound you get.
1) The equipment you are using for you home theater set up. Particularly important is the number of speakers you
are using. We call this your speaker configuration. The default settings should be fine in most cases.
2) The 'source' material you are using. This is the actual product (like a DVD) or broadcast (like cable TV) your are
listening to/watching. We call this the source.
3) The last factor is the listening mode you choose on the VSX-C300/C300-S receiver. These are explained below and
in subsequent chapters but most likely the default setting will be fine.
Let's start with the home theater set up you have in your home.
The heart of your system is the VSX-C300/C300-S receiver and it is very flexible in getting you theater-like surround
sound. You can use this receiver with anywhere from two to five speakers (front left, front right, center, surround left
and right) and a subwoofer to get home theater surround sound. However we recommend you use five speakers. If
you only have two speakers choose the Listening mode that offers surround sound for your home setup. Also, a DVD
player is essential for home theater and you can also hook up satellite or cable TV tuner to this receiver and get a
more home theater like sound from those programs.
DVDs have become the basic source material for home theater because they offer excellent sound and picture quality,
allow users to choose the movies they want, and are easy to store, etc. You can also enjoy home theater with other
sources, such as digital satellite TV, cable TV and VHS videotapes. The important part here is all these sources have
soundtracks recorded on them with various kinds of technology (this is called the sound encoding). Home theater
sources are recorded (encoded) with multiple sound channels, that is discrete parts of the overall sound. CDs (which
are stereo sources) work the same way but they only have two sound channels, the left channel and the right channel.
These two channels carry different parts of the soundtrack and mix together when you hear it to make an enjoyable,
stereo sound. The same idea applies to home theater sources except home theater sources are recorded with
multichannels, that is, more than two channels. For example, Dolby Pro Logic encoding has four channels (front left,
front right, center and a single channel for both surround speakers), Dolby Digital, DTS, and MPEG-2 encoding
usually have six channels (front left, front right, center, surround left and right and a channel that powers the
subwoofer ). Since the subwoofer channel is only for bass sounds this multichannel set up has been named 5.1
channel sound. These multiple channels are what create a surround sound effect and give you the experience of being
in a movie theater. It is important you consult the manual that came with your DVD player as well to make sure the
player is outputting a surround soundtrack and all the other settings are appropriate for home theater.
This receiver has many different listening modes and they are designed to cover all the speaker configurations and
types of sources you might be using. In general, if you follow the recommend advice and have five speakers hooked
up in most cases the AUTO listening mode is the easiest way to get realistic home theater sound. This is the default
setting so you don't have to do anything. Other possibilities (like listening to a stereo CD with all five speakers or,
conversely taking a stereo source and it getting multichannel home theater-like sound) are explained in Listening
These are the three basic factors that contribute to your home theater sound. The easiest thing is to hook up five
speakers and simply play your DVDs with AUTO mode. This will give you realistic and enjoyable home theater
---