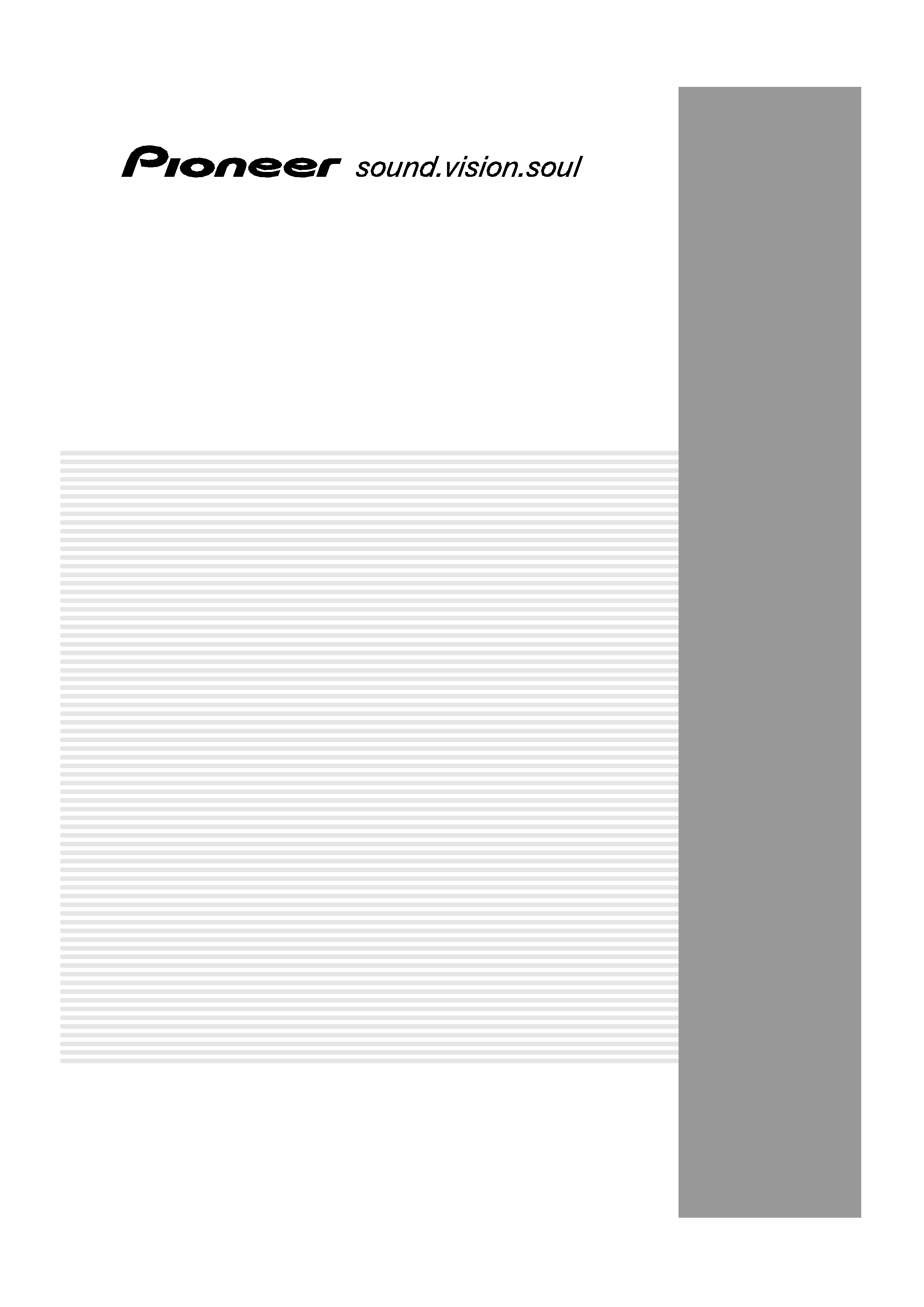 AUDIO/VIDEO MULTI-CHANNEL
---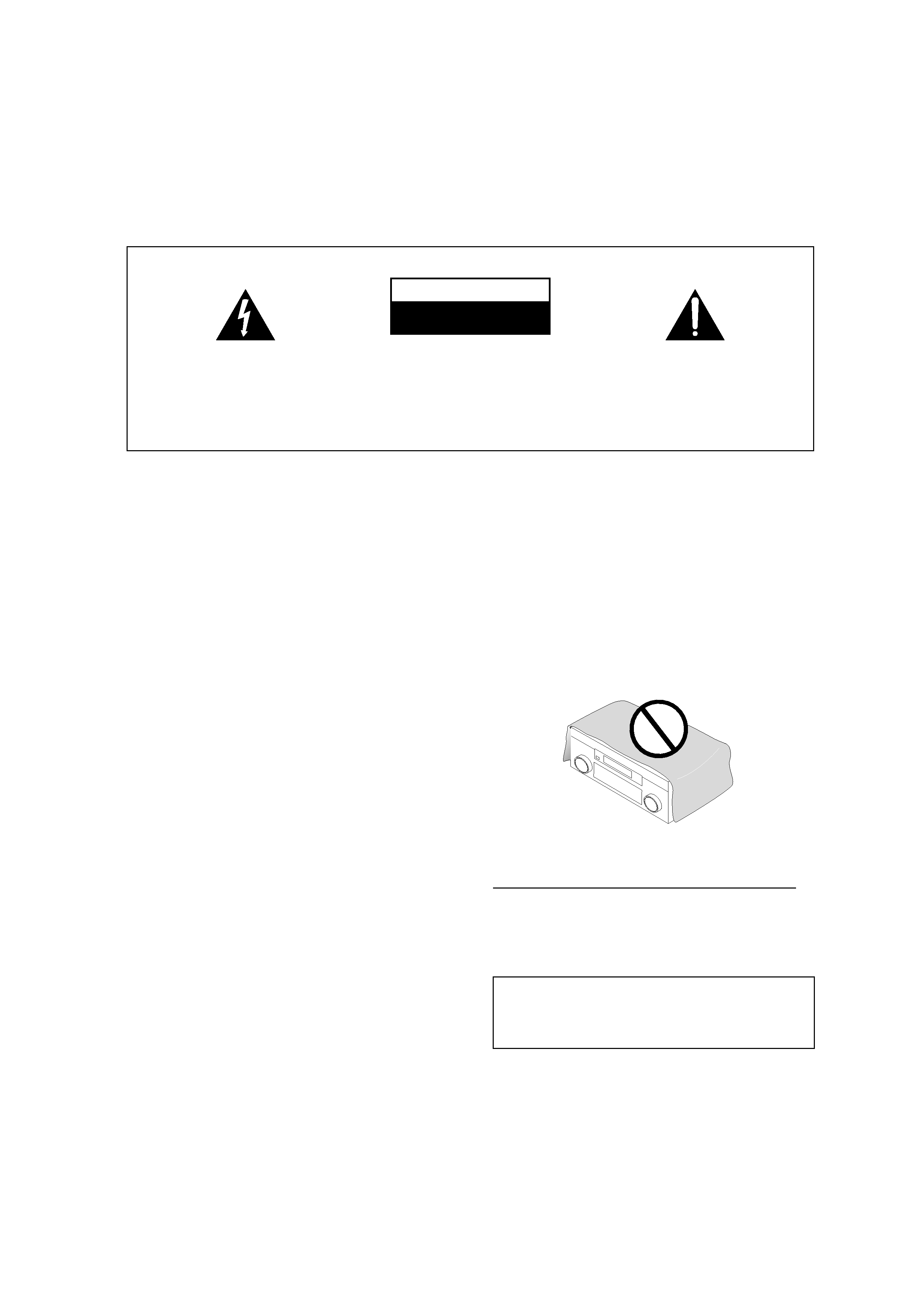 The exclamation point within an equilateral
triangle is intended to alert the user to the
presence of important operating and
maintenance (servicing) instructions in the
literature accompanying the appliance.
The lightning flash with arrowhead symbol,
within an equilateral triangle, is intended to
alert the user to the presence of uninsulated
"dangerous voltage" within the product's
enclosure that may be of sufficient
magnitude to constitute a risk of electric
TO PREVENT THE RISK OF ELECTRIC
SHOCK, DO NOT REMOVE COVER (OR
BACK). NO USER-SERVICEABLE PARTS
INSIDE. REFER SERVICING TO QUALIFIED
The voltage of the available power supply differs
according to country or region. Be sure that the
power supply voltage of the area where this unit
will be used meets the required voltage (e.g., 230V
or 120V) written on the rear panel.
Before plugging in for the first time, read the following
To prevent a fire hazard, do not place any naked
flame sources (such as a lighted candle) on the
This equipment is not waterproof. To prevent a fire
or shock hazard, do not place any container filled
with liquid near this equipment (such as a vase or
flower pot) or expose it to dripping, splashing, rain
When installing this unit, make sure to leave space
around the unit for ventilation to improve heat
radiation (at least 60 cm at top, 10 cm at rear, and
Slots and openings in the cabinet are provided for
ventilation to ensure reliable operation of the
product, and to protect it from overheating. To
prevent fire hazard, the openings should never be
blocked or covered with items (such as newspapers,
table-cloths, curtains) or by operating the
equipment on thick carpet or a bed.
Operating environment temperature and humidity:
+5 ºC ­ +35 ºC (+41 ºF ­ +95 ºF); less than 85 %RH
(cooling vents not blocked)
Do not install this unit in a poorly ventilated area, or in
locations exposed to high humidity or direct sunlight (or
When disposing of used batteries, please comply
with governmental regulations or
environmental public instruction's rules that
apply in your country/area.
Thank you for buying this Pioneer product.
Please read through these operating
instructions so you will know how to operate
your model properly. After you have finished
reading the instructions, put them away in a
safe place for future reference.
---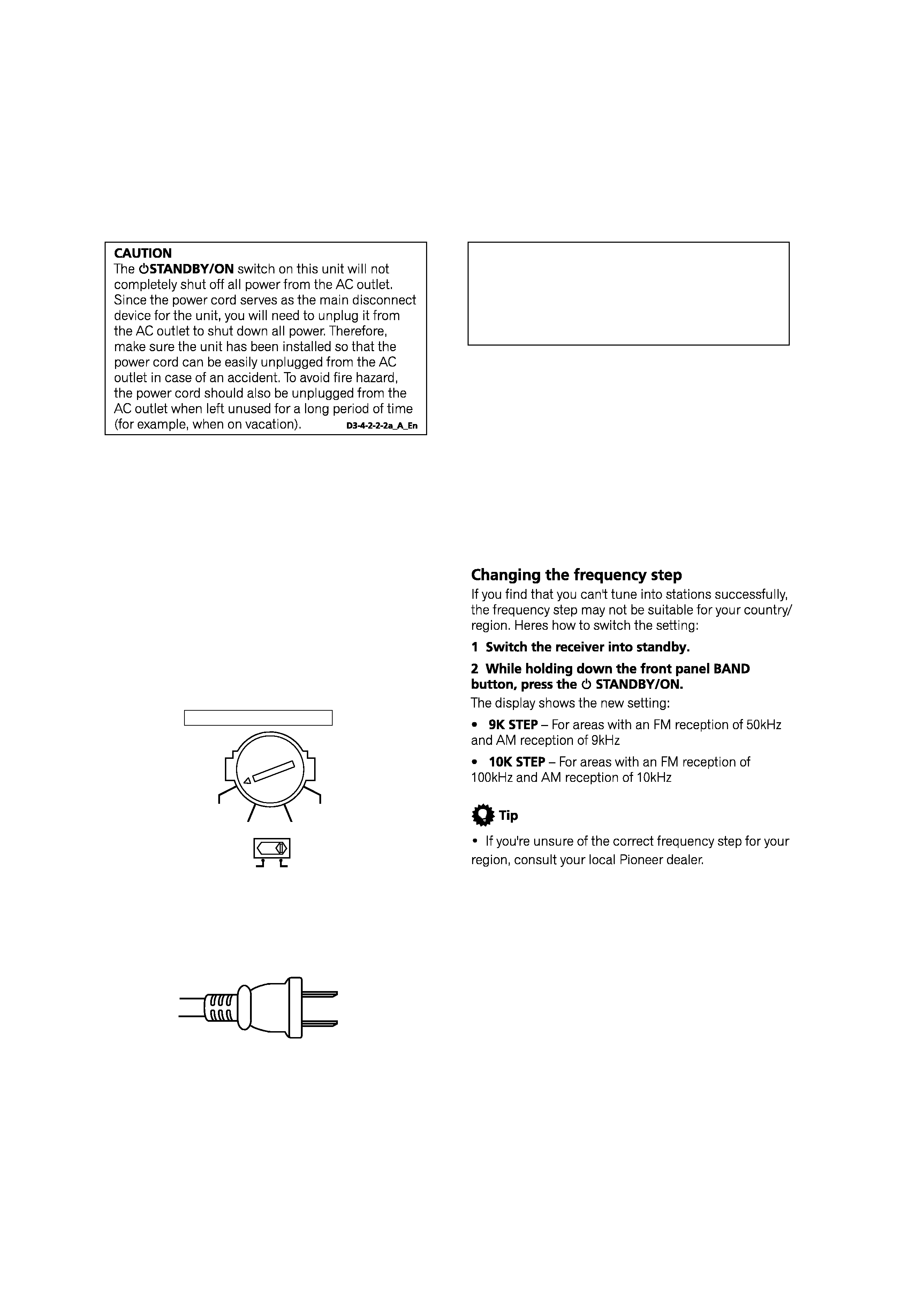 You can find the voltage selector switch on the rear
panel of multi-voltage models.
The factory setting for the voltage selector is 220V.
Please set it to the correct voltage for your country
· Saudi Arabia operates on 127V and 220V mains
voltage. Please set to the correct voltage before using.
· For Taiwan, please set to 110V before using.
· For Mexico, please set to 120-127V before using.
Before changing the voltage, disconnect the AC power
cord. Use a medium size screwdriver to change the
Changing the TV format setting
System Setup menu is not displayed correctly, it
may be that the TV system is set incorrectly for your
· With the receiver in standby, press
ON while holding down the SIGNAL SELECT button.
The display shows the new setting (
This product is for general household purposes. Any
failure due to use for other than household purposes
(such as long-term use for business purposes in a
restaurant or use in a car or ship) and which
requires repair will be charged for even during the
Taiwanese two pin flat-bladed plug
---

Checking what's in the box . . . . . . . . . . . . . . . . . . . . . . . 6
Installing the receiver . . . . . . . . . . . . . . . . . . . . . . . . . . . 6
Loading the batteries . . . . . . . . . . . . . . . . . . . . . . . . . . . . 6
Introduction to home theater . . . . . . . . . . . . . . . . . . . . . 7
Listening to Surround Sound . . . . . . . . . . . . . . . . . . . . . 7
Automatically setting up for surround sound
(MCACC) . . . . . . . . . . . . . . . . . . . . . . . . . . . . . . . . . . . . . . 7
Problems when using the Auto MCACC Setup . . . . . 9
Playing a source. . . . . . . . . . . . . . . . . . . . . . . . . . . . . . . . 9
Better sound using Phase Control . . . . . . . . . . . . . . . . . 9
03 Connecting your equipment
Rear panel . . . . . . . . . . . . . . . . . . . . . . . . . . . . . . . . . . . 10
When making cable connections. . . . . . . . . . . . . . . . . 11
About the video converter . . . . . . . . . . . . . . . . . . . . . . . 11
Connecting your TV and DVD player . . . . . . . . . . . . . . 12
Connecting a satellite/cable receiver or other
set-top box . . . . . . . . . . . . . . . . . . . . . . . . . . . . . . . . . . . 13
Connecting a DVD/HDD recorder, VCR and other
video sources . . . . . . . . . . . . . . . . . . . . . . . . . . . . . . . . . 13
Using the component video jacks . . . . . . . . . . . . . . . . 14
Connecting digital audio sources . . . . . . . . . . . . . . . . 15
About the WMA9 Pro decoder . . . . . . . . . . . . . . . . . . 15
Connecting analog audio sources . . . . . . . . . . . . . . . . 16
Connecting a component to the front panel inputs . . 16
Installing your speaker system . . . . . . . . . . . . . . . . . . . 17
Connecting the speakers . . . . . . . . . . . . . . . . . . . . . . 17
Placing the speakers. . . . . . . . . . . . . . . . . . . . . . . . . . 18
THX speaker system setup . . . . . . . . . . . . . . . . . . . . . 19
Connecting antennas . . . . . . . . . . . . . . . . . . . . . . . . . . 19
AM loop antenna . . . . . . . . . . . . . . . . . . . . . . . . . . . . . 19
FM wire antenna . . . . . . . . . . . . . . . . . . . . . . . . . . . . . 20
Using an external antenna to improve
FM reception . . . . . . . . . . . . . . . . . . . . . . . . . . . . . . . . 20
Using an external antenna to improve
AM reception . . . . . . . . . . . . . . . . . . . . . . . . . . . . . . . . 20
Plugging in the receiver . . . . . . . . . . . . . . . . . . . . . . . . 21
Front panel . . . . . . . . . . . . . . . . . . . . . . . . . . . . . . . . . . . 22
Operating range of remote control unit . . . . . . . . . . 23
Display . . . . . . . . . . . . . . . . . . . . . . . . . . . . . . . . . . . . . . 24
Remote control. . . . . . . . . . . . . . . . . . . . . . . . . . . . . . . . 25
05 Listening to your system
Auto playback . . . . . . . . . . . . . . . . . . . . . . . . . . . . . . . . 27
Listening in surround sound . . . . . . . . . . . . . . . . . . . . 27
Standard surround sound . . . . . . . . . . . . . . . . . . . . . 27
Using the Home THX modes . . . . . . . . . . . . . . . . . . . 28
Using the Advanced surround effects . . . . . . . . . . . 28
Listening in stereo. . . . . . . . . . . . . . . . . . . . . . . . . . . . . 29
Using Stream Direct . . . . . . . . . . . . . . . . . . . . . . . . . . . 29
Selecting MCACC presets . . . . . . . . . . . . . . . . . . . . . . 29
Choosing the input signal . . . . . . . . . . . . . . . . . . . . . . 29
Using surround back channel processing . . . . . . . . . 30
Using the Virtual Surround Back mode . . . . . . . . . . 30
Listening to the radio . . . . . . . . . . . . . . . . . . . . . . . . . . 31
Improving FM stereo sound. . . . . . . . . . . . . . . . . . . . 31
Tuning directly to a station . . . . . . . . . . . . . . . . . . . . 31
Saving station presets . . . . . . . . . . . . . . . . . . . . . . . . . 31
Naming station presets . . . . . . . . . . . . . . . . . . . . . . . 32
Listening to station presets . . . . . . . . . . . . . . . . . . . . 32
Making receiver settings from the System Setup
menu . . . . . . . . . . . . . . . . . . . . . . . . . . . . . . . . . . . . . . . 33
Automatic MCACC (Expert) . . . . . . . . . . . . . . . . . . . . . 33
Surround back speaker setting . . . . . . . . . . . . . . . . . . 35
Manual MCACC setup . . . . . . . . . . . . . . . . . . . . . . . . . 36
Fine Channel Level . . . . . . . . . . . . . . . . . . . . . . . . . . . 36
Fine Speaker Distance . . . . . . . . . . . . . . . . . . . . . . . . 37
Standing Wave . . . . . . . . . . . . . . . . . . . . . . . . . . . . . . 37
Acoustic Calibration EQ. . . . . . . . . . . . . . . . . . . . . . . 38
Professional Acoustic Calibration EQ . . . . . . . . . . . 38
Data Management . . . . . . . . . . . . . . . . . . . . . . . . . . . . 41
Manual speaker setup . . . . . . . . . . . . . . . . . . . . . . . . . 42
Speaker Setting . . . . . . . . . . . . . . . . . . . . . . . . . . . . . 42
Channel Level . . . . . . . . . . . . . . . . . . . . . . . . . . . . . . . 43
Speaker Distance . . . . . . . . . . . . . . . . . . . . . . . . . . . . 44
Bass Peak Level . . . . . . . . . . . . . . . . . . . . . . . . . . . . . 44
X-Curve . . . . . . . . . . . . . . . . . . . . . . . . . . . . . . . . . . . . 45
THX Audio Setting . . . . . . . . . . . . . . . . . . . . . . . . . . . 45
---

Connecting an iPod . . . . . . . . . . . . . . . . . . . . . . . . . . . . 46
Connecting your iPod to the receiver . . . . . . . . . . . . 46
Playing music from your iPod . . . . . . . . . . . . . . . . . . 46
Connecting using HDMI . . . . . . . . . . . . . . . . . . . . . . . . 47
About HDMI . . . . . . . . . . . . . . . . . . . . . . . . . . . . . . . . . . 48
Using the i.LINK interface. . . . . . . . . . . . . . . . . . . . . . . 48
Checking the i.LINK inputs . . . . . . . . . . . . . . . . . . . . 49
About i.LINK . . . . . . . . . . . . . . . . . . . . . . . . . . . . . . . . . . 49
About PQLS rate control . . . . . . . . . . . . . . . . . . . . . . 50
Creating an i.LINK network . . . . . . . . . . . . . . . . . . . . 50
Connecting the multichannel analog inputs . . . . . . . 51
Selecting the multichannel analog inputs . . . . . . . . 51
Using the USB interface . . . . . . . . . . . . . . . . . . . . . . . . 51
Second Zone speaker B setup . . . . . . . . . . . . . . . . . . . 52
Switching the speaker system . . . . . . . . . . . . . . . . . . 52
Bi-amping your front speakers . . . . . . . . . . . . . . . . . . . 53
Bi-wiring your speakers. . . . . . . . . . . . . . . . . . . . . . . . . 53
Connecting additional amplifiers . . . . . . . . . . . . . . . . . 54
Multi-room listening . . . . . . . . . . . . . . . . . . . . . . . . . . . 54
Making multi-room connections . . . . . . . . . . . . . . . . 54
Using the multi-room controls. . . . . . . . . . . . . . . . . . 56
Connecting an IR receiver . . . . . . . . . . . . . . . . . . . . . . 56
Switching components on and off using the 12 volt
trigger . . . . . . . . . . . . . . . . . . . . . . . . . . . . . . . . . . . . . . . 57
Using this receiver with a Pioneer plasma display . . . 57
Using the SR+ mode with a Pioneer plasma
display. . . . . . . . . . . . . . . . . . . . . . . . . . . . . . . . . . . . . . . 58
Connecting a PC for Advanced MCACC output . . . . . 59
Advanced MCACC output using your PC . . . . . . . . . 59
The Input Setup menu. . . . . . . . . . . . . . . . . . . . . . . . . . 60
Input function default and possible settings . . . . . . 61
The Other Setup menu . . . . . . . . . . . . . . . . . . . . . . . . . 61
Multi-Room and IR receiver setup . . . . . . . . . . . . . . . 62
SR+ Setup for Pioneer plasma displays. . . . . . . . . . 62
OSD Adjustment . . . . . . . . . . . . . . . . . . . . . . . . . . . . . 62
Setting the AV options. . . . . . . . . . . . . . . . . . . . . . . . . . 63
Making an audio or a video recording . . . . . . . . . . . . . 64
Playing a different source when recording. . . . . . . . 64
Reducing the level of an analog signal . . . . . . . . . . . . 65
Watching video and audio sources independently . . 65
Using the sleep timer . . . . . . . . . . . . . . . . . . . . . . . . . . 65
Dimming the display . . . . . . . . . . . . . . . . . . . . . . . . . . . 65
Switching the speaker impedance. . . . . . . . . . . . . . . . 65
Checking your system settings. . . . . . . . . . . . . . . . . . . 65
Resetting the system . . . . . . . . . . . . . . . . . . . . . . . . . . . 66
Default system settings . . . . . . . . . . . . . . . . . . . . . . . 66
11 Controlling the rest of your system
Setting the remote to control other components . . . 67
Selecting preset codes directly . . . . . . . . . . . . . . . . . . 67
Programming signals from other remote controls . . 67
Erasing one of the remote control button settings . . 68
Resetting the remote control presets . . . . . . . . . . . . . 68
Confirming preset codes . . . . . . . . . . . . . . . . . . . . . . . 68
Renaming input source names . . . . . . . . . . . . . . . . . . 69
Direct function . . . . . . . . . . . . . . . . . . . . . . . . . . . . . . . 69
Multi Operation and System Off . . . . . . . . . . . . . . . . . 69
Programming a multi-operation or a shutdown
sequence. . . . . . . . . . . . . . . . . . . . . . . . . . . . . . . . . . . 69
Using multi operations . . . . . . . . . . . . . . . . . . . . . . . 70
Using System off . . . . . . . . . . . . . . . . . . . . . . . . . . . . 70
Controls for TVs . . . . . . . . . . . . . . . . . . . . . . . . . . . . . . . 71
Controls for other components . . . . . . . . . . . . . . . . . . 71
Operating other Pioneer components with this
unit's sensor . . . . . . . . . . . . . . . . . . . . . . . . . . . . . . . . . 72
12 Additional information
Troubleshooting . . . . . . . . . . . . . . . . . . . . . . . . . . . . . . 73
Power. . . . . . . . . . . . . . . . . . . . . . . . . . . . . . . . . . . . . . 73
No sound. . . . . . . . . . . . . . . . . . . . . . . . . . . . . . . . . . . 73
Other audio problems . . . . . . . . . . . . . . . . . . . . . . . . 74
Video . . . . . . . . . . . . . . . . . . . . . . . . . . . . . . . . . . . . . . 75
Settings . . . . . . . . . . . . . . . . . . . . . . . . . . . . . . . . . . . . 75
Display. . . . . . . . . . . . . . . . . . . . . . . . . . . . . . . . . . . . . 76
Remote control . . . . . . . . . . . . . . . . . . . . . . . . . . . . . . 77
i.LINK interface. . . . . . . . . . . . . . . . . . . . . . . . . . . . . . 77
i.LINK messages. . . . . . . . . . . . . . . . . . . . . . . . . . . . . 78
USB interface . . . . . . . . . . . . . . . . . . . . . . . . . . . . . . . 78
HDMI . . . . . . . . . . . . . . . . . . . . . . . . . . . . . . . . . . . . . . 78
iPod messages . . . . . . . . . . . . . . . . . . . . . . . . . . . . . . 79
Surround sound formats . . . . . . . . . . . . . . . . . . . . . . . 80
Dolby . . . . . . . . . . . . . . . . . . . . . . . . . . . . . . . . . . . . . . 80
DTS . . . . . . . . . . . . . . . . . . . . . . . . . . . . . . . . . . . . . . . 80
Windows Media® Audio 9 Professional . . . . . . . . . 80
About THX . . . . . . . . . . . . . . . . . . . . . . . . . . . . . . . . . . . 81
Listening modes with different input signal
formats. . . . . . . . . . . . . . . . . . . . . . . . . . . . . . . . . . . . . . 82
Stream direct with different input signal formats . . . 84
Specifications . . . . . . . . . . . . . . . . . . . . . . . . . . . . . . . . 85
Our philosophy . . . . . . . . . . . . . . . . . . . . . . . . . . . . . . . 86
Features. . . . . . . . . . . . . . . . . . . . . . . . . . . . . . . . . . . . 86
Cleaning the unit. . . . . . . . . . . . . . . . . . . . . . . . . . . . . . 86
---