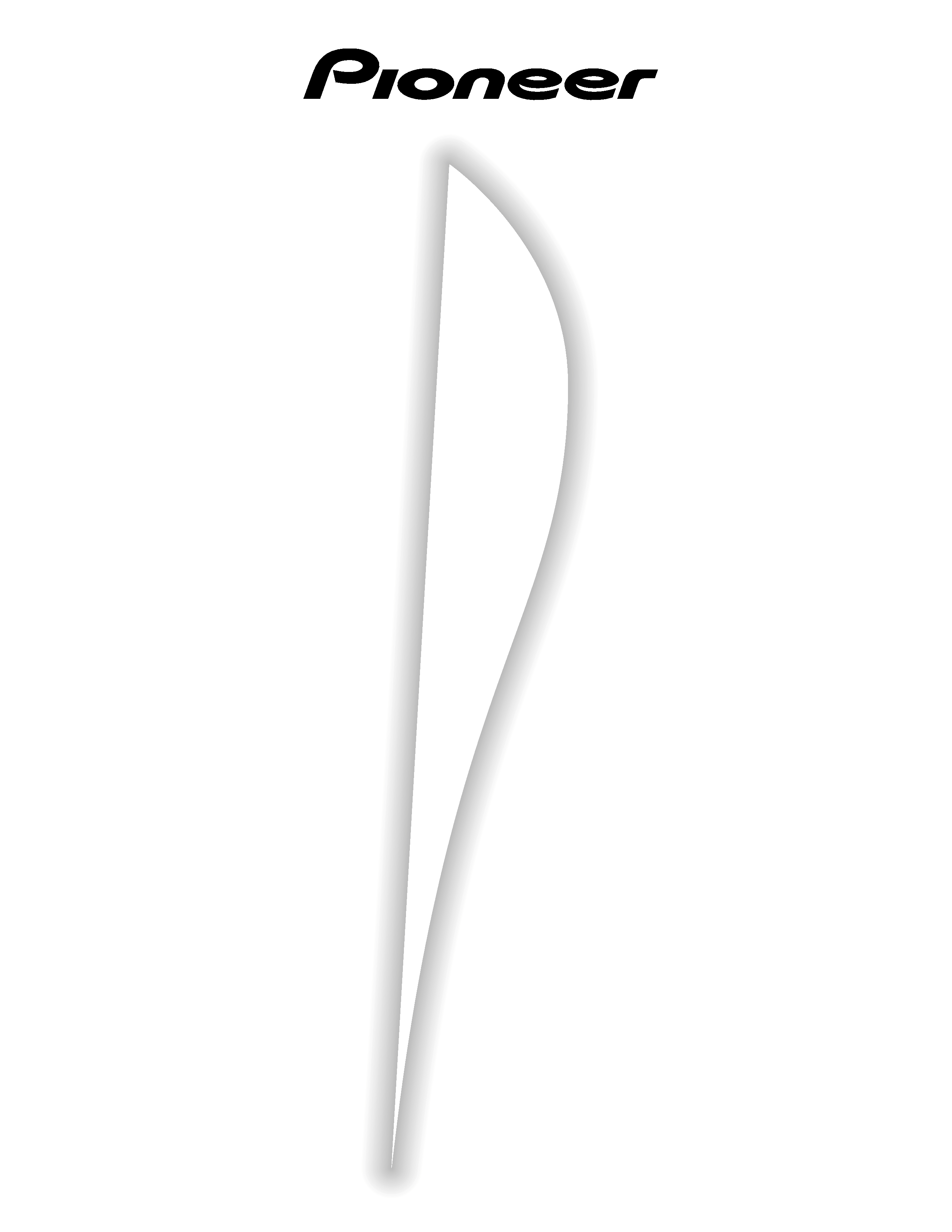 ENCEINTE ACTIVE D'EXTREMES GRAVES
SUBWOOFER, ALTOPARLANTE PER TONI BASSI,
SUBWOOFER MET SPANNINGSCIRCUIT
STRÑMFÑRSÑRJD BASHÑGTALARE
ALTAVOCES DE GRAVES SECUNDARIOS ENERGIZADOS
ALTIFALANTE DE SUBGRAVES DE POTÊNCIA
---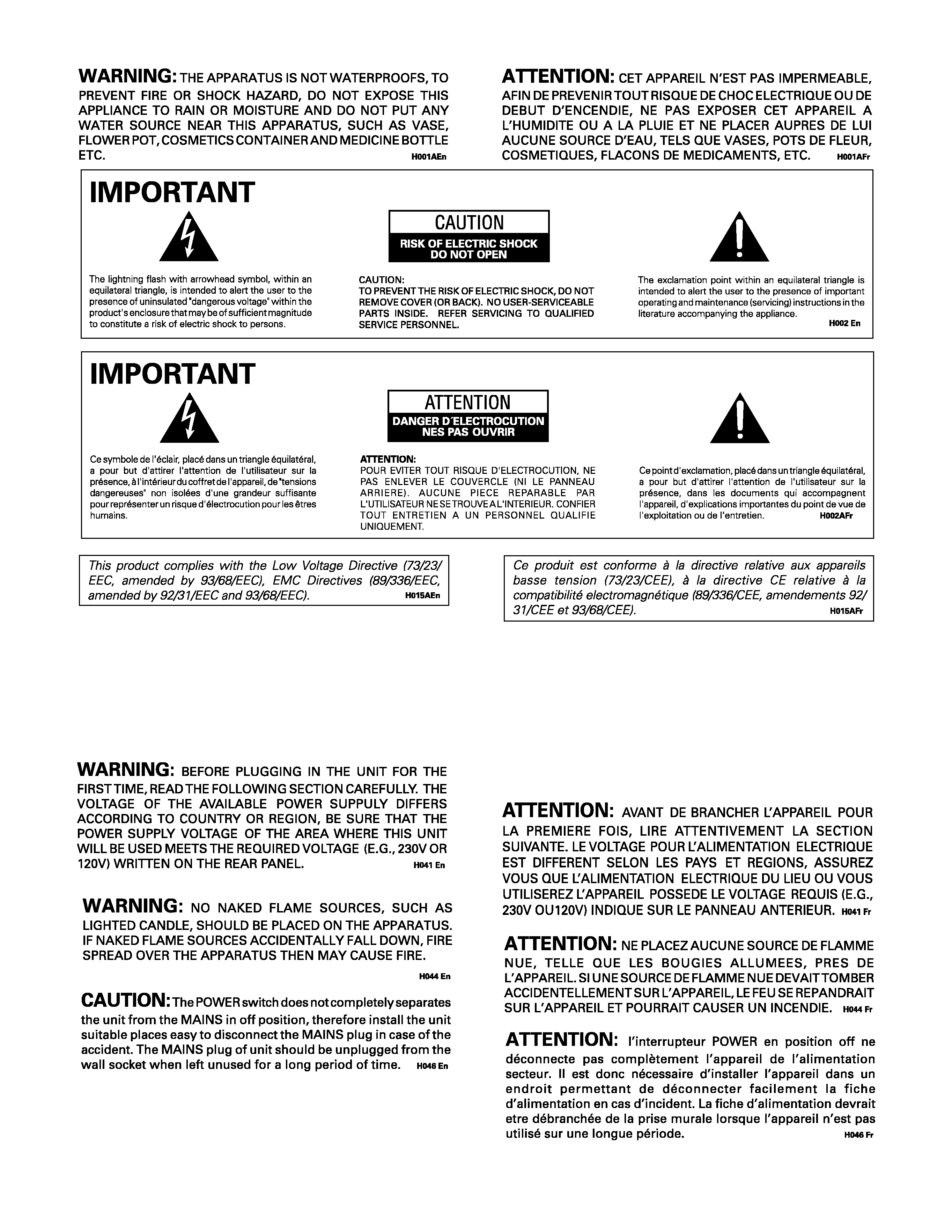 Thank you for buying this PIONEER product. Please read through
these operating instructions so you will know how to operate
your model properly. After you have finished reading the
instructions, put them away in a safe place for future reference.
In some countries or regions, the shape of the power plug and
power outlet may sometimes differ from that shown in the
explanatory drawings. However, the method of connecting and
operating the unit is the same.
Nous vous remercions pour cet achat d'un produit PIONEER.
Nous vous demandons de lire soigneusement ce mode
d'emploi; vous serez ainsi à même de faire correctement
fonctionner l'appareil. Après avoir bien lu le mode d'emploi, le
ranger dans un endroit sûr pour pouvoir s'y référer
Dans certains pays ou certaines régions, la forme de la fiche
d'alimentation et de la prise d'alimentation peut différer de celle
qui figure sur les schémas, mais les branchements et le
fonctionnement de l'appareil restent les mêmes.
---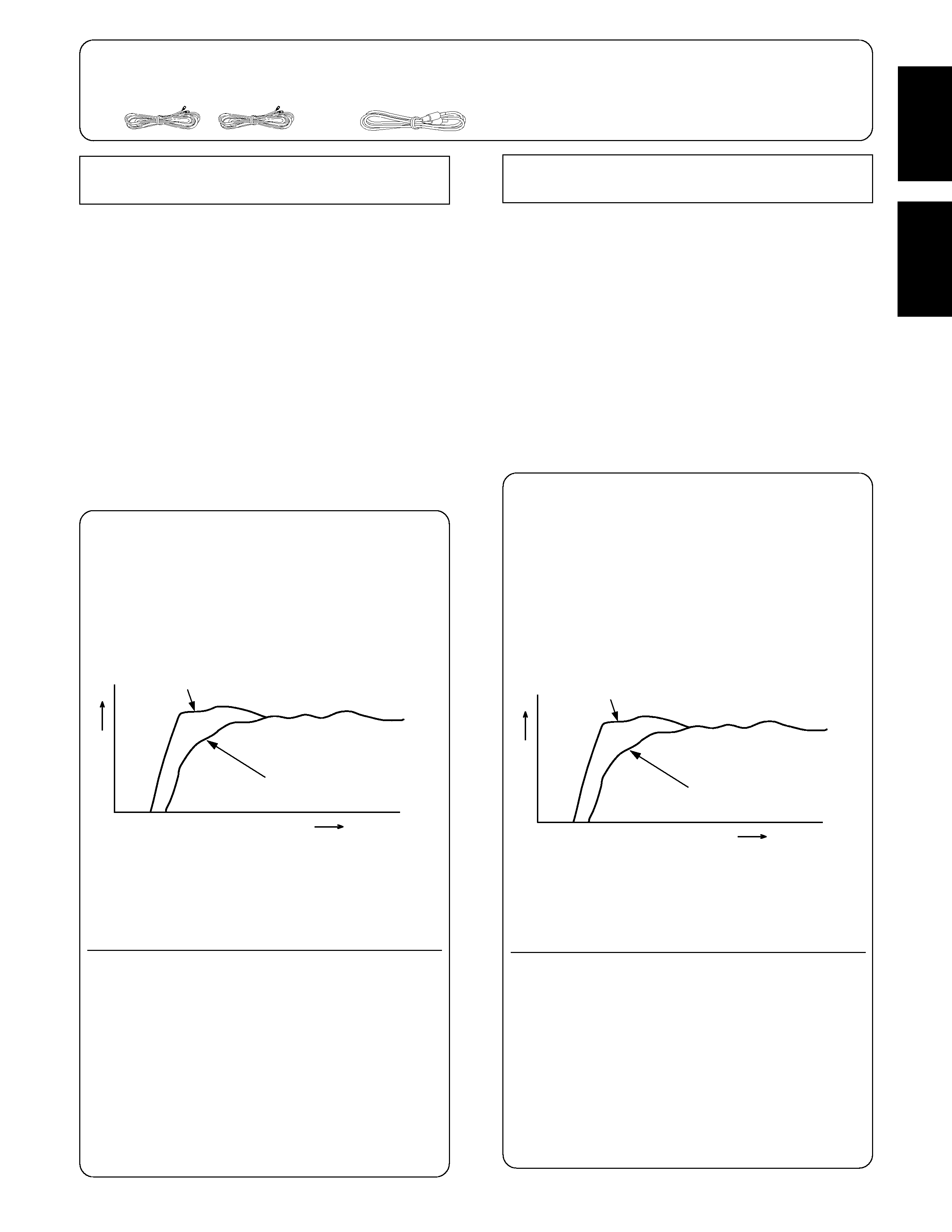 7 110 W (S-W110S-QL, S-W110S-K), 150W (S-W150S) power
that serves video software playback such as Dolby* Digital
with a wide dynamic range.
7 Equipped with 22 cm driver
7 Turnover frequency can be continuous (50 ­ 200Hz).
7 Phase conversion switch (0°/180°).
7 2 systems consisting of an input that connects to the
amplifier's speaker terminals and an input that connects to
the SUBWOOFER PRE-OUT terminal.
Maunfactured under license from Dolby Laboratories.
"Dolby" and the double-D symbol are trademarks of
Dolby Laboratories. Confidential unpublished works.
© 1992-1997 Dolby Laboratories. All rights reserved.
ACCESSORY ITEMS/ACCESSOIRES FOURNIS
÷ Câbles pour haut-parleur x 2
7 Puissance de 110 W (S-W110S-QL, S-W110S-K), 150W (S-
W150S) permettant la reproduction de programmes vidéo,
tels que les programmes Dolby* Digital, avec une gamme
7 Equipé d'un amplificateur de 22 cm
7 Fréquence de transition à réglage continu (50 ­ 200 Hz)
7 Convertisseur de phase (0°/180°)
7 Système à 2 circuits, constitué d'une entrée pouvant être
reliée aux bornes haut-parleurs d'un amplificateur et d'une
entrée reliée à la borne de sortie SUBWOOFER PRE-OUT.
Fabriqué sous licence de Dolby Laboratories. "Dolby" et
le symbole double D sont des marques de commerce de
Dolby Laboratories. OEuvres confidentielles non publiées.
© 1992-1997 Dolby Laboratories. Tous droits réservés.
IN COMBINATION WITH SPEAKERS
The frequency characteristics of the S-W110S-QL/S-W110S-
K/S-W150S combined with small-size speakers are shown
below. As shown in these figures, the low frequency range
÷ These special characteristics are obtained in an echoless
chamber. The effect of an additional S-W110S-QL/S-
W110S-K/S-W150S in an ordinary listening room is better
than the chart indicates when positioned adequately.
÷ With playback of Dolby* Digital, establishment of a special
channel for the subwoofer is recommended; and with
playback of LFE (Low Frequency Effect: sound effect like
the rumbling of the earth, whose purpose is to intensify
the force of the video), the S-W110S-QL/S-W110S-K/S-
W150S is especially effective.
Dolby Digital is the name of the Dolby Surround multi-channel
digital system that was developed from Dolby Surround, as
a continuation of Dolby Pro Logic Surround.
Dolby Digital is also referred to as a 5.1 channel system.
This is because it has 5 channels in the 20Hz ­ 20kHz
frequency range (front left and right, center, and rear left
and right) and an independent channel for the subwoofer.
The subwoofer channel is also referred to as LFE (Low
The LFE channel is used according to individual tastes to
Les caractéristiques de fréquence du S-W110S-QL/S-
W110S-K/S-W150S lorsqu'il est utilisé en combinaison avec
des enceintes acoustiques de petite taille sont indiquées ci-
dessous. Comme on peut le voir sur ce graphique, la gamme
des basses fréquences est sensiblement améliorée.
÷ Ces caractéristiques spéciales sont obtenues dans une
chambre sans écho. L'effet produit par l'ajout d'un S-
W110S-QL/S-W110S-K/S-W150S dans une salle d'écoute
ordinaire est supérieur à l'effet indiqué sur le graphique, à
condition que le subwoofer soit correctement placé.
Enceinte de petite taille + S-W110S-QL/S-W110S-K/S-W150S
Enceinte de petite taille
÷ Il est recommandé de réserver une voie spéciale pour le
subwoofer en cas de reproduction d'un programme Dolby* Digital.
Le S-W110S-QL/S-W110S-K/S-W150S est particulièrement
efficace en cas de reproduction d'un effet LFE (effet de basse
fréquence : un effet sonore similaire au grondement de la terre
qui a pour objet d'identifier la force de la vidéo).
Dolby Digital est une expression désignant un système
sonore numérique Dolby à voies multiples qui a été
développé à partir du système sonore Dolby pour succéder
au système sonore Dolby Pro Logic.
Le système Dolby Digital est un système parfois dit à 5.1
voies parce qu'il offre 5 voies dans la gamme de fréquence
20 Hz à 20 kHz (avant gauche et droite, centre, arrière gauche
et droite) et une voie indépendante pour le subwoofer. La
voie du subwoofer est également appelée voie LFE (effet
La voie LFE peut être utilisée selon les goûts personnels de
chacun pour renforcer les sons graves.
÷ Operating instructions x 1
Small-size speakers + S-W110S-QL/S-W110S-K/S-W150S
---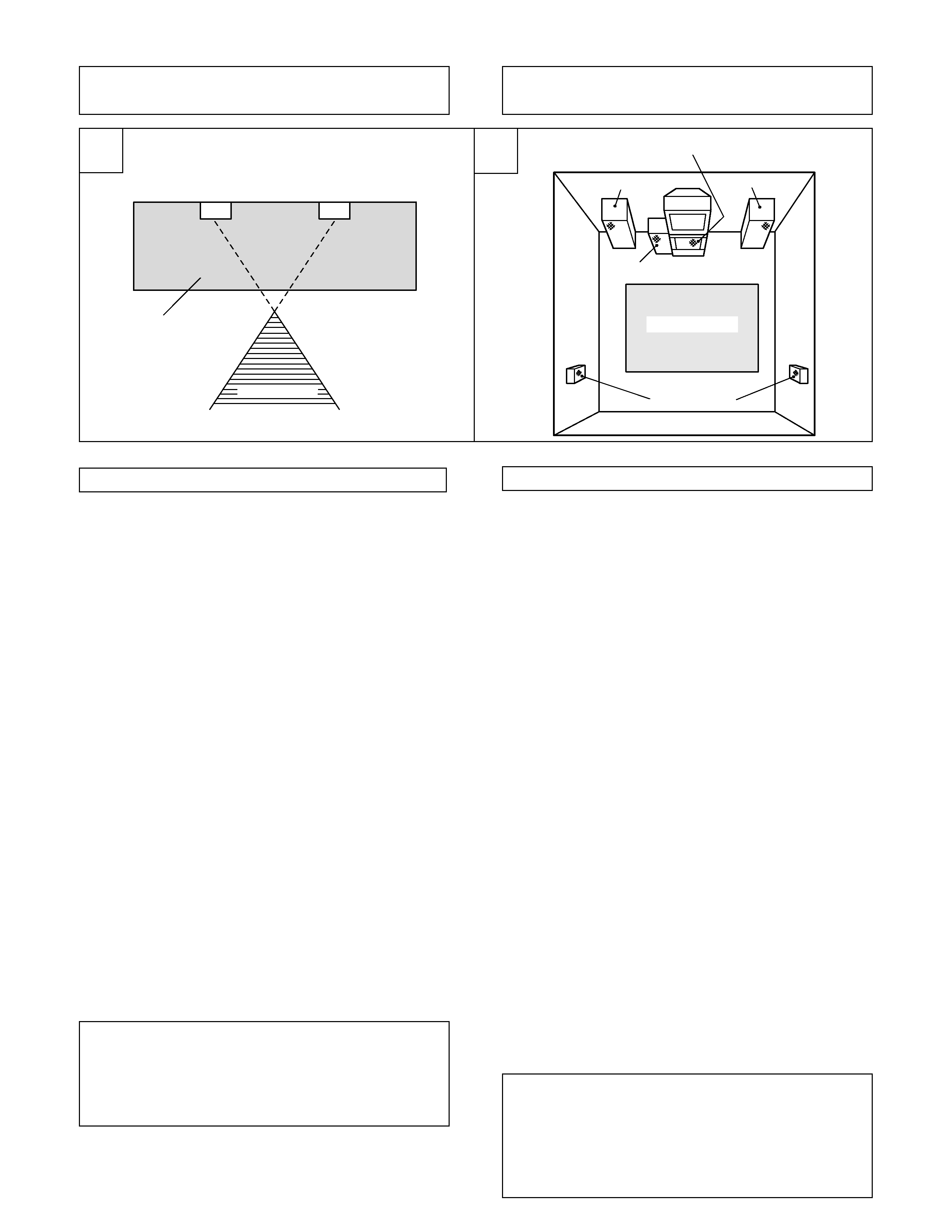 The subwoofer plays back the bass in monaural, making use of
the fact that the human ear loses the sense of direction of low-
Since the sense of direction is lost, the
subwoofer can be installed almost anywhere. If it is installed
too far away, however, the sound from the left and right speakers
÷ Subwoofer Installation Criteria (
Å
3 Recommended installation range for the subwoofer
÷ An example of speaker positioning (
i
÷ To avoid interference with the picture on a nearby TV set, use
magnetically shielded speaker systems. This is particularly
important for the center speaker since it is usually located closest
÷ Position the left and right channel speakers at equal distances
from the TV set and approximately 1.8 meters from each other.
÷ Install the center speaker above or below the TV so that the
sound of the center channel is localized at the TV screen.
÷ The rear (surround) speakers are most effective when installed
in parallel locations directly to the side, or slightly behind, the
listener, at a level about 1 meter above the listener's ears.
Installation des enceintes
Du fait que l'oreille humaine n'est pas capable de percevoir la
direction des sons graves, le subwoofer reproduit les sons
graves en monophonie. De ce fait, il est possible de l'installer
pratiquement n'importe où. A noter, cependant, que lorsqu'il
est installé trop loin, le son provenant de l'enceinte droite et de
l'enceinte gauche peut être déformé.
÷ Critères d'installation du subwoofer (
Å
3 Position préconisée pour le subwoofer
÷ Emplacements types des enceintes (
i
6 Enceinte arrière gauche
7 Enceinte arrière droite
÷ Pour éviter toute perturbation des images du récepteur de
télévision, utiliser des enceintes à écran magnétique. Ceci est
plus particulièrement important dans le cas de l'enceinte
centrale du fait qu'elle est toujours la plus proche du récepteur
÷ Placer l'enceinte droite et l'enceinte gauche à égale distance
du récepteur de télévision et à environ 1,8 mètre l'une de l'autre.
÷ Installez l'enceinte centrale au-dessus ou en dessous du
téléviseur, de façon à ce que le son du canal central provienne
de l'écran du téléviseur.
÷ Les enceintes arrière (ambiophoniques) donnent les meilleurs
résultats lorsqu'elles sont placées de manière symétrique par
rapport à la position d'écoute, au même niveau ou légèrement
derrière, et à environ 1 mètre au-dessus du niveau des oreilles
When installing the center speaker on top of the TV, be sure
to secure it with tape or some other suitable means.
Otherwise, the speaker may fall from the TV due to external
shocks such as earthquakes, and it may lead to endangering
those nearby or damaging the speaker.
Si vous installez l`enceinte centrale sur le téléviseur, assurez-
vous de le fixer avec du ruban adhésif ou par un autre moyen.
Sinon, l`enceinte risque de tomber à cause de chocs
extérieurs à l`appareil, comme des tremblements de terre,
et vous pourriez mettre en danger les personnes à proximité
ou l`enceinte pourrait être endommagée.
---

÷ Install the unit in a well-ventilated location where it will not
be exposed to high temperatures and high humidity.
÷ Do not place the unit near stoves or other heating equipment
or at locations exposed to direct sunlight, as these can have
an adverse effect on the cabinet and internal components.
Also, do not install the unit where there is too much dust or
high humidity, as these can cause malfunctioning or
breakdowns. (Avoid cooking tables and other locations where
the unit would be exposed to heat, steam and soot.)
÷ Do not place heavy objects such as a television or TV monitor
÷ Keep the unit away from devices such as cassette decks
which are sensitive to magnetic fields.
Précautions d'installation
÷ Installer le subwoofer dans un endroit bien ventilé où il ne
sera pas soumis à une humidité ou à des températures
÷ Ne pas placer le subwoofer à proximité d'un radiateur, ou
autre appareil de chauffage, et ne pas l'exposer aux rayons
directs du soleil car cela risquerait d'endommager le coffret
ou les composants internes. Ne pas le placer non plus dans
un endroit excessivement poussiéreux ou humide car ceci
pourrait provoquer des anomalies de fonctionnement ou une
panne. (Eviter de le placer sur une table de cuisine ou autres
emplacements où il serait soumis à la chaleur, à la vapeur ou
÷ Ne jamais placer d'objets lourds (récepteur ou moniteur de
télévision par exemple) sur le subwoofer.
÷ Ne pas placer le subwoofer à proximité d'un appareil, comme
par exemple un magnétophone, susceptible d'être affecté
par les champs magnétiques.
Cette enceinte acoustique est une enceinte à écran
Elle risque, cependant, de provoquer des altérations de
la couleur des images si elle est placée à proximité de
l'écran d'un récepteur de télévision.
Si ce phénomène se produit, mettre le récepteur de
télévision hors tension et attendre 15 à 30 minutes avant
de le remettre sous tension.
Si le problème persiste, éloigner l'enceinte acoustique
du récepteur de télévision.
This speaker system is magnetically shielded.
However, depending on the installation location, color
distortion may occur if the speaker system is installed
extremely close to the screen of a television set.
If this happens, turn off the power switch of the television
set, and turn it on after 15 to 30 minutes.
If the problem persists, place the speaker system away from
ENTRETIEN DES SURFACES EXTERNES
÷ Utiliser un chiffon à polir ou un chiffon sec pour éliminer
la poussière et la saleté.
÷ Lorsque les surfaces sont extrêmement sales, utiliser un
chiffon doux et un produit détergeant neutre dilué dans
cinq ou six volumes d'eau. Bien tordre le chiffon avant de
nettoyer les surfaces. Les essuyer ensuite avec un chiffon
sec. Ne jamais utiliser de produits de nettoyage ou de la
÷ Ne jamais utiliser de diluant, benzine, bombe insecticide
et autres produits chimiques à proximité de cette enceinte
car ces produits détérioreraient le fini de surface.
MAINTENANCE OF EXTERNAL SURFACES
÷ Use a polishing cloth or dry cloth to wipe off dust and dirt.
÷ When the surfaces are very dirty, wipe with a soft cloth
dipped in some neutral cleanser diluted five or six times
with water, and wrung out well, and then wipe again with
a dry cloth. Do not use furniture wax or cleaners.
÷ Never use thinners, benzine, insecticide sprays and other
chemicals on or near this unit, since these will corrode the
÷ Please install this unit away from the antenna cable of the
tuner, as noise can be caused with installation close to the
antenna cable. In such a case, use this unit at a position away
from the antenna and the antenna cable, or when playback
of extra bass is not required, switch off the power for this
÷ Prière d'installer cette unité à distance du câble d'antenne
du tuner, car des parasites peuvent être provoqués par une
installation proche du câble d'antenne. Dans ce cas, utiliser
cette unité à une position écartée de l'antenne et du câble
d'antenne, ou si la reproduction de basses supplémentaires
n'est pas nécessaire, couper l'alimentation de cette unité.
WARNING:
Slot and openings in the cabinet are provided
for ventilation and to ensure reliable operation of the product and
to protect it from overheating, to prevent fire hazard, the
openings should never be blocked and covered with items, such
as newspapers, table-cloths, curtains, etc. Also do not put the
apparatus on the thick carpet, bed, sofa, or fabric having a thick
When installing this unit, make sure to leave space around the
unit for ventilation to improve heat radiation (at least 60 cm at
the top, 10 cm at the rear, and 30 cm at each side). If not enough
space is provided between the unit and walls or other
equipment, heat will build up inside, interfering with
performance or causing malfunctions.
En installant cet appareil, assurez-vous de laisser de la place
autour, pour que la chaleur puisse être évacuée (au moins 60
cm au dessus, 10 cm à l'arrière et 30 cm de chaque côté). S'il
n'y a pas assez de place entre l'appareil et le mur ou d'autres
équipements, la chaleur s'accumule à l'intérieur, ce qui diminue
les performances et cause des dysfonctionnements.
ATTENTION:
Les évents et les ouvertures dans la structure
sont prévus pour la ventilation et pour assurer le bon
fonctionnement du produit et pour la protéger des risques de
surchauffe, et des risques d'incendie, les ouvertures ne doivent
jamais etre bloquées ni couvertes par des matériaux tels que
journaux, nappes, rideaux, etc. De meme, ne pas positionner
l'appareil sur un tapis épais, lit, canapé ou tout meuble possédant
---