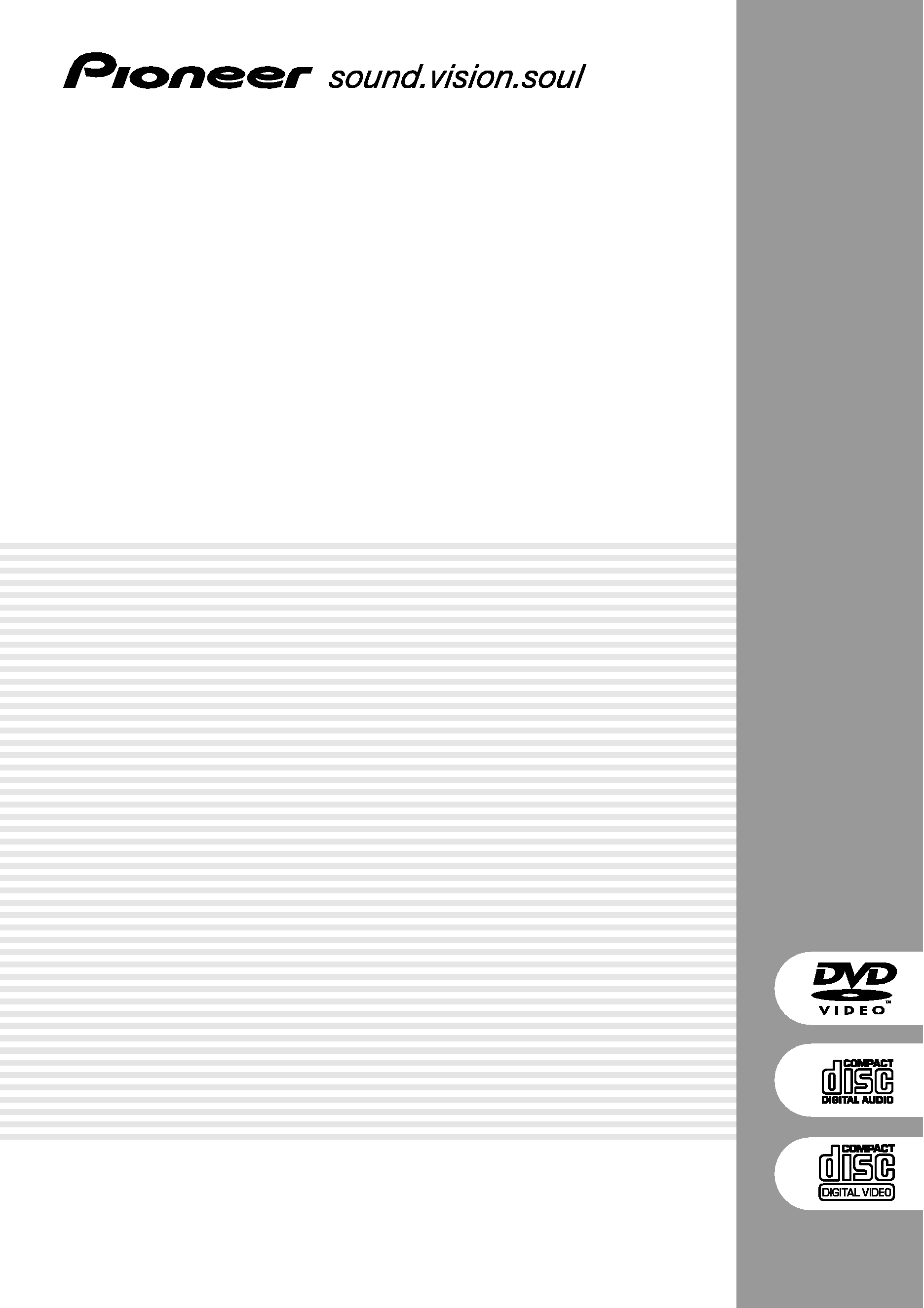 ---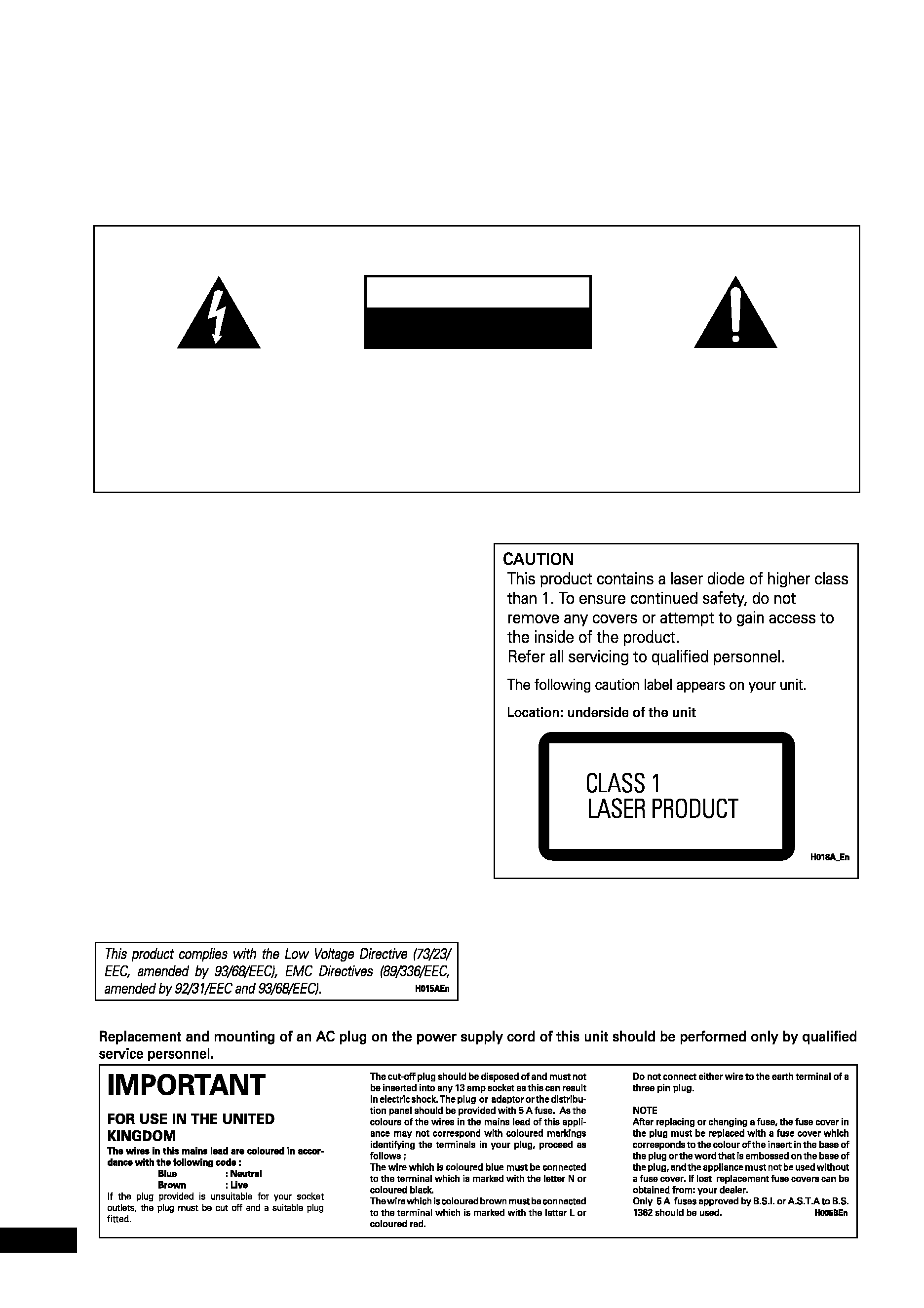 The lightning flash with arrowhead
symbol, within an equilateral
triangle, is intended to alert the
user to the presence of uninsulated
"dangerous voltage" within the
product's enclosure that may be of
sufficient magnitude to constitute
a risk of electric shock to persons.
TO PREVENT THE RISK OF ELECTRIC
SHOCK, DO NOT REMOVE COVER
(OR BACK). NO USER-SERVICEABLE
PARTS INSIDE. REFER SERVICING
The exclamation point within an
equilateral triangle is intended to
alert the user to the presence of
instructions in the literature
accompanying the appliance.
WARNING:
THIS APPARATUS IS NOT
WATERPROOF. TO PREVENT FIRE OR SHOCK
HAZARD, DO NOT EXPOSE THIS APPARATUS TO
RAIN OR MOISTURE AND DO NOT PUT ANY
WATER SOURCE NEAR THIS APPARATUS, SUCH
AS VASES, FLOWER POTS, COSMETICS
CONTAINERS, MEDICINE BOTTLES, ETC.
WARNING:
BEFORE PLUGGING IN THE UNIT
FOR THE FIRST TIME, READ THE FOLLOWING
SECTION CAREFULLY. THE VOLTAGE OF THE
AVAILABLE POWER SUPPLY DIFFERS
ACCORDING TO COUNTRY OR REGION. BE SURE
THAT THE POWER SUPPLY VOLTAGE OF THE
AREA WHERE THIS UNIT WILL BE USED MEETS
THE REQUIRED VOLTAGE (E.G., 230V OR 120V)
WRITTEN ON THE REAR PANEL.
CONGRATULATIONS ON YOUR PURCHASE OF THIS FINE PIONEER PRODUCT.
Pioneer is on the leading edge of DVD research for consumer products and this unit incorporates
the latest technological developments.
We are sure you will be fully satisfied with the DVD player.
Thank you for your support.
Location: underside of the unit
---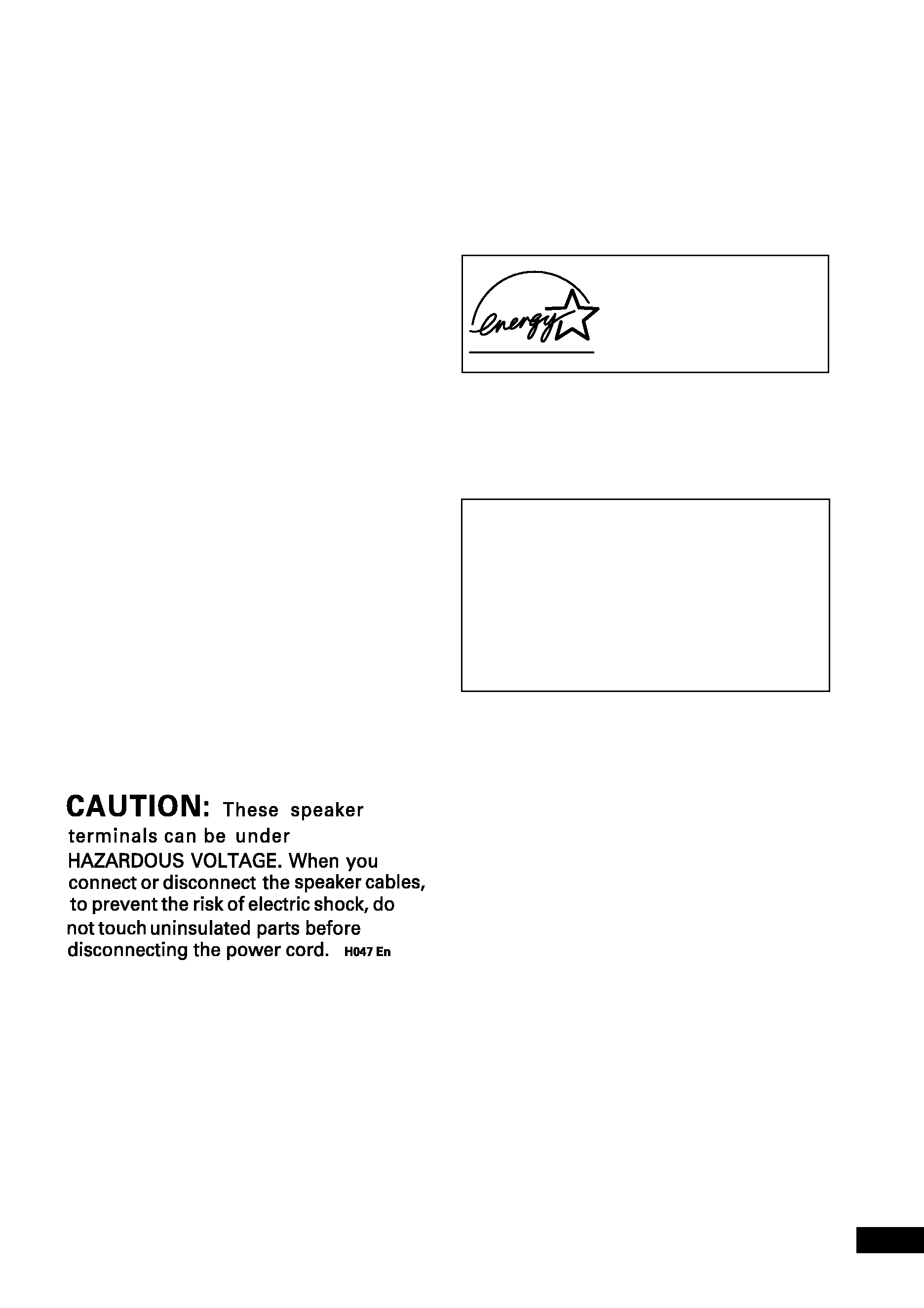 CAUTION:
THE STANDBY/ON BUTTON IS
SECONDARY CONNECTED AND THEREFORE
DOES NOT SEPARATE THE UNIT FROM MAINS
POWER IN STANDBY POSITION. therefore install
the unit suitable places easy to disconnect the
MAINS plug in case of the accident. The MAINS
plug of unit should be unplugged from the wall
socket when left unused for a long period of
Operating Environment
H045_En
Operating environment temperature and
+5ºC ­ +35ºC (+41ºF ­ +95ºF); less than 85%RH
(cooling vents not blocked)
Do not install in the following locations
÷ Location exposed to direct sunlight or strong
÷ Location exposed to high humidity, or poorly
European and Australian models:
When installing this unit, make sure to
leave space around the unit for ventilation
to improve heat radiation (at least 10 cm at
top, 10 cm at rear, and 10 cm at each side).
When installing this unit, make sure to
leave space around the unit for ventilation
to improve heat radiation (at least 20 cm at
top, 15 cm at rear, and 15 cm at each side).
WARNING:
Slot and openings in the
cabinet are provided for ventilation and to
ensure reliable operation of the product
and to protect it from overheating, to
prevent fire hazard, the openings should
never be blocked and covered with items,
such as newspapers, table-cloths, curtains,
etc. Also do not put the apparatus on the
thick carpet, bed, sofa, or fabric having a
This system is designed to use 0.5 W of
electricity when power is switched to Standby.
WARNING:
NO NAKED FLAME SOURCES,
SUCH AS LIGHTED CANDLE, SHOULD BE
PLACED ON THE APPARATUS. IF NAKED FLAME
SOURCES ACCIDENTALLY FALL DOWN, FIRE
SPREAD OVER THE APPARATUS THEN MAY
---

Introduction to home theater ............................ 6
General disc compatibility ................................. 6
CD-R/RW compatibility ................................ 6
DVD-R/RW compatibility ............................. 7
PC-created disc compatibility ..................... 7
MP3 audio compatibility .............................. 7
Titles, chapters and tracks ........................... 8
DVD Video regions ....................................... 8
Front panel .......................................................... 9
Remote control ................................................. 10
Display .............................................................. 12
Setting the unit to match your TV system ...... 14
Using the Quick Room Setup ......................... 15
Setting the clock .............................................. 15
Changing the clock format ........................ 16
Setting up the remote to control your TV ....... 16
Using the on-screen displays .......................... 17
Playing discs .................................................... 17
Basic playback controls ............................. 19
Front panel controls .............................. 20
DVD-Video disc menus .............................. 20
Video CD PBC menus ................................ 21
Listening to auxiliary components ................. 21
Automatic power on buttons .......................... 21
Introduction ...................................................... 22
Using the Disc Navigator to browse
the contents of a disc ...................................... 22
Scanning discs ................................................. 23
Playing in slow motion .................................... 23
Frame advance/frame reverse ........................ 24
Looping a section of a disc ............................. 24
Using repeat play ............................................. 25
Using the OSD ............................................ 25
Using the front panel display .................... 26
Using random play ........................................... 26
Using the OSD ............................................ 26
Using the front panel display .................... 27
Creating program lists ..................................... 28
Using the OSD ............................................ 28
using the OSD ....................................... 29
Other functions available from
the OSD program menu ....................... 30
Using the front panel display .................... 30
the program list ..................................... 31
Clearing the program list ..................... 31
Searching a disc .............................................. 31
Switching subtitles .......................................... 32
Switching DVD audio languages .................... 32
Switching audio channels when
playing a Video CD ........................................... 32
Zooming the screen ......................................... 32
Switching camera angles ................................ 33
Displaying disc information ............................ 33
Using the OSD ............................................ 33
Using the front panel display .................... 34
05 Listening to the radio
Choosing stations ............................................ 35
Improving poor FM reception .................... 35
Memorizing stations ........................................ 36
Listening to station presets ....................... 36
An introduction to RDS ................................... 37
Using the RDS display ............................... 38
Searching for RDS programs .................... 38
06 Setting up for surround sound
Choosing your surround sound settings ....... 39
Front speaker distance setting .................. 40
Center speaker distance setting ............... 40
Surround speaker distance setting ........... 40
Dynamic range control setting .................. 40
Dual mono setting ...................................... 41
LFE attenuator setting ................................ 41
Setting the relative volume level
of each channel ................................................ 41
---

Using the multi-channel sound modes ......... 43
Auto ............................................................. 43
Surround modes ......................................... 43
Advanced Surround modes ....................... 43
Stereo .......................................................... 44
Listening to multi-channel playback .............. 44
Listening to a stereo source ............................ 45
Using Advanced Surround .............................. 46
Using the headphones with
Advanced Surround ................................... 46
Adjusting the bass and treble ......................... 47
Adjusting the effect level ................................. 47
Boosting the bass level .................................... 47
Using Midnight and Quiet listening ............... 48
Muting the sound ............................................. 48
Reducing the TV and line signal levels .......... 48
Setting the wake-up timer ............................... 49
Turning the wake-up timer on/off .............. 50
Setting the sleep timer .................................... 50
10 The Initial Settings menu
Using the Initial Settings menu ...................... 51
Video settings ................................................... 51
TV Screen .................................................... 51
S Video Out ................................................. 52
Language settings ........................................... 52
Audio Language ......................................... 52
Subtitle Language ...................................... 52
DVD Menu Language ................................. 53
Subtitle Display ........................................... 53
Display settings ................................................ 53
OSD Language ............................................ 53
On Screen Display ...................................... 53
Angle Indicator ........................................... 54
Options .............................................................. 54
Parental Lock .............................................. 54
Registering a new password ................ 54
Changing your password ..................... 55
Parental Lock level ................................ 55
Country Code ......................................... 56
11 Additional information
Switching off the demo ................................... 57
Dimming the display ........................................ 57
Changing the frequency step .......................... 57
Setting the TV format ....................................... 57
Resetting the unit ............................................. 57
Child Lock ......................................................... 58
Using discs with this unit ................................ 59
Handling discs ............................................ 59
Storing discs ............................................... 59
Discs to avoid .............................................. 59
maintenance of this unit ................................. 60
Hints on installation ................................... 60
Cleaning the pickup lens ........................... 60
Problems with condensation ..................... 60
Moving the unit ........................................... 60
Additional connections ................................... 61
antennas ...................................................... 61
components ...................................................... 61
Troubleshooting ................................................ 63
General ........................................................ 63
DVD/CD/Video CD player ........................... 64
Tuner ............................................................ 65
Error Messages ........................................... 65
Screen sizes and disc formats ........................ 66
Widescreen TV users .................................. 66
Standard TV users ...................................... 66
Language code list ........................................... 67
Country code list .............................................. 67
Preset Code List ............................................... 68
Glossary ............................................................ 70
Specifications ................................................... 72
Power cord caution .................................... 73
---