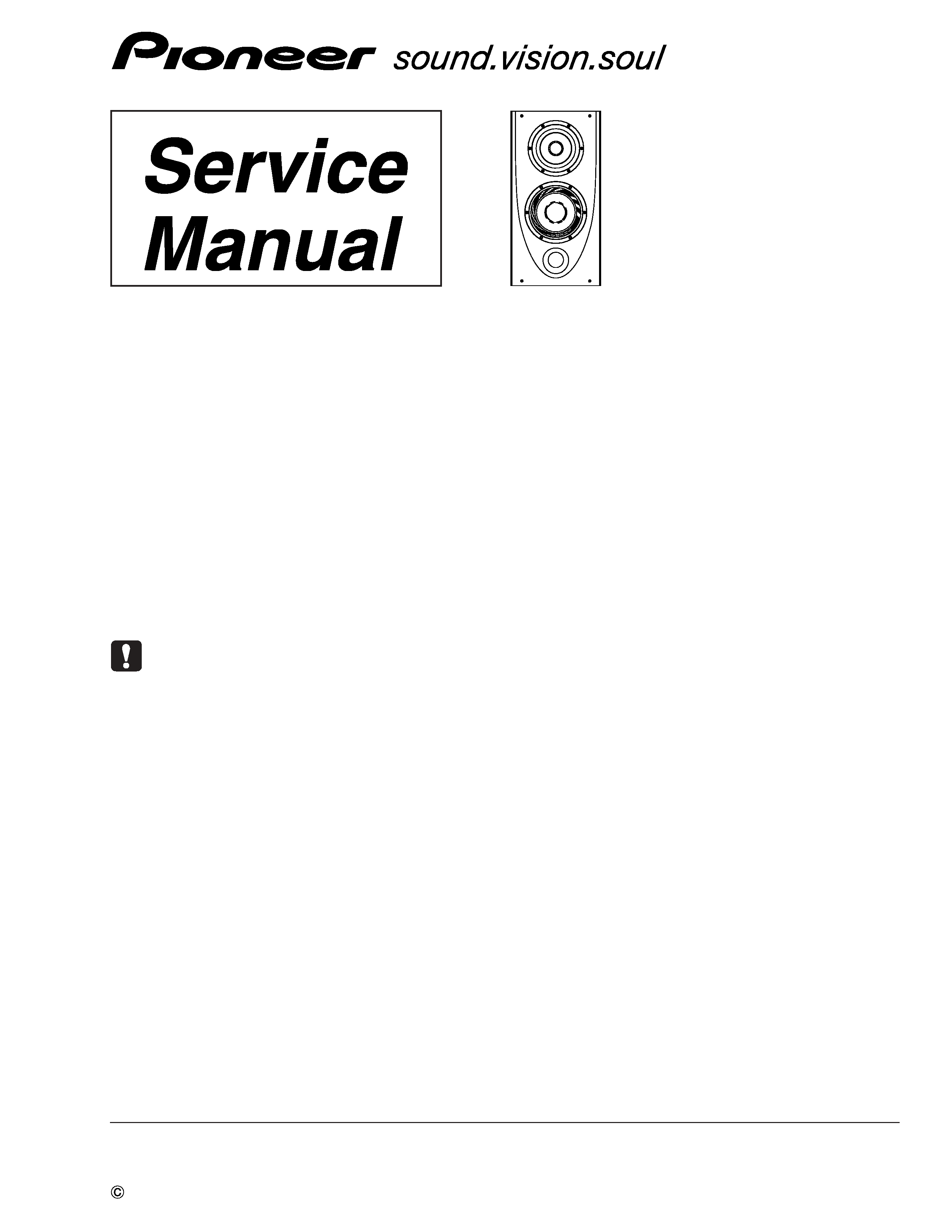 PIONEER CORPORATION
4-1, Meguro 1-chome, Meguro-ku, Tokyo 153-8654, Japan
PIONEER ELECTRONICS (USA) INC. P.O. Box 1760, Long Beach, CA 90801-1760, U.S.A.
PIONEER EUROPE NV Haven 1087, Keetberglaan 1, 9120 Melsele, Belgium
PIONEER ELECTRONICS ASIACENTRE PTE. LTD. 253 Alexandra Road, #04-01, Singapore 159936
1. PARTS LIST ................................................................................. 2
2. FOR PRECAUTION OF REASSEMBLY AND DISASSEMBLY ... 5
3. SCHEMATIC DIAGRAM ............................................................... 9
4. JIG .............................................................................................. 10
T ­ ZZS FEB. 2006 Printed in Japan
For better audio quality, the receptacle terminals and terminal fittings of the speaker unit are
soldered. When disassembling/reassembling the speaker unit, be sure to follow the instructions
in this manual. If you will be working on the speaker unit with it turned on its side, lay it on a
piece of soft cloth, etc., to protect the cabinet from being scratched.
This service manual is intended for qualified service technicians; it is not meant for the casual do-it-
yourselfer. Qualified technicians have the necessary test equipment and tools, and have been trained to
properly and safely repair complex products such as those covered by this manual.
Improperly performed repairs can adversely affect the safety and reliability of the product and may void the
warranty. If you are not qualified to perform the repair of this product properly and safely, you should not risk
trying to do so and refer the repair to a qualified service technician.
This product contains lead in solder and certain electrical parts contain chemicals which are known to the state of California to
cause cancer, birth defects or other reproductive harm.
Health & Safety Code Section 25249.6 ­ Proposition 65
---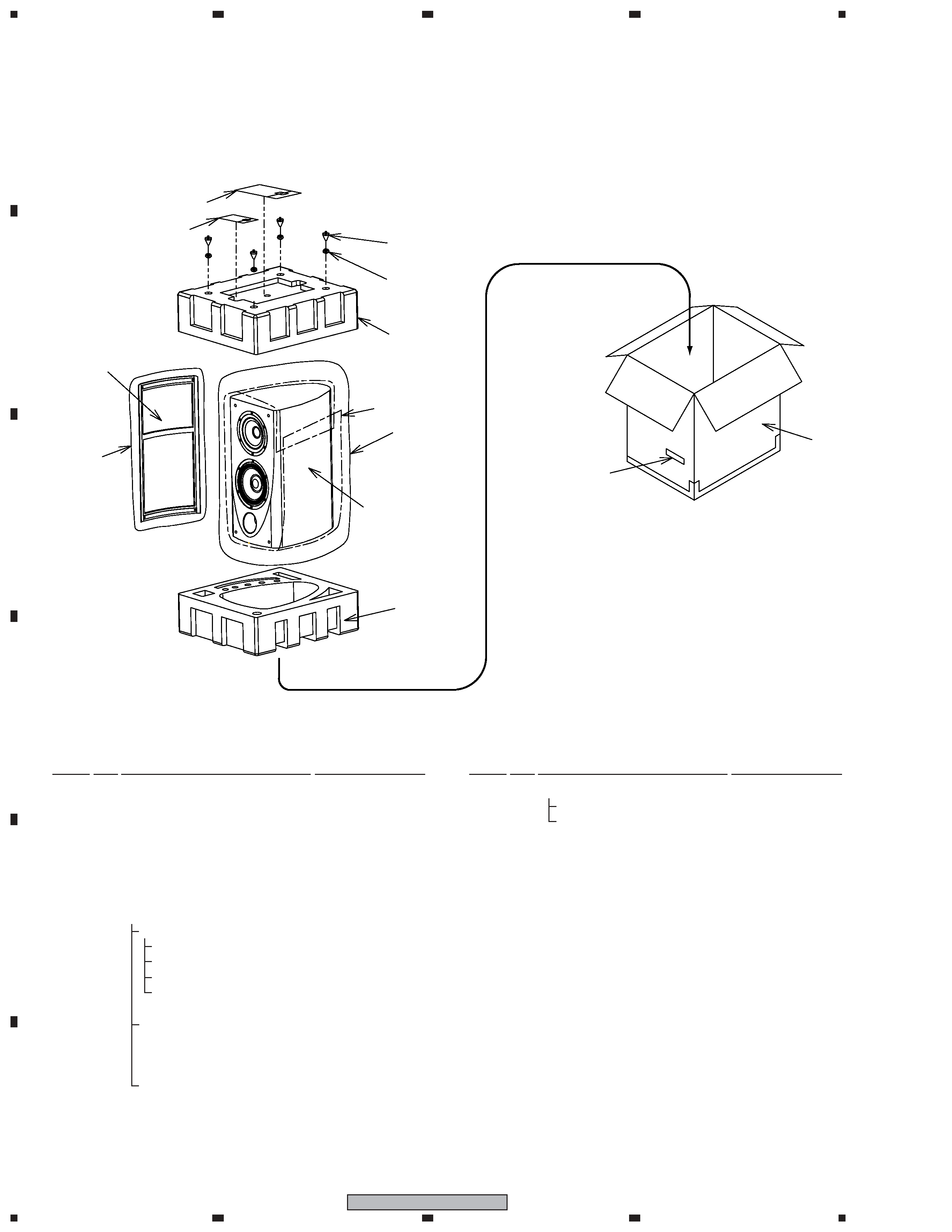 Finishing Screws (for grille) SLH6013
Short Fastening Screws (for grille) SLH6016
Long Fastening Screws (for grille) SLH6017
(English, French, Spanish,
Simp-Chinese, Trad-Chinese)
Accessory Set (for grille holes)
1. EXPLODED VIEWS AND PARTS LIST
÷ Parts marked by " NSP " are generally unavailable because they are not in our Master Spare Parts List.
÷ The > mark found on some component parts indicates the importance of the safety factor of the part.
Therefore, when replacing, be sure to use parts of identical designation.
---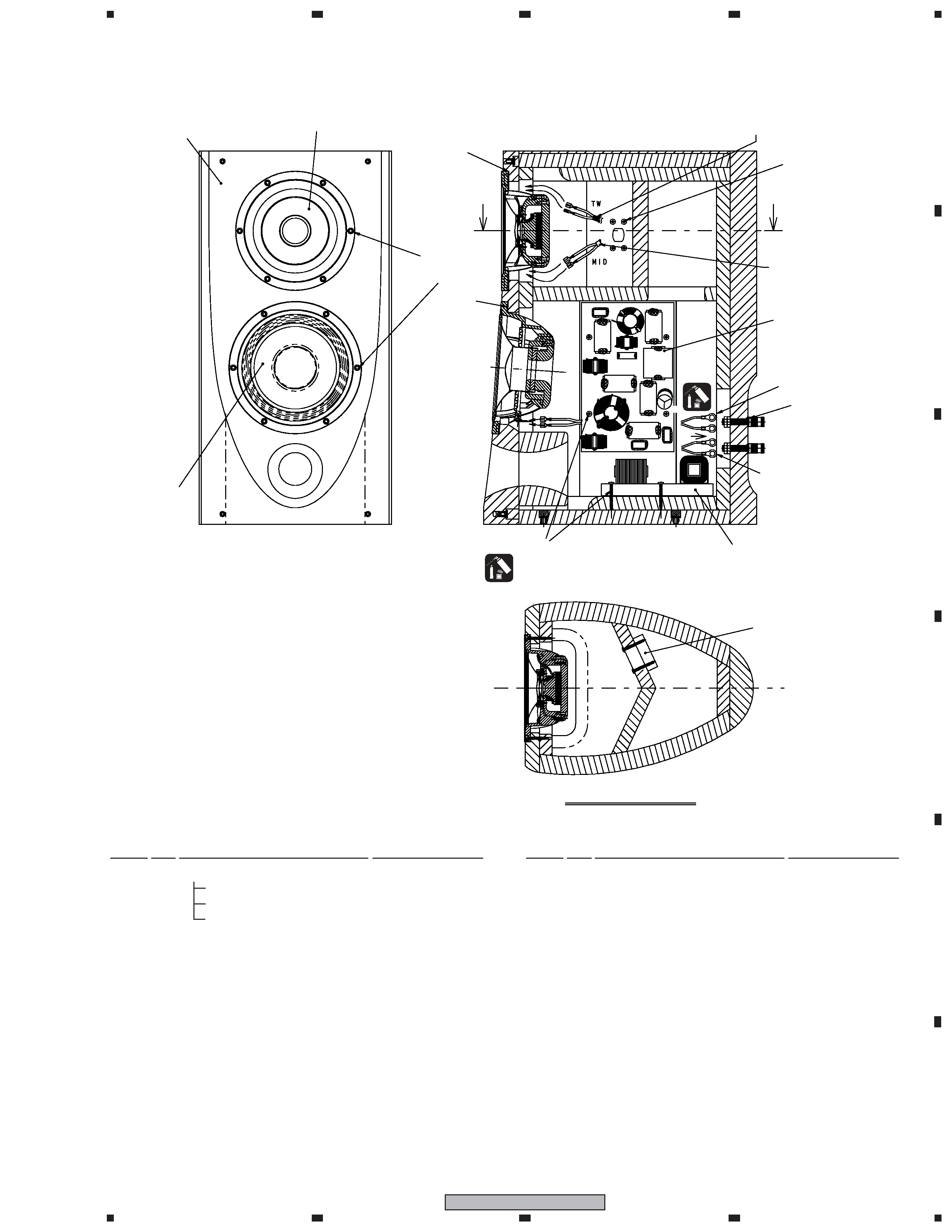 Lower side for the LPF input terminals
Upper side for the HPF input terminals
black tape to the tweeter.
: Refer to the adhesive points on page 7
Gasket (cabinet-input terminals)
Screw (for closure panel)
Acoustic Absorbent (inside chamber) SMT1314
Acoustic Absorbent (inside chamber) SMT1316
Acoustic Absorbent (under chamber) SMT1319
(chamber/holes, input terminals)
(duct board side, right side board)
(upper short side of duct board)
SPEAKER SYSTEM Parts List
---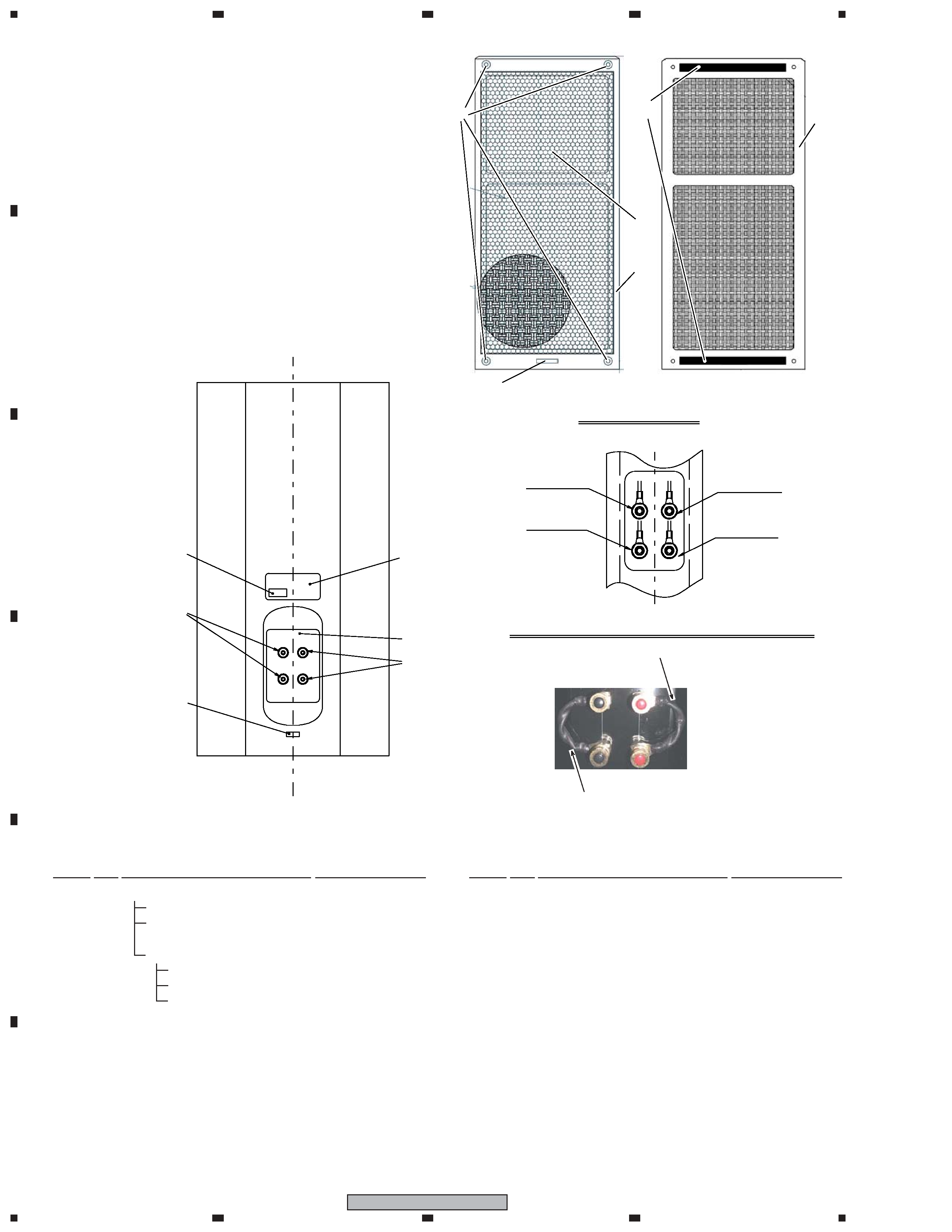 The direction of the cord
The direction of the cord
Arrow view B: Detail of the input terminal board
SPEAKER SYSTEM Parts List
---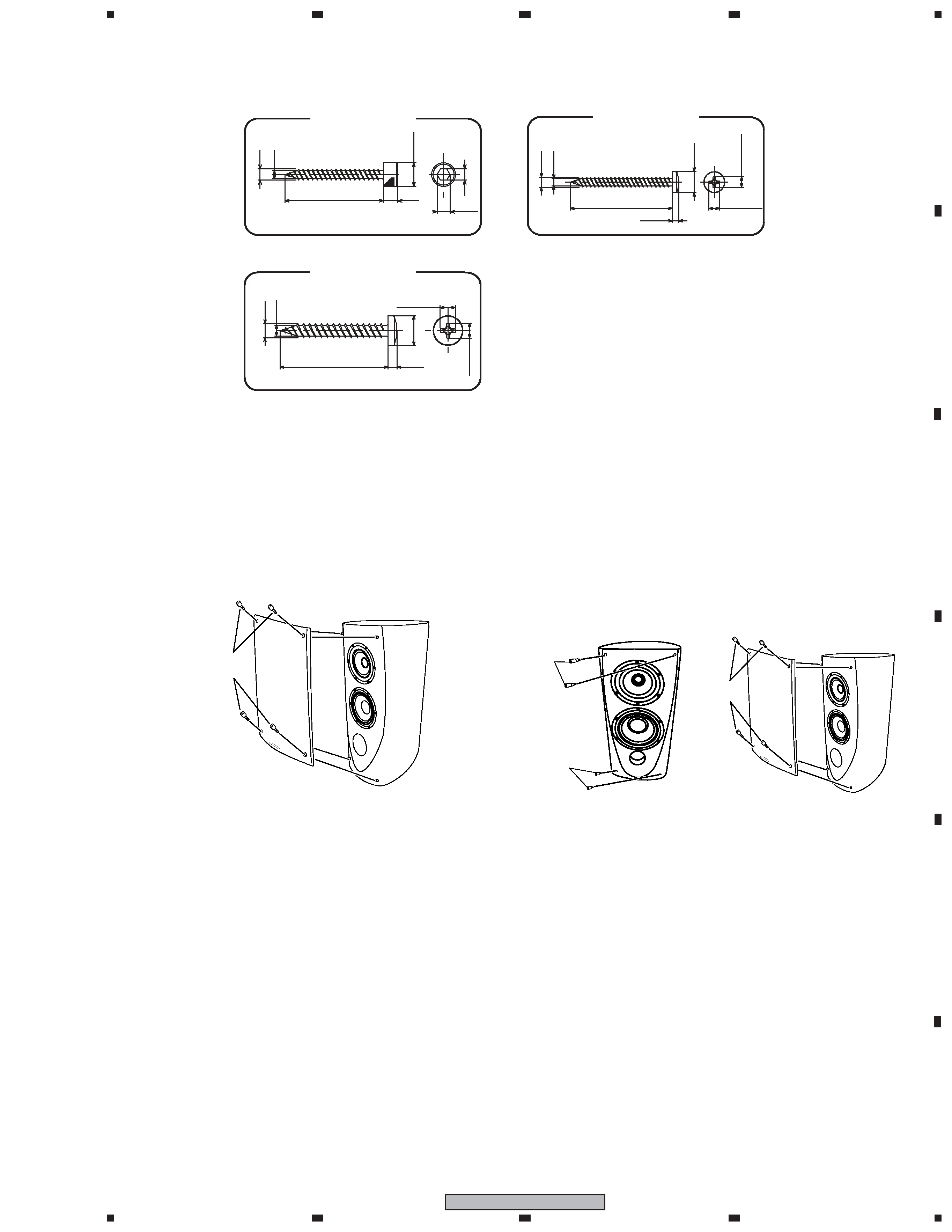 2. FOR PRECAUTION OF REASSEMBLY AND DISASSEMBLY
1 Loosen the finishing screws. Then remove the grille.
You may remove the fastening screws if they impede
2 Place the grille with the badge located at the lower part,
aligning the 4 holes of the grille with the fastening screws
3 Tighten the supplied finishing screws into the fastening
screws to secure the grille.
Do not use a flathead screwdriver or a hexagonal wrench to
tighten the screws. Securing the screws too tightly may
1 Insert the supplied fastening screws (upper: long, lower:
short) into the screw holes at the four corners of the
---