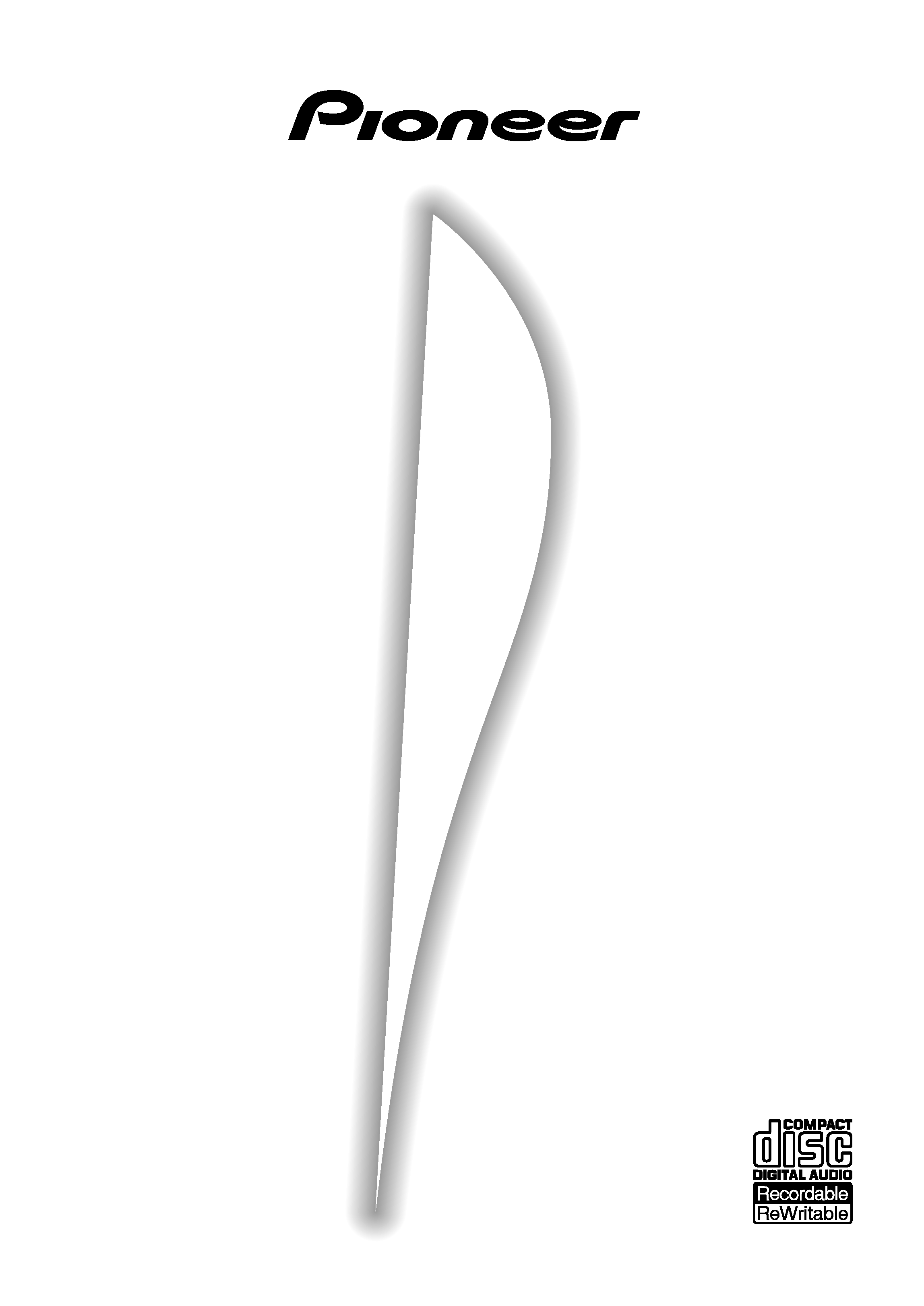 ENREGISTREUR DE COMPACT DISC
---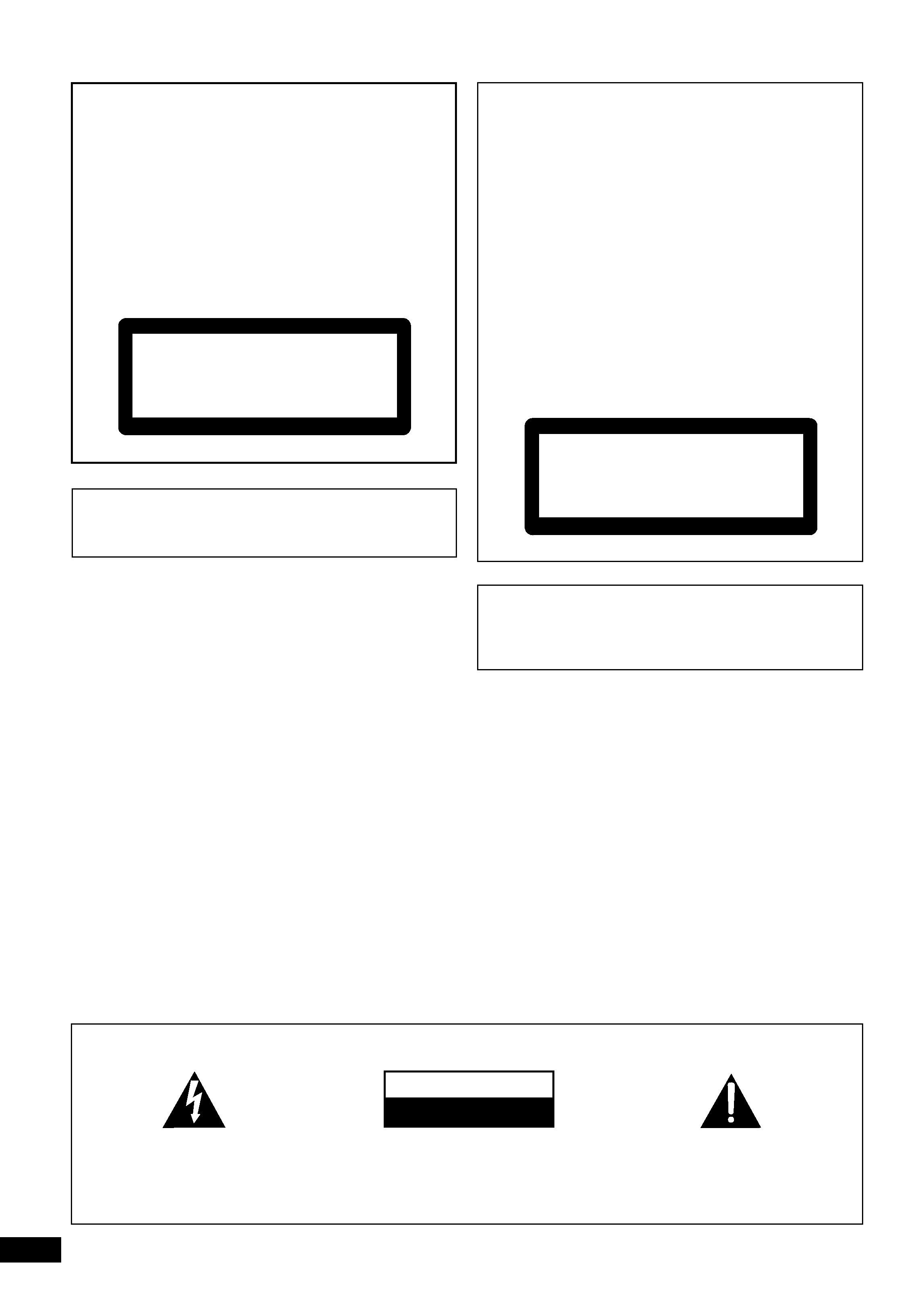 Ce produit renferme une diode à laser d'une
catégorie supérieure à 1. Pour garantir une
sécurité constante, ne pas retirer les
couvercles ni essayer d'accéder à l'intérieur
de l'appareil. Pour toute réparation,
s'addresser à un personnel qualifié.
L'étiquette d'avertissement suivante se
trouve sur le Enregistreur De Disque Com-
Emolacement: Sur le panneau arrière du
Enregistreur De Disque Compact.
ATTENTION:
AFIN DE PREVENIR TOUS RISQUES
DE CHOC ELECTRIQUE OU DE DEBUT D EXPOSER CET
APPAREIL A L'HUMIDITE AU A LA PLUIE.
Nous vous remercions pour cet achat d'un produit Pioneer.
Nous vous demandons de lire soigneusement ce mode
d'emploi; vous serez ainsi à même de faire fonctionner
l'appareil correctement. Après avoir bien lu le mode
d'emploi, le ranger dans un endroit sûr pour pouvoir s'y
Dans certains pays ou certaines régions, la forme de la
fiche d'alimentation et de la prise d'alimentation peut
différer de celle qui figure sur les schémas, mais les
branchements et le fonctionnement de l'appareil restent
Ce produit est conforme à la directive relative aux
appareils basse tengion (73/23/CEE), à la directive CE
relative à la compatibilité electromagnétique (89/
336/CEE, amendements 92/31/CEE et 93/58/CEE).
WARNING:
TO PREVENT FIRE OR SHOCK HAZARD,
DO NOT EXPOSE THIS APPLIANCE TO RAIN OR
The exclamation point within an equilateral
triangle is intended to alert the user to the
presence of important operating and
maintenance (servicing) instructions in the
literature accompanying the appliance.
TO PREVENT THE RISK OF ELECTRIC SHOCK, DO
NOT REMOVE COVER (OR BACK).
SERVICEABLE PARTS INSIDE. REFER SERVICING
TO QUALIFIED SERVICE PERSONNEL.
The lightning flash with arrowhead symbol, within
an equilateral triangle, is intended to alert the user
to the presence of uninsulated "dangerous voltage"
within the product's enclosure that may be of
sufficient magnitude to constitute a risk of electric
This product complies with the Low Voltage Directive
(73/23/EEC, amended by 93/68/EEC), EMC Directives
(89/336/EEC, amended by 92/31/EEC and 93/68/EEC).
Thank you for buying this Pioneer product.
Please read through these operating instructions so you will
know how to operate your model properly. After you have
finished reading the instructions, put them away in a safe
place for future reference.
In some countries or regions, the shape of the power plug
and power outlet may sometimes differ from that shown in
the explanatory drawings. However, the method of con-
necting and operating the unit is the same.
This product contains a laser diode of higher
class than 1. To ensure continued safety, do
not remove any covers or attempt to gain
access to the inside of the product.
Refer all servicing to qualified personnel.
The following caution label appears on the unit.
Location: Rear of the unit.
---

Create your own audio CDs
At last, there's a convenient and affordable way to make your
own audio CDs. Create your own original recordings, or put
together compilations of your favorite tracks from your
existing CDs. Other uses include making high-quality
recordings from radio or satellite broadcasts, and making
personal copies of CDs, MDs, etc. to keep in the car, keeping
the originals safe at home. The CD text feature of the PDR-
609 allows you put text information on your recordings to
easily identify and select from the contents.
Make digital recordings from any
The PDR-609 can accept digital input via optical or coaxial
cable, meaning that you can connect it to almost any other
digital audio component. Also, thanks to the built in
sampling rate converter, you can make direct digital
recordings from satellite (usually 32kHz), DCC and DAT (up
to 48kHz), as well as CD and MD (both 44.1kHz). A sampling
rate converter `through' feature (for 44.1kHz sources only)
enables you to record HDCD and DTS encoded CDs too.
Analog sources are also catered for with the analog line
inputs, suitable for connection to standard audio components
such as cassette decks and turntables.
Use both ordinary recordable CDs
Ordinary recordable CDs (CD-R) can be recorded on just once,
but the relatively cheap cost of blank discs and the ability to
play the recorded discs on any ordinary CD player* make
them ideal for many applications. Compact Disc Rewritable,
or CD-RW, is a more recent type of recordable CD that allows
erasing and re-recording of the disc. Although the blank discs
are more expensive, this ability to use the discs over and over
gives them the edge in terms of flexibility over CD-R**.
* While most CD players should have no problems with
CD-R discs, if the laser pickup is dirty (from prolonged
exposure to tobacco smoke, for example), the player may
not be able to read some CD-R discs.
** At the time of writing, most ordinary CD players cannot
play CD-RW discs. Check in the instructions that came
with the player for compatibility.
l'enregistreur de CD PDR-609
Créez vos propres CD audio
Voici enfin un système pratique et économique pour créer vos
propres CD audio. Créez vos enregistrements originaux ou
réalisez des compilations de vos morceaux préférés dans votre
collection de CD. Mais vous pouvez aussi réaliser des
enregistrements de haute qualité d'émissions de radio ou par
satellite et réaliser des copies personnalisées de CD, de MD,
etc., à utiliser dans la voiture de manière à conserver les
originaux précieusement chez vous. La fonction CD text du
PDR-609 vous permet d'intégrer des informations textuelles
dans vos enregistrements de façon à pouvoir en identifier et en
sélectionner facilement le contenu.
Réalisez des enregistrements
numériques au départ d'une
Le PDR-609 accepte les signaux d'entrée numériques via un
câble optique ou coaxial, ce qui signifie que vous pouvez le
raccorder à pratiquement n'importe quel autre équipement
audio numérique. De même, grâce au convertisseur de
fréquence d'échantillonage intégré, vous pouvez directement
réaliser des enregistrements numériques de sources satellites
(généralement 32 kHz), DCC et DAT (jusqu'à 48 kHz) ainsi
que de CD et de MD (44,1 kHz). Une fonction "directe" de
convertisseur de fréquence d'échantillonage (pour les sources
à 44,1 kHz uniquement) vous permet d'enregistrer des CD à
codage HDCD et DTS aussi. Les sources analogiques peuvent
également être raccordées via les entrées de ligne analogiques ,
ce qui permet de connecter des équipements audio standard
tels que des platines à disques ou à cassettes.
CD enregistrables ordinaires et CD
Les CD enregistrables ordinaires (CD-R) ne peuvent être
enregistrés qu'une seule fois, mais le coût relativement faible
des disques vierges et leur capacité à être reproduits sur
n'importe quel lecteur de CD* ordinaire après enregistrement
les rendent idéaux pour de nombreuses applications. Les
disques compacts réenregistrables, ou CD-RW, sont un type de
CD enregistrables plus récent qui peuvent être effacés et
réenregistrés. Bien que ces disques vierges soient plus coûteux
à l'achat, la possibilité de les réutiliser leur confère un
avantage indéniable en terme de flexibilité sur les CD-R**.
* Alors que la plupart des lecteurs de CD n'auront aucun
problème à reproduire les CD-R, il se peut qu'ils ne
puissent pas lire certains CD-R si le capteur optique laser
est souillé (notamment à la suite d'une exposition
prolongée à la fumée de cigarette).
** Au moment de l'impression, la majorité des lecteurs de CD
ordinaires ne peuvent reproduire les CD-RW. Pour plus de
détails sur la compatibilité de votre lecteur, consultez le
mode d'emploi qui l'accompagne.
---

Checking what's in the box ..................................................... 6
Using this manual ................................................................... 6
Putting the batteries in the remote control ............................ 6
Hints on installation ............................................................... 7
Avoiding condensation problems ....................................... 7
Care and maintenance ............................................................ 8
Cleaning external surfaces ................................................. 8
Moving the unit .................................................................. 8
Storing optical cable .......................................................... 8
Handling discs .................................................................... 8
Storing discs ....................................................................... 9
Discs to avoid ...................................................................... 9
CD lens cleaner ................................................................... 9
About CD, CD-R and CD-RW discs ........................................ 10
Playback-only CDs ........................................................... 10
CD-Recordable discs ......................................................... 10
CD-Rewritable discs .......................................................... 10
Consumer-use discs .......................................................... 10
Recording copyright material .......................................... 11
Recording and finalizing discs ........................................ 12
Connecting up for digital playback & recording .................. 13
About optical and coaxial jacks ....................................... 13
Using the digital inputs .................................................... 14
Using the digital outputs .................................................. 14
CD text compatible components ...................................... 14
Connecting up for analog playback & recording ................. 15
Î components .................... 15
Front panel ............................................................................ 16
Remote control ...................................................................... 18
Display ................................................................................... 20
Switching on for the first time .............................................. 22
Selecting tracks directly ......................................................... 24
Using the menu features ....................................................... 24
Showing CD text information ............................................... 25
Showing disc information ..................................................... 26
Introduction to CD recording ................................................ 27
Digital recording restrictions ........................................... 27
Recording modes .............................................................. 28
Miscellaneous information .............................................. 28
Digital recording from DAT .............................................. 29
Digital signal interruptions .............................................. 29
Power interruptions .......................................................... 29
Recording one track from a source ...................................... 30
Recording all tracks from a source ....................................... 32
Automatically recording and finalizing a disc ..................... 34
Manual recording .................................................................. 36
Setting the digital recording level ......................................... 38
Setting the analog recording level ........................................ 40
Setting the balance ................................................................ 41
Finalizing a disc .................................................................... 42
Programming the track order ............................................... 44
Clearing the playlist ......................................................... 45
Clearing a track from the playlist .................................... 45
Checking what's in the playlist ........................................ 45
Replacing a track in the playlist ...................................... 45
Playing tracks at random ...................................................... 46
Repeating tracks .................................................................... 46
Fading in and fading out ...................................................... 47
Playing a disc with skip IDs .................................................. 47
Skipping unwanted tracks ..................................................... 48
Setting skip IDs ................................................................. 48
Clearing skip IDs .............................................................. 49
Using CD text ......................................................................... 50
Editing CD text ................................................................. 52
Copying track names to other tracks .................................... 53
Automatically numbering tracks .......................................... 54
Manually numbering tracks ................................................. 55
Starting tracks in time increments ....................................... 56
Recording fade ins and fade outs .......................................... 56
Setting the fade length .......................................................... 56
Recording a fade in ............................................................... 57
Recording a fade out ............................................................. 57
Recording blank sections ...................................................... 57
Checking what's at the end of a disc .................................... 58
Monitoring a source .............................................................. 59
Checking for digital copy protection ..................................... 60
Erasing a CD-RW disc ........................................................... 60
When a non-finalized disc is loaded ................................ 61
When a finalized disc is loaded ........................................ 62
Reinitializing a disc ......................................................... 62
Understanding display messages .......................................... 63
Troubleshooting .................................................................... 64
Display messages relating to playback ............................ 64
Display messages relating to recording ........................... 65
Specifications ......................................................................... 71
---

Vérification du contenu de la boîte ......................................... 6
Utilisation de ce mode d'emploi ............................................. 6
Installation des piles dans la télécommande ......................... 6
Conseils d'installation ............................................................. 7
Prévention de la condensation ........................................... 7
Entretien .................................................................................. 8
Nettoyage des surfaces externes ......................................... 8
Déplacement de l'appareil ................................................. 8
Rangement du câble optique ............................................. 8
Manipulation des disques .................................................. 8
Rangement des disques ...................................................... 9
Disques à éviter ................................................................... 9
Nettoyant pour lentille CD ................................................. 9
A propos des CD, des CD-R et des CD-RW ............................. 10
CD de lecture seule ........................................................... 10
CD enregistrables .............................................................. 10
CD réenregistrables ........................................................... 10
Disques grand public ........................................................ 10
Enregistrement de sources protégées
par des droits d'auteur ..................................................... 11
Enregistrement et finalisation de disques ........................ 12
Raccordement pour la lecture et l'enregistrement numériques ..... 13
A propos des prises optiques et coaxiales ......................... 13
Utilisation des entrées numériques .................................. 14
Utilisation des sorties numériques ................................... 14
Equipements compatibles avec CD text ........................... 14
Raccordement pour la lecture et l'enregistrement analogiques ..... 15
Raccordement d'autres équipements Pioneer
Commandes et fenêtre d'affichage
Panneau avant ...................................................................... 16
Télécommande ...................................................................... 18
Fenêtre d'affichage ................................................................ 20
Premiére mise sous tension .................................................. 22
Sélection directe de plages .................................................... 24
Utilisation des fonctions de menu ........................................ 24
Affichage des informations CD text ....................................... 25
Affichage des informations sur le disque .............................. 26
Présentation de l'enregistrement de CD ............................... 27
Limites des enregistrements numériques ........................ 27
Modes d'enregistrement ................................................... 28
Informations diverses ....................................................... 28
Enregistrement numérique d'un DAT ............................. 29
Interruptions du signal numérique ................................. 29
Pannes d'électricité .......................................................... 29
Enregistrement d'une plage au départ d'une source ........... 30
Enregistrement de toutes les plages d'une source .................... 32
Enregistrement et finalisation automatiques d'un disque .. 34
Enregistrement manuel ........................................................ 36
Réglage du niveau d'enregistrement numérique ................ 38
Réglage du niveau d'enregistrement analogique ................ 40
Réglage de la balance ........................................................... 41
Finalisation d'un disque ....................................................... 42
Programmation de l'ordre des plages .................................. 44
Effacement de la liste de lecture ...................................... 45
Effacement d'une plage de la liste de lecture .................. 45
Contrôle du contenu de la liste de lecture ....................... 45
Remplacement d'une plage dans la liste de lecture ........ 45
Lecture aléatoire des plages .................................................. 46
Lecture de plages répétée ....................................................... 46
Fondus enchaînés d'entrée et de sortie ................................. 47
Lecture d'un disque avec des codes de saut de lecture ......... 47
Saut des plages inutiles ......................................................... 48
Pose de codes de saut de lecture ....................................... 48
Effacement de codes de saut de lecture ............................ 49
Fonctions d'enregistrement
Utilisation de la fonction CD text .......................................... 50
Modification des données CD text .................................... 52
Copie de titres de plages dans d'autres plages ...................... 53
Numérotation automatique des plages ................................ 54
Numérotation manuelle des plages ...................................... 55
Démarrage des plages par incréments de temps .................. 56
Enregistrement de fondus enchaînés à l'entrée et en
sortie ...................................................................................... 56
Réglage de la durée des fondus enchaînés ........................... 56
Enregistrement d'un fondu enchaîné d'entrée .................... 57
Enregistrement d'un fondu enchaîné de sortie .................... 57
Enregistrement de sections vierges ....................................... 57
Contrôle de la fin du disque .................................................. 58
Surveillance d'une source ..................................................... 59
Contrôle de la protection contre la copie numérique .......... 60
Effacement d'un CD-RW ....................................................... 60
Quand un disque non finalisé est introduit .................... 61
Quand un disque finalisé est introduit ............................ 62
Réinitialisation d'un disque ............................................ 62
Informations complémentaires
Compréhension des messages affichés ................................. 67
Dépannage ............................................................................. 68
Messages affichés liés à la lecture .................................... 68
Messages affichés en relation avec l'enregistrement ....... 69
Caractéristiques techniques .................................................. 71
---