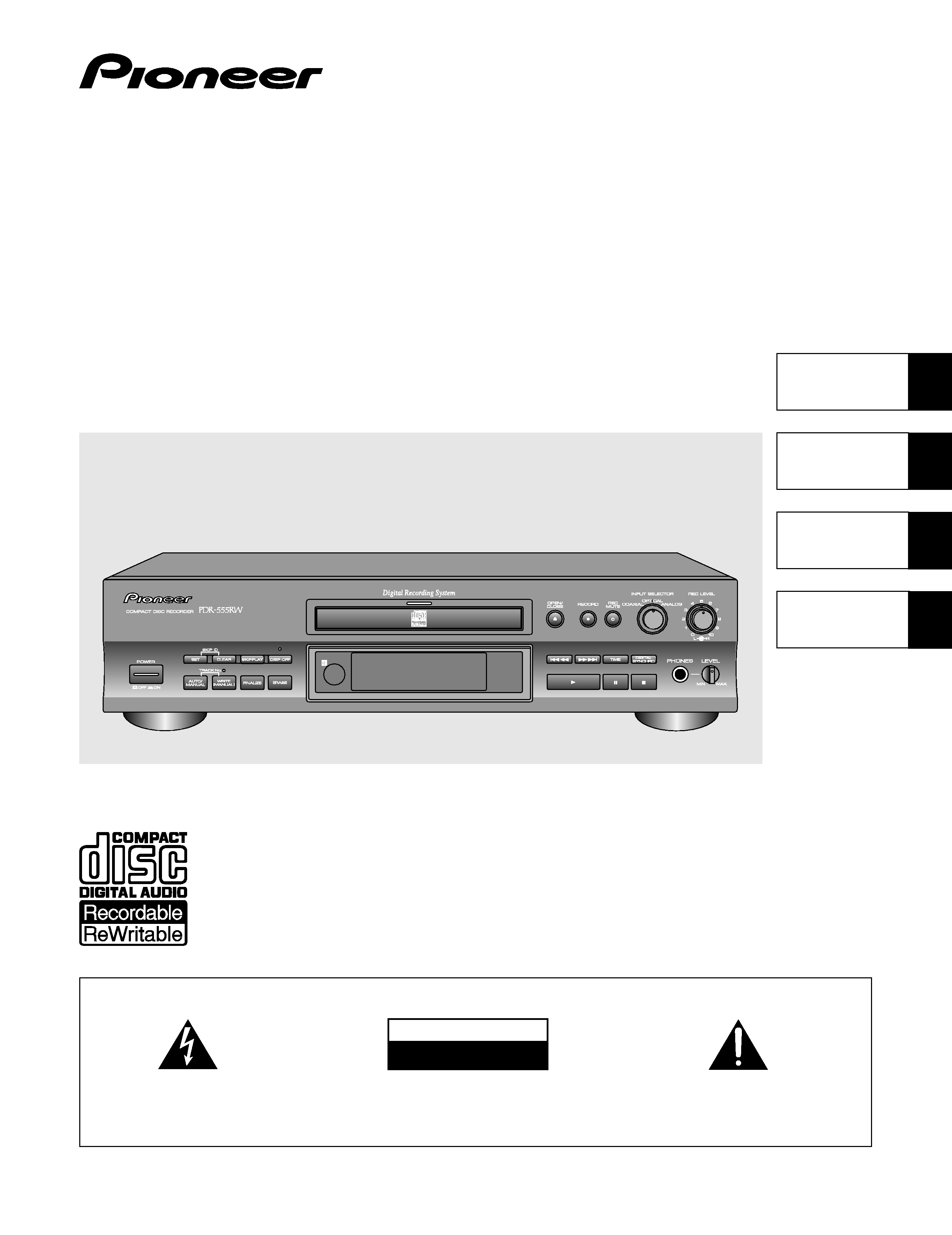 The exclamation point within an equilateral triangle is
intended to alert the user to the presence of important
operating and maintenance (servicing) instructions in the
literature accompanying the appliance.
TO PREVENT THE RISK OF ELECTRIC SHOCK, DO NOT
REMOVE COVER (OR BACK). NO USER-SERVICEABLE
PARTS INSIDE. REFER SERVICING TO QUALIFIED
The lightning flash with arrowhead symbol, within an
equilateral triangle, is intended to alert the user to the
presence of uninsulated "dangerous voltage" within the
product's enclosure that may be of sufficient magnitude
to constitute a risk of electric shock to persons.
ENREGISTREUR DE COMPACT DISC
COMPACT DISC REGISTRABILE
---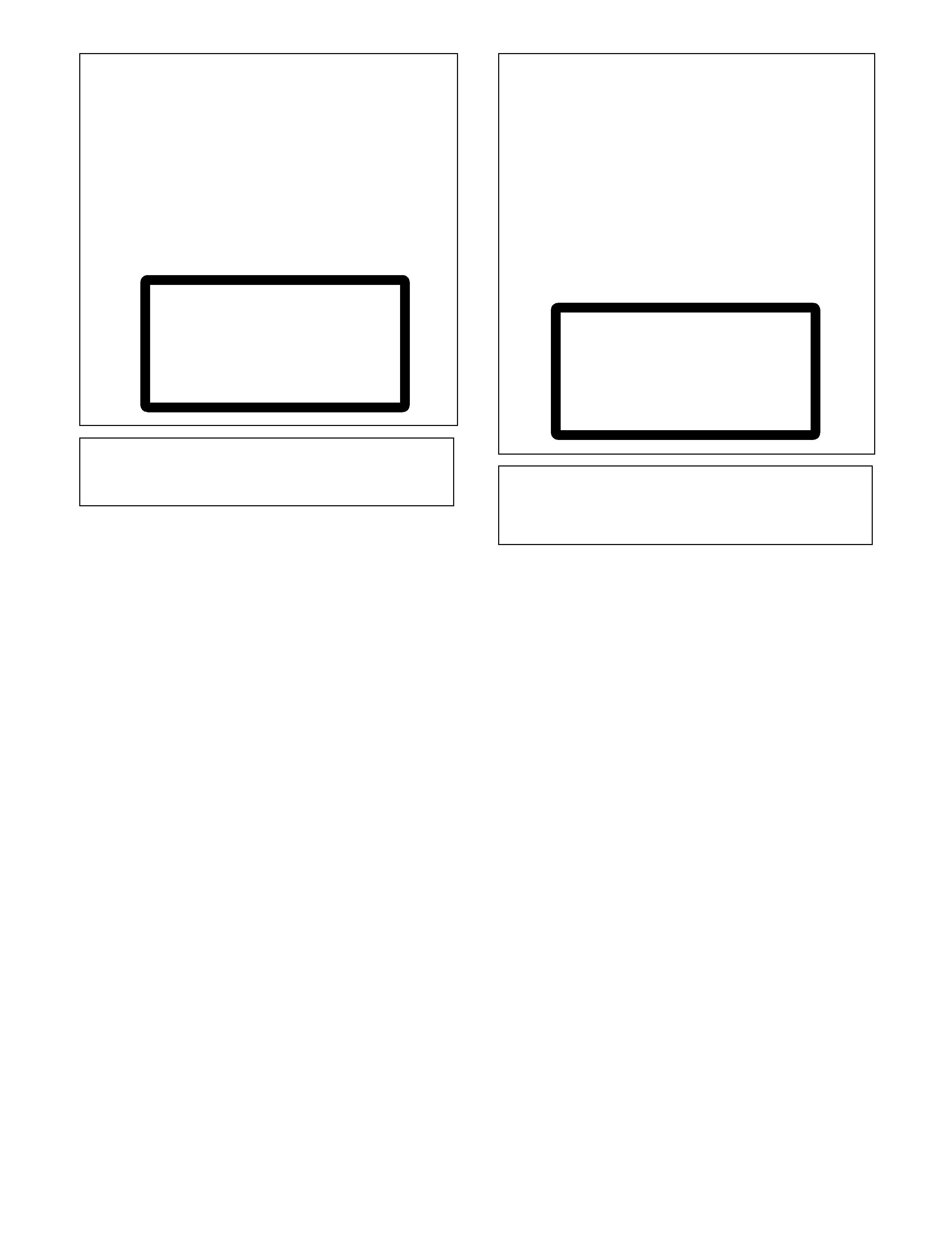 This product contains a laser diode of higher class than 1.
To ensure continued safety, do not remove any covers
or attempt to gain access to the inside of the product.
Refer all servicing to qualified personnel.
The following caution label appears on your Compact Disc
Location: rear of the Compact Disc Recorder.
Ce produit renferme une diode à laser d'une catégorie
supérieure à 1. Pour garantir une sécurité constante,
ne pas retirer les couvercles ni essayer d'accéder à
l'intérieur de l'appareil.
Pour toute réparation, s'addresser à un personnel
L'étiquette d'avertissement suivante se trouve sur le
Enregistreur De Disque Compact.
Emolacement: Sur le panneau arrière du Enregistreur
This product complies with the Low Voltage Directive
(73/23/EEC), EMC Directives, (89/336/EEC, 92/31/EEC)
and CE Marking Directive (93/68/EEC) .
WARNING:
TO PREVENT FIRE OR SHOCK HAZARD,
DO NOT EXPOSE THIS APPLIANCE TO RAIN OR
Thank you for buying this Pioneer product.
Please read through these operating instructions so you will
know how to operate your model properly. After you have fin-
ished reading the instructions, put them away in a safe place
In some countries or regions, the shape of the power plug and
power outlet may sometimes differ from that shown in the ex-
planatory drawings. However, the method of connecting and
operating the unit is the same.
Handle the power cord by the plug. Do not pull out the plug by tugging
the cord and never touch the power cord when your hands are wet as
this could cause a short circuit or electric shock. Do not place the unit,
a piece of furniture, etc., on the power cord, or pinch the cord. Never
make a knot in the cord or tie it with other cords. The power cords
should be routed such a way that they are not likely to be stepped on.
A damaged power cord can cause a fire or give you an electrical shock.
Check the power cord regularly. When you find it damaged, ask your
nearest PIONEER authorized service center or your dealer for a
Ce produit est conforme à la directive relative aux appareils
basse tension (73/23/CEE), aux directives relatives à la
compatibilité électromagnétique (89/336/CEE, 92/31/CEE)
et à la directive CE relative aux marquages (93/68/CEE).
ATTENTION:
AFIN DE PREVENIR TOUS RISQUES DE
CHOC ELECTRIQUE OU DE DEBUT D EXPOSER CET
APPAREIL A L'HUMIDITE AU A LA PLUIE.
Nous vous remercions pour cet achat d'un produit Pioneer.
Nous vous demandons de lire soigneusement ce mode
d'emploi; vous serez ainsi à même de faire fonctionner
l'appareil correctement. Après avoir bien lu le mode
d'emploi, le ranger dans un endroit sûr pour pouvoir s'y
Dans certains pays ou certaines régions, la forme de la fiche
d'alimentation et de la prise d'alimentation peut différer de
celle qui figure sur les schémas, mais les branchements et le
fonctionnement de l'appareil restent les mêmes.
NOTE IMPORTANTE SUR LE CABLE
Tenir le câble d'alimentation par la fiche. Ne pas débrancher la prise
en tirant sur le câble et ne pas toucher le câble avec les mains
mouillées. Cela risque de provoquer un court-circuit ou un choc
électrique. Ne pas poser l'appareil ou un meuble sur le câble. Ne pas
pincer le câble. Ne pas faire de noeud avec le câble ou l'attacher à
d'autres câbles. Les câbles d'alimentation doivent être posés de
façon à ne pas être écrasés. Un câble abîmé peut provoquer un
risque d'incendie ou un choc électrique. Vérifier le câble
d'alimentation de temps en temps. Contacter le service après-vente
PIONEER le plus proche ou le revendeur pour un remplacement.
---

Questo prodotto è conforme alla direttiva sul basso voltaggio
(73/23/CEE), alle direttive EMC (89/336/CEE, 92/31/CEE) e alla
direttiva sul marchio CE (93/68/CEE).
Questo prodotto contiene un diodo al laser di classe
superiore alla classe 1. Per motivi di sicurezza, non
smontare i coperchi e non procedere ad interventi
Per qualsiasi riparazione rivolgersi a personale
La seguente etichetta di avvertenza è stata applicata
Posizione: Pannello posteriore del Registratore Per
Dieses Gerät enthält eine Laserdiode mit einer
höheren Klasse als 1. Um einen stets sicheren
Betrieb zu gewährleisten, weder irgendwelche
Abdeckungen entfernen, noch versuchen, sich zum
Geräteinneren Zugang zu verschaffen.
Alle Wartungsarbeiten sollten qualifiziertem Kunden-
dienstpersonal überlassen werden.
Die folgenden Warnungsetiketten sind am CD-
Stelle: an der Rückseite des Gerätes.
Dieses Produkt entspricht den Niederspannungsrichtlinien (73/
23/EEC), EMV-Richtlinien (89/336/EEC, 92/31/EEC) und den
CD-Markierungsrichtlinien (93/68/EEC).
WARNUNG:
UM EINEN BRAND ODER STROM-
SCHLAG ZU VERMEIDEN, DIESES GERÄT NICHT REGEN
ODER FEUCHTIGKEIT AUSSETZEN.
Wir danken lhnen für den Kauf dieses Pioneer-Produkts.
Lesen Sie sich bitte diese Bedienungsanleitung durch. Dann
wissen Sie, wie Sie lhr Gerät richtig bedienen. Bewahren Sie
sie an einem sicheren Platz auf, um auch zukünftig
In manchen Ländern oder Verkaufsgebieten weichen die
Ausführungen von Netzstecker oder Netzsteckdose u.U.
von den in den Abbildungen gezeigten ab; die Anschluß- und
Bedienungsverfahren des Gerätes sind jedoch gleich.
VORSICHT MIT DEM NETZKABEL
Fassen Sie das Netzkabel immer am Stecker. Ziehen Sie nicht am
Kabel selbst, und fassen Sie das Netzkabel niemals mit nassen
Händen an, da dies einen Kurzschluß oder elektrischen Schlag
verursachen kann. Stellen Sie nicht das Gerät, Möbelstücke o.ä. auf
das Netzkabel; sehen Sie auch zu, daß es nicht eingeklemmt wird.
Machen Sie niemals einen Knoten in das Netzkabel, und binden Sie
es nicht mit anderen Kabeln. Das Netzkabel sollte so gelegt
werden, daß niemand darauf tritt. Ein beschädigtes Netzkabel kann
einen Brand oder elektrischen Schlag verursachen. Prüfen Sie das
Netzkabel von Zeit zu Zeit. Sollte es beschädigt sein, wenden Sie
sich an Ihre nächste autorisierte PIONEER-Kundendienststelle oder
Ihren Händler, um es zu ersetzen.
AVVERTENZA:
PER EVITARE IL RISCHIO DI FIAMME
O SCOSSE ELETTRICHE, NON ESPORRE QUESTO
APPARECCHIO ALLA PIOGGIA O ALL `UMIDITA'.
Grazie per aver acquistato questo prodotto Pioneer.
Leggere attentamente questo manuale di istruzioni per
familiarizzarsi con l'uso dell'apparecchio. Conservare poi il
manuale per ogni eventuale futuro riferimento.
I modelli disponibili in alcuni paesi o regioni possono avere la
forma della spina del cavo d'alimentazione e della presa
ausiliaria di corrente diversa da quella mostrata nelle illustra-
zioni, ma il loro modo di collegamento e funzionamento è lo
AVVERTIMENTO RIGUARDANTE IL FILO DI
Prendete sempre il filo di alimentazione per la spina. Non
tiratelo mai agendo per il filo stesso e non toccate mai il filo
con le mani bagnati, perchè questo potrebbe causare
cortocircuiti o scosse elettriche. Non collocate l'unità,
oppure dei mobili sopra il filo di alimentazione e controllate
che lo stesso non sia premuto. Non annodate mai il filo di
alimentazione nè collegatelo con altri fili. I fili di
alimentazione devono essere collocati in tal modo che non
saranno calpestati. Un filo di alimentazione danneggiato
potrebbe causare incendi o scosse elettriche. Controllate il
filo di alimentazione regolarmente. Quando localizzate un
eventuale danno, rivolgetevi al più vicino centro assistenza
autorizzato della PIONEER oppure al vostro rivenditore per la
sostituzione del filo di alimentazione.
---

CAUTIONS REGARDING HANDLING ............................................ 6
FEATURES ...................................................................................... 8
CHECKING ACCESSORIES .......................................................... 12
DISCS ........................................................................................... 14
CONNECTION WITH OTHER EQUIPMENT ................................ 20
CONTROLS, CONNECTORS AND INDICATORS ...................... 26
DISPLAY PANEL ........................................................................... 34
DISC LOADING/UNLOADING ...................................................... 38
MODES OF RECORDING ............................................................ 40
RECORDING ................................................................................. 44
Automatic digital-source synchro recording (1-track recording) ...... 44
Automatic digital-source synchro recording (All-track recording) .... 48
Automatic finalization recording .............................................. 50
Manual digital-source recording .............................................. 52
Analog-source recording ......................................................... 54
SCMS ............................................................................................ 58
Checking the recording permission / inhibition condition ...... 58
CONVENIENT FUNCTIONS FOR RECORDING ........................... 60
Recording from the middle of a disc ....................................... 60
Checking the recording condition and recording end point
before recording from the middle of a disc ............................ 60
To pause recording .................................................................. 64
Creating a blank ....................................................................... 64
Starting recording with fade-in ................................................ 64
Ending recording with fade-out ............................................... 64
Ending disc recording with fade-out ....................................... 64
Manual writing of track number .............................................. 66
Automatic writing of track number ......................................... 66
SKIPPING UNDESIRED TRACKS ............................................... 68
Setting skip ID to a track (Track skip) ..................................... 68
Clearing skip ID of a track ....................................................... 72
MAKING A RECORDED DISC PLAYABLE
ON A CD PLAYER (FINALIZATION) ........................................... 74
What is finalization? ................................................................ 74
Finalization procedure ............................................................. 74
ERASING (CD-RW ONLY) ............................................................ 78
Last track erasing .................................................................... 80
All tracks erasing ..................................................................... 80
All disc erasing ........................................................................ 82
PLAYBACK .................................................................................... 84
Starting playback ..................................................................... 84
Playing from the desired track (Direct track selection) .......... 84
Searching an adjacent track (Track search) ............................ 86
Searching the desired point (Manual search) ......................... 86
Turning the display off ............................................................. 88
Playing tracks repeatedly (Repeat playback) .......................... 90
Checking the playing time of each track
(1-track time display) ............................................................... 90
Fade-in/fade-out during playback ............................................ 90
Playing tracks in the order selected by the player
(Random playback) .................................................................. 90
SKIPPING UNDESIRED TRACKS (SKIP PLAYBACK) ................... 92
Skip playback procedure ...................................................... 92
PLAYING TRACKS IN THE DESIRED ORDER (PROGRAMMED
PLAYBACK) ................................................................................... 94
Programming tracks ................................................................ 94
Program reservation ................................................................ 94
Clearing the entire program .................................................... 96
Clearing a track from the program .......................................... 96
Checking the programmed tracks ........................................... 96
Replacing a track in the program ............................................ 98
CHARACTER MESSAGE LIST .................................................... 100
INDEX ......................................................................................... 104
TROUBLESHOOTING ................................................................. 108
SPECIFICATIONS ....................................................................... 116
PRÉCAUTIONS GÉNÉRALES D'UTILISATION .............................. 6
PARTICULARITÉS .......................................................................... 9
VÉRIFICATION DES ACCESSOIRES ............................................ 12
DISQUES ...................................................................................... 14
RACCORDEMENTS À UN AUTRE APPAREIL ............................. 20
COMMANDES, CONNECTEURS ET TÉMOINS ........................ 27
AFFICHEUR .................................................................................. 34
MISE EN PLACE OU RETRAIT D'UN DISQUE ............................ 38
MODES D'ENREGISTREMENT .................................................. 40
ENREGISTREMENT ...................................................................... 44
Enregistrement automatique et synchronisé d'un signal
numérique (1 plage musicale) ................................................. 44
Enregistrement automatique et synchronisé d'un signal
numérique (toutes les plages musicales) ............................... 48
Enregistrement à achèvement automatique .......................... 50
Enregistrement manuel d'un signal numérique ..................... 52
Enregistrement d'un signal analogique .................................. 54
SCMS ............................................................................................ 58
Contrôle de la permission ou de l'interdiction de copie ......... 58
FONCTIONS COMMODES POUR L'ENREGISTREMENT .......... 60
Utilisation d'un disque partiellement enregistré ..................... 60
Détermination des conditions d'enregistrement et recherche de
la fin des enregistrements avant reprise de cette opération ..... 60
Pour interrompre I'enregistrement ......................................... 64
Enregistrement d'un silence ................................................... 64
Pour commencer un enregistrement
par un fondu sonore à l'ouverture ........................................... 64
Pour terminer un enregistrement
par un fondu sonore à la fermeture ........................................ 64
Fondu sonore à la fermeture à la fin d'un disque ................... 64
Ecriture manuelle des numéros des plages musicales .......... 66
Ecriture automatique des numéros des plages musicales .... 66
POUR IGNORER CERTAINS PLAGES MUSICALES ................. 68
Enregistrement du code d'identification de saut d'une plage
musicale (Saut d'une plage musicale) .................................... 68
Effacement du code d'identification
de saut d'une plage musicale ................................................. 72
POUR QU'UN DISQUE PORTANT UN ENREGISTREMENT
PUISSE ÊTRE ÉCOUTÉ AU MOYEN D'UN LECTEUR DE CD
(OPÉRATION D'ACHÈVEMENT) ................................................ 74
Qu'est-ce que l'achèvement d'un disque? ............................. 74
Méthode pour l'achèvement d'un disque ............................... 74
EFFACEMENT (CD-RW SEULEMENT) ........................................ 78
Effacement de la dernière plage ............................................. 80
Effacement de toutes les plages ............................................ 80
Effacement de tout le disque .................................................. 82
ECOUTE D'UN DISQUE ............................................................... 84
Commande de l'écoute ........................................................... 84
Ecoute du disque à partir d'une plage musicale donnée
(Sélection d'une plage musicale) ............................................ 84
Recherche d'une plage musicale ............................................ 86
Recherche manuel d'un passage musical .............................. 86
Commande de l'afficheur ........................................................ 88
Ecoute répétée des plages musicales (Lecture répétée) ....... 90
Affichage de la durée de lecture de chaque plage musicale
(affichage de la durée d'une plage musicale) ......................... 90
Ecoute avec fondu sonore à l'ouverture ou à la fermeture .... 90
Ecoute des plages musicales dans un ordre choisi
par l'appareil (Lecture au hasard) ............................................ 90
POUR IGNORER CERTAINES PLAGES MUSICALES
(OMISSION DE PLAGES MUSICALES PENDANT LA LECTURE) .. 92
Méthode pour l'omission de plages musicales
pendant la lecture ................................................................. 92
ECOUTE DES PLAGES MUSICALES DANS UN ORDRE DONNÉ
(LECTURE PROGRAMMÉE) ......................................................... 94
Programmation de la lecture ................................................... 94
Mise en attente de la programmation .................................... 94
Effacement du contenu du programme .................................. 96
Effacement d'une étape du programme ................................. 96
Vérification du contenu du programme .................................. 96
Modification du contenu d'une étape du programme ............ 98
LISTE DES MESSAGES .............................................................. 101
GLOSSAIRE ................................................................................ 105
GUIDE DE DÉPANNAGE ............................................................ 110
CARACTÉRISTIQUES TECHNIQUES ......................................... 116
---

VORSICHTSHINWEISE ZUR HANDHABUNG ............................... 7
MERKMALE .................................................................................. 10
ÜBERPRÜFUNG DER ZUBEHÖRTEILE ....................................... 13
DISCS ........................................................................................... 15
ANSCHLUSS VON ANDEREN GERÄTEN .................................... 21
BEDIENUNGSELEMENTE, STECKER UND ANZEIGEN .......... 28
DISPLAY ....................................................................................... 35
EINLEGEN/HERAUSNEHMEN DER DISC ................................... 39
AUFNAHMEBETRIEBSARTEN ................................................... 41
AUFNEHMEN ............................................................................... 45
Automatische Synchron-Aufnahmebetriebsart für digitale
Signalquellen (Aufnehmen von einzeltiteln) ........................... 45
Automatische Synchron-Aufnahmebetriebsart für digitale
Signalquellen (Aufnehmen von allen Titeln) ........................... 49
Aufnehmen mit automatischer Abschlußeingabe .................. 51
Manuelles Aufnehmen einer digitalen Signalquelle ............... 53
Aufnehmen einer analogen Signalquelle ................................ 55
SCMS-FUNKTION ......................................................................... 59
Überprüfen der Aufnahmefreigabe/-sperre ............................ 59
NÜTZLICHE AUFNAHMEFUNKTIONEN ...................................... 61
Aufnehmen auf eine teilweise bespielte Disc ........................ 61
Überprüfung der Aufnahmebedingungen und des
Aufnahme-Endpunkts vor dem Aufnehmen
auf eine teilweise bespielte Disc ............................................ 61
Vorübergehendes Unterbrechen der Aufnahme .................... 65
Einfügen einer unbespielten Leerstelle .................................. 65
Beginn einer Aufnahme mit einer Einblendung ...................... 65
Beenden einer Aufnahme mit einer Ausblendung ................. 65
Beenden einer Disc-Aufnahme mit einer Ausblendung ......... 65
Manuelle Eingabe der Titelnummer ........................................ 67
Automatische Eingabe der Titelnummer ................................ 67
ÜBERPSPRINGEN VON UNERWÜNSCHTEN TITELN ............. 69
Zuordnen einer Übersprungmarkierung zu einem Titel
(Titel-Übersprungfunktion) ...................................................... 69
Löschen der Übersprungmarkierung eines Titels ................... 73
VORBEREITEN EINER BESPIELTEN DISC ZUR
VERWENDUNG IN EINEM CD-SPIELER
(AUFZEICHNEN DER ABSCHLUSSEINGABE) .......................... 75
Was versteht man unter Abschlußeingabe? .......................... 75
Vorgehensweise für die Aufzeichnung der Abschlußeingabe ... 75
LÖSCHEN (NUR CD-RW) ............................................................. 79
Löschen des letzten Titels ...................................................... 81
Löschen aller Titel ................................................................... 81
Löschen des gesamten Disc-Inhalts ....................................... 83
WIEDERGABE .............................................................................. 85
Beginn der Wiedergabe .......................................................... 85
Wiedergabe eines gewünschten Titels (direkte Titelwahl) .... 85
Aufsuchen eines benachbarten Titels (Titelsuche) ................. 87
Aufsuchen einer gewünschten Stelle (manueller Suchlauf) .. 87
Ausschalten des Displays ....................................................... 89
Wiederholte Wiedergabe von Titeln
(Wiederholungs-Wiedergabe) ................................................. 91
Überprüfung der Wiedergabezeit jedes Titels
(Einzeltitel-Zeitdatenanzeige) .................................................. 91
Ein-/Ausblenden während der Wiedergabe ............................ 91
Wiedergabe von Titeln in der vom Gerät gewählten
Reihenfolge (Zufallswiedergabe) ............................................ 91
ÜBERSPRINGEN VON UNERWÜNSCHTEN TITELN
(ÜBERSPRUNG-WIEDERGABE) .................................................. 93
Vorgehensweise bei Übersprung-Wiedergabe .................. 93
WIEDERGABE DER TITEL IN DER GEWÜNSCHTEN
REIHENFOLGE (PROGRAMMIERTE WIEDERGABE) ................. 95
Programmieren von Titeln ....................................................... 95
Programmreservierung ........................................................... 95
Löschen des gesamten Programms ....................................... 97
Löschen eines Einzeltitels aus dem Programm ..................... 97
Überprüfen der programmierten Titel ..................................... 97
Auswechseln eines Titels im Programm ................................ 99
LISTE DER ZEICHENANZEIGEN ................................................ 102
INDEX ......................................................................................... 106
STÖRUNGSBESEITIGUNG ......................................................... 112
TECHNISCHE DATEN ................................................................. 117
PRECAUZIONI PER L'USO ............................................................ 7
CARATTERISTICHE ...................................................................... 11
CONTROLLO ACCESSORI ........................................................... 13
DISCHI .......................................................................................... 15
COLLEGAMENTO CON ALTRI COMPONENTI ........................... 21
(1) COLLEGAMENTI DIGITALI ................................................ 21
(2) COLLEGAMENTI ANALOGICI ........................................... 25
COMANDI, CONNETTORI ED INDICATORI .............................. 29
IL DISPLAY ................................................................................... 35
COME SI CARICA E COME SI ESTRAE UN DISCO .................... 39
MODI DI REGISTRAZIONE ......................................................... 41
REGISTRAZIONE .......................................................................... 45
Registrazione automatica è sincronizzata di segnale digitale
(solo 1 brano) ........................................................................... 45
Reigstrazione automatica è sincronizzata di seganle digitale
(tutti i brani) ............................................................................. 49
Registrazione con finalizzazione automatica ........................... 51
Registrazione manuale di segnale digitale .............................. 53
Registrazione di segnale analogico ......................................... 55
SISTEMA SCMS ........................................................................... 59
Controllo della registrabilità di una sorgente di segnale ......... 59
CONVENIENTI FUNZIONI DI REGISTRAZIONE .......................... 61
Registrazione da un punto intermedio di un disco ................. 61
Controllo delle condizioni di registrazione e del punto di
fine della registrazione prima di registrare in un punto
intermedio di un disco ............................................................. 61
Pausa della registrazione ......................................................... 65
Creazione di uno spazio non registrato ................................... 65
Inizio della registrazione con una dissolvenza ........................ 65
Fine della registrazione di parte
del disco con una dissolvenza ................................................. 65
Fine della registrazione di un disco con una dissolvenza ....... 65
Scrittura manuale di numeri di brano ...................................... 67
Scrittura automatica dei numeri di brano ................................ 67
SALTO DI BRANI INDESIDERATI .............................................. 69
Registrazione di segnali di evitamento brani .......................... 69
Cancellazione di segnali di evitamento di brani ...................... 73
PRODUZIONE DI UN DISCO RIPRODUCIBILE SU DI
UN LETTORE CD (FINALIZZAZIONE) ........................................ 75
Cos'è la finalizzazione? ............................................................ 75
Procedura di finalizzazione ...................................................... 75
CANCELLAZIONE (SOLO PER IL CD-RW) .................................. 79
Cancellazione dell'ultimo brano .............................................. 81
Cancellazione di tutti i brani .................................................... 81
Cancellazione di tutto il disco .................................................. 83
RIPRODUZIONE ........................................................................... 85
Inizio della riproduzione ........................................................... 85
Riproduzione da un brano desiderato (selezione diretta) ....... 85
Ricerca di un brano .................................................................. 87
Ricerca di un passaggio desiderato di un brano ..................... 87
Per spegnere il display ............................................................ 89
Ripetizione della riproduzione ................................................. 91
Controllo della durata di ciascun brano ................................... 91
Apertura/chiusura in dissolvenza della riproduzione ............... 91
Riproduzione dei brani in ordine casuale ................................ 91
EVITAMENTO DI BRANI INDESIDERATI (RIPRODUZIONE CON
EVITAMENTO DI BRANI INDESIDERATI) .................................... 93
Procedura di riproduzione con
evitamento di brani indesiderati ......................................... 93
RIPRODUZIONE DEI BRANI IN UN ORDINE DESIDERATO
(RIPRODUZIONE PROGRAMMATA) ........................................... 95
Programmazione dei brani....................................................... 95
Prenotazione della riproduzione .............................................. 95
Cancellazione di un intero programma ................................... 97
Cancellazione di un brano dal programma .............................. 97
Controllo dei brani programmati ............................................. 97
Sostituzione di un brano del programma ................................ 99
ELENCO MESSAGGI DEL DISPLAY .......................................... 103
INDICE ........................................................................................ 107
DIAGNOSTICA ............................................................................ 114
DATI TECNICI ............................................................................. 117
---