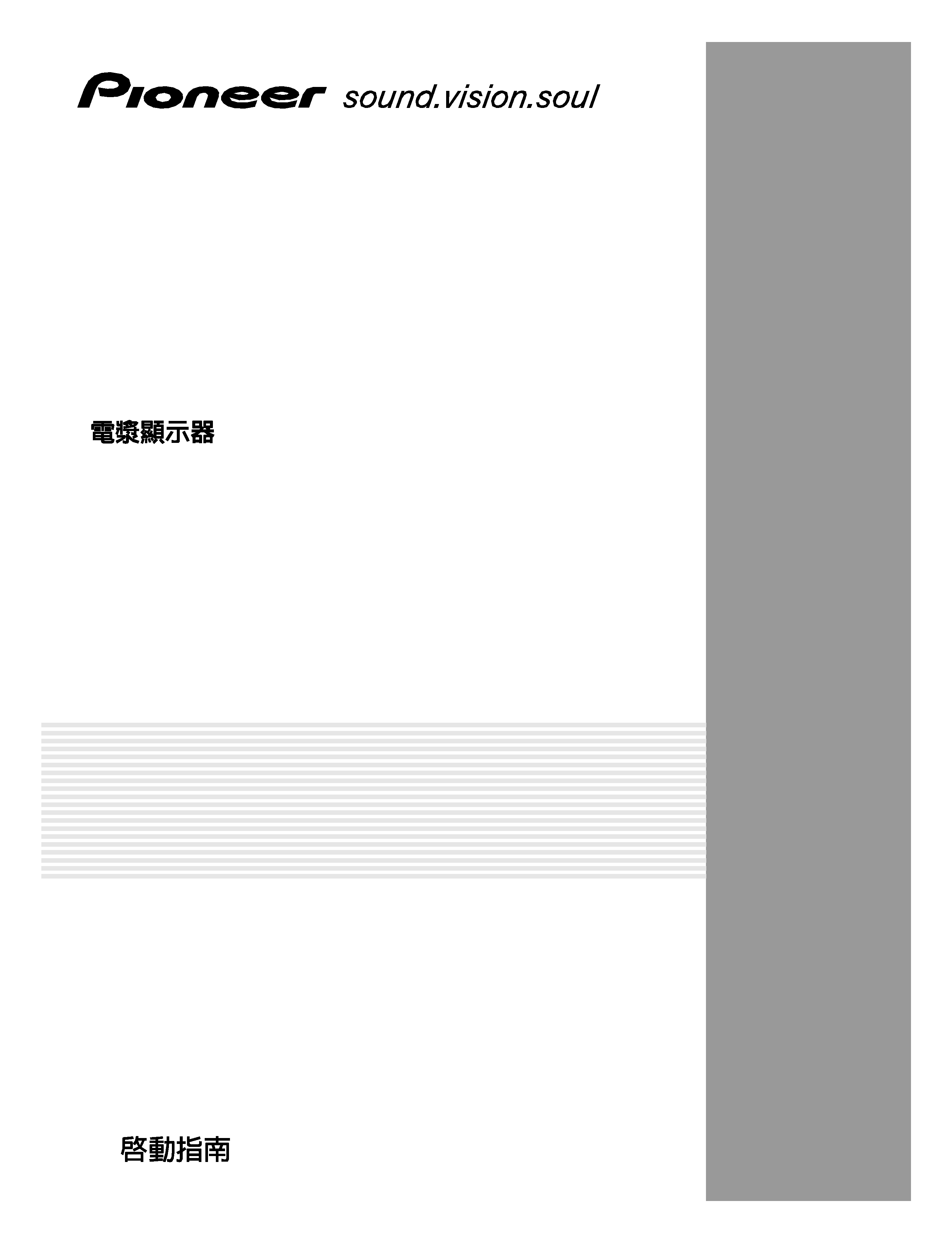 ---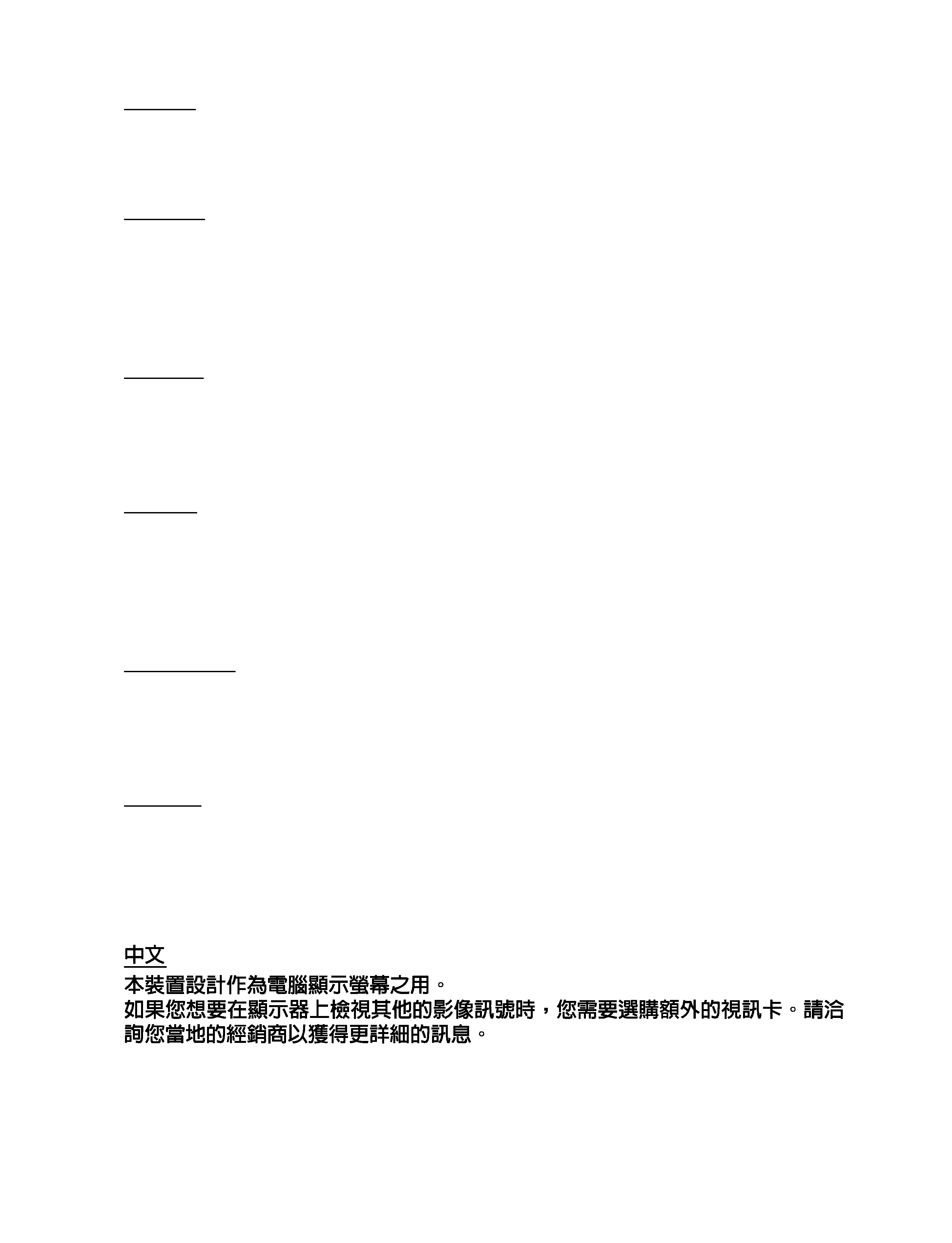 This unit has been designed for use as a computer display monitor.
The optional video card is required if you wish to view other video
signals on the monitor. For details consult your local retail dealer.
Cet appareil est conçu pour une utilisation comme moniteur d'affichage
La carte vidéo optionnelle est nécessaire si vous souhaitez regarder
d'autres signaux sur ce moniteur. Pour plus de renseignements,
consultez votre revendeur.
Dieses Gerät ist als Monitor für Personalcomputer konzipiert.
Wenn andere Videosignale auf diesem Monitor betrachtet werden sollen,
muss die optionale Videokarte installiert werden. Weitere Einzelheiten
hierzu erfahren Sie von Ihrem Fachhändler.
Questo apparecchio è stato costruito per essere usato come monitor che
Per poter visualizzare su questo schermo segnali video di altro tipo è
necessario far uso della scheda video opzionale. Per dettagli in proposito
rivolgersi al rivenditore.
Dit toestel is ontworpen voor gebruik als een computermonitor.
U hebt de los verkrijgbare videokaart nodig indien u de monitor wilt
gebruiken voor weergave van andere videosignalen. Raadpleeg uw
plaatselijke dealer voor nadere bijzonderheden.
Esta unidad ha sido diseñada para ser empleada como monitor de
Para poder ver otras señales de vídeo en el monitor, es necesario instalar
la tarjeta de vídeo opcional. Para más detalles, consulte a su distribuidor
en la tienda de su localidad.
---

Thank you very much for purchasing this PIONEER product.
Before using your Plasma Display, please read the "Safety
Precautions" and these "Start up Guide" carefully so you
will know how to operate the Plasma Display properly. Keep
this manual in a safe place. You will find it useful in the
Notes on Installation Work:
This product is marketed assuming that it is installed by qualified
personnel with enough skill and competence. Always have an
installation specialist or your dealer install and set up the product.
PIONEER cannot assume liabilities for damage caused by
mistake in installation or mounting, misuse, modification or a
After installation, be sure to deliver this manual to the customer
and explain to the customer how to handle the product.
If you want to dispose this product, do not mix it with general household waste. There is a separate collection system for used electronic
products in accordance with legislation that requires proper treatment, recovery and recycling.
Private households in the 25 member states of the EU, in Switzerland and Norway may return their used electronic products free of charge to designated
collection facilities or to a retailer (if you purchase a similar new one).
For countries not mentioned above, please contact your local authorities for the correct method of disposal.
By doing so you will ensure that your disposed product undergoes the necessary treatment, recovery and recycling and thus prevent potential negative
effects on the environment and human health.
---

The following symbols are found on labels
attached to the product. They alert the operators
and service personnel of this equipment to any
potentially dangerous conditions.
This symbol refers to a hazard or unsafe
practice which can result in personal injury
This symbol refers to a hazard or unsafe
practice which can result in severe personal
To ensure proper heat radiation, distance the unit slightly from
other equipment, walls, etc. (normally more than 10 cm). Avoid
the following installations which will block vents and cause heat
to build up inside, resulting in fire hazards.
· Do not attempt to fit the unit inside narrow spaces where
· Do not cover with cloth, etc.
· Do not place on its side
· Do not place it upside down
· If planning special installation such as fitting close to the wall,
placing it horizontally, etc., be sure to consult your Pioneer
WARNING:
THIS APPARATUS MUST BE EARTHED.
CAUTION:
WHEN POSITIONING THIS EQUIPMENT
ENSURE THAT THE MAINS PLUG AND SOCKET IS EASILY
The exclamation point within an equilateral
triangle is intended to alert the user to the
presence of important operating and
maintenance (servicing) instructions in the
literature accompanying the appliance.
The lightning flash with arrowhead symbol,
within an equilateral triangle, is intended to
alert the user to the presence of uninsulated
"dangerous voltage" within the product's
enclosure that may be of sufficient
magnitude to constitute a risk of electric
TO PREVENT THE RISK OF ELECTRIC
SHOCK, DO NOT REMOVE COVER (OR
BACK). NO USER-SERVICEABLE PARTS
INSIDE. REFER SERVICING TO QUALIFIED
This product complies with the Low Voltage Directive
(73/23/EEC, amended by 93/68/EEC), EMC Directives
(89/336/EEC, amended by 92/31/EEC and
This equipment is not waterproof. To prevent a fire
or shock hazard, do not place any container filed
with liquid near this equipment (such as a vase or
flower pot) or expose it to dripping, splashing, rain
To prevent a fire hazard, do not place any naked
flame sources (such as a lighted candle) on the
Operating environment temperature and humidity:
+0 ºC to +40 ºC (+32 ºF to +104 ºF); less than 85 %RH
(cooling vents not blocked)
Do not install this unit in a poorly ventilated area, or in
locations exposed to high humidity or direct sunlight (or
The voltage of the available power supply differs
according to country or region. Be sure that the
power supply voltage of the area where this unit
will be used meets the required voltage (e.g., 230 V
or 120 V) written on the rear panel.
Before plugging in for the first time, read the following
This product equipped with a three-wire grounding
(earthed) plug - a plug that has a third (grounding)
pin. This plug only fits a grounding-type power
outlet. If you are unable to insert the plug into an
outlet, contact a licensed electrician to replace the
outlet with a properly grounded one. Do not
defeat the safety purpose of the grounding plug.
The MAIN POWER switch on this unit will not completely
shut off all power from the AC outlet. Since the power cord
serves as the main disconnect device for the unit, you will
need to unplug it from the AC outlet to shut down all
power. Therefore, make sure the unit has been installed so
that the power cord can be easily unplugged from the AC
outlet in case of an accident. To avoid fire hazard, the
power cord should also be unplugged from the AC outlet
when left unused for a long period of time (for example,
---

Safety Precautions ................................... i
Features ................................................... 2
Before Proceeding ................................... 3
Checking supplied accessories .......................... 3
Part Names and Functions ..................... 4
Main unit .............................................................. 4
Remote control unit ............................................ 5
(PDP-50MXE20/PDP-50MXE20-S) ...................... 7
Connection panel (PDP-60MXE20) .................... 8
Installation and Connections ................. 9
Installation of the unit ......................................... 9
Power cord connection ..................................... 11
How to route cables .......................................... 12
Setting the Onscreen Display
Language (Computer Signal) ............... 13
Setting the Onscreen Display
Language (Video Signal) ...................... 14
Additional Information ......................... 15
Cleaning ............................................................. 15
Troubleshooting ................................................ 16
Precautions regarding use ............................... 18
STANDBY/ON indicator .................................... 18
Specifications .................................................... 19
CD-ROM (PIONEER PLASMA-UM)
The Operating Instructions are found in the form of a PDF (Portable Document Format) file inside the accessory CD-
ROM. To view the file, the use of Adobe Reader is required.
1
Place the accessory CD-ROM into your computer's CD-ROM drive.
2
The menu screen should appear automatically.
* If the menu screen does not appear automatically, it can be displayed in the following way:
1 Double-click on the [My Computer] icon on your computer's desktop.
2 Display the contents of the CD-ROM by double-clicking on the CD-ROM drive where the CD-ROM is loaded.
3 Double-click on the file start_menu.pdf.
4 When the menu appears, continue with step 3 below.
3
When the menu appears, click on the icon corresponding to your Plasma Display's model number.
4
The Operating Instruction PDF file will open.
1
Place the accessory CD-ROM into your computer's CD-ROM drive.
2
Double-click on the [PIONEER PLASMA-UM] icon on the computer desktop.
3
From the displayed files, double-click on start_menu.pdf.
4
When the menu appears, click on the icon corresponding to your Plasma Display's model number.
5
The Operating Instruction PDF file will open.
The use of Adobe Reader is required to view the Operating Instruction manual included on the CD-ROM disc,. To obtain
Adobe Reader free of charge, confirm that you are connected to the Internet, then:
1
Click on the [Get Acrobat] icon on the menu screen.
2
Download Adobe Reader from the Adobe download site, and follow the onscreen instructions for installing it
---