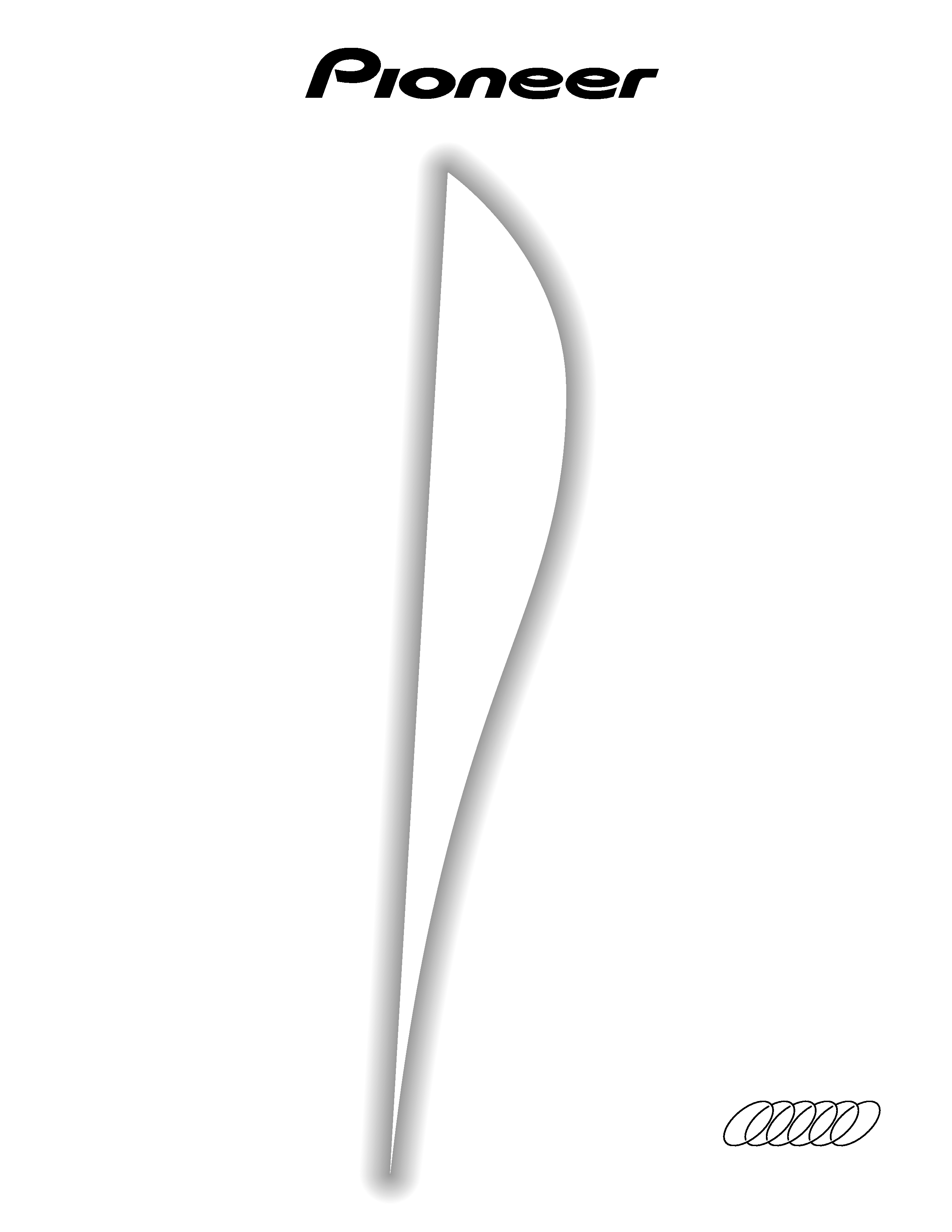 REPRODUCTOR DE MULTIDISCOS COMPACTOS
REPRODUCTOR DE MULTIDISCOS COMPACTOS
REPRODUCTOR DE MULTIDISCOS COMPACTOS
REPRODUCTOR DE MULTIDISCOS COMPACTOS
REPRODUCTOR DE MULTIDISCOS COMPACTOS
---

The lightning flash with arrowhead symbol, within an
equilateral triangle, is intended to alert the user to the
presence of uninsulated "dangerous voltage" within the
product's enclosure that may be of sufficient magnitude
to constitute a risk of electric shock to persons.
TO PREVENT THE RISK OF ELECTRIC SHOCK, DO NOT
REMOVE COVER (OR BACK). NO USER-SERVICEABLE
PARTS INSIDE. REFER SERVICING TO QUALIFIED
The exclamation point within an equilateral triangle is
intended to alert the user to the presence of important
operating and maintenance (servicing) instructions in the
literature accompanying the appliance.
This equipment has been tested and found to comply with the limits for a Class B digital device, pursuant to Part 15 of the FCC Rules.
These limits are designed to provide reasonable protection against harmful interference in a residential installation. This equipment
generates, uses, and can radiate radio frequency energy and, if not installed and used in accordance with the instructions, may cause
harmful interference to radio communications. However, there is no guarantee that interference will not occur in a particular
installation. If this equipment does cause harmful interference to radio or television reception, which can be determined by turning
the equipment off and on, the user is encouraged to try to correct the interference by one or more of the following measures:
­ Reorient or relocate the receiving antenna.
­ Increase the separation between the equipment and receiver.
­ Connect the equipment into an outlet on a circuit different from that to which the receiver is connected.
­ Consult the dealer or an experienced radio/TV technician for help.
Alteration or modifications carried out without appropriate authorization may invalidate the user's right to operate the equipment.
÷ Use of controls or adjustments or performance of procedures other than those specified herein may result in hazardous
÷ The use of optical instruments with this product will increase eye hazard.
Thank you for buying this Pioneer product.
Please read through these operating instructions so you will know
how to operate your model properly. After you have finished
reading the instructions, put them away in a safe place for future
In some countries or regions, the shape of the power plug and
power outlet may sometimes differ from that shown in the
explanatory drawings. However, the method of connecting and
operating the unit is the same.
WARNING:
TO PREVENT FIRE OR SHOCK HAZARD, DO
NOT EXPOSE THIS APPLIANCE TO RAIN OR MOISTURE.
CAUTION: This product satisfies FCC regulations when
shielded cables and connectors are used to connect the
unit to other equipment. To prevent electromagnetic
interference with electric appliances such as radios and
televisions, use shielded cables and connectors for
THE STANDBY/ON SWITCH IS SECONDARY CONNECTED AND
THEREFORE DOES NOT SEPARATE THE UNIT FROM MAINS
POWER IN STANDBY POSITION.
This player is for consumer use. If the player is used in a
business (for example, used for a period at a restaurant),
the player will not be covered under warranty.
CD Video, VIDEO CD, CD graphics and CD-ROM discs
cannot be played with this player.
LINE VOLTAGE SELECTOR SWITCH
Mains voltages in Saudi Arabia are 127V and 220V
The line voltage selector switch is located on the rear panel of
this player. Check that it is set properly before plugging the
power cord into the outlet. If the voltage is not properly set or if
you move to an area where the voltage requirements differ,
adjust the selector switch as follows:
÷ Be sure to disconnect the power cord from its outlet be-
fore making this adjustment.
÷ Use a medium-sized (flat blade) screwdriver. Insert the
tip of the screwdriver into the groove of the selector
switch and turn it so that the power voltage making
of your area points to the arrow.
---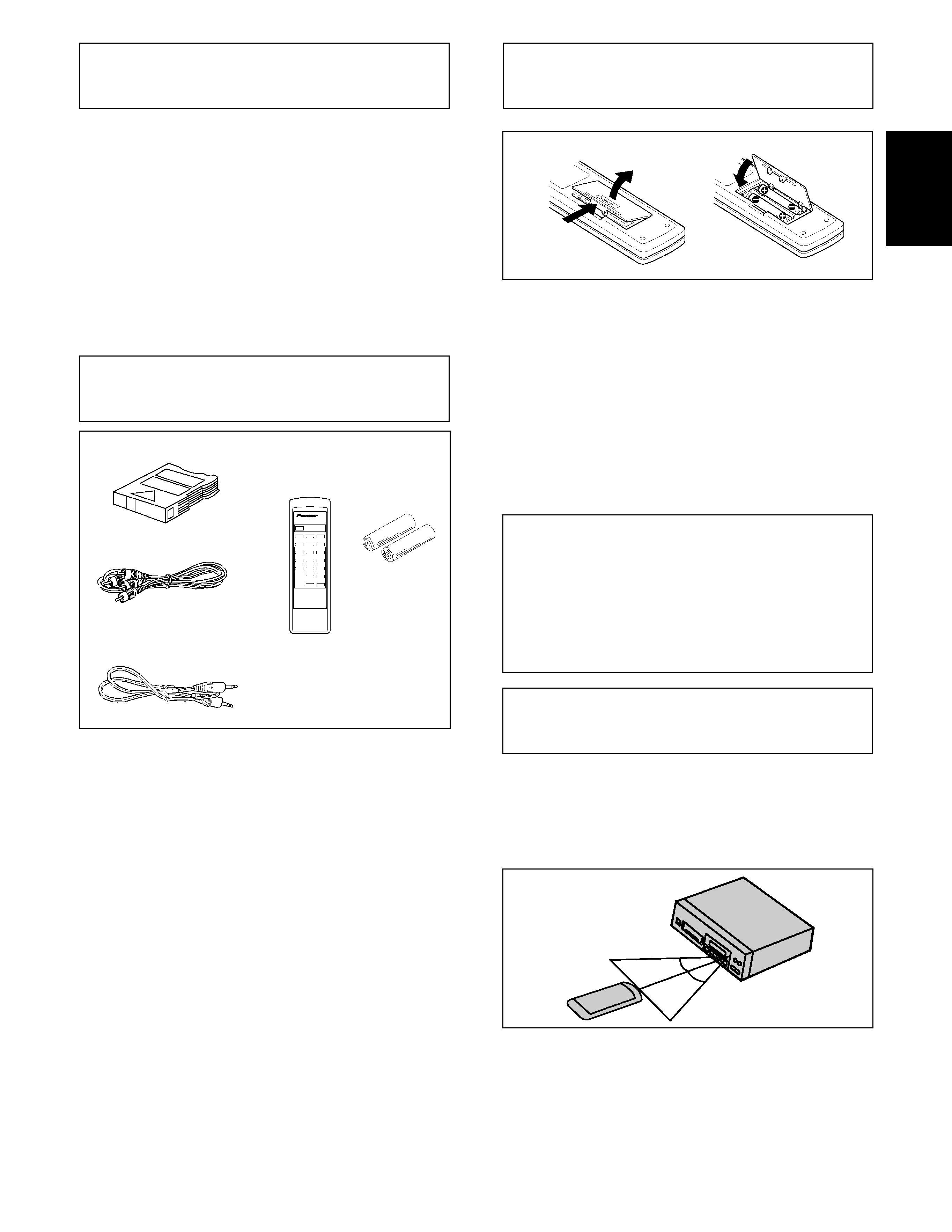 CONFIRM SUPPLIED ACCESSORIES ............................... 3
PUT BATTERIES INTO THE REMOTE CONTROL UNIT .... 3
REMOTE CONTROL OPERATIONS ................................... 3
CAUTIONS REGARDING HANDLING ................................ 4
BEFORE OPERATING THE PLAYER .................................. 5
CONNECTIONS .................................................................. 6
NAMES AND FUNCTIONS OF PARTS ............................... 7
BASIC OPERATION ........................................................... 8
VARIOUS OPERATIONS .................................................... 9
TO PLAY ONLY DESIRED TRACKS/DISCS ...................... 11
TROUBLESHOOTING ...................................................... 14
SPECIFICATIONS ............................................................. 14
1 6-Compact Disc Magazine x 1
(Called 6-disc magazine in the explanatory text.)
The supplied 6-disc magazine is for 12 cm ( 5-inch) disc
4 Remote control unit x 1 (PD-M427 only)
5 AAA/R03 dry cell batteries x 2 (PD-M427 only)
PUT BATTERIES INTO THE REMOTE
CONTROL UNIT (PD-M427 only)
Handle the power cord by the plug. Do not pull out the plug by tugging
the cord and never touch the power cord when your hands are wet
as this could cause a short circuit or electric shock. Do not place the
unit, a piece of furniture, etc., on the power cord, or pinch the cord.
Never make a knot in the cord or tie it with other cords. The power
cords should be routed such that they are not likely to be stepped on.
A damaged power cord can cause a fire or give you an electrical shock.
Check the power cord once in a while. When you find it damaged, ask
your nearest PIONEER authorized service center or your dealer for a
CONFIRM SUPPLIED ACCESSORIES
Open the lid of the battery compartment on the rear of the
remote control unit, and insert the batteries ( size "AAA" (IEC
R03)), taking care to align the
ª and · polarities correctly.
÷ In order to prevent battery leakage, remove the batteries
when not using the remote control unit for an extended
period (one month or more). If leakage occurs, carefully
wipe away any battery fluid inside the compartment, and
replace the batteries with new ones.
÷ Do not allow books or other objects to rest on top of the
remote control unit, since the buttons may be depressed,
causing faster exhaustion of the batteries.
When operating the remote control unit, point the unit's
infrared signal transmitter at the remote control receiver
(REMOTE SENSOR) on the front panel of the player. The
remote control unit can be used within a range of about 7
meters (23 feet) from the remote sensor, and within angles
of up to about 30 degrees.
Incorrect use of batteries may cause leakage or rupture.
Always be sure to follow these guidelines:
A. Always insert batteries into the battery compartment
correctly matching the positive
·polarities, as shown by the display inside the
B. Never mix new and used batteries.
C. Batteries of the same size may have different voltages,
depending on brand. Do not mix different brands of
REMOTE CONTROL OPERATIONS
If the remote control sensor window is in a position where it
receives strong light such as sunlight or fluorescent light,
control may not be possible.
Operate the PD-M407 using the remote control unit which
accompanies the amplifier. (See page 6.)
---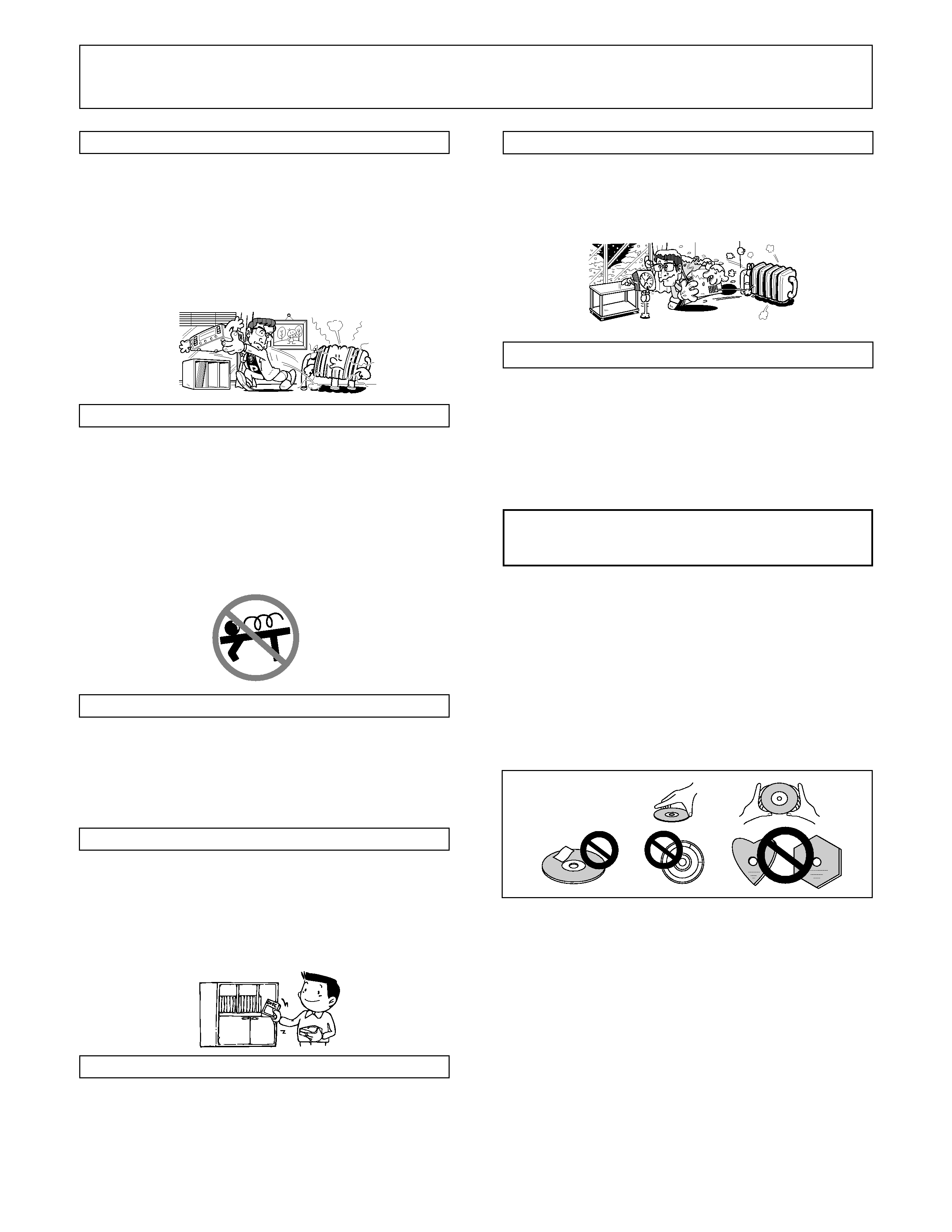 ÷ In order to play an 8-cm (3-inch) CD you will need a special
Multi CD Magazine (JD-M108, JD-M308) which is sold separately.
Be sure to thoroughly read the Operating Instructions before using
÷ 8-cm (3-inch) CD Adapters
It is possible that even an adapter which meets recommended
standard CD specifications will not be usable with the CD player.
It is recommended that the special Multi CD Magazine (JD-M108,
÷ Never load an 8-cm (3-inch) CD or its adapter into a standard 12-
cm (5-inch) magazine. This may seriously damage the CD player.
÷ Do not insert only an 8-cm (3-inch) disc and adapter into the
CAUTIONS REGARDING HANDLING
Install the player in a well-ventilated location where it will not be
exposed to high temperatures or humidity.
Do not install the player in a location which is exposed to direct rays
of the sun, or near stoves or radiators. Excessive heat can adversely
affect the cabinet and internal components. Installation of the player
in a damp or dusty environment may also result in a malfunction or an
accident. (Avoid installation near cookers etc., where the player may
be exposed to oily smoke, steam or heat.)
Do not install the player on a tottered stand nor in an unstable or
PRECAUTIONS REGARDING INSTALLATION
÷ Placing and using the compact disc player for long periods on heat-
generating sources such as amplifiers will affect performance. Avoid
placing the player on heat-generating sources.
÷ Install this compact disc player as far as possible from tuners and
TV sets. A compact disc player installed in close proximity to such
equipment may cause noise or degradation of the picture.
÷ Such noise may be particularly noticeable when an indoor antenna
is used. In such cases, make use of an outdoor antenna, or turn off
power to the compact disc player.
÷ Please place this unit on a level surface.
CLEANING THE PLAYER AND THE MAGAZINE
To clean the PLAYER and the MAGAZINE, wipe with a soft, dry cloth.
For stubborn dirt, wet a soft cloth with a mild detergent solution made
by diluting one part detergent to 5 or 6 parts water, wring well, then
wipe off the dirt. Also use a dry cloth to wipe the surface dry. Do not
use volatile liquids such as benzene and thinner which are harmful to
÷ Discs are made of the same kinds of plastic used for conventional
analog audio records. Be careful not to allow discs to warp; always
store discs in their cases vertically, avoiding locations with high heat
or humidity, or extremely low temperatures. Avoid leaving discs in
cars, since the seat of a car in direct sunlight can become unbelievably
÷ Always read and abide by the precautionary notes listed on disc
The player's pickup lens should not become dirty in normal use, but
if for some reason it should malfunction due to soiling, consult your
nearest PIONEER authorized service center. Lens cleaners for CD
players are commercially available, but special care should be exercised
in their use since some may cause damage to the lens.
When this unit is brought into a warm room from previously cold
surroundings or when the room temperature rises sharply,
condensation may form inside, and the unit may not be able to attain
its full performance. If this occurs, allow the unit to stand for about an
hour or raise the room temperature gradually.
CLEANING AND HANDLING COMPACT DISCS
÷ Always keep your discs clean by wiping them gently with a soft
cloth from the inner edge toward the outer periphery.
÷ If a disc becomes very dirty, dip a soft cloth in water, and after
wringing it out well, wipe the dirt away gently, and then remove
any water drops with another soft, dry cloth.
÷ Do not use record cleaning sprays or anti-static agents on discs.
Also, never clean discs with benzene, thinner, or other volatile
solvents, since damage to the disc surface may result.
÷ When holding discs, do not touch their signal surfaces (the side
reflecting a "rainbow" pattern, opposite the label side). Hold by the
edges, or by one edge and the center hole.
÷ Do not affix gummed labels or tape to the label surfaces. Also, do
not scratch or damage the label.
÷ Discs rotate at high speed inside the player. Do not use damaged
(cracked or warped) discs.
With this unit, use a Compact Disc carrying the mark shown
below. Do not use other disc, for this may result in
CAUTION RE: USE OF SHAPED CD's
This product is designed for use with conventional, fully circular CD's
only. Use of shaped CD's is not recommended for this product.
Pioneer disclaims all liability arising in connection with the use of
---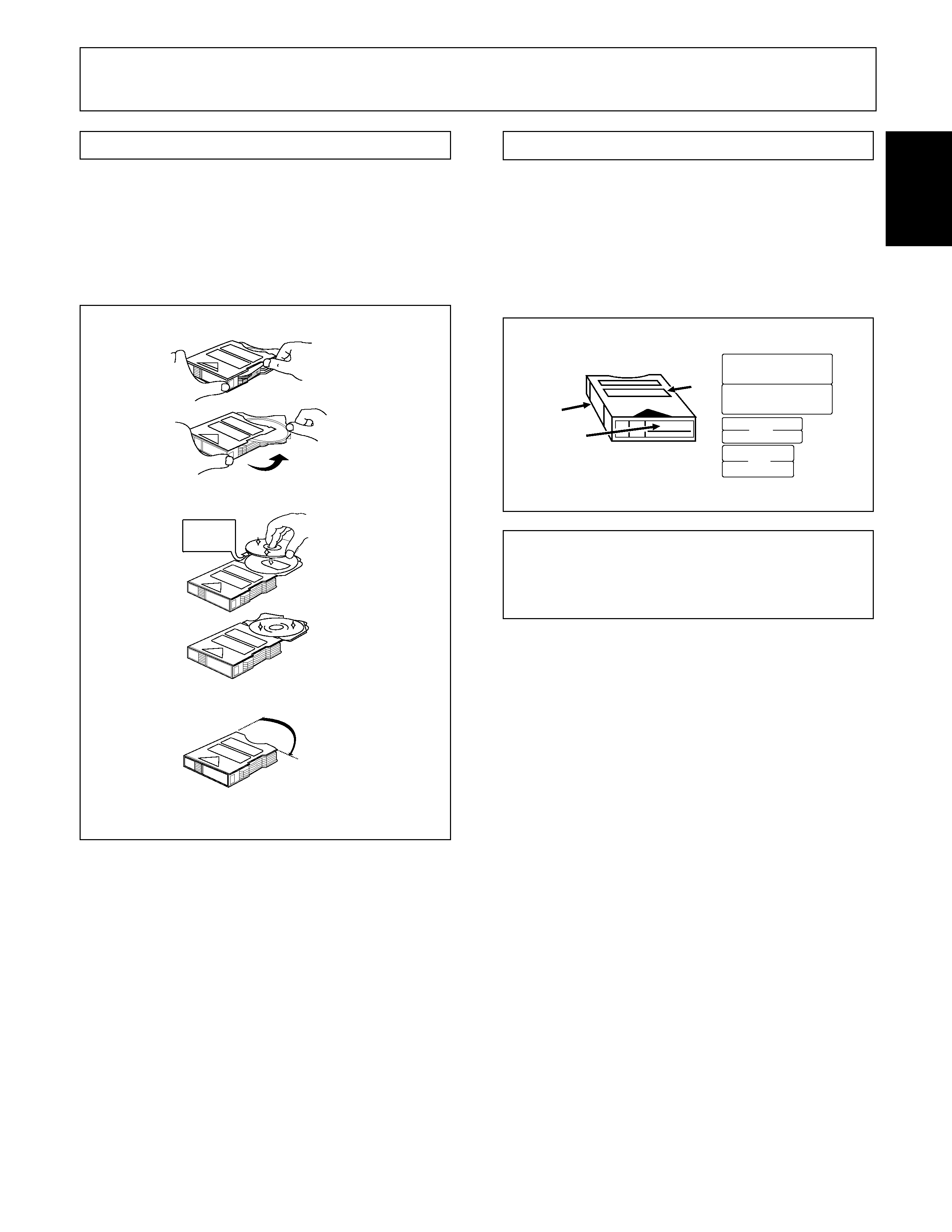 INSERT DISCS INTO THE 6-DISC MAGAZINE
Insert any discs which you may have into the supplied
magazine. Up to six discs may be inserted. The numbering of
the discs begins with 1 at the topmost tray, and then increases
in order downwards to 6 for the lowest tray. The magazine has
a window through which the pulled-out disc tray can be
checked. Even during playback, the number of the disc being
played back can be checked through this window.
BEFORE OPERATING THE PLAYER
AFFIXING LABELS TO THE MAGAZINE
÷ Always attach the labels provided in the designated locations.
Correct operation may not be possible if labels or tape are
attached in other locations.
÷ The following are convenient ways of using labels:
÷ Do not attach labels on top of other labels.
÷ Please make sure to only pull out one disc tray at a time.
(When a disc tray has been pulled out, do not pull out other
÷ If discs are inserted label side upward, it will not be possible
for them to be played. Please make sure to insert them with
÷ Objects other than discs (song cards, explanations of disc
contents, etc.), must never be inserted into the disc trays.
÷ Do not touch the playing surface of discs (iridescent side)
1. Pull out only one disc tray.
2. Position discs with the label side downward.
3. Put the disc tray back as it was originally.
4. Insert other discs by repeating steps 1 to 3.
Additional magazines identical to the one supplied are
available as options (*JD-M100, JD-M200, JD-M300, JD-
M108, JD-M308). Please use them to make your own disc
library, with separate magazines for each artist or genre.
Do not load 8-cm (3-inch) discs into the magazine for 12-cm (5-
* JD-M100/JD-M200/JD-M300
..................................... Magazine for 12-cm (5-inch) discs
JD-M108/JD-M308 ......... Magazine for 8-cm (3-inch) discs
---