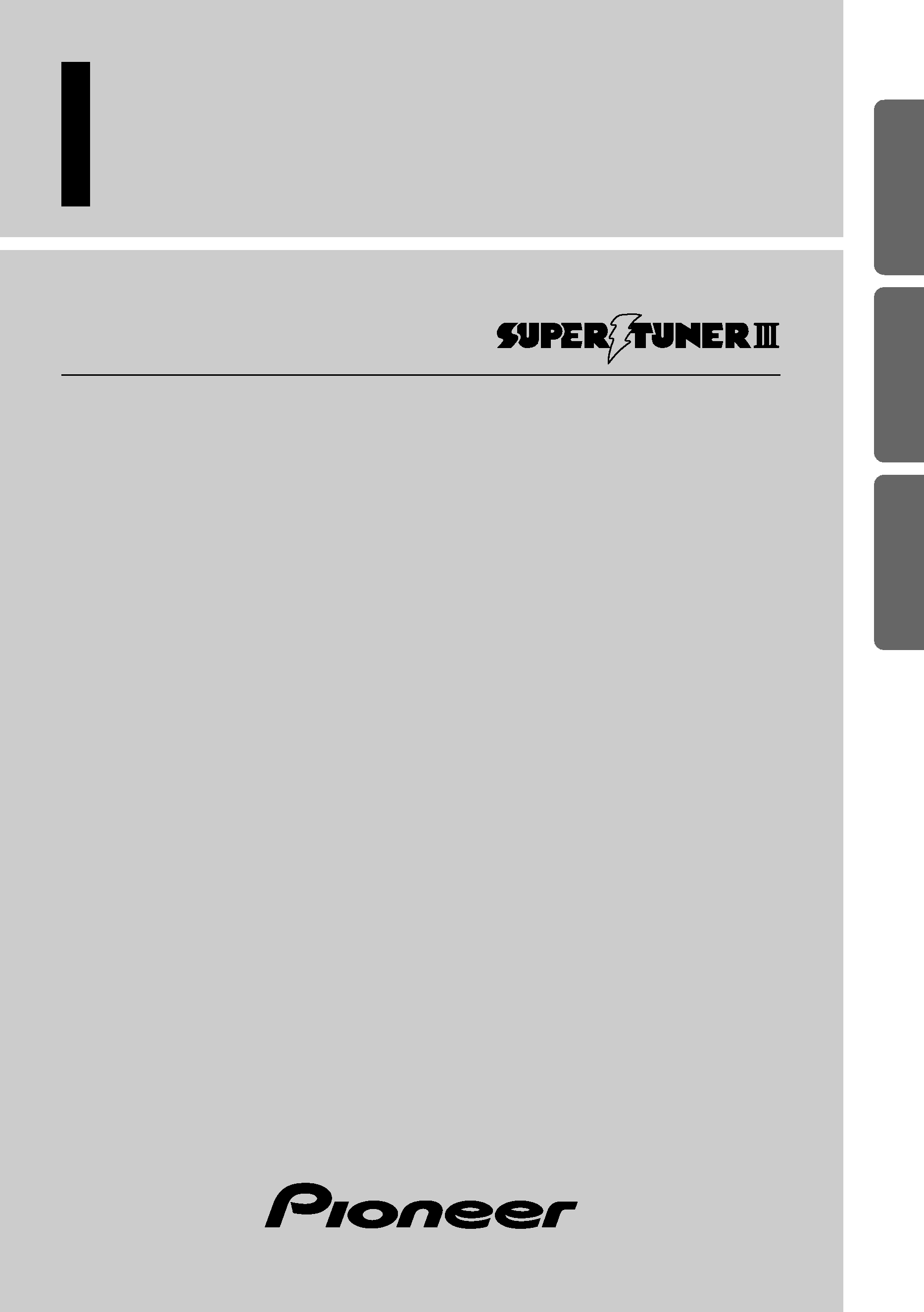 Multi-CD/DAB control High power cassette player
---

Key Finder .................................................... 3
Before Using This Product ...................... 4
About This Manual ............................................ 4
About the Demo Mode ...................................... 4
Precaution .......................................................... 5
When using the 50-Disc Type
Multi-CD Player ........................................ 5
Remote Controller and Care .................... 6
Using the Remote Controller ............................ 6
Batteries ............................................................ 6
Basic Operation ........................................ 7
To Listen to Music ............................................ 7
Basic Operation of Cassette Player .................. 9
Fast Forward/Rewind and Music Search
Basic Operation of Tuner ................................ 11
Basic Operation of Multi-CD Player .............. 12
Track Search and Fast Forward/Reverse
(for 6-Disc, 12-Disc types)
Corresponding Display Indications and
Buttons .................................................... 13
Entering the Function Menu ............................ 13
Function Menu Functions ................................ 14
Entering the Detailed Setting Menu ................ 15
Detailed Setting Menu Functions .................... 16
Tuner Operation ...................................... 17
Local Seek Tuning (LOCAL)
Best Stations Memory (BSM)
Using the Cassette Player ...................... 18
Using Multi-CD Players .......................... 20
ITS (Instant Track Selection) .......................... 22
Disc Title ........................................................ 24
Selecting Discs by Disc Title List
Compression and DBE (COMP) .................... 26
COMP/DBE ON/OFF Switching
CD TEXT Function (for CD TEXT
compatible type) ...................................... 27
---

Audio Adjustment .................................... 28
Selecting the Equalizer Curve ........................ 28
Entering the Audio Menu ................................ 28
Audio Menu Functions .................................... 29
Equalizer Curve Adjustment
Equalizer Curve Fine Adjustment
Loudness Adjustment (Loud)
Subwoofer Output (Sub-W1)
Subwoofer Setting Adjustment (Sub-W2)
Non Fading Output (NonFad)
Non Fading Output Level Adjustment
Front Image Enhancer Function (FIE)
Source Level Adjustment (SLA)
Detaching and Replacing the
Front Panel .......................................... 36
Theft Protection .............................................. 36
Detaching the Front Panel
Replacing the Front Panel
Initial Setting ............................................ 37
Entering the Initial Setting Menu .................... 37
Initial Setting Menu Functions ........................ 38
Setting the FM Tuning Step (FM)
Setting the AM Tuning Step (AM)
Setting the Warning Tone (WARN)
Switching the AUX Mode (AUX)
Selecting the Brightness (BRIGHT)
Setting the Rear Speaker Lead and
Subwoofer Controller (SW)
Switching the Muting or Handsfree
Switching the Telephone Standby (TEL 2)
Switching the Motion Screen (DISP)
DFS Alarm Function ................................ 43
Activating the DFS Alarm Feature
(ALARM) ................................................ 43
Setting Entry Delay Time (DELAY) .............. 43
Activating Internal Speaker ON/OFF (SP) ...... 44
Speaker Volume Output Adjustment
Selecting Door Switching Systems
(DOOR) .................................................... 45
Operation of "DFS Alarm" ............................ 46
Arming Alarm ................................................ 46
Disarming Alarm ............................................ 46
Entry Detection .............................................. 46
Other Functions ........................................ 47
Displaying the Time ........................................ 47
Switching the Entertainment Display .............. 47
Using the PGM Button (PGM) ........................ 48
Using the AUX Source .................................... 49
Using the Telephone Muting and Handsfree
Telephoning Function .............................. 50
Telephone Muting Function
Handsfree Telephoning Function
Cassette Player and Care ...................... 51
Precaution ........................................................ 51
About the Cassette Player
Cleaning the Head .......................................... 51
Specifications .......................................... 52
---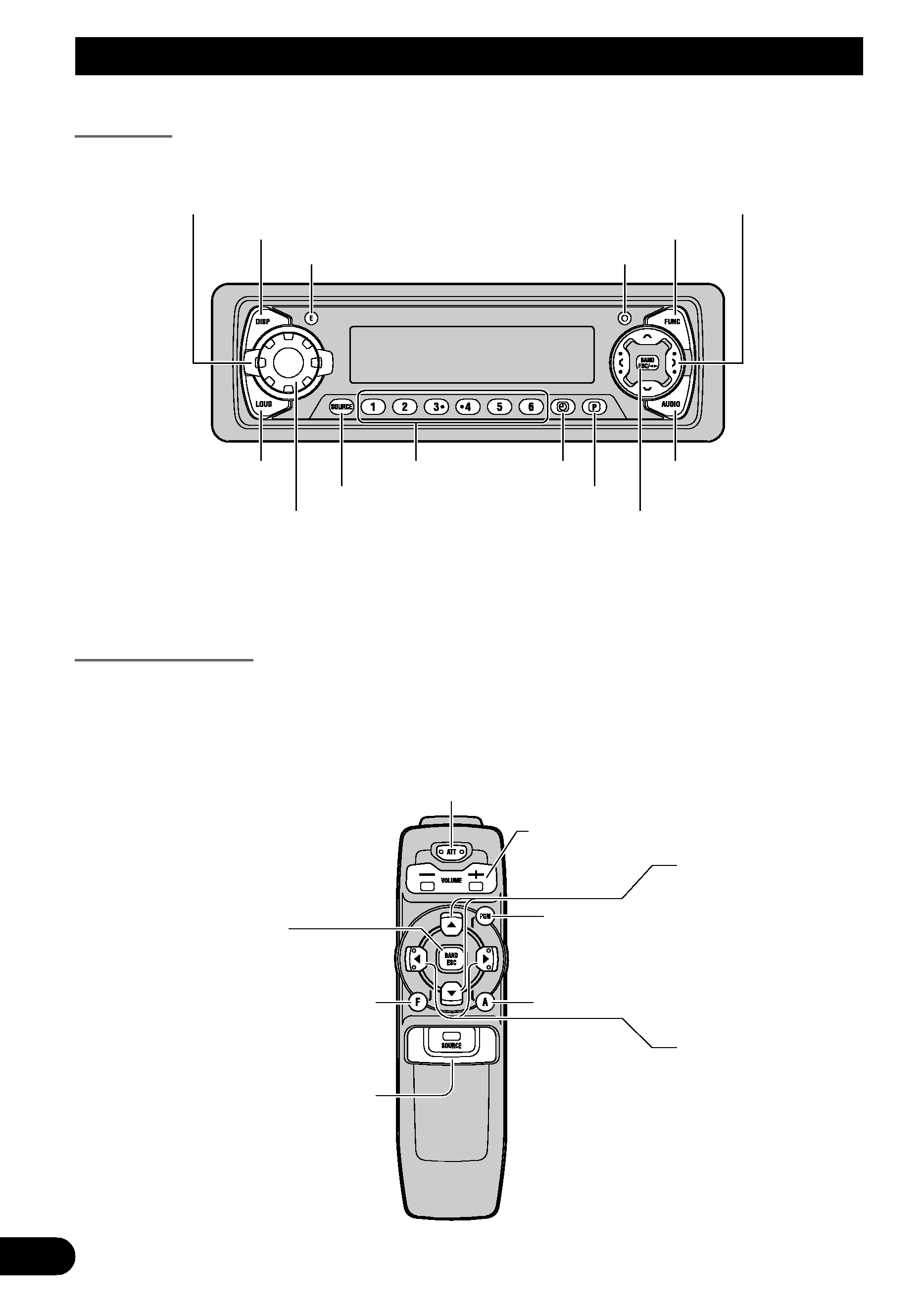 A remote controller that enables remote operation of the head unit is supplied. Operation is
the same as when using buttons on the head unit.
This lets you quickly lower volume level (by about 90%).
Press once more to return to the original volume level.
---

Before Using This Product
This product features a number of sophisticated functions ensuring superior reception and
operation. All are designed for the easiest possible use, but many are not self-explanatory.
This operation manual is intended to help you benefit fully from their potential and to
maximize your listening enjoyment.
We recommend that you familiarize yourself with the functions and their operation by
reading through the manual before you begin using this product. It is especially important
that you read and observe the "Precaution" on the next page and in other sections.
This manual explains head unit operation. You can perform the same operations with the
remote controller. The remote controller offers the convenience of ATT, a function not
provided on the head unit.
This product features two demonstration modes. One is the Reverse Demo mode, the other
is the Feature Demo mode.
If you do not perform an operation within about 30 seconds, screen indications start to
reverse, and then continue reversing every 10 seconds. Pressing button 5 when power to
this product is switched OFF while the ignition switch is set to ACC or ON cancels the
Reverse Demo mode. Pressing button 5 again to start the Reverse Mode.
The Feature Demo automatically starts when power to this product is switched OFF while
the ignition switch is set to ACC or ON. Pressing button 6 during Feature Demo operation
cancels the Feature Demo mode. Pressing button 6 again to start the Feature Mode.
Remember that if the Feature Demo continues operating when the car engine is switched
OFF, it may drain battery power.
· You cannot cancel a Demo mode when the front panel is open.
· The red lead (ACC) of this product should be connected to a terminal coupled with ignition switch
ON/OFF operations. If this is not done, the vehicle battery may be drained.
---