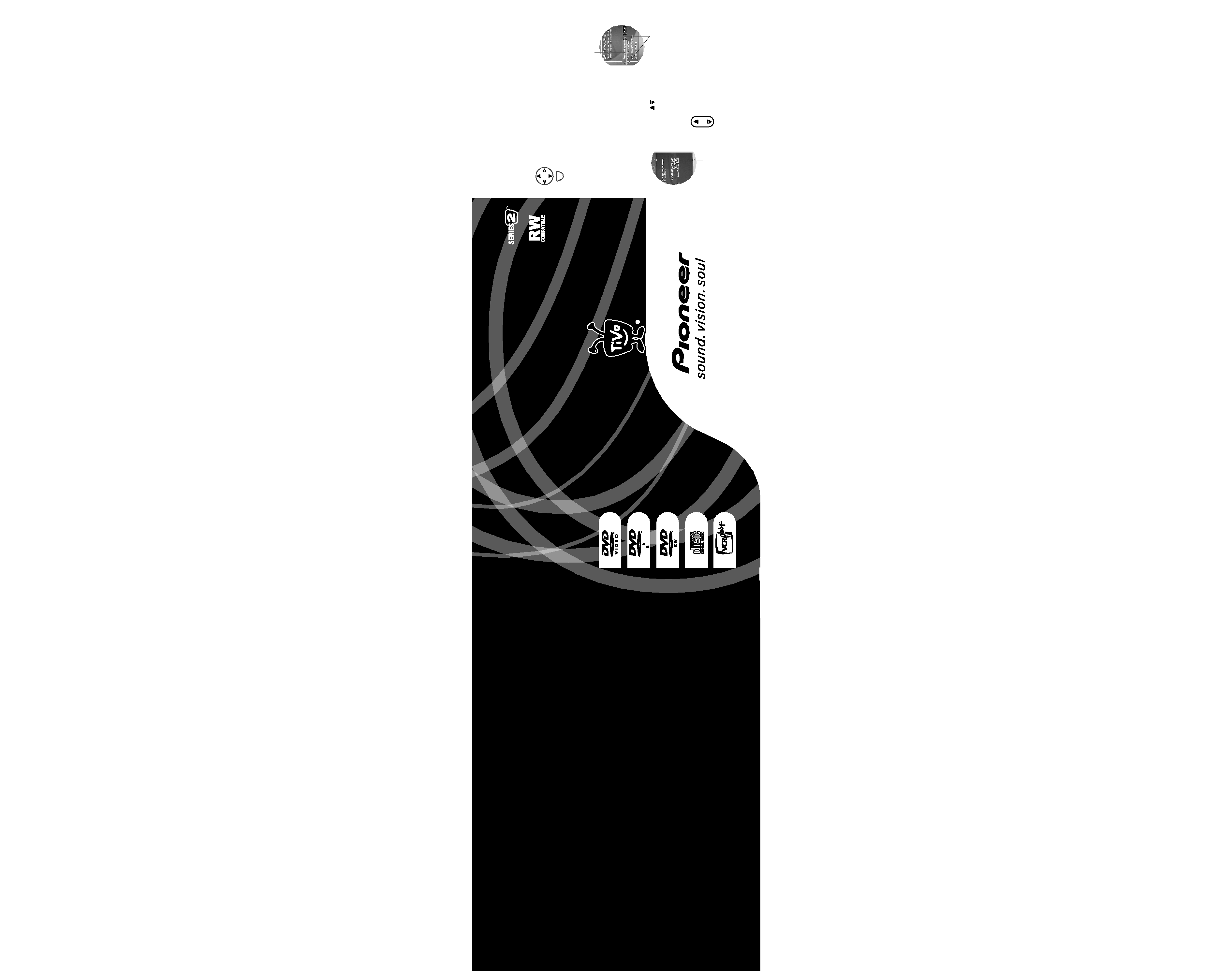 We are dedicated to providing you with quality support and customer service. If you
have questions or difficulties, we would like to hear from you.
Check the Troubleshooting section of this document and of the Installation Guide that came with
Should this Recorder require service in the U.S.A. and you wish to locate the nearest Pioneer Authorized
Independent Service Company, or if you wish to purchase replacement parts, operating instructions,
service manuals, or accessories, please call the number shown below.
Please do not ship your Recorder to Pioneer without first calling the Customer Support Division at the
above listed number for assistance.
Pioneer Electronics (USA) Inc.
Customer Support Division
P.O. BOX 1760, Long Beach
To upgrade to TiVo Plus
TM
service, visit www.tivo.com/upgrade. For questions about TiVo Plus service,
visit www.tivo.com/support.
4-1, Meguro 1-Chome, Meguro-ku, Tokyo 153-8654, Japan
PIONEER ELECTRONICS (USA) INC.
P.O. BOX 1540, Long Beach, California 90810-1540, U.S.A. TEL: (800) 421-1404
Register your Recorder at www.pioneerelectronics.com
You use the TiVo service by choosing items from simple
menus. To select an item, use the remote control's arrow
buttons to move the highlight bar onto the item you want,
The TiVo Menus and the Remote Control
The arrows that appear beside or near the highlight
bar show possible directions. For example: on this
screen, you could press the RIGHT arrow to highlight
Options or the DOWN arrow to highlight Get a
When you see page up or page
or bottom of a screen (or a list),
button to jump to more items
an entire page at a time.
---

---

© 2003 by TiVo Inc. and Pioneer Corporation. Reproduction in whole or in part without written permission is prohibited. All rights
reserved. Printed in Japan.
PIONEER is a registered trademark of Pioneer Corporation, 1-4-1, Meguro, Meguro-Ku, Tokyo 153-8654, Japan.
TiVo, the TiVo logo, Ipreview, TiVolution, the Jump logo, and TiVo Central are registered trademarks of TiVo Inc. Primetime Anytime;
"TiVo, TV your way"; Season Pass; WishList; Overtime Scheduler; Home Media Option; TiVo Basic; TiVo Plus;
the Series2 logo; the Instant Replay logo; the Thumbs Down logo and text; and the Thumbs Up logo and text are trademarks of
TiVo Inc., 2160 Gold Street, P.O. Box 2160, Alviso, CA 95002-2160.
VCR Plus+ and PlusCode are registered trademarks of Gemstar Development Corporation. The VCR Plus+ system is manufactured
under license from Gemstar Development Corporation.
"DTS" and "DTS Digital Out" are registered trademarks of Digital Theater Systems, Inc.
Manufactured under license from Dolby Laboratories.
"Dolby" and the double-D symbol are trademarks of Dolby Laboratories.
All other trademarks are the properties of their respective owners.
Pioneer takes no responsibility for recording failure due to power cuts, defective discs, or damage to the Recorder. Some content may not
be copied due to copy protection rights over the material.
Macrovision Copyright Protection
This product incorporates copyright protection technology that is protected by method claims of certain U.S. patents and other intellectual
property rights owned by Macrovision Corporation and other rights owners. Use of this copyright protection technology must be autho-
rized by Macrovision Corporation, and is intended for home and other limited viewing uses only unless otherwise authorized by Macro-
vision Corporation. Reverse engineering or disassembly is prohibited.
---

Congratulations on your purchase of your Pioneer DVD Recorder with TiVo
®
, and
welcome to the wonderful world of digital video recording with TiVo! The Recorder
seamlessly integrates a DVD recorder and a TiVo DVR. Right out of the box, it comes with
TiVo Basic
TM
service, so you can immediately enjoy the following benefits:
· No videotapes required. Because it's all-digital, TiVo saves your recorded programs
on a hard drive and lists them on-screen for instant playback.
· Control live TV. Pause, rewind, slow-motion, and instant replay any channel, anytime.
· Record from program guide. An on-screen interactive program guide includes detailed
program summaries, ratings, and more, and lets you schedule recordings on the spot.
· Play DVDs/CDs and record DVDs. Play DVDs/CDs just as you would expect, plus
create DVDs of programs you recorded with the TiVo service.
But TiVo Basic is just the beginning! You can also upgrade to TiVo Plus
TM
service and
enjoy benefits of smart, automatic-recording technology. TiVo Plus includes:
· Season Pass
TM
recordings. Automatically record every episode of your favorite
series, all season long, even if the schedule changes.
· Search by Title. Browse for shows by title, or by actor, director or keyword using
· More smart features. TiVo Plus skips reruns, tracks schedule changes, and more!
Not sure? For a limited time, you can try TiVo Plus service simply by accepting our free
once you get set up. You won't be charged a penny until you upgrade to TiVo Plus
service (either online at the TiVo web site or by calling TiVo direct).
Meanwhile, enjoy the ease and convenience of your Pioneer DVD Recorder with TiVo!
---

Using This Guide . . . . . . . . . . . . . . . . . . . . . . . . . . . . . . . . . . . . . . . . . . . . . . . . . . . . . . . . . . . . . . . . . . . . . . . . . . . . vi
Chapter 1: Guided Setup . . . . . . . . . . . . . . . . . . . . . . . . . . . . . . . . . . . . . . . . . . . . . . . . . . . . . . . . . . . . . . . . . .1
TiVo Basic . . . . . . . . . . . . . . . . . . . . . . . . . . . . . . . . . . . . . . . . . . . . . . . . . . . . . . . . . . . . . . . . . . . . . . . . . . . . . . . . . . 2
Completing Guided Setup . . . . . . . . . . . . . . . . . . . . . . . . . . . . . . . . . . . . . . . . . . . . . . . . . . . . . . . . . . . . . . . . . . . . . . 3
Chapter 2: The Basics in 5 Short Tours . . . . . . . . . . . . . . . . . . . . . . . . . . . . . . . . . . . . . . . . . . . . . . . . . . . . . . 9
Tour One: Play with Live TV . . . . . . . . . . . . . . . . . . . . . . . . . . . . . . . . . . . . . . . . . . . . . . . . . . . . . . . . . . . . . . . . . . 10
Tour Two: Find and Record Programs . . . . . . . . . . . . . . . . . . . . . . . . . . . . . . . . . . . . . . . . . . . . . . . . . . . . . . . . . . . 12
Tour Three: Now Playing and Copy* To DVD . . . . . . . . . . . . . . . . . . . . . . . . . . . . . . . . . . . . . . . . . . . . . . . . . . . . . 14
Tour Four: Playing a DVD or CD . . . . . . . . . . . . . . . . . . . . . . . . . . . . . . . . . . . . . . . . . . . . . . . . . . . . . . . . . . . . . . . 16
Tour Five: Finding New Programs . . . . . . . . . . . . . . . . . . . . . . . . . . . . . . . . . . . . . . . . . . . . . . . . . . . . . . . . . . . . . . 18
Cool Things You Can Do . . . . . . . . . . . . . . . . . . . . . . . . . . . . . . . . . . . . . . . . . . . . . . . . . . . . . . . . . . . . . . . . . . . . . 19
Chapter 3: Playing and Recording Programs . . . . . . . . . . . . . . . . . . . . . . . . . . . . . . . . . . . . . . . . . . . . . . . . .21
TiVo Central . . . . . . . . . . . . . . . . . . . . . . . . . . . . . . . . . . . . . . . . . . . . . . . . . . . . . . . . . . . . . . . . . . . . . . . . . . . . . . . 22
Recording Programs . . . . . . . . . . . . . . . . . . . . . . . . . . . . . . . . . . . . . . . . . . . . . . . . . . . . . . . . . . . . . . . . . . . . . . . . . . 23
To Do List . . . . . . . . . . . . . . . . . . . . . . . . . . . . . . . . . . . . . . . . . . . . . . . . . . . . . . . . . . . . . . . . . . . . . . . . . . . . . . . . . 28
Watching Programs in Now Playing . . . . . . . . . . . . . . . . . . . . . . . . . . . . . . . . . . . . . . . . . . . . . . . . . . . . . . . . . . . . . 29
Chapter 4: Playing DVDs and CDs . . . . . . . . . . . . . . . . . . . . . . . . . . . . . . . . . . . . . . . . . . . . . . . . . . . . . . . . . .31
Compatibility and Copy Protected Material . . . . . . . . . . . . . . . . . . . . . . . . . . . . . . . . . . . . . . . . . . . . . . . . . . . . . . . 32
Playing a DVD or CD . . . . . . . . . . . . . . . . . . . . . . . . . . . . . . . . . . . . . . . . . . . . . . . . . . . . . . . . . . . . . . . . . . . . . . . . 36
Recording a DVD . . . . . . . . . . . . . . . . . . . . . . . . . . . . . . . . . . . . . . . . . . . . . . . . . . . . . . . . . . . . . . . . . . . . . . . . . . . 42
Disc Care . . . . . . . . . . . . . . . . . . . . . . . . . . . . . . . . . . . . . . . . . . . . . . . . . . . . . . . . . . . . . . . . . . . . . . . . . . . . . . . . . . 45
---