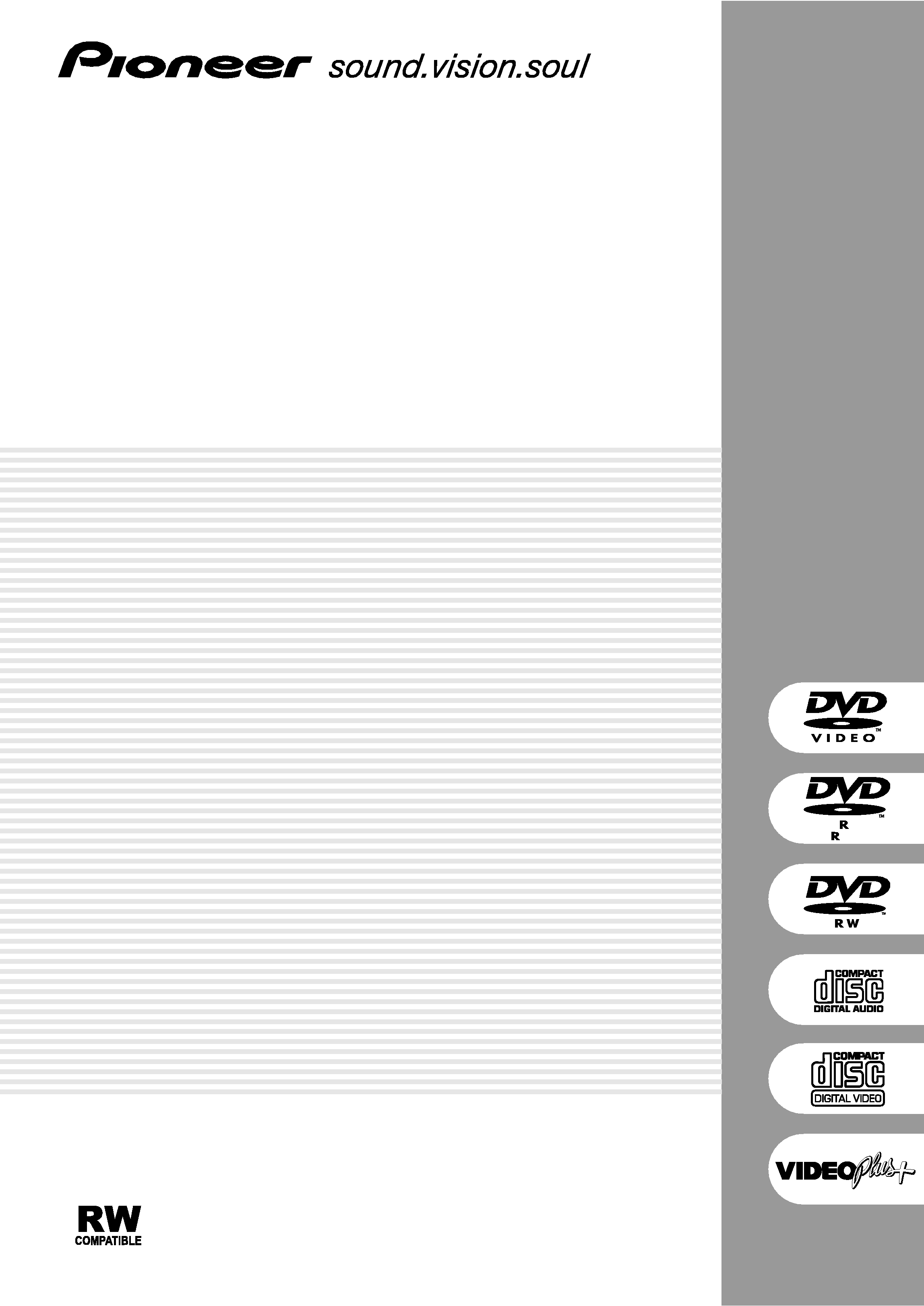 ---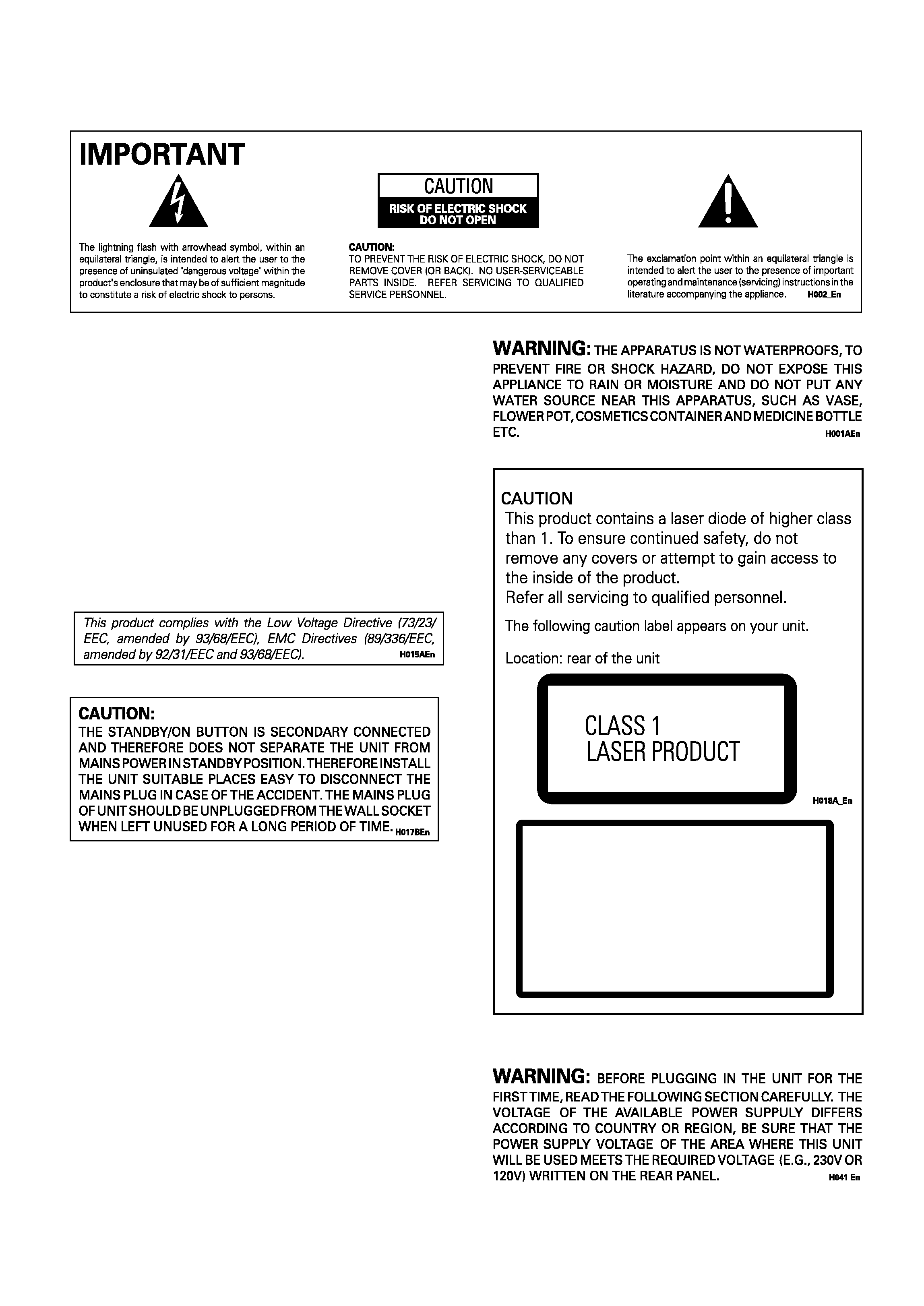 VISIBLE AND INVISIBLE LASER RADIATION WHEN OPEN.
AVOID DIRECT EXPOSURE TO BEAM.
SICHTBARE UND UNSICHTBARE LASERSTRAHLUNG, WENN
OFFEN. SETZEN SIE SICH NICHT DEM LASERSTRAHL AUS.
SYNLIG OG USYNLIG LASERSTRÅLING HVIS ÅBEN
UNDGÅ DIREKTE EKSPONERING FOR STRÅLEN.
SYNLIG OCH OSYNLIG LASERSTRÅLNING NÄR APPARATEN ÄR
ÖPPEN. UNDVIK ATT UTSÄTTA DIG FÖR DIREKT STRÅLNING.
NÄKYVÄ JA NÄKYMÄTTÖN LASERSÄTEILY KUN AVAAT LAITTEEN.
VÄLTÄ SUORAA KOSKETUSTA SÄTEEN.
PRÉSENCE DE RAYONNEMENT LASER VISIBLE ET INVISIBLE
APRÈS OUVERTURE. ÉVITEZ TOUTE EXPOSITION DIRECTE AU
VENTILATION:
When installing this unit, make
sure to leave space around the unit for ventilation to
improve heat radiation (at least 10cm at top, 10cm at
rear, and 10cm at each side).
WARNING:
Slot and openings in the cabinet are
provided for ventilation and to ensure reliable opera-
tion of the product and to protect it from overheating, to
prevent fire hazard, the openings should never be
blocked and covered with items, such as newspapers,
table-cloths, curtains, etc. Also do not put the apparatus
on the thick carpet, bed, sofa, or fabric having a thick
Thank you for buying this Pioneer product.
Please read through these operating instruc-
tions so you will know how to operate your
model properly. After you have finished
reading the instructions, put them away in a
safe place for future reference.
In some countries or regions, the shape of the
power plug and power outlet may sometimes
differ from that shown in the explanatory
drawings. However, the method of connecting
and operating the unit is the same.
---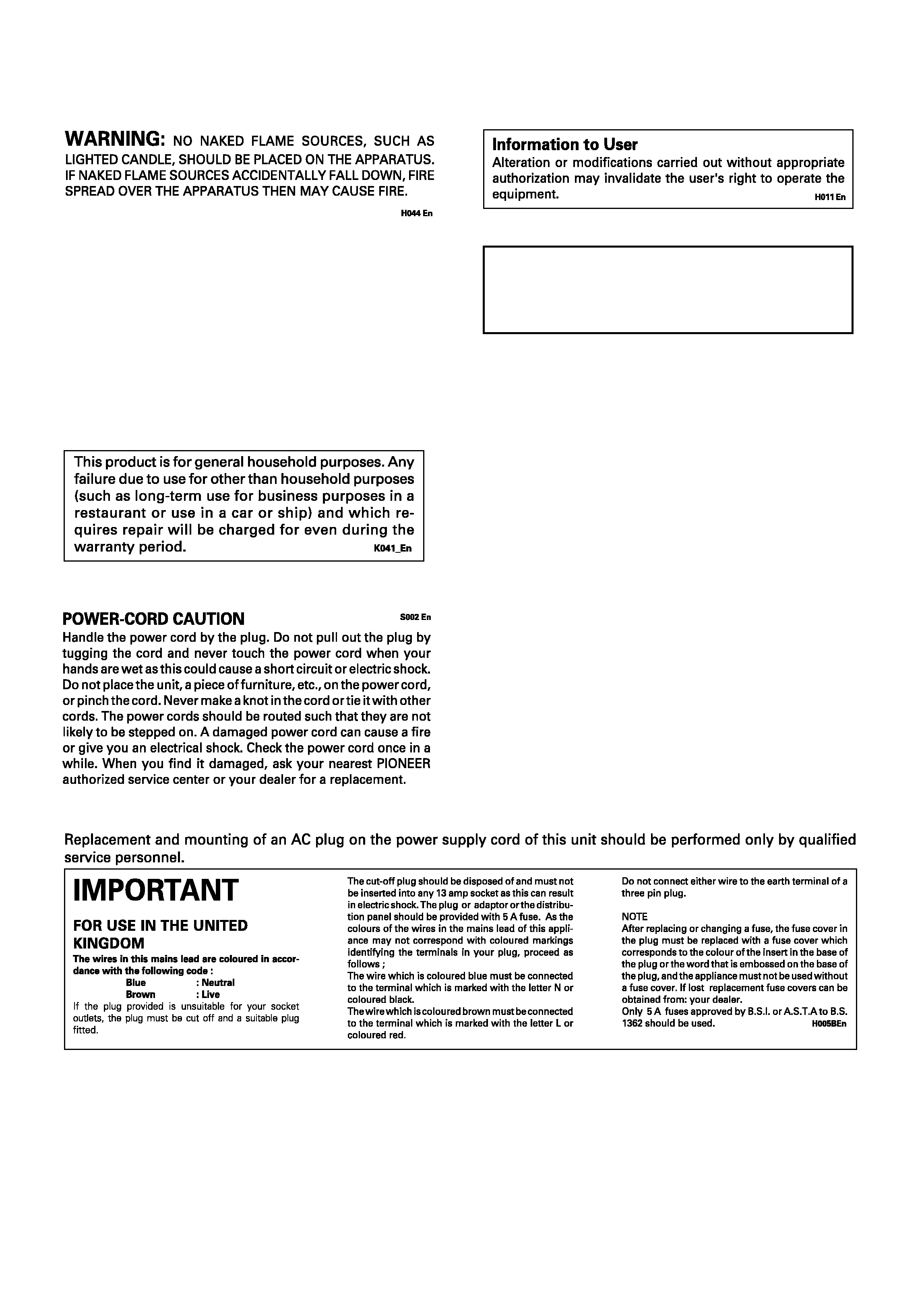 This product includes FontAvenue (R) fonts licenced by NEC
Corporation. FontAvenue is a registered trademark of NEC
Operating Environment
H045 En
Operating environment temperature and humidity:
°
C ­ +35
°
C (+41
°
F ­ +95
°
F); less than 85%RH (cooling
Do not install in the following locations
Location exposed to direct sunlight or strong artificial
Location exposed to high humidity, or poorly
---

Features . . . . . . . . . . . . . . . . . . . . . . . . . . . . . . . . . . . . . . 6
What's in the box . . . . . . . . . . . . . . . . . . . . . . . . . . . . . . 8
Putting the batteries in the remote control . . . . . . . . . . . . 8
Using the remote control . . . . . . . . . . . . . . . . . . . . . . . . . . . 8
Important information before you start . . . . . . . . . . . . . 9
How are DVD-R and DVD-RW discs different? . . . . . . . . . 9
Can I play my recordable discs in a regular DVD player? . . . . 9
What are `recording modes'? . . . . . . . . . . . . . . . . . . . . . . . . 9
Is editing a DVD like editing a video tape? . . . . . . . . . . . . . 9
On-screen icons . . . . . . . . . . . . . . . . . . . . . . . . . . . . . . . . . 10
Recordable discs . . . . . . . . . . . . . . . . . . . . . . . . . . . . . . . . . 10
Playback-only discs . . . . . . . . . . . . . . . . . . . . . . . . . . . . . . . 10
Titles, chapters and tracks . . . . . . . . . . . . . . . . . . . . . . . . . 10
DVD-Video regions . . . . . . . . . . . . . . . . . . . . . . . . . . . . . . . 10
DVD disc box information . . . . . . . . . . . . . . . . . . . . . . . . . 11
Rear panel connections . . . . . . . . . . . . . . . . . . . . . . . . . 12
Front panel connections . . . . . . . . . . . . . . . . . . . . . . . . 13
Extra features for use with compatible TVs . . . . . . . . . . 13
Direct TV recording . . . . . . . . . . . . . . . . . . . . . . . . . . . . . . 13
Channel preset download . . . . . . . . . . . . . . . . . . . . . . . . . 13
EPG download . . . . . . . . . . . . . . . . . . . . . . . . . . . . . . . . . . . 13
TV auto power on . . . . . . . . . . . . . . . . . . . . . . . . . . . . . . . . 13
Easy connections . . . . . . . . . . . . . . . . . . . . . . . . . . . . . . 14
Using other types of audio/video output . . . . . . . . . . . . 15
Connecting using ordinary AV cables . . . . . . . . . . . . . . . . 15
Connecting using the S-Video output . . . . . . . . . . . . . . . 15
Connecting using the component video output . . . . . . . 15
Connecting to a cable box or satellite receiver . . . . . . . 16
Connecting an external decoder box . . . . . . . . . . . . . . 17
Connecting to an AV amplifier . . . . . . . . . . . . . . . . . . . 18
Connecting other AV sources . . . . . . . . . . . . . . . . . . . . 19
Connecting a VCR or analog camcorder . . . . . . . . . . . . . 19
Connecting DV equipment . . . . . . . . . . . . . . . . . . . . . . . . . 19
Plugging in . . . . . . . . . . . . . . . . . . . . . . . . . . . . . . . . . . 19
Front panel . . . . . . . . . . . . . . . . . . . . . . . . . . . . . . . . . . 20
Display . . . . . . . . . . . . . . . . . . . . . . . . . . . . . . . . . . . . . 21
Remote control . . . . . . . . . . . . . . . . . . . . . . . . . . . . . . . 22
Switching on . . . . . . . . . . . . . . . . . . . . . . . . . . . . . . . . . 24
Using the on-screen displays . . . . . . . . . . . . . . . . . . . . . 24
Setting up: Auto-tuning channels . . . . . . . . . . . . . . . . . 24
Downloading channels from your TV . . . . . . . . . . . . . . 25
Setting up: Channel skip, manual tuning and naming
stations . . . . . . . . . . . . . . . . . . . . . . . . . . . . . . . . . . 26
Swapping station presets . . . . . . . . . . . . . . . . . . . . . . . 27
Setting up: Assigning guide channels for VIDEO Plus+®
programming system . . . . . . . . . . . . . . . . . . . . . . . . 28
Setting up: Setting the clock . . . . . . . . . . . . . . . . . . . . . 28
Auto clock setting . . . . . . . . . . . . . . . . . . . . . . . . . . . . . . . . 28
Manual clock setting . . . . . . . . . . . . . . . . . . . . . . . . . . . . . . 29
Setting up: TV aspect ratio . . . . . . . . . . . . . . . . . . . . . . 30
Setting up: Digital audio output . . . . . . . . . . . . . . . . . . 31
Other settings you can make . . . . . . . . . . . . . . . . . . . . 32
Setting up the remote to control your TV . . . . . . . . . . . 32
Using the built-in TV tuner . . . . . . . . . . . . . . . . . . . . . . 33
Changing TV channels . . . . . . . . . . . . . . . . . . . . . . . . . . . . 33
Changing audio channels . . . . . . . . . . . . . . . . . . . . . . . . . . 34
Playing discs . . . . . . . . . . . . . . . . . . . . . . . . . . . . . . . . . 34
Basic playback controls . . . . . . . . . . . . . . . . . . . . . . . . . . . 35
Using DVD-Video disc menus . . . . . . . . . . . . . . . . . . . . . . 36
Using Video CD PBC menus . . . . . . . . . . . . . . . . . . . . . . . 36
Navigating discs . . . . . . . . . . . . . . . . . . . . . . . . . . . . . . 37
Using the remote control . . . . . . . . . . . . . . . . . . . . . . . . . . 37
Using the front panel controls . . . . . . . . . . . . . . . . . . . . . . 37
Scanning discs . . . . . . . . . . . . . . . . . . . . . . . . . . . . . . . . 38
Playing in slow motion . . . . . . . . . . . . . . . . . . . . . . . . . 38
Frame advance/frame reverse . . . . . . . . . . . . . . . . . . . . 39
Using the remote control . . . . . . . . . . . . . . . . . . . . . . . . . . 39
Using the front panel controls . . . . . . . . . . . . . . . . . . . . . . 39
About DVD recording . . . . . . . . . . . . . . . . . . . . . . . . . . 40
Disc types and recording formats, modes and settings . . 40
Recording in VR mode . . . . . . . . . . . . . . . . . . . . . . . . . . . . 40
Recording in Video mode . . . . . . . . . . . . . . . . . . . . . . . . . . 41
Recording TV audio channels . . . . . . . . . . . . . . . . . . . . . . 42
Restrictions on video recording . . . . . . . . . . . . . . . . . . . . . 42
What is `CPRM'? . . . . . . . . . . . . . . . . . . . . . . . . . . . . . . . . . 42
Recording equipment and copyright . . . . . . . . . . . . . . . . . 42
Initializing a disc . . . . . . . . . . . . . . . . . . . . . . . . . . . . . . 43
Setting up for VR mode recording . . . . . . . . . . . . . . . . 43
Setting up for Video mode recording . . . . . . . . . . . . . . 44
Setting the recording mode from the front panel . . . . 44
Adjusting the audio recording level . . . . . . . . . . . . . . . 44
Basic recording from the TV . . . . . . . . . . . . . . . . . . . . . 45
One touch recording . . . . . . . . . . . . . . . . . . . . . . . . . . . 46
Playing your recordings on other DVD players . . . . . . . 46
Finalizing a disc . . . . . . . . . . . . . . . . . . . . . . . . . . . . . . . . . . 46
Displaying disc information on-screen . . . . . . . . . . . . . 47
Introduction . . . . . . . . . . . . . . . . . . . . . . . . . . . . . . . . . 50
Finding what you want on a disc . . . . . . . . . . . . . . . . . . 50
Switching subtitles . . . . . . . . . . . . . . . . . . . . . . . . . . . . 51
Switching audio soundtrack . . . . . . . . . . . . . . . . . . . . . 51
Switching audio channel . . . . . . . . . . . . . . . . . . . . . . . . 52
Switching camera angles . . . . . . . . . . . . . . . . . . . . . . . . 52
Using repeat play . . . . . . . . . . . . . . . . . . . . . . . . . . . . . 53
Looping a section of a disc . . . . . . . . . . . . . . . . . . . . . . . . 53
Making a program list . . . . . . . . . . . . . . . . . . . . . . . . . . 54
Introduction . . . . . . . . . . . . . . . . . . . . . . . . . . . . . . . . . 56
Standard timer recording . . . . . . . . . . . . . . . . . . . . . . . 56
Checking timer recording details . . . . . . . . . . . . . . . . . . . . 58
Canceling a timer recording . . . . . . . . . . . . . . . . . . . . . . . . 58
Stopping a timer recording in progress . . . . . . . . . . . . . . 59
Extending a timer recording in progress . . . . . . . . . . . . . . 59
Timer recording troubleshooting . . . . . . . . . . . . . . . . . 59
Automatic timer recording using the VIDEO Plus+®
programming system . . . . . . . . . . . . . . . . . . . . . . . . 60
VIDEO Plus+ programming with the power off . . . . . . . . 61
Disc timer recording . . . . . . . . . . . . . . . . . . . . . . . . . . . 62
Setting up the disc for disc timer recording . . . . . . . . . . . 62
Programming a disc timer recording . . . . . . . . . . . . . . . . . 62
Using a disc with disc timer recording programs . . . . . . . 63
Child lock . . . . . . . . . . . . . . . . . . . . . . . . . . . . . . . . . . . 63
Recording from an External Input
Recording from an external component . . . . . . . . . . . . 64
Automatic recording from a satellite tuner . . . . . . . . . . 64
---

Recording from a DV camcorder/deck. . . . . . . . . . . . . . . 65
Recording from the DV output . . . . . . . . . . . . . . . . . . . 66
What is DV? . . . . . . . . . . . . . . . . . . . . . . . . . . . . . . . . . . 67
DV-related messages . . . . . . . . . . . . . . . . . . . . . . . . . . . . . . 67
Troubleshooting . . . . . . . . . . . . . . . . . . . . . . . . . . . . . . . . . 67
Editing Using the Discnavi
Original and Playlist editing . . . . . . . . . . . . . . . . . . . . . 68
Titles, chapters and parts . . . . . . . . . . . . . . . . . . . . . . . . . . 68
Adding chapter markers . . . . . . . . . . . . . . . . . . . . . . . . . . . 68
Using the Discnavi . . . . . . . . . . . . . . . . . . . . . . . . . . . . . 69
Changing the Discnavi title thumbnail . . . . . . . . . . . . . . . 69
Playing a chapter or title . . . . . . . . . . . . . . . . . . . . . . . . . . 70
Naming a title . . . . . . . . . . . . . . . . . . . . . . . . . . . . . . . . . . . 70
Making a new Playlist title . . . . . . . . . . . . . . . . . . . . . . . . . 71
Adding a part to the Playlist . . . . . . . . . . . . . . . . . . . . . . . 72
Erasing a part from the Original or Playlist . . . . . . . . . . . . 73
Erasing an Original or Playlist title/chapter . . . . . . . . . . . 74
Erasing all Original titles . . . . . . . . . . . . . . . . . . . . . . . . . . . 74
Moving a Playlist chapter or title . . . . . . . . . . . . . . . . . . . . 75
Protecting/unprotecting an Original title . . . . . . . . . . . . . 75
Copying a Playlist title . . . . . . . . . . . . . . . . . . . . . . . . . . . . 76
Combining two chapters into one . . . . . . . . . . . . . . . . . . . 76
Undoing the last edit . . . . . . . . . . . . . . . . . . . . . . . . . . 77
Using the Title List Screen
What you can do from the Title List menu . . . . . . . . . . 78
Playing a title . . . . . . . . . . . . . . . . . . . . . . . . . . . . . . . . . . . . 78
Naming a title . . . . . . . . . . . . . . . . . . . . . . . . . . . . . . . . . . . 78
Erasing a Title . . . . . . . . . . . . . . . . . . . . . . . . . . . . . . . . . . . 79
10 The Initial Setup Menu
Using the Initial Setup menu . . . . . . . . . . . . . . . . . . . . . 80
Basic settings . . . . . . . . . . . . . . . . . . . . . . . . . . . . . . . . . 80
Clock Setting . . . . . . . . . . . . . . . . . . . . . . . . . . . . . . . . . . . . 80
Optimized Rec . . . . . . . . . . . . . . . . . . . . . . . . . . . . . . . . . . . 80
Direct TV Recording . . . . . . . . . . . . . . . . . . . . . . . . . . . . . . 81
Power Save . . . . . . . . . . . . . . . . . . . . . . . . . . . . . . . . . . . . . . 81
Tuner settings . . . . . . . . . . . . . . . . . . . . . . . . . . . . . . . . 81
Auto Channel Setting . . . . . . . . . . . . . . . . . . . . . . . . . . . . . 81
Manual CH Setting . . . . . . . . . . . . . . . . . . . . . . . . . . . . . . . 81
Channel Swapping . . . . . . . . . . . . . . . . . . . . . . . . . . . . . . . 81
VIDEO Plus+ CH Setting . . . . . . . . . . . . . . . . . . . . . . . . . . 81
Video settings . . . . . . . . . . . . . . . . . . . . . . . . . . . . . . . . 82
TV Screen Size . . . . . . . . . . . . . . . . . . . . . . . . . . . . . . . . . . . 82
Screen Size for Rec . . . . . . . . . . . . . . . . . . . . . . . . . . . . . . . 82
Still Picture . . . . . . . . . . . . . . . . . . . . . . . . . . . . . . . . . . . . . 82
Video In / Out settings . . . . . . . . . . . . . . . . . . . . . . . . . 82
Component Video . . . . . . . . . . . . . . . . . . . . . . . . . . . . . . . . 82
AV1 Out . . . . . . . . . . . . . . . . . . . . . . . . . . . . . . . . . . . . . . . . 83
AV2/L1 Out . . . . . . . . . . . . . . . . . . . . . . . . . . . . . . . . . . . . 83
AV2/L1 In . . . . . . . . . . . . . . . . . . . . . . . . . . . . . . . . . . . . . . 83
NTSC on PAL TV . . . . . . . . . . . . . . . . . . . . . . . . . . . . . . . . . 84
DV Link. . . . . . . . . . . . . . . . . . . . . . . . . . . . . . . . . . . . . . . . . 84
Audio In settings . . . . . . . . . . . . . . . . . . . . . . . . . . . . . . 84
Tuner Audio . . . . . . . . . . . . . . . . . . . . . . . . . . . . . . . . . . . . . 84
External Audio . . . . . . . . . . . . . . . . . . . . . . . . . . . . . . . . . . . 84
Bilingual Recording . . . . . . . . . . . . . . . . . . . . . . . . . . . . . . . 84
DV Input . . . . . . . . . . . . . . . . . . . . . . . . . . . . . . . . . . . . . . . . 85
Tuner Audio Level . . . . . . . . . . . . . . . . . . . . . . . . . . . . . . . . 85
Audio Out settings . . . . . . . . . . . . . . . . . . . . . . . . . . . . 85
Digital Out . . . . . . . . . . . . . . . . . . . . . . . . . . . . . . . . . . . . . . 85
Dolby Digital Out . . . . . . . . . . . . . . . . . . . . . . . . . . . . . . . . 85
DTS Out . . . . . . . . . . . . . . . . . . . . . . . . . . . . . . . . . . . . . . . . 85
96kHz PCM Out . . . . . . . . . . . . . . . . . . . . . . . . . . . . . . . . . 85
MPEG Out . . . . . . . . . . . . . . . . . . . . . . . . . . . . . . . . . . . . . . 86
Audio DRC . . . . . . . . . . . . . . . . . . . . . . . . . . . . . . . . . . . . . . 86
Language settings . . . . . . . . . . . . . . . . . . . . . . . . . . . . . 86
OSD Language . . . . . . . . . . . . . . . . . . . . . . . . . . . . . . . . . . 86
Audio Language . . . . . . . . . . . . . . . . . . . . . . . . . . . . . . . . . . 86
Subtitle Language . . . . . . . . . . . . . . . . . . . . . . . . . . . . . . . . 86
Auto Language . . . . . . . . . . . . . . . . . . . . . . . . . . . . . . . . . . 87
DVD Menu Language . . . . . . . . . . . . . . . . . . . . . . . . . . . . . 87
Subtitle Display . . . . . . . . . . . . . . . . . . . . . . . . . . . . . . . . . . 87
Subtitle Off . . . . . . . . . . . . . . . . . . . . . . . . . . . . . . . . . . . . . 88
Selecting `Other' languages . . . . . . . . . . . . . . . . . . . . . . . . 88
Advanced settings . . . . . . . . . . . . . . . . . . . . . . . . . . . . . 88
Parental Lock. . . . . . . . . . . . . . . . . . . . . . . . . . . . . . . . . . . . 88
Registering a new password and setting/changing the
parental lock level . . . . . . . . . . . . . . . . . . . . . . . . . . . . . . . . 88
Changing your password . . . . . . . . . . . . . . . . . . . . . . . . . . 89
On Screen Display . . . . . . . . . . . . . . . . . . . . . . . . . . . . . . . 90
Angle Indicator . . . . . . . . . . . . . . . . . . . . . . . . . . . . . . . . . . 90
Frame Search . . . . . . . . . . . . . . . . . . . . . . . . . . . . . . . . . . . . 90
Navi Mark. . . . . . . . . . . . . . . . . . . . . . . . . . . . . . . . . . . . . . . 90
Start Rec on DVD-R . . . . . . . . . . . . . . . . . . . . . . . . . . . . . . 90
Chapter Interval . . . . . . . . . . . . . . . . . . . . . . . . . . . . . . . . . 91
Remote Control Set . . . . . . . . . . . . . . . . . . . . . . . . . . . . . . 91
Using the Disc Setup menu . . . . . . . . . . . . . . . . . . . . . . 92
Basic settings . . . . . . . . . . . . . . . . . . . . . . . . . . . . . . . . . 92
Disc Timer Recording . . . . . . . . . . . . . . . . . . . . . . . . . . . . . 92
Input Disc Name . . . . . . . . . . . . . . . . . . . . . . . . . . . . . . . . . 92
Protect Disc . . . . . . . . . . . . . . . . . . . . . . . . . . . . . . . . . 92
Initialize settings . . . . . . . . . . . . . . . . . . . . . . . . . . . . . . 93
VR Mode . . . . . . . . . . . . . . . . . . . . . . . . . . . . . . . . . . . . . . . 93
Video Mode . . . . . . . . . . . . . . . . . . . . . . . . . . . . . . . . . . . . . 93
Finalize settings . . . . . . . . . . . . . . . . . . . . . . . . . . . . . . . 93
Finalize . . . . . . . . . . . . . . . . . . . . . . . . . . . . . . . . . . . . . . . . . 93
Undo Finalize . . . . . . . . . . . . . . . . . . . . . . . . . . . . . . . . . . . . 93
Using the Video Adjust menu . . . . . . . . . . . . . . . . . . . . 94
Setting the picture quality for TV and external inputs . . . 94
Choosing a preset . . . . . . . . . . . . . . . . . . . . . . . . . . . . . . . . 94
Creating your own set . . . . . . . . . . . . . . . . . . . . . . . . . . . . 95
Setting the noise reduction for recording . . . . . . . . . . . 95
Setting the input colour system . . . . . . . . . . . . . . . . . . 96
Setting the picture quality for disc playback . . . . . . . . 97
Choosing a preset . . . . . . . . . . . . . . . . . . . . . . . . . . . . . . . . 97
Creating your own set . . . . . . . . . . . . . . . . . . . . . . . . . . . . 97
13 Additional Information
On-screen displays and recorder displays . . . . . . . . . . . 98
Handling discs . . . . . . . . . . . . . . . . . . . . . . . . . . . . . . . . 99
Storing discs . . . . . . . . . . . . . . . . . . . . . . . . . . . . . . . . . 99
Discs to avoid . . . . . . . . . . . . . . . . . . . . . . . . . . . . . . . . 99
Cleaning the pickup lens . . . . . . . . . . . . . . . . . . . . . . . . 99
Problems with condensation . . . . . . . . . . . . . . . . . . . . . 99
Hints on installation . . . . . . . . . . . . . . . . . . . . . . . . . . 100
Moving the recorder . . . . . . . . . . . . . . . . . . . . . . . . . . 100
Glossary . . . . . . . . . . . . . . . . . . . . . . . . . . . . . . . . . . . 100
Language code list . . . . . . . . . . . . . . . . . . . . . . . . . . . . 104
Screen sizes and disc formats . . . . . . . . . . . . . . . . . . . 105
Specifications . . . . . . . . . . . . . . . . . . . . . . . . . . . . . . . 106
Resetting the recorder . . . . . . . . . . . . . . . . . . . . . . . . 108
---