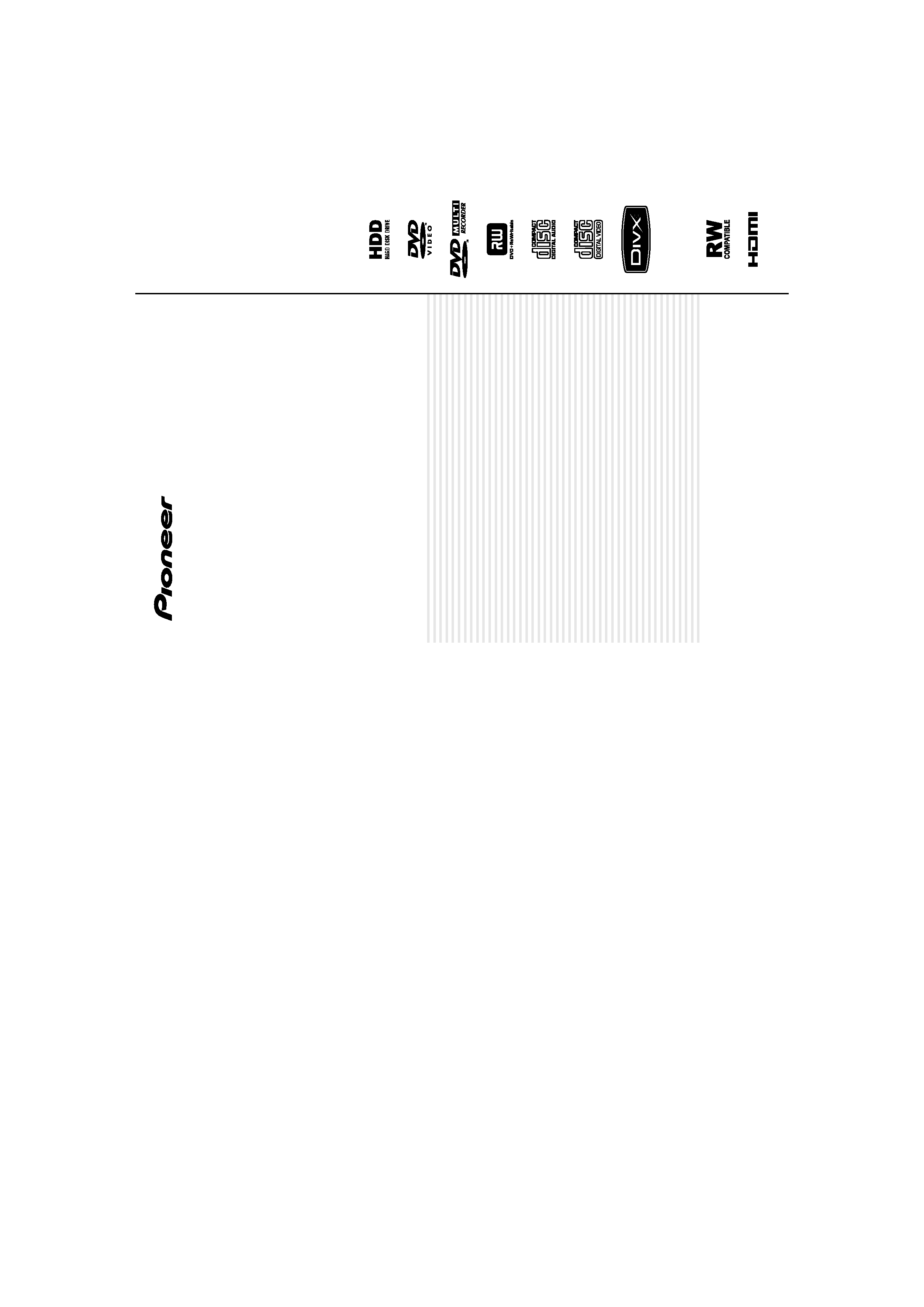 4-1, Meguro 1-Chome, Meguro-ku, Tokyo 153-8654, Japan
PIONEER ELECTRONICS (USA) INC.
P.O. BOX 1540, Long Beach, California 90801-1540, U.S.A. TEL: (800) 421-1404
PIONEER ELECTRONICS OF CANADA, INC.
300 Allstate Parkway, Markham, Ontario L3R 0P2, Canada TEL: 1-877-283-5901, 905-479-4411
Haven 1087, Keetberglaan 1, B-9120 Melsele, Belgium TEL: 03/570.05.11
PIONEER ELECTRONICS ASIACENTRE PTE. LTD.
253 Alexandra Road, #04-01, Singapore 159936 TEL: 65-6472-7555
PIONEER ELECTRONICS AUSTRALIA PTY. LTD.
178-184 Boundary Road, Braeside, Victoria 3195, Australia, TEL: (03) 9586-6300
PIONEER ELECTRONICS DE MEXICO S.A. DE C.V.
Blvd.Manuel Avila Camacho 138 10 piso Col.Lomas de Chapultepec, Mexico,D.F. 11000 TEL: 55-9178-4270
Published by Pioneer Corporation.
Copyright © 2008 Pioneer Corporation.
---

Thank you for buying this Pioneer product.
Please read through these operating instructions so you will know how to operate your model properly.
After you have finished reading the instructions, put them away in a safe place for future reference.
The exclamation point within an equilateral
triangle is intended to alert the user to the
presence of important operating and
maintenance (servicing) instructions in the
literature accompanying the appliance.
The lightning flash with arrowhead symbol,
within an equilateral triangle, is intended to
alert the user to the presence of uninsulated
"dangerous voltage" within the product's
enclosure that may be of sufficient
magnitude to constitute a risk of electric
TO PREVENT THE RISK OF ELECTRIC
SHOCK, DO NOT REMOVE COVER (OR
BACK). NO USER-SERVICEABLE PARTS
INSIDE. REFER SERVICING TO QUALIFIED
CLASS 3B VISIBLE AND INVISIBLE LASER RADIATION WHEN OPEN, AVOID EXPOSURE TO THE BEAM.
RADIATIONS LASER VISIBLES ET INVISIBLES DE CLASSE 3B QUAND OUVERT. ÉVITEZ TOUT EXPOSITION AU FAISCEAU.
KLASSE 3B SYNLIG OG USYNLIG LASERSTRÅLING VED ÅBNING. UNDGÅ UDSÆTTELSE FOR STRÅLING.
KLASS 3B SYNLIG OCH OSYNLIG LASERSTRÅLNING NÄR DENNA DEL ÄR ÖPPNAD. UNDVIK ATT UTSÄTTA DIG FÖR STRÅLEN.
AVATTAESSA OLET ALTTIINA NÄKYVÄLLE JA NÄKYMÄTTÖMÄLLE LUOKAN 3B LASERSÄTEILYLLE. ÄLÄ KATSO SÄTEESEEN.
PRECAUCIÓN
CUANDOSE ABRE HAY RADIACIÓN LÁSER DE CLASE 3B VISIBLE E INVISIBLE. EVITE LA EXPOSICIÓN A LOS RAYOS LÁSER.
BEI GEÖFFNETER ABDECKUNG IST SICHTBARE UND UNSICHTBARE LASERSTRAHLUNG DER KLASSE 3B IM GERÄTEINNEREN VORHANDEN.
NICHT DEM LASERSTRAHL AUSSETZEN!
---

---

What's in the box . . . . . . . . . . . . . . . . . . . 6
Putting the batteries in the remote
control. . . . . . . . . . . . . . . . . . . . . . . . . . . . 6
Using the remote control. . . . . . . . . . . . . . 6
Disc/content format playback
compatibility . . . . . . . . . . . . . . . . . . . . . . . 7
About the internal hard disk drive . . . . . . 12
Symbols used in this manual . . . . . . . . . 13
Rear panel connections. . . . . . . . . . . . . . 14
Front panel connections . . . . . . . . . . . . . 15
Easy connections . . . . . . . . . . . . . . . . . . 16
Using other types of video output . . . . . . 17
Connecting to a cable box or satellite
receiver (1) . . . . . . . . . . . . . . . . . . . . . . . 18
Connecting to a cable box or satellite
receiver (2) . . . . . . . . . . . . . . . . . . . . . . . 19
amplifier/receiver . . . . . . . . . . . . . . . . . . 19
Connecting using HDMI . . . . . . . . . . . . . 20
Connecting other AV sources . . . . . . . . . 22
Connecting a USB device . . . . . . . . . . . . 23
Plugging in . . . . . . . . . . . . . . . . . . . . . . . 24
Front panel . . . . . . . . . . . . . . . . . . . . . . . 25
Display . . . . . . . . . . . . . . . . . . . . . . . . . . 26
Remote control . . . . . . . . . . . . . . . . . . . . 27
Switching on and setting up . . . . . . . . . . 29
About DVD recording . . . . . . . . . . . . . . . 32
About HDD recording. . . . . . . . . . . . . . . 33
Recorded audio . . . . . . . . . . . . . . . . . . . 34
Restrictions on video recording . . . . . . . 34
Using the built-in TV tuner . . . . . . . . . . . 35
Setting the picture quality/
recording time . . . . . . . . . . . . . . . . . . . . 36
Basic recording from the TV . . . . . . . . . . 37
About timer recordings . . . . . . . . . . . . . 38
Simultaneous recording and playback
(Chase Play) . . . . . . . . . . . . . . . . . . . . . . 44
Recording from an external
component. . . . . . . . . . . . . . . . . . . . . . . 44
a satellite tuner . . . . . . . . . . . . . . . . . . . 45
Playing your recordings on other DVD
players . . . . . . . . . . . . . . . . . . . . . . . . . . 46
Initializing recordable DVD discs . . . . . . 47
DVD-RW Auto Initialize. . . . . . . . . . . . . . 48
Introduction . . . . . . . . . . . . . . . . . . . . . . 49
Basic playback . . . . . . . . . . . . . . . . . . . . 49
Using the Disc Navigator to browse the
contents of a disc . . . . . . . . . . . . . . . . . . 53
Scanning discs. . . . . . . . . . . . . . . . . . . . 54
Playing in slow motion . . . . . . . . . . . . . . 54
Frame advance/frame reverse . . . . . . . . 55
The Play Mode menu . . . . . . . . . . . . . . . 55
Displaying and switching subtitles . . . . . 57
soundtracks . . . . . . . . . . . . . . . . . . . . . . 57
Switching audio channels . . . . . . . . . . . 58
Switching camera angles . . . . . . . . . . . . 58
Displaying disc information
on-screen . . . . . . . . . . . . . . . . . . . . . . . . 59
---

07 Playing and recording from a
Playing from a DV camcorder . . . . . . . . . 61
Recording from a DV camcorder . . . . . . . 61
About DV. . . . . . . . . . . . . . . . . . . . . . . . . 63
Copying from an HDD camcorder . . . . . . 64
Editing options . . . . . . . . . . . . . . . . . . . . 65
The Disc Navigator screen. . . . . . . . . . . . 66
Introduction . . . . . . . . . . . . . . . . . . . . . . 75
One Touch Copy . . . . . . . . . . . . . . . . . . . 75
Using Copy Lists . . . . . . . . . . . . . . . . . . . 77
Using disc backup. . . . . . . . . . . . . . . . . . 81
10 Playing and copying DivX files
Playing DivX files. . . . . . . . . . . . . . . . . . . 83
Copying DivX files to the HDD . . . . . . . . . 84
Editing files on the HDD . . . . . . . . . . . . . 85
11 Playing and copying music
Copying music to the HDD . . . . . . . . . . . 86
Playing music from the Jukebox . . . . . . . 87
Copying albums/tracks . . . . . . . . . . . . . . 89
Editing the HDD Jukebox . . . . . . . . . . . . 90
12 Playing and copying photos
Locating JPEG picture files . . . . . . . . . . . 91
Playing a slideshow. . . . . . . . . . . . . . . . . 92
Creating photo movies . . . . . . . . . . . . . . 94
Importing files to the HDD . . . . . . . . . . . 94
Copying files to a DVD-R/-RW . . . . . . . . . 95
Copying selected files to
a DVD-R/-RW. . . . . . . . . . . . . . . . . . . . . . 96
Editing files on the HDD . . . . . . . . . . . . . 96
Printing files . . . . . . . . . . . . . . . . . . . . . . 98
13 Copying files from a PC
Connecting the PC . . . . . . . . . . . . . . . . . 99
Copying WMA/MP3 files. . . . . . . . . . . . 100
Copying JPEG and DivX files . . . . . . . . 101
Basic settings. . . . . . . . . . . . . . . . . . . . 103
Initialize settings . . . . . . . . . . . . . . . . . 104
Finalize settings . . . . . . . . . . . . . . . . . . 104
Optimize HDD . . . . . . . . . . . . . . . . . . . 104
Initialize HDD . . . . . . . . . . . . . . . . . . . . 105
Setting the picture quality for TV
and external inputs. . . . . . . . . . . . . . . . 106
Setting the picture quality for disc
playback . . . . . . . . . . . . . . . . . . . . . . . . 107
16 The Initial Setup menu
Using the Initial Setup menu . . . . . . . . 109
17 Additional information
Setting up the remote to control
your TV . . . . . . . . . . . . . . . . . . . . . . . . . 121
Minimum copying times. . . . . . . . . . . . 123
Manual recording modes . . . . . . . . . . . 124
Troubleshooting . . . . . . . . . . . . . . . . . . 125
If the picture freezes and the front panel
and remote control buttons stop
working . . . . . . . . . . . . . . . . . . . . . . . . 130
On-screen displays . . . . . . . . . . . . . . . . 131
Front panel displays . . . . . . . . . . . . . . . 133
Language code list . . . . . . . . . . . . . . . . 134
Country/Area code list . . . . . . . . . . . . . 134
Screen sizes and disc formats . . . . . . . 135
Handling discs . . . . . . . . . . . . . . . . . . . 136
Cleaning the pickup lens . . . . . . . . . . . 136
Condensation . . . . . . . . . . . . . . . . . . . . 136
Hints on installation . . . . . . . . . . . . . . . 137
Moving the recorder . . . . . . . . . . . . . . . 137
Resetting the recorder . . . . . . . . . . . . . 137
Specifications. . . . . . . . . . . . . . . . . . . . 138
---