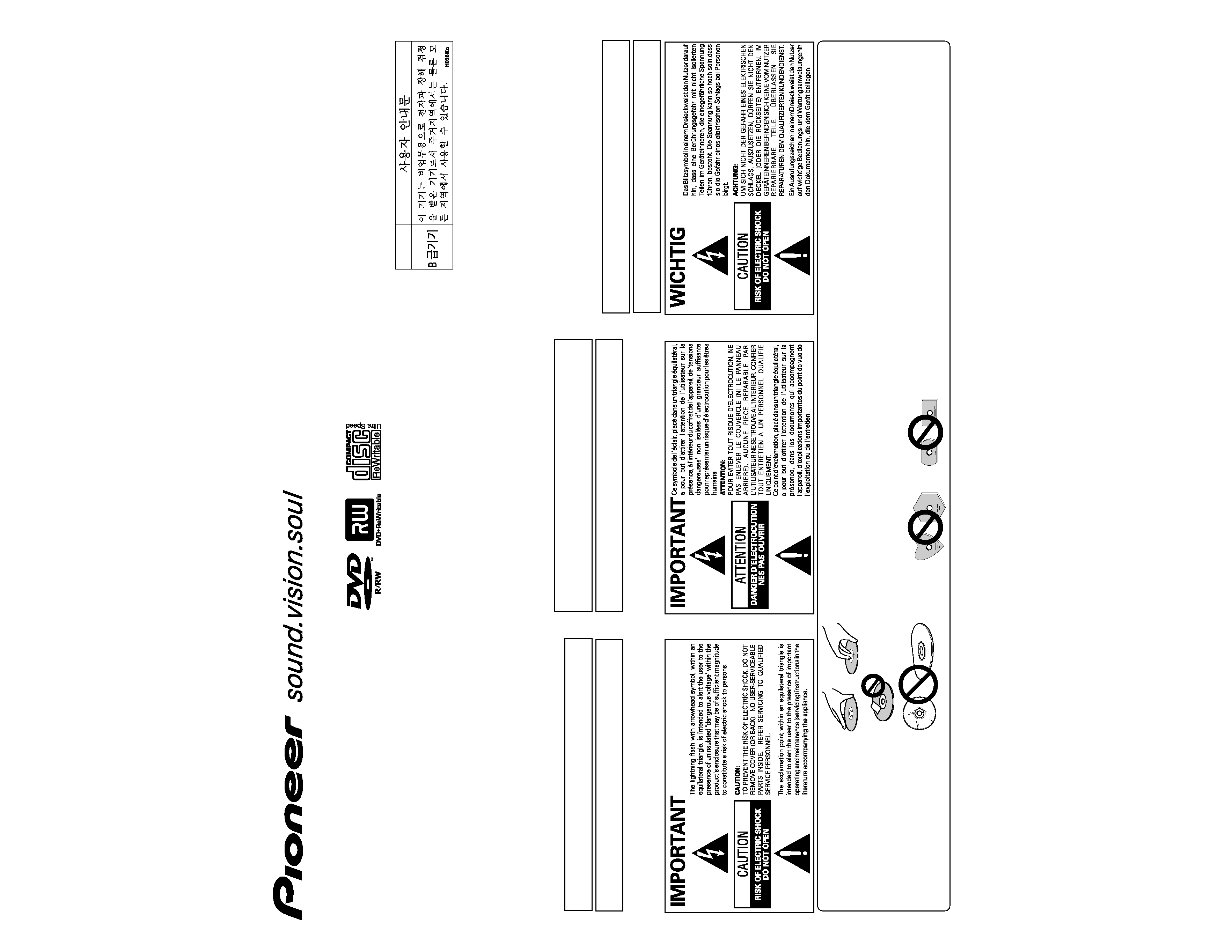 Nous vous remercions pour cet achat d'un produit Pioneer.
Nous vous demandons de lire soigneusement ce mode
d'emploi; vous serez ainsi à même de faire correctement
fonctionner l'appareil. Après avoir bien lu le mode d'emploi,
le ranger dans un endroit sûr pour pouvoir s'y référer
Wir danken Ihnen für den Kauf dieses Pioneer-Produkts.
Lesen Sie sich bitte diese Bedienungsanleitung durch. Dann
wissen Sie, wie Sie Ihr Gerät richtig bedienen. Bewahren
Sie sie an einem sicheren Platz auf, um auch zukünftig
Thank you for buying this PIONEER product. Please read
through these operating instructions so you will know how
to operate your unit properly. After you have finished reading
the instructions, put them away in a safe place for future
The Generation of Acoustical Noise Is Less Than 70dB.
La production de bruits acoustiques est inférieure à 70 dB.
Das Geräuschaufkommen beträgt weniger als 70 dB.
This Class B digital apparatus complies with Canadian ICES-
[Pour le modèle Canadien]
Cet appareil numérique de la Classe B est conforme à la
÷ Avoid touching or scratching the
signal surface (shiny side) of the
÷ Hold the disc by the edges or by the
center hold and one edge.
÷ Do not affix paper or labels to the
÷ Discard warped or cracked discs as
they may cause damage to the drive.
÷ Avoid specially shaped discs such as
÷ Evitez de toucher ou de griffer la surface du disque sur laquelle
sont enregistrés les signaux (surface brillante).
÷ Saisissez le disque par les bords ou par le centre et un bord.
÷ Ne collez pas de papier ou d'étiquette sur le disque.
÷ Jetez les disques fissurés ou voilés, car ils peuvent
÷ Evitez les disques de forme spéciale, notamment ceux en
forme de coeur ou de polygone.
÷ Zu vermeiden ist das Berühren oder Zerkratzen der
Signalfläche (glänzende Seite) der Platte.
÷ Die Platte entweder an den Rändern oder im Loch in der
Mitte und am Rand fassen.
÷ Auf der Platte dürfen weder Papier noch Etiketten
÷ Keine gewölbten oder rissigen Platten verwenden (da diese
das Laufwerk beschädigen könnten).
÷ Keine Platten mit Spezialformen, wie z.B. Herzen oder
This equipment is not waterproof. To prevent a fire or
shock hazard, do not place any container filed with
liquid near this equipment (such as a vase or flower pot)
or expose it to dripping, splashing, rain or moisture.
This product complies with the EMC Directives (89/336/EEC,
amended by 92/31/EEC and 93/68/EEC).
Ce produit est conforme aux directives relatives à la
compatibilité électromagnétique (89/336/CEE, amendements
Cet appareil n'est pas étanche. Pour éviter les risques
d'incendie et de décharge électrique, ne placez près de
lui un récipient rempli d'eau, tel qu'un vase ou un pot
de fleurs, et ne l'exposez pas à des gouttes d'eau, des
éclaboussures, de la pluie ou de l'humidité.
Dieses Gerät ist nicht wasserdicht. Zur Vermeidung der
Gefahr von Brand und Stromschlag keine Behälter mit
Flüssigkeiten (z.B. Blumenvasen und -töpfe) in die Nähe
des Gerätes bringen und dieses vor Tropfwasser,
Spritzwasser, Regen und Nässe schützen.
Dieses Produkt entspricht den EMV-Richtlinien (89/336/EEC,
geändert durch 92/31/EEC und 93/68/EEC).
---

Ce produit renferme une diode à laser d'une catégorie
supérieure à 1. Pour garantir une sécurité constante,
ne pas retirer les couvercles ni essayer d'accéder à
l'intérieur de l'appareil.
Pour toute réparation, s'adresser à un personnel
L'étiquette d'avertissement suivante
apparaît sur votre appareil.
Emplacement: sur le dessus du
Dans le cas d'appareils enfichables, la prise doit être
facilement accessible et placée le plus près possible de
Bei Geräten mit Steckern sollte sich der Ausgangsstecker
nahe dem anderen Gerät befinden und einfach zugänglich
Dieses Gerät enthält eine Laserdiode mit einer
höheren Klasse als 1. Um einen stets sicheren Betrieb
zu gewährleisten, weder irgendwelche Abdeckungen
entfernen, noch versuchen, sich zum Geräteinneren
Zugang zu verschaffen. Alle Wartungsarbeiten sollten
qualifiziertem Kundendienstpersonal überlassen
Das nachstehende Hinweisschild
Anbringstelle: auf der Deckeloberseite.
This product contains a laser diode of higher class
than 1. To ensure continued safety, do not remove
any covers or attempt to gain access to the inside of
Refer all servicing to qualified personnel.
The following caution label appears on
Location: on top of the cover.
For pluggable equipment the socket-outlet shall be installed
near the equipment and shall be easily accessible.
DANGER
­ VISIBLE AND INVISIBLE LASER RADIATION WHEN OPEN. AVOID DIRECT EXPOSURE TO BEAM.
Handling the cord on this product or cords associated with accessories sold with the product will expose you to lead, a chemical
known to the State of California and other governmental entities to cause cancer and birth defects or other reproductive harm.
Wash hands after handling
NOTE: This equipment has been tested and found to comply with the limits for a Class B digital device, pursuant to Part 15 of
the FCC Rules. These limits are designed to provide reasonable protection against harmful interference in a residential
installation. This equipment generates, uses, and can radiate radio frequency energy and, if not installed and used in
accordance with the instructions, may cause harmful interference to radio communications. However, there is no guarantee
that interference will not occur in a particular installation. If this equipment does cause harmful interference to radio or
television reception, which can be determined by turning the equipment off and on, the user is encouraged to try to correct
the interference by one or more of the following measures:
­ Reorient or relocate the receiving antenna.
­ Increase the separation between the equipment and receiver.
­ Connect the equipment into an outlet on a circuit different from that to which the receiver is connected.
­ Consult the dealer or an experienced radio/TV technician for help.
Alteration or modifications carried out without appropriate authorization may invalidate the user's right to operate the equipment.
CAUTION : USE OF CONTROLS OR ADJUSTMENTS OR PERFORMANCE OF PROCEDURES OTHER THAN THOSE
SPECIFIED HEREIN MAY RESULT IN HAZARDOUS RADIATION EXPOSURE.
CAUTION : THE USE OF OPTICAL INSTRUMENTS WITH THIS PRODUCT WILL INCREASE EYE HAZARD.
AFTER-SALES SERVICE FOR PIONEER PRODUCTS
Please contact the dealer or distributor from where you purchased the
product for its after-sales service (including warranty conditions) or any other
information. In case the necessary information is not available, please contact
the Pioneer's subsidiaries (regional service headquarters) listed below:
PLEASE DO NOT SHIP YOUR PRODUCT TO THE COMPANIES at the
addresses listed below for repair without advance contact, for these
companies are not repair locations.
PIONEER ELECTRONICS (USA) INC.
CUSTOMER SUPPORT DIVISION
P.O. BOX 1760, LONG BEACH, CA 90801-1760, U.S.A.
PIONEER EUROPE NV EUROPEAN SERVICE DIVISION
HAVEN 1087, KEETBERGLAAN 1, B-9120 MELSELE,
PIONEER ELECTRONICS ASIACENTRE PTE. LTD.
253, ALEXANDRA ROAD #04-01 SINGAPORE 159936
PIONEER CORPORATION (HEAD OFFICE)
4-1, MEGURO 1-CHOME, MEGURO-KU, TOKYO 153-8654
---

To ensure your personal safety and to maximize the full operating potential
of your Drive, read and follow these safety precautions:
ENVIRONMENT - Please do not use the unit in places with high levels
of dust, high temperature, or high humidity. Please use the unit in a
place where it is not subjected to vibrations or shocks.
POWER - Before installing the unit on the system, be sure to turn off
power on the system and remove the power cord from the AC outlet.
READ INSTRUCTIONS - Read all safety and operating instructions before
RETAIN INSTRUCTIONS - Retain the safety and operating instructions
FOLLOW INSTRUCTIONS - Follow all operating and use instructions.
HEED WARNINGS - All warnings must be adhered to.
CLEANING - DO NOT use liquid, aerosol cleaners, or alcohol. Use only
a damp cloth to clean the exterior housing.
WATER AND MOISTURE - DO NOT use this product near water.
POWER SOURCES - Operate this product from the type of power source
indicated on the marking label. If you are not sure of the type of power
available, consult Authorized Pioneer Dealer.
OVERLOADING - DO NOT overload wall outlets and extension cords.
Doing so may result in fire or electric shock.
OBJECT AND LIQUID ENTRY - Never push objects of any kind into this
product. Touching dangerous voltage points may cause a short resulting
in fire or electric shock. Do not spill liquid of any kind on this product.
CONDENSATION - Moisture will form in the operating section of the
product causing performance to be impaired if it is brought from cool
surroundings into a warmer environment. If you are moving the unit to a
location with a warmer temperature, let the product stand for 1-2 hours
in the new location before turning it back on.
SERVICING - Do not attempt to repair this product yourself. Opening or
removing covers may expose you to dangerous voltage or other hazards.
Refer all servicing to qualified service personnel. (Refer to the enclosed
Service and Support Card.)
Pour garantir votre sécurité personnelle et obtenir le maximum de votre
lecteur, lire et suivre ces consignes de sécurité:
ENVIRONNEMENT - Me pas utiliser cet appareil dans un endroit très
poussiéreux, très chaud ou très humide. Utiliser l'appareil dans un endroit
non soumis à des vibrations ou à des chocs.
PUISSANCE - Couper l'alimentation du système et débrancher le cordon
d'alimentation avant d'installer l'appareil.
LIRE LES INSTRUCTIONS - Lire toutes les instructions de sécurité et
d'utilisation avant d'actionner le lecteur.
CONSERVER LES INSTRUCTIONS - Garder les instructions de sécurité
et d'utilisation pour une future référence.
SUIVRE LES INSTRUCTIONS - Suivre toutes les instructions de
fonctionnement et d'utilisation.
ATTENTION AUX AVERTISSEMENTS - Observer tous les
NETTOYAGE - NE PAS utiliser de liquides, de détachants en aérosol ou
de l'alcool. N'utiliser qu'un chiffon humide pour nettoyer les surfaces
EAU ET HUMIDITE - NE PAS utiliser ce produit à proximité d'eau.
SOURCES D'ALIMENTATION - Utiliser ce produit avec le type
d'alimentation indiqué sur l'étiquette de fabrication. En cas de doute à
propos du type d'alimentation disponible, consulter un revendeur Pioneer
SURCHARGE - NE PAS surcharger les prises murales et les cordons
rallonges. Cette pratique peut entraîner un incendie ou une secousse
PENETRATION D'OBJETS ET DE LIQUIDES - Ne jamais enfoncer d'objet
d'aucune sorte dans ce produit. Le contact avec des points de tension
dangereux peut provoquer un court-circuit, entraînant un incendie ou
une secousse électrique. Ne pas verser de liquide d'aucune sorte sur ce
CONDENSATION - De l'humidité se forme sur la section de
fonctionnement du produit entraînant une baisse de performances s'il
est amené d'un endroit frais vers un environnement plus chaud. En cas
de déplacement de l'appareil vers un endroit ayant une température plus
chaude, laisser le produit pendant 1 à 2 heures dans le nouvel endroit
avant de le remettre sous tension.
ENTRETIEN - Ne pas essayer de réparer soi-même ce produit. L'ouverture
ou le retrait des capots peut vous exposer à une tension dangereuse ou
d'autres dangers. Pour tout entretien, demander à un personnel
d'entretien qualifié. (Se reporter à la carte d'entretien et de support jointe.)
Um Ihre eigene Sicherheit sicherzustellen, und um die volle Funktion Ihres
Sicherheitsvorschriften bitte sorgfältig durch:
BETRIEBSBEDINGUNGEN - Vermeiden Sie einen Betrieb des Gerätes an
Orten mit hoher Staubkonzentration, hoher Temperatur oder hoher
Luftfeuchtigkeit. Schützen Sie das Gerät beim Betrieb vor mechanischen
Schwingungen und Erschütterungen.
SPANNUNG - Vor dem Einbau des DVD-R/RW-Laufwerks sind der Computer
und sämtliche angeschlossenen Peripheriegeräte auszuschalten und vom
LESEN SIE DIE ANLEITUNGSSCHRITTE - Vor der Inbetriebnahme des
DVD-R/RW-Laufwerks sind alle Sicherheits- und Betriebsanleitungen
AUFBEWAHRUNGSHINWEISE - Bewahren Sie die Sicherheits- und
Betriebsanleitungen für zukünftige Benutzung griffbereit auf.
BEFOLGUNG DER ANLEITUNGSSCHRITTE - Befolgen Sie bitte alle
Bedienungs- und Handhabungshinweise.
BEACHTUNG ALLER WARNUNGEN - Sämtliche Warnhinweise müssen
sorgfältig beachtet werden.
REINIGUNG - KEIN flüssiges Reinigungsmittel, Reinigungssprühmittel oder
Alkohol verwenden. Benutzen Sie zum Reinigen des äußeren Gehäuses
ausschließlich einen feuchten Lappen.
WASSER UND FEUCHTIGKEIT - Betreiben Sie das Gerät NIEMALS in
unmittelbarer Nähe von Wasser!
STROMVERSORGUNG - Betreiben Sie das Gerät nur mit dem
Stromversorgungstyp, der auf dem Aufkleber angegeben ist. Wenn Sie sich
über die vorliegende Netzspannung nicht sicher sind, sprechen Sie bitte mit
Ihrem autorisierten Pioneer-Händler.
ÜBERLASTUNG ­ Vermeiden Sie unbedingt eine Überlastung von
Netzsteckdosen und Verlängerungskabeln. Anderenfalls besteht die Gefahr
von Brandausbruch und Stromschlag.
EINDRINGEN VON FLÜSSIGKEITEN UND FREMDKÖRPERN - Niemals
Fremdkörper in das Geräteinnere eindringen lassen. Das Berühren von unter
Spannung stehenden Kontakten kann zu einem Kurzschluß führen, was einen
Brand oder Stromschlag auslösen kann. Vorsicht, damit keine Flüssigkeiten
auf dem Gerät verschüttet werden.
KONDENSATION - Wenn das Gerät von einem kalten in einen warmen
Raum gebracht wird, verursacht der Feuchtigkeitsniederschlag in Gerät eine
merkliche Leistungsminderung. Betreiben Sie das Gerät deshalb nicht für
ca. 1 bis 2 Stunden, bis sich die Bauteile der Umgebungstemperatur
WARTUNG - Nicht den Versuch unternehmen, das Gerät selbst zu
reparieren! Das Öffnen oder Entfernen von Abdeckungen kann einen
Stromschlag sowie andere Gefahren auslösen. Überlassen Sie sämtliche
Wartungsarbeiten unserem qualifizierten Kundendienstpersonal. (Beziehen
Sie sich bitte auf das miteingeschlossene Kundendienstverzeichnis.)
÷ Remove dust or lint from the disc with a
soft cloth by wiping from the inside to
the outside edge rather than in a circular
÷ Do not use record-cleaning or anti-static
agents as the solutions may cause
Always be sure to store your discs in proper DVD-R storage
cases when not in use, and always be sure to check for dirt
or dust on discs (especially on the recording side) before use.
Rangez toujours vos disques dans les boîtes de rangement
de DVD-R prévues à cet effet lorsque nous ne les utilisez pas
et vérifiez s'ils ne sont pas couverts de saletés ou de
poussières (surtout sur la face enregistrée) avant de les utiliser.
÷ Eliminez la poussière ou les peluches du disque à l'aide d'un
linge doux en frottant de l'intérieur vers l'extérieur et non en
effectuant un mouvement circulaire.
÷ N'utilisez jamais de produit de nettoyage pour disque ou
d'agent antistatique, car ces solutions peuvent endommager
Bewahren Sie nicht benutzte Discs stets in geeigneten DVD-
R-Behältern auf, und prüfen Sie die Discs vor dem Einlegen
auf Verschmutzungen oder Staub (insbesonder e die
÷ Staub oder Flusen mit einem weichen Lappen von der Platte
entfernen, indem man diese von innen nach außen (statt in
kreisförmigen Bewegungen) abwischt.
÷ Keine Schallplattenreinigungs- oder antistatischen Mittel
verwenden, da diese die Platte beschädigen könnten.
---

· Schreibgeschwindigkeit (
: ZCLV )
1X, 2X, 4X, 6X, 8X
, 12X
, 16X
2.4X, 4X, 6X, 8X
, 12X
, 16X
· Maximale Lesegeschwindigkeit
· Puffer-Speicherkapazität:
2 MByte (Schreiben, Lesen)
· IDE-Datenübertragungsmodus:
PIO Modus 4/Multi Word DMA Modus 2/Ultra DMA-Modus 4
· 5,25-Zoll-Einbauttyp halber Höhe
· Servomechanismus für LCD-Neigung
· Wahl zwischen horizontaler und vertikaler Ausrichtung
· Schwingungsarme Mechanik dank DRA-System
Disc-Format (Lesen/Schreiben)
· DVD-Einzelschicht/Dualschicht/120-mm-Disc/80-mm-Disc
· DVD-R (Schreiben nur auf 650-nm-Disc für allgemeine
· 4X-Geschwindigkeits-DVD-R · 8X-Geschwindigkeits-DVD-R
· 2X-Geschwindigkeits-DVD-RW
· 4X-Geschwindigkeits-DVD-RW
· 4X-Geschwindigkeits-DVD+R
· 8X-Geschwindigkeits-DVD+R · Dualschicht-DVD+R
· 4X-Geschwindigkeits-DVD+RW
· DVD-RAM (Version 2.0, Version 2.1) (nur Lesen)
· CD-ROM XA Modus 2 (form 1, form2)
· Photo CD (Einzel- und Mehrfach-Session)
· CD-RW, Hochgeschwindigkeits-CD-RW,
Ultra-Hochgeschwindigkeits-CD-RW
· Zum Schreiben sind spezielle Anwendungsprogramme
erforderlich, die die obigen Formate unterstützen.
· Für spezifische DVD- und CD-Schreibgeschwindigkeiten sind
unterstützte Datenträger erforderlich.
· Verwenden Sie zum Schreiben von Daten auf DVDs mit 12-
oder 16x Geschwindigkeit grundsätzlich geteste, von Pioneer
vorgeschriebene Datenträger. Weitere Informationen hierzu
finden Sie auf dem Pioneer-Website.
· Vitesse d'écriture (
: ZCLV )
1X, 2X, 4X, 6X, 8X
, 12X
, 16X
2.4X, 4X, 6X, 8X
, 12X
, 16X
· Vitesse de lecture maximale
· Taille de la mémoire tampon :
· Mode de transfert de données IDE :
PIO mode 4 / DMA multi-mot mode 2/Ultra DMA mode 4
· Type intégré 5,25 pouces demi-hauteur
· Servomécanisme de bascule d'écran à cristaux liquides
· Orientation horizontale / verticale au choix
· Mécanisme à faible vibration par système DRA
Format du disque (lecture/écriture)
· DVD simple couche/double couche /
disque de 120 mm/disque de 80 mm
· DVD-R (En cas d'écriture, disque 650 nm pour usage général seul)
· DVD-RAM (Version 2.0, Version 2.1) (lecture seul)
· CD-ROM XA Mode 2 (forme 1, forme 2)
· CD Photo (une session ou plusieurs sessions)
· CD-RW, CD-RW haute vitesse, CD-RW Ultra rapide
· Un (des) programme(s) d'application spécifique(s) prenant en
compte le(s) format(s) ci-dessus est (sont) requis.
· Médias supportés requis pour les vitesses d'écriture DVD et
· Pour effectuer une écriture sur DVD aux vitesses 12x ou 16x,
utilisez des disques désignés par Pioneer. Pour plus de détails,
consultez les informations disponibles sur le site web de
1X, 2X, 4X, 6X, 8X
, 12X
, 16X
2.4X, 4X, 6X, 8X
, 12X
, 16X
· IDE Data Transfer Mode :
PIO Mode 4/Multi Word DMA Mode 2/Ultra DMA Mode 4
· 5.25inch Half-Height built in type
· LCD Tilt Servo Mechanism
· Horizontal/Vertical orientation available
· Low vibration Mechanism by DRA system
· DVD single layer/dual layer /120 mm disc /80 mm disc
· DVD-R (In case of write, 650nm disc for General only.)
· DVD-RAM (Version 2.0, Version 2.1) (Read only)
· CD-ROM XA Mode2 (form 1, form2)
· Photo CD (single and multiple session)
· CD-RW, High-Speed CD-RW, Ultra-Speed CD-RW
· Specific application program(s) that support above format(s)
· Supported media required for specific DVD & CD writing
· When performing DVD writing at 12x or 16x speeds, use
Pioneer-designate disc media. For details, consult information
available on Pioneer's website.
---

Insert a stiff rod into the hole and push to eject the tray
when the tray doesn't unload by pressing the Eject button.
In the normal operation, the eject button should be used to
unload the tray. Make sure the power of the drive is turned
off and wait more than one minute till the disc rotation is
stopped when access the eject hole.
Operation status is indicated as follows.
To unload /load the disc, press the button.
Open the loading tray by pressing the eject button, then
place a CD or DVD disc into the slit with the label facing up.
Press the eject button to load the tray with the disc.
Do not attempt to pull out the disc tray forcibly.
1 Orifice d'éjection forcée
Insérer une tige rigide dans l'orifice et pousser pour éjecter
le tiroir lorsque celui-ci ne s'ouvre pas lors d'un appui sur la
touche d'éjection. En fonctionnement, utiliser uniquement
la touche d'éjection pour ouvrir le tiroir. Veiller à ce que
l'alimentation du lecteur soit coupée et attendre l'arrêt de la
rotation du disque pendant plus d'une minute avant de tenter
d'éjecter le tiroir au moyen de l'orifice d'éjection.
L'état de fonctionnement est signalé comme suit:
Ne pas obstruer ces éléments.
Pour décharger / charger le disque, appuyer sur la touche.
Ouvrir le tiroir de chargement en appuyant sur la touche
d'éjection, puis placez un CD ou un DVD dans l'emplacement
prévu avec l'étiquette tournée vers le haut. Appuyer sur la
touche d'éjection pour charger le disque.
N'essayez pas de retirer de force le plateau du disque.
1 Loch für erzwungenen Auswurf
Wenn die Schublade nach dem Drücken der Eject-Taste nicht
ausfährt, führen Sie eine unbiegsame Stange in das Loch
ein und drücken sie, um die Disc auszuwerfen. Im normalen
Betrieb wird eine Disc mittels Eject-Taste ausgeworfen.
Achten Sie vor dem Zugriff auf das Auswurfloch darauf, dass
die Netzversorgung des Laufwerks ausgeschaltet ist, und
warten Sie länger als eine Minute, bis sich die Disc nicht
Diese Anzeige kennzeichnet den aktuellen Betriebsstatus
Dieser Teil darf nicht verdeckt werden.
Drücken Sie diese Taste, um die Disc einzulegen bzw.
Öffnen Sie die Schublade, indem Sie die Eject-Taste drücken.
Legen Sie dann eine CD oder DVD in den Schlitz, wobei die
Beschriftung oben liegt. Drücken Sie die Eject-Taste, um
die Schublade mit der Disc zu laden.
Versuchen Sie auf keinen Fall, das Disc-Fach gewaltsam
Precautions on playing 8 cm (3.15") Discs
An 8 cm (3.15") disc cannot be played even an adapter is attached
to the disc when the drive is upright condition.
Précautions à prendre lors de la lecture de disques de 8 cm
Les disques de 8 cm ne peuvent pas être lus par le lecteur même
en utilisant un adaptateur intermédiaire au disque lorsque le lecteur
est placé en position verticale.
Vorsichtmassnahmen beim abspielen von 8 cm CDs/DVDs
Bei Betrieb des Laufwerks in senkrechter Lage können 8-cm-Disc
gelbst bei Verwendung eines Adapters nicht abgespielt werden.
is a trademark of DVD Format/Logo Corporation.
est une marque de fabrique de DVD Format/Logo
ist eine Marke von DVD Format/Logo Licensing
---