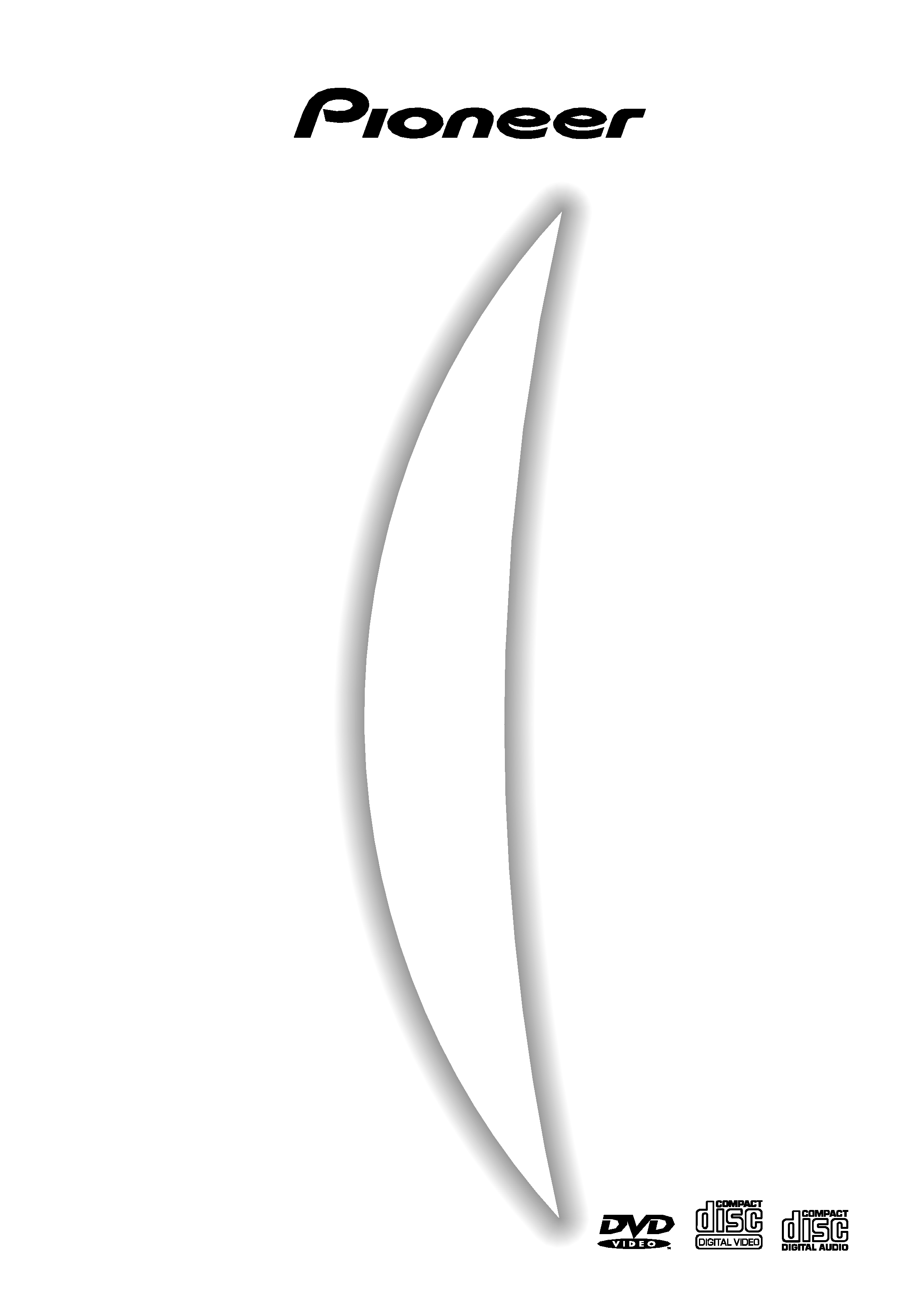 ---

The lightning flash with arrowhead symbol, within
an equilateral triangle, is intended to alert the user
to the presence of uninsulated "dangerous voltage"
within the product's enclosure that may be of suffi-
cient magnitude to constitute a risk of electric shock
TO PREVENT THE RISK OF ELECTRIC SHOCK,
DO NOT REMOVE COVER (OR BACK). NO
USER-SERVICEABLE PARTS INSIDE. REFER
The exclamation point within an equilateral triangle
is intended to alert the user to the presence of im-
portant operating and maintenance (servicing) in-
structions in the literature accompanying the appli-
VENTILATION -- Slots and openings in the
cabinet are provided for ventilation and to
ensure reliable operation of the product and to
protect it from overheating, and these openings
must not be blocked or covered. The openings
should never be blocked by placing the product
on a bed, sofa, rug, or other similar surface.
This product should not be placed in a built-in
installation such as a bookcase or rack unless
proper ventilation is provided or the
manufacturer's instructions have been
POWER SOURCES -- This product should be
operated only from the type of power source
indicated on the marking label. If you are not
sure of the type of power supply to your
home, consult your product dealer or local
LOCATION ­ The appliance should be installed in
NONUSE PERIODS ­ The power cord of the
appliance should be unplugged from the outlet
when left unused for a long period of time.
GROUNDING OR POLARIZATION
If this product is equipped with a polarized
alternating current line plug (a plug having one
blade wider than the other), it will fit into the
outlet only one way. This is a safety feature. If
you are unable to insert the plug fully into the
outlet, try reversing the plug. If the plug should
still fail to fit, contact your electrician to replace
your obsolete outlet. Do not defeat the safety
purpose of the polarized plug.
If this product is equipped with a three-wire
grounding type plug, a plug having a third
(grounding) pin, it will only fit into a grounding
type power outlet. This is a safety feature. If
you are unable to insert the plug into the
outlet, contact your electrician to replace your
obsolete outlet. Do not defeat the safety
purpose of the grounding type plug.
POWER-CORD PROTECTION -- Power-supply
cords should be routed so that they are not
likely to be walked on or pinched by items
placed upon or against them, paying particular
attention to cords at plugs, convenience
receptacles, and the point where they exit
OUTDOOR ANTENNA GROUNDING -- If an
outside antenna or cable system is connected
to the product, be sure the antenna or cable
system is grounded so as to provide some
protection against voltage surges and built-up
static charges. Article 810 of the National
Electrical Code, ANSI/NFPA 70, provides
information with regard to proper grounding of
the mast and supporting structure, grounding
of the lead-in wire to an antenna discharge
unit, size of grounding conductors, location of
antenna-discharge unit, connection to
grounding electrodes, and requirements for
the grounding electrode. See Figure A.
LIGHTNING -- For added protection for this
product during a lightning storm, or when it is
left unattended and unused for long periods of
time, unplug it from the wall outlet and
disconnect the antenna or cable system. This
will prevent damage to the product due to
lightning and power-line surges.
POWER LINES -- An outside antenna system
should not be located in the vicinity of overhead
power lines or other electric light or power
circuits, or where it can fall into such power
lines or circuits. When installing an outside
antenna system, extreme care should be taken
to keep from touching such power lines or
circuits as contact with them might be fatal.
OVERLOADING -- Do not overload wall outlets,
extension cords, or integral convenience
receptacles as this can result in a risk of fire or
OBJECT AND LIQUID ENTRY -- Never push
objects of any kind into this product through
openings as they may touch dangerous voltage
points or short-out parts that could result in a
fire or electric shock. Never spill liquid of any
SERVICING -- Do not attempt to service this
product yourself as opening or removing
covers may expose you to dangerous voltage
or other hazards. Refer all servicing to qualified
DAMAGE REQUIRING SERVICE -- Unplug this
product from the wall outlet and refer servicing
to qualified service personnel under the
When the power-supply cord or plug is
If liquid has been spilled, or objects have fallen
If the product has been exposed to rain or
If the product does not operate normally by
following the operating instructions. Adjust
only those controls that are covered by the
operating instructions as an improper
adjustment of other controls may result in
damage and will often require extensive work
by a qualified technician to restore the product
If the product has been dropped or damaged
When the product exhibits a distinct change in
performance -- this indicates a need for
REPLACEMENT PARTS -- When replacement
parts are required, be sure the service
technician has used replacement parts
specified by the manufacturer or have the
same characteristics as the original part.
Unauthorized substitutions may result in fire,
electric shock, or other hazards.
SAFETY CHECK -- Upon completion of any
service or repairs to this product, ask the
service technician to perform safety checks to
determine that the product is in proper
WALL OR CEILING MOUNTING -- The product
should not be mounted to a wall or ceiling.
HEAT -- The product should be situated away
from heat sources such as radiators, heat
registers, stoves, or other products (including
amplifiers) that produce heat.
IMPORTANT SAFETY INSTRUCTIONS
NEC -- NATIONAL ELECTRICAL CODE
READ INSTRUCTIONS -- All the safety and
operating instructions should be read before
RETAIN INSTRUCTIONS -- The safety and
operating instructions should be retained for
HEED WARNINGS -- All warnings on the product
and in the operating instructions should be
FOLLOW INSTRUCTIONS -- All operating and
use instructions should be followed.
CLEANING -- Unplug this product from the wall
outlet before cleaning. The product should be
cleaned only with a polishing cloth or a soft dry
cloth. Never clean with furniture wax, benzine,
insecticides or other volatile liquids since they
ATTACHMENTS -- Do not use attachments not
recommended by the product manufacturer
as they may cause hazards.
WATER AND MOISTURE -- Do not use this
product near water -- for example, near a
bathtub, wash bowl, kitchen sink, or laundry
tub; in a wet basement; or near a swimming
ACCESSORIES -- Do not place this product on
an unstable cart, stand, tripod, bracket, or
table. The product may fall, causing serious
injury to a child or adult, and serious damage
to the product. Use only with a cart, stand,
tripod, bracket, or table recommended by the
manufacturer, or sold with the product. Any
mounting of the product should follow the
manufacturer's instructions, and should use a
mounting accessory recommended by the
CART -- A product and cart combination should
be moved with care. Quick stops, excessive
force, and uneven surfaces may cause the
product and cart combination to overturn.
---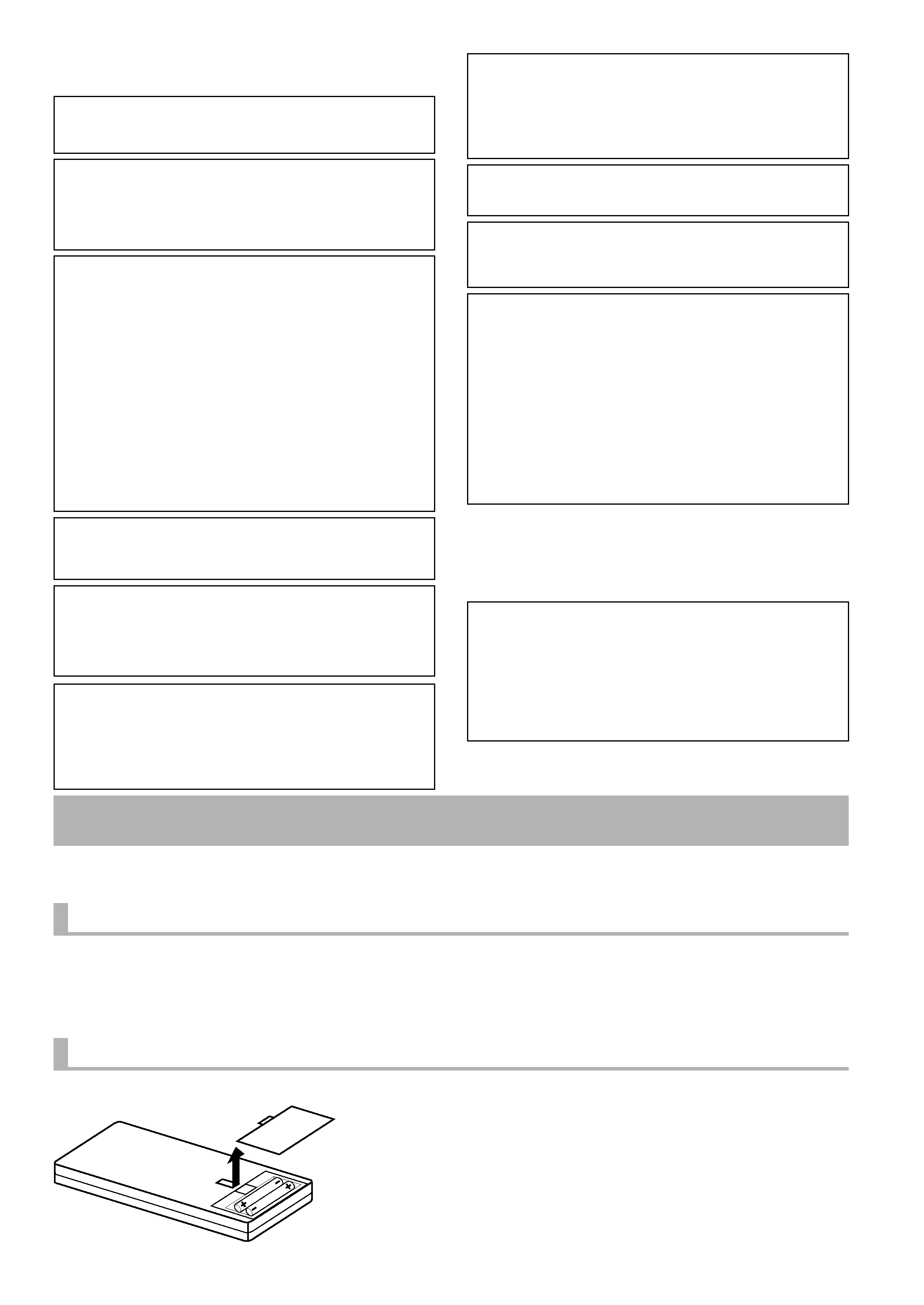 WARNING:
TO PREVENT FIRE OR SHOCK HAZARD, DO
NOT EXPOSE THIS APPLIANCE TO RAIN OR MOISTURE.
This product is equipped with technology for the protection of copy-
rights protected by U.S. patent claims and other intellectual prop-
erty rights possessed by the Macrovision Corporation and other
rights holders. Special permission from Macrovision Corporation
is required for the use of this copyright-protection technology, and
that permission has been received for home use and certain other
limited applications. Reverse engineering and disassembly of this
technology are prohibited.
CAUTION:
This product satisfies FCC regulations when shielded
cables and connectors are used to connect the unit to other equip-
ment.To prevent electromagnetic interference with electric appliances
such as radios and televisions, use shielded cables and connectors
This equipment has been tested and found to comply with the limits
for a Class B digital device, pursuant to Part 15 of the FCC Rules.
These limits are designed to provide reasonable protection against
harmful interference in a residential installation. This equipment gen-
erates, uses, and can radiate radio frequency energy and, if not in-
stalled and used in accordance with the instructions, may cause
harmful interference to radio communications. However, there is no
guarantee that interference will not occur in a particular installation.
If this equipment does cause harmful interference to radio or televi-
sion reception, which can be determined by turning the equipment
off and on, the user is encouraged to try to correct the interference
by one or more of the following measures:
­ Reorient or relocate the receiving antenna.
­ Increase the separation between the equipment and receiver.
­ Connect the equipment into an outlet on a circuit different from
that to which the receiver is connected.
­ Consult the dealer or an experienced radio/TV technician for help.
Alteration or modifications carried out without appropriate authori-
zation may invalidate the user's right to operate the equipment.
· Use of controls or adjustments or performance of procedures other than
those specified herein may result in hazardous radiation exposure.
· The use of optical instruments with this product will increase eye
This Class B digital apparatus complies with Canadian ICES-003.
[Pour le modèle Canadien]
Cet appareil numérique de la Classe B est conforme à la
The stand-by/ ON switch is secondary connected and there-
fore, does not separate the unit from mains power in standby
THE SERIAL NUMBER FOR THIS EQUIPMENT IS LOCATED IN
PLEASE WRITE THIS SERIAL NUMBER ON YOUR ENCLOSED
WARRANTY CARD AND KEEP IN A SECURE AREA. THIS IS FOR
CONSULT WITH THE COMPANY SALES REPRESENTATIVE.
"USE ONLY UL LIMITED AND CANADIAN CERTIFIED POWER
SUPPLY CORD." AWG MINIMUM,
A POWER SUPPLY CORD TYPE SJT, 18 AWG MINIMUM, 3-WIRE
GROUNDED TYPE SHALL BE USED WITH THIS EQUIPMENT.
Note to CATV system installer
This reminder is provided to call CATV system installer's attention to
Article 820-40 of the NEC that provides guidelines for proper ground-
ing and, in particular, specifies that the cable grounding system of the
building, as close to the point of cable entry as practical.
FEDERAL COMMUNICATIONS COMMISSION
DECLARATION OF CONFORMITY
This device complies with part of the FCC Rules. Operation is sub-
ject to the following two conditions: (1) This device may not cause
harmful interference, and (2) this device must accept any interfer-
ence received, including interference that may cause undesired op-
Product Category: Class B Personal Computers & Peripherals
Responsible Party Name: PIONEER ELECTRONICS SERVICE, INC.
Address: 1925 E. DOMINGUEZ ST. LONG BEACH, CA 90810 U.S.A.
Phone/FAX Number: (310) 952-2359 / (310) 952-2412
÷ Do not mix old and new batteries.
÷ Even batteries of the same type will differ in voltage.
Do not mix different type of batteries together.
÷ When not using the remote control for a long period of time (over
1 month), remove the batteries to avoid possible damage from
battery corrosion. If battery leakage occurs, wipe the battery liq-
uid from the battery component, then insert new batteries.
Laser barcode sheet ........................................................... 1
RF adaptor set clamp .......................................................... 1
Screw .................................................................................. 1
Operating Instructions ......................................................... 1
Warranty card ...................................................................... 1
Thank you for buying this Pioneer product.
Please read through these operating instructions so you will know how to operate your model properly. After you have finished
reading the instructions, put them away in a safe place for future reference.
Audio cord ........................................................................... 1
Video cord ........................................................................... 1
Remote control unit ............................................................. 1
Batteries (AA/R6P) .............................................................. 2
Inserting batteries into the remote control
While pressing the back cover, pull out in the direction indicated by the arrow and insert AA size
÷ Make sure to match the plus (+) and minus (-) polarity guides in the batteries with the marks inside the battery compartment.
---

This player, when segment commands and barcodes that
control are input in advance, enables images to be
switched and played back one after the other. This is
very convenient when used in demonstrations, presen-
tations, etc. Furthermore, the RS-232C connection al-
lows uploading/downloading of the set content.
÷
Uploading/downloading can be easily performed when
dedicated applications are being used.
Interface with external signals
(RS-232C, external option switch)
The device is fitted with an RS-232C connection so that
commands can be given to support DVD, Video CD and
CD. The control protocol is, for the most part, compat-
ible with that of LD (Laser Disc) equipment, and LD sig-
nals can also be easily transferred.
Other than the RS-232C interface connector, a terminal
for the external option switch is provided. By simply con-
necting a switch to this terminal, operation is possible for
DVD-VIDEO menu selection and barcode/command
stack calls as well as operation of the remote control
÷
Consult the User's Manual for detailed information re-
garding this terminal and RS-232C control commands.
(See your dealer for more information about the User's
10. Video blackboard function
Graphics and characters recorded in advance at desired
positions on the DVD picture screen will appear during
This function enables demonstrations and presentations
to be more effectively performed. (See page 71)
11. Laser barcode compatibility
The laser barcode system previously used with LD (La-
ser Disc) players has been extended unchanged to DVD
applications. Existing barcode scanners and barcode
readers can be used. (See page 59)
With this function, you can use the mouse to click on
buttons shown on-screen during playback for display of
indications of the text file corresponding to the selected
button.This is possible only with Video Text Retrieval com-
patible discs. (See page 77)
13. External Synchronizing Function
This terminal allows output of video signals linked to an
external sync signal. (See page 77)
Component Features and Functions
High-reliability, high-endurance player
This player features a high-performance brushless spin-
dle motor, and the mechanical components have been
sealed against heat and dust, giving this unit improved
DVD discs in either the NTSC format or the PAL format
can be played back. (See page 79)
When the frame search function is used, searching is
possible in units smaller than when searching by chap-
ter and time, and any point can be found. (See page 14)
When frame segment playback is used, it is possible to
play back from any point to any point in a video with still
playback at the end. (See page 55, 56)
÷
The frame search function cannot be used with a multi
PGC disc (time is not displayed on the TV screen) or
with a Video CD, etc. Frame segment playback is pos-
sible with the DVD barcode, RS-232C control and a
With a 1.3X reading speed and improved memory cache
and search algorithm, the search speed has been in-
creased. (See page 13, 14)
Enhanced special playback
This player enables the DVD and Video CD playback
speed to be changed in several ways. Slow forward and
reverse playback, scan playback and frame forward/re-
verse can be freely selected. (See page 12, 14, 15)
÷
To perform reverse slow playback, select Frame from
the REV STEP/REV PLAY page of the ADV.SETUP
MENU. Slow playback is only possible in the forward
direction with a Video CD.
Instead of the remote control unit, a PS/2* pointing de-
vice can be used to control the player if desired. This
allows selecting specific locations by the point-and-click
* PS/2 is a registered trademark of IBM corporation.
Weekly timer/ power on start function
The times for power on/off and for video playback of a
disc can be set for each day within one week or within
one day. Combined with the barcode/command stack,
program playback is also possible. This player is limited
to a maximum of 24 setting at one time.
---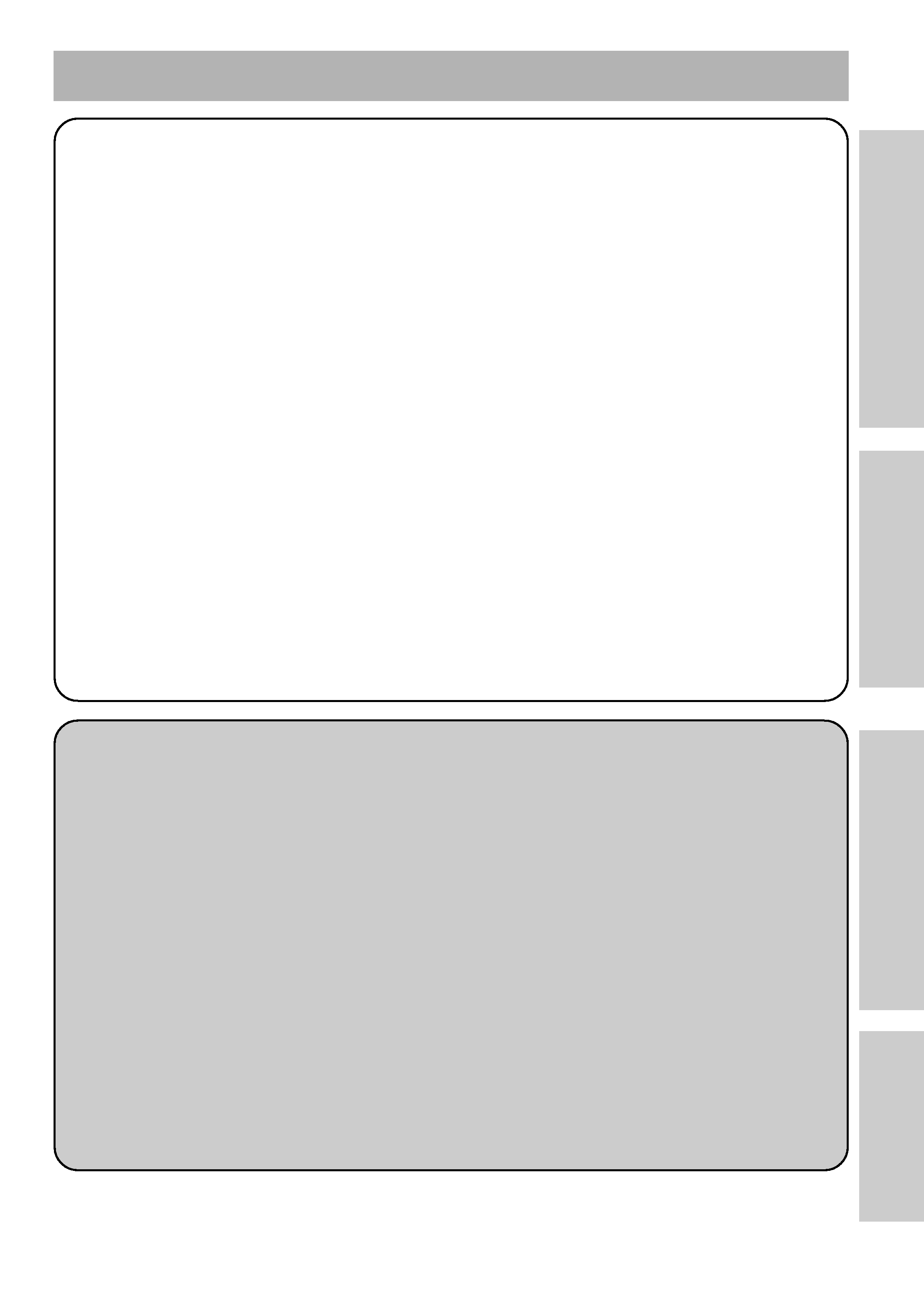 Remote Control Operations ................................................................ 10
Playing DVDs, CDs, and Video CDs. ................................................... 10
Chapter (Track) skip forward/skip back ............................................. 12
Stopping the playback and switching power off ............................... 12
Searching for a desired scene (SEARCH) .......................................... 13
Still frame/Frame advance/Frame reverse ......................................... 14
Slow motion Play .................................................................................. 15
Repeat Play ........................................................................................... 15
Program Play ........................................................................................ 16
Viewing disc information ..................................................................... 18
Switching the Angle of the Image (Multi-Angle) ................................ 20
Switching the Subtitles during Playback ........................................... 20
Switching the Audio during Playback ................................................ 21
Switching the stereo/left/right Audio .................................................. 21
Index of the Graphical User Interface (GUI) ....................................... 22
Operating the Initial Setup Menu ........................................................ 23
Selecting the aspect ratio .................................................................... 23
Changing visual setting ....................................................................... 25
Setting the Language ........................................................................... 27
Setting viewing and listening restrictions (Parental Lock) .............. 31
Making the ordinary settings .............................................................. 33
Setting the Digital Output .................................................................... 34
Setting to Optimize the Audio Quality ................................................ 36
Returning to the default settings at the time of shipment................ 38
Language code list ............................................................................... 38
Advanced Feature Operations ............................................................ 39
ADV. SETUP MENU settings ................................................................ 41
Player control using a mouse ............................................................. 43
Weekly timer function operation/display ........................................... 44
Power on start function ....................................................................... 51
Barcode/Command stack function ..................................................... 53
Barcode/Command stack setting ....................................................... 54
Grouping some Barcode/Command Stacks ...................................... 62
Using a Barcode/Command Stacks .................................................... 69
Character Input/Output drawing (DVD video blackboard) ................ 71
Grouping video blackboards ............................................................... 75
Video text retrieval ............................................................................... 77
External synchronizing function ......................................................... 77
How to display total hours played and power on time ..................... 78
Connecting the player .......................................................................... 78
Using a Laser Barcode Scanner (Sold Separately) ........................... 84
Troubleshooting ................................................................................... 85
Terms ..................................................................................................... 86
Specifications ....................................................................................... 87
---