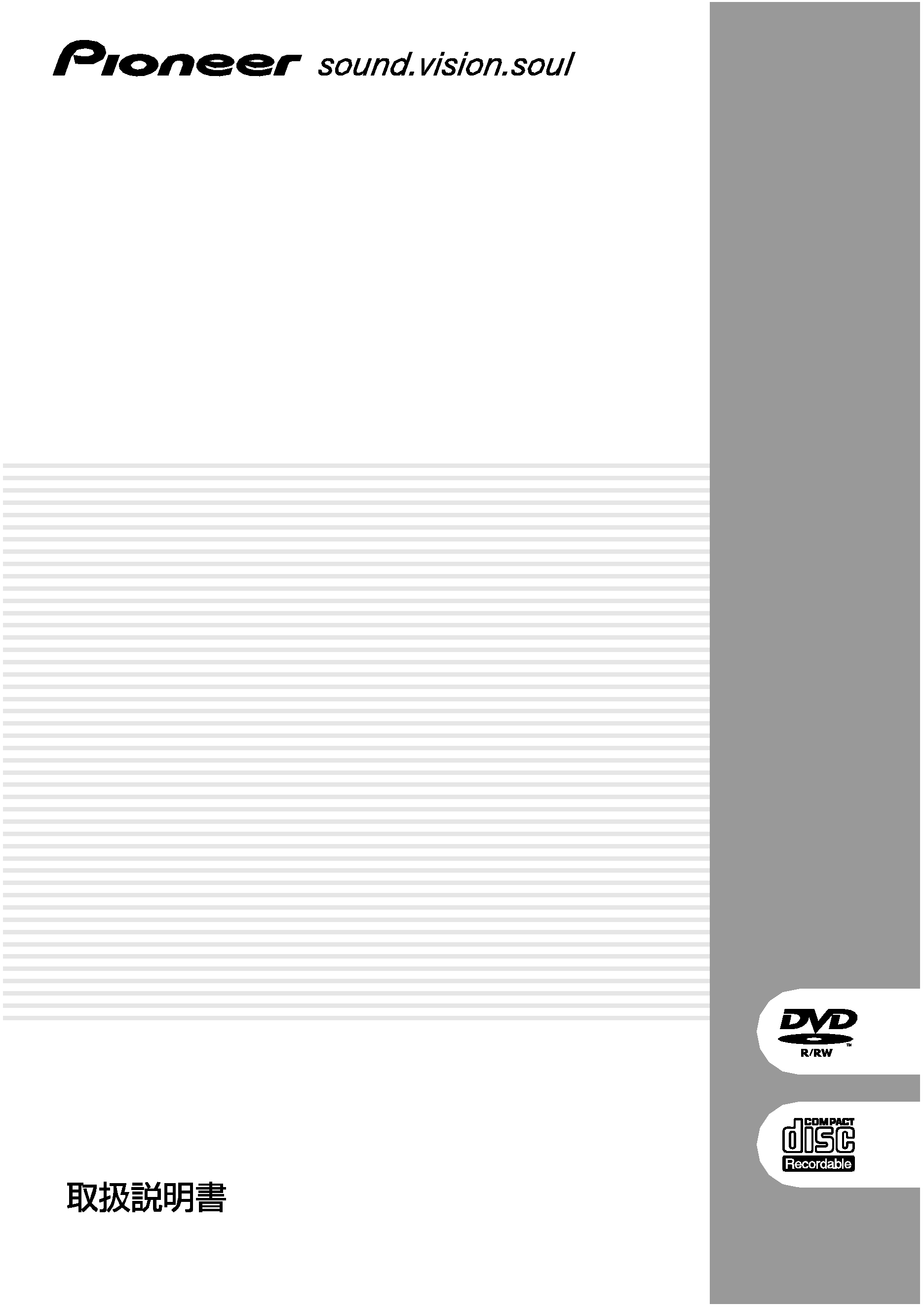 ---

---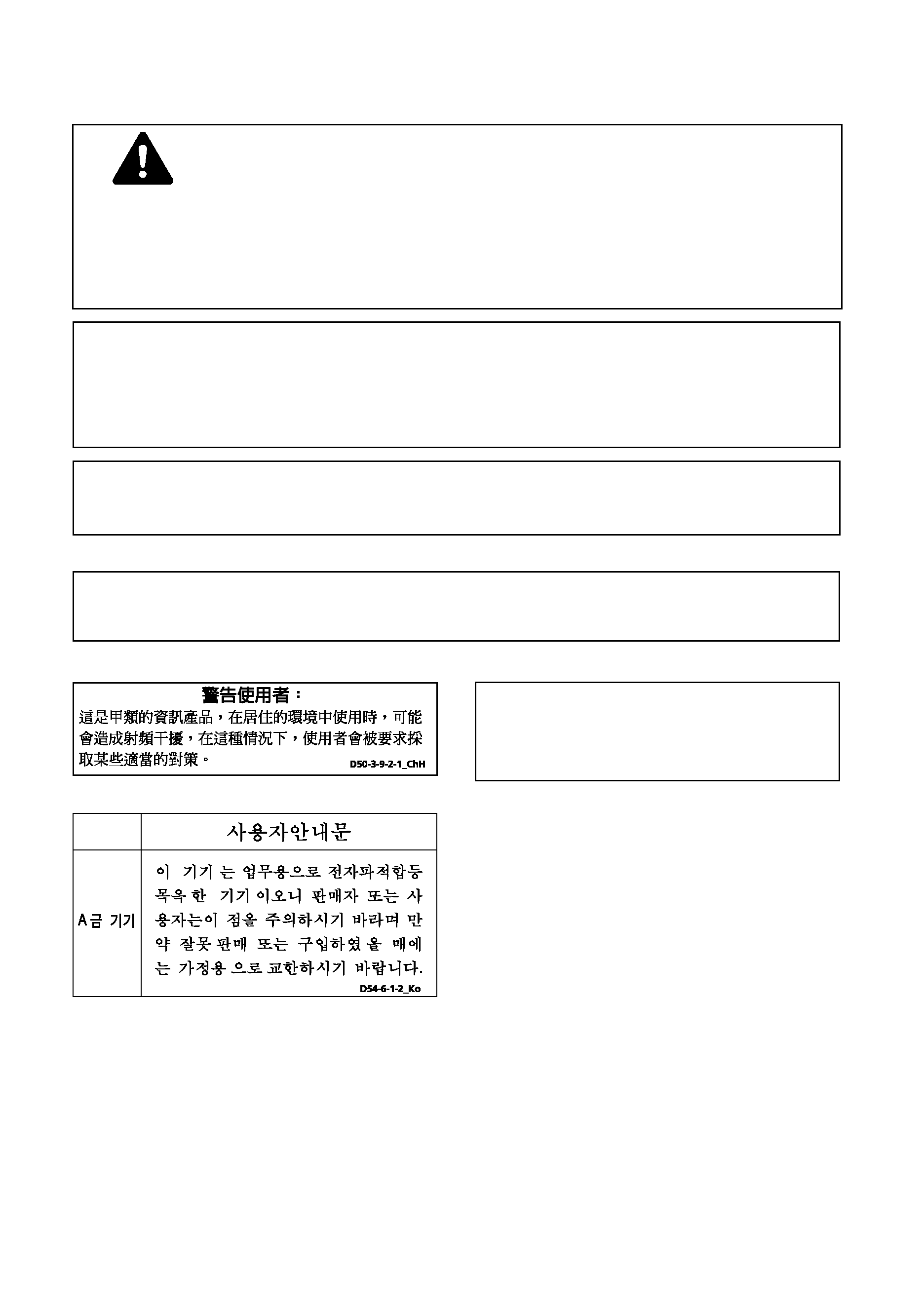 LASER DIODE ­ This product contains a laser diode. To assure continued safety,
DO NOT remove any convers or attempt to gain access to the inside of the product.
CAUTION: USE OF CONTROLS OR ADJUSTMENTS OR PERFORMANCE OF
PROCEDURES OTHER THAN THOSE SPECIFIED HEREIN MAY RESULT IN
HAZARDOUS RADIATION EXPOSURE.
CAUTION: USE OF OPTICAL INSTRUMENTS WITH THIS PRODUCT WILL INCREASE EYE
NOTE: This equipment has been tested and found to comply with the limits for a Class A digital device, pursuant to
Part 15 of the FCC Rules. These limits are designed to provide reasonable protection against harmful interference
when the equipment is operated in a commercial environment. This equipment generates, uses, and can radiate
radio frequency energy and, if not installed and used in accordance with the instruction manual, may cause harmful
interference to radio communications. Operation of this equipment in a residential area is likely to cause harmful
interference in which case the user will be required to correct the interference at his own expense.
[For Canadian model/Pour le modèle Canadien]
This Class A digital apparatus complies with Canadian ICES-003.
Cet appareil numérique de la Classe A est conforme à la norme NMB-003 du Canada.
Alteration or modifications carried out without appropriate authorization may invalidate the user's right to operate
This is a class A product. In a domestic environment
this product may cause radio interference in which
cause the user may be required to take adequate
[For Australian and New Zealander models]
---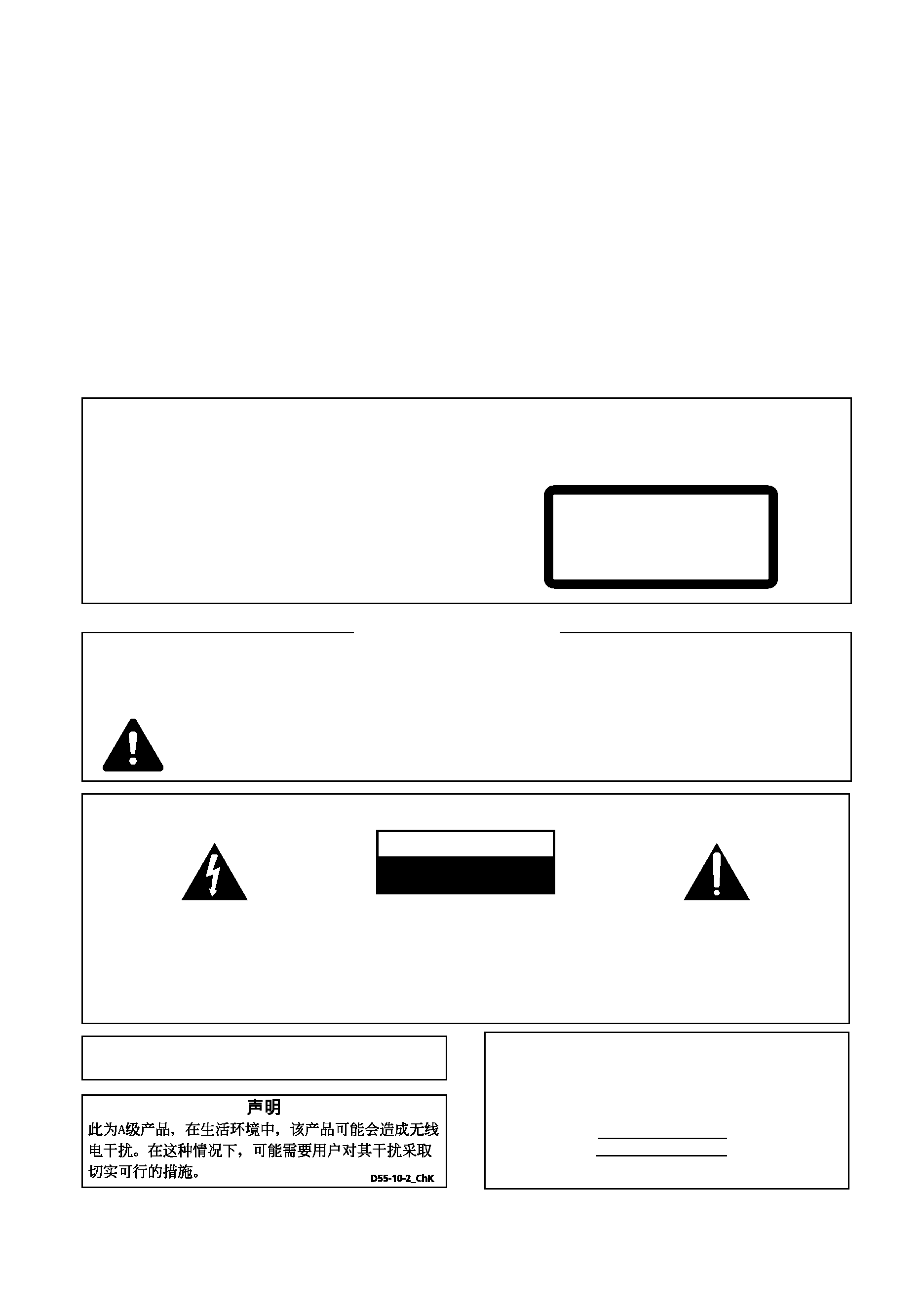 Thank you for buying this Pioneer product.
Please read through these operating instructions so you will know how to operate your
This product is an optional drive designed for exclusive use as the disc changers, models
DRM-7000 and DRM-3000. This means that this unit cannot be used alone or connected
to other equipment than specified.
Pioneer may not be held liable for the loss of any data or any other direct or indirect
damage suffered as the result of the use or breakdown of this product. It is strongly
recommended that regular backups be taken of all critical data.
INFORMATION COMPLYING DHHS RULES IS MARKED ON THE TOP COVER AS
DANDER
­ VISIBLE AND INVISIBLE LASER RADIATION WHEN OPEN.
AVOID DIRECT EXPOSURE TO BEAM.
This product contains a laser diode of higher
class than 1. To ensure continued safety, do not
remove any covers or attempt to gain access to
the inside of the product.
Refer all servicing to qualified personnel.
The following caution label appears on
Location: on top of the cover
This equipment is not waterproof. To prevent a fire
or shock hazard, do not place any container filed
with liquid near this equipment (such as a vase or
flower pot) or expose it to dripping, splashing, rain
The exclamation point within an equilateral
triangle is intended to alert the user to the
presence of important operating and
maintenance (servicing) instructions in the
literature accompanying the appliance.
The lightning flash with arrowhead symbol,
within an equilateral triangle, is intended to
alert the user to the presence of uninsulated
"dangerous voltage" within the product's
enclosure that may be of sufficient
magnitude to constitute a risk of electric
TO PREVENT THE RISK OF ELECTRIC
SHOCK, DO NOT REMOVE COVER (OR
BACK). NO USER-SERVICEABLE PARTS
INSIDE. REFER SERVICING TO QUALIFIED
IMPORTANT NOTICE ­ RECORD THE MODEL
NUMBER AND SERIAL NUMBERS OF THIS
THE NUMBERS ARE ON THE TOP.
KEEP THESE NUMBERS FOR FUTURE USE.
D1-4-2-6-2_En
USE ONLY WITH PIONEER MODELS DRM-7000 AND
---

To ensure your personal safety and to maximize the full operating potential of your
Drive, read and follow these safety precautions:
READ INSTRUCTIONS - Read all safety and operating instructions before the Drive is
RETAIN INSTRUCTIONS - Retain the safety and operating instructions for future
FOLLOW INSTRUCTIONS - Follow all operating and use instructions.
HEED WARNINGS - All warnings must be adhered to.
ENVIRONMENT - Please do not use the unit at places with much dust, high
temperature, or high humidity. Never turn off the power to the unit or allow it to become
subjected to shocks or vibrations during operation.
WATER AND MOISTURE - DO NOT use this product near water.
OBJECT AND LIQUID ENTRY - Never push objects of any kind into this product.
Touching dangerous voltage points may cause a short resulting in fire or electric shock.
Do not spill liquid of any kind on this product.
CONDENSATION - Beware of the formation of condensation on the drive. In the event
condensation collects when installing the drive, disconnect the power source and allow
all moisture to dry before installing the unit.
SERVICING - Do not attempt to repair this product yourself. Opening or removing
covers may expose you to dangerous voltage or other hazards. Refer all servicing to
qualified service personnel.
When using the DVD-R7322, please make sure that the recording of the
material in question does not violate any copyright laws.
The DVD-R7322 has been developed and is produced exclusively for commercial
use. It is necessary to obtain the authorization of copyright owners and owners of
related rights when using the DVD-R7322 to record copyrighted materials. Note
that the recording of copyrighted materials without the authorization of the owners
of related rights may result in the person or persons performing the recording to
be subjected to prosecution. Also note that in such cases PIONEER may not be
held liable for any damages resulting as a result of disputes between copyright
holders and persons recording copyrighted materials.
---