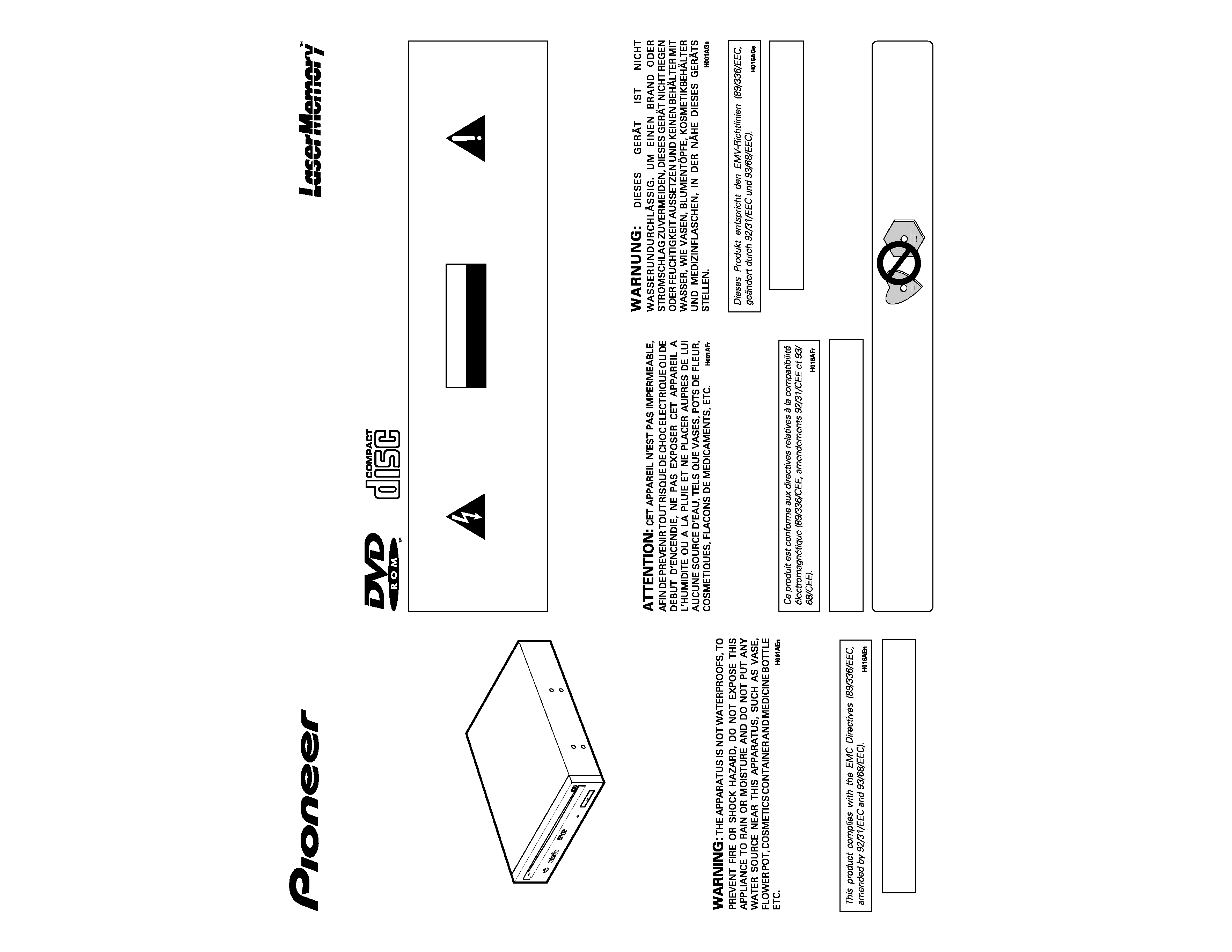 UNITE DE LECTEUR DE DVD-ROM
TO PREVENT THE RISK OF ELECTRIC SHOCK, DO NOT
REMOVE COVER (OR BACK). NO USER-SERVICEABLE
REFER SERVICING TO QUALIFIED
The lightning flash with arrowhead symbol, within an
equilateral triangle, is intended to alert the user to the
presence of uninsulated "dangerous voltage" within the
product's enclosure that may be of sufficient magnitude
to constitute a risk of electric shock to persons.
Nous vous remercions pour cet achat d'un produit
Pioneer. Nous vous demandons de lire soigneusement
ce mode d'emploi; vous serez ainsi à même de faire
correctement fonctionner l'appareil. Après avoir bien lu
le mode d'emploi, le ranger dans un endroit sûr pour
pouvoir s'y référer ultérieurement.
Wir danken Ihnen für den Kauf dieses Pioneer-Produkts.
Lesen Sie sich bitte diese Bedienungsanleitung durch.
Dann wissen Sie, wie Sie Ihr Gerät richtig bedienen.
Bewahren Sie sie an einem sicheren Platz auf, um auch
zukünftig nachschlagen zu können.
Thank you for buying this PIONEER product. Please read
through these operating instructions so you will know
how to operate your unit properly. After you have finished
reading the instructions, put them away in a safe place
The exclamation point within an equilateral triangle is
intended to alert the user to the presence of important
operating and maintenance (servicing) instructions in
the literature accompanying the appliance.
The Generation of Acoustical Noise Is Less Than 70dB.
La production de bruits acoustiques est inférieure à 70 dB.
Das Geräuschaufkommen beträgt weniger als 70 dB.
other shape than a circular
disc, such as heart shaped
disc, or malfunction may oc-
Sous peine de provoquer des
défaillances, ne reproduisez pas
de CD ayant une forme autre que
circulaire, telle que des disques
Keine nicht kreisförmigen CDs
(herzförmige, achteckige Discs)
abspielen; anderenfalls kann eine
Funktionsstörung auftreten.
This Class B digital apparatus complies with Canadian
[Pour le modèle Canadien]
Cet appareil numérique de la Classe B est conforme à la
---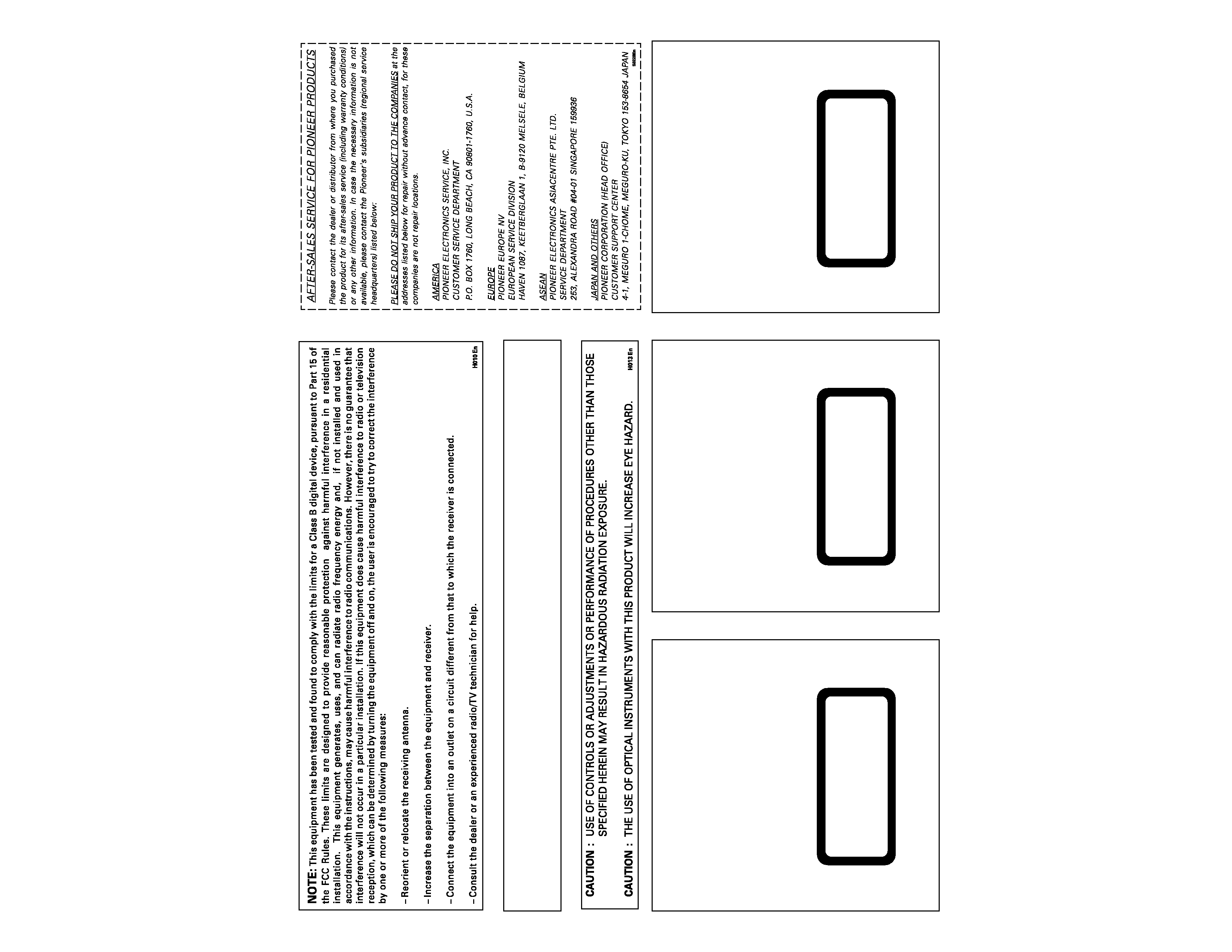 Alteration or modifications carried out without appropriate authorization may invalidate the user's right to operate the
Ce produit renferme une diode à laser d'une catégorie
supérieure à 1. Pour garantir une sécurité constante,
ne pas retirer les couvercles ni essayer d'accéder à
l'intérieur de l'appareil.
Pour toute réparation, s'adresser à un personnel
L'étiquette d'avertissement suivante
apparaît sur votre appareil.
Emplacement: sur le dessus du
Dans le cas d'appareils enfichables, la prise doit être
facilement accessible et placée le plus près possible de
Bei Geräten mit Steckern sollte sich der Ausgangsstecker
nahe dem anderen Gerät befinden und einfach zugänglich
Dieses Gerät enthält eine Laserdiode mit einer
höheren Klasse als 1. Um einen stets sicheren Betrieb
zu gewährleisten, weder irgendwelche Abdeckungen
entfernen, noch versuchen, sich zum Geräteinneren
Zugang zu verschaffen. Alle Wartungsarbeiten sollten
qualifiziertem Kundendienstpersonal überlassen
Das nachstehende Hinweisschild
Anbringstelle: auf der Deckeloberseite.
This product contains a laser diode of higher class
than 1. To ensure continued safety, do not remove
any covers or attempt to gain access to the inside of
Refer all servicing to qualified personnel.
The following caution label appears on
Location: on top of the cover.
For pluggable equipment the socket-outlet shall be installed
near the equipment and shall be easily accessible.
---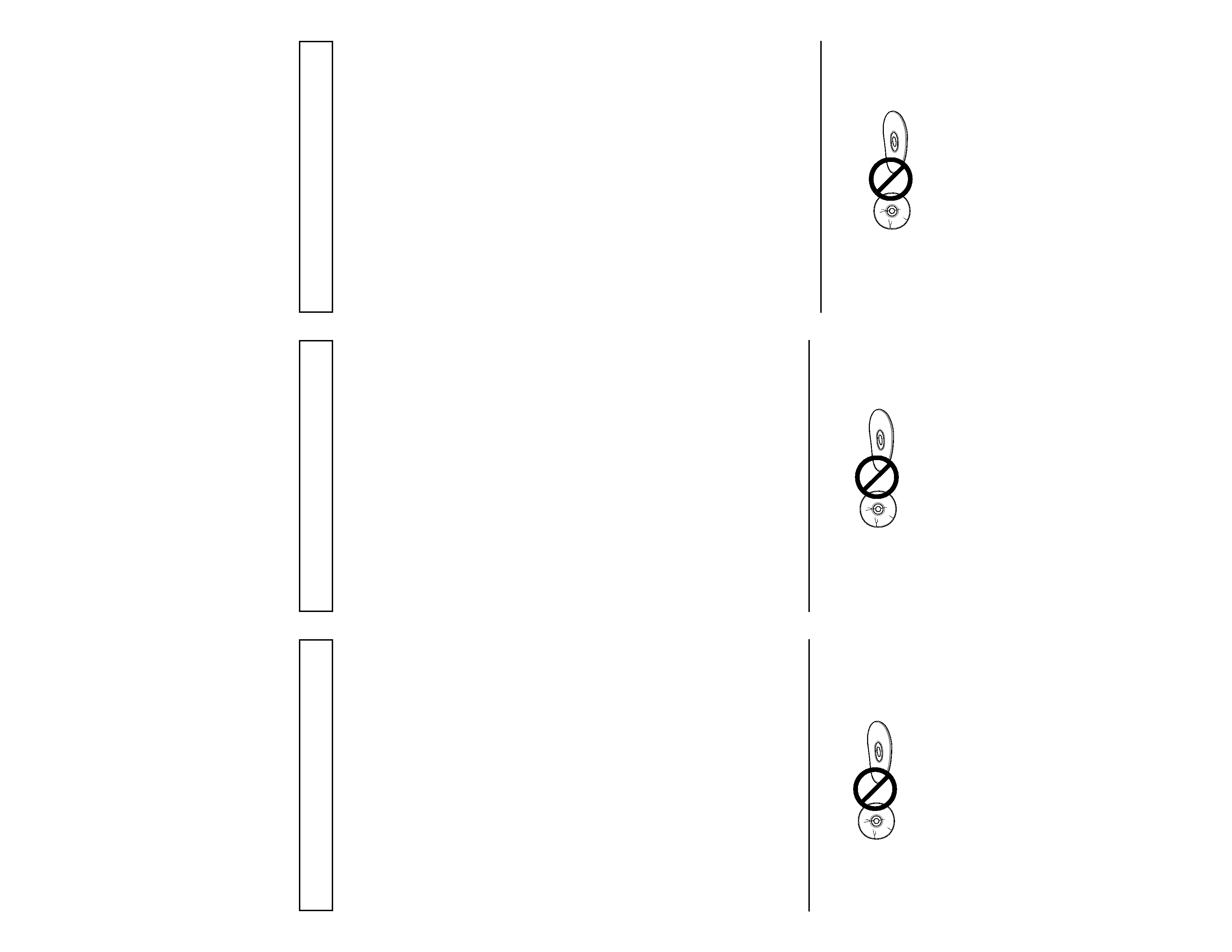 To ensure your personal safety and to maximize the full operating potential
of your Drive, read and follow these safety precautions:
ENVIRONMENT - Please do not use the unit at places with much dust,
high temperature, or high humidity. Please use the unit at a place where
it is not subjected to vibrations or shocks.
POWER - Turn off your system and attached hardware devices before
READ INSTRUCTIONS - Read all safety and operating instructions before
RETAIN INSTRUCTIONS - Retain the safety and operating instructions
FOLLOW INSTRUCTIONS - Follow all operating and use instructions.
HEED WARNINGS - All warnings must be adhered to.
CLEANING - DO NOT use liquid, aerosol cleaners, or alcohol. Use only
a damp cloth to clean the exterior housing.
WATER AND MOISTURE - DO NOT use this product near water.
POWER SOURCES - Operate this product from the type of power source
indicated on the marking label. If you are not sure of the type of power
available, consult Authorized Pioneer Dealer.
OVERLOADING - DO NOT overload wall outlets and extension cords.
Doing so can result in fire or electric shock.
OBJECT AND LIQUID ENTRY - Never push objects of any kind into this
product. Touching dangerous voltage points may cause a short resulting
in fire or electric shock. Do not spill liquid of any kind on this product.
CONDENSATION - Moisture will form in the operating section of the
product causing performance to be impaired if it is brought from cool
surroundings into a warmer environment. If you are moving the unit to a
location with a warmer temperature, let the product stand for 1-2 hours
in the new location before turning it back on.
SERVICING - Do not attempt to repair this product yourself. Opening or
removing covers may expose you to dangerous voltage or other hazards.
Refer all servicing to qualified service personnel. (Refer to the enclosed
Service and Support Card.)
Pour garantir votre sécurité personnelle et obtenir le maximum de votre
lecteur, lire et suivre ces consignes de sécurité:
ENVIRONNEMENT - Ne pas utiliser cet appareil dans des endroits avec
beaucoup de poussière, une température ou une humidité élevée. Utiliser
l'appareil à un endroit où il n'est pas soumis à des vibrations ou des
PUISSANCE - Couper l'alimentation du système et des dispositifs joints
LIRE LES INSTRUCTIONS - Lire toutes les instructions de sécurité et
d'utilisation avant d'actionner le lecteur.
CONSERVER LES INSTRUCTIONS - Garder les instructions de sécurité
et d'utilisation pour une future référence.
SUIVRE LES INSTRUCTIONS - Suivre toutes les instructions de
fonctionnement et d'utilisation.
ATTENTION AUX AVERTISSEMENTS - Observer tous les
NETTOYAGE - NE PAS utiliser de liquides, de détachants en aérosol ou
de l'alcool. N'utiliser qu'un chiffon humide pour nettoyer les surfaces
EAU ET HUMIDITE - NE PAS utiliser ce produit à proximité d'eau.
SOURCES D'ALIMENTATION - Utiliser ce produit avec le type
d'alimentation indiqué sur l'étiquette de fabrication. En cas de doute à
propos du type d'alimentation disponible, consulter un revendeur Pioneer
SURCHARGE - NE PAS surcharger les prises murales et les rallonges
pour ne pas entraîner d'incendie ou de secousse électrique.
PENETRATION D'OBJETS ET DE LIQUIDES - Ne jamais enfoncer d'objet
d'aucune sorte dans ce produit. Le contact avec des points de tension
dangereux peut provoquer un court-circuit, entraînant un incendie ou
une secousse électrique. Ne pas verser de liquide d'aucune sorte sur ce
CONDENSATION - De l'humidité se forme sur la section de
fonctionnement du produit entraînant une baisse de performances s'il
est amené d'un endroit frais vers un environnement plus chaud. En cas
de déplacement de l'appareil vers un endroit ayant une température plus
chaude, laisser le produit pendant 1 à 2 heures dans le nouvel endroit
avant de le remettre sous tension.
ENTRETIEN - Ne pas essayer de réparer soi-même ce produit. L'ouverture
ou le retrait des capots peut vous exposer à une tension dangereuse ou
d'autres dangers. Pour tout entretien, demander à un personnel
d'entretien qualifié. (Se reporter à la carte d'entretien et de support jointe.)
DO NOT use damaged,cracked, or warped discs. If they break
inside the unit, they may damage the optics. The disc in the
drive unit rotates at high speed.
DO NOT use non-standard discs, or these may adversely
influence this unit and other equipment.
Verwenden Sie keine beschädigten, gesprungenen oder
verzogenen DVD-/CD-ROMs. Wenn eine DVD-/CD-ROM im
Gerät zerbricht, können die optischen Teile beschädigt werden.
Die Disc rotiert mit hoher Drehzahl im Laufwerk.
Verwenden Sie keine nicht standardisierten DVDs/CDs, da diese
einen nachteiligen Einfluß auf die Funktion dieses Geräts und
andere Komponenten ausüben können.
NE PAS utiliser de disques endommagés, fissurés ou déformés.
S'ils se cassent à l'intérieur de l'appareil, ils risquent
d'endommager la lentille. Les disques tournent à grande vitesse
à l'intérieur de l'appareil.
NE PAS utiliser de disques non standard, car ils peuvent avoir
une mauvaise influence sur cet appareil et d'autres équipements.
Um Ihre eigene Sicherheit sicherzustellen, und um die volle Funktion Ihres
DVD-ROM-Laufwerks zu maximieren, lesen Sie diese Sicherheitsvorschriften
BETRIEBSBEDINGUNGEN - Betreiben Sie das Gerät nicht an Orten, wo
starkes Staubaufkommen, hohe Temperaturen und hohe Luftfeuchtigkeiten
vorherrschen. Wählen Sie einen Ort, wo keine Vibrationen bzw. starke
Erschütterungen auf das Gerät einwirken können.
SPANNUNG - Vor dem Einbau des DVD-ROM-Laufwerks sind der Computer
und sämtliche angeschlossenen Peripheriegeräte auszuschalten.
LESEN SIE DIE ANLEITUNGSSCHRITTE - Vor der Inbetriebnahme des
DVD-ROM-Laufwerks sind alle Sicherheits- und Betriebsanleitungen
AUFBEWAHRUNGSHINWEISE - Bewahren Sie die Sicherheits- und
Betriebsanleitungen für zukünftige Benutzung griffbereit auf.
BEFOLGUNG DER ANLEITUNGSSCHRITTE - Befolgen Sie bitte alle
Bedienungs- und Handhabungshinweise.
BEACHTUNG ALLER WARNUNGEN - Sämtliche Warnhinweise müssen
sorgfältig beachtet werden.
REINIGUNG - KEIN flüssiges Reinigungsmittel, Reinigungssprühmittel oder
Alkohol verwenden. Benutzen Sie zum Reinigen des äußeren Gehäuses
ausschließlich einen feuchten Lappen.
WASSER UND FEUCHTIGKEIT - Betreiben Sie das Gerät NIEMALS in
unmittelbarer Nähe von Wasser!
STROMVERSORGUNG - Betreiben Sie das Gerät nur mit dem
Stromversorgungstyp, der auf dem Aufkleber angegeben ist. Wenn Sie sich
über die vorliegende Netzspannung nicht sicher sind, sprechen Sie bitte mit
Ihrem autorisierten Pioneer-Händler.
Verlängerungskabel überlasten! Ein Brand oder Stromschlag können die
EINDRINGEN VON FLÜSSIGKEITEN UND FREMDKÖRPERN - Niemals
Fremdkörper in das Geräteinnere eindringen lassen. Das Berühren von unter
Spannung stehenden Kontakten kann zu einem Kurzschluß führen, was einen
Brand oder Stromschlag auslösen kann. Vorsicht, damit keine Flüssigkeiten
auf dem Gerät verschüttet werden.
KONDENSATION - Wenn das Gerät von einem kalten in einen warmen
Raum gebracht wird, verursacht der Feuchtigkeitsniederschlag in Gerät eine
merkliche Leistungsminderung. Betreiben Sie das Gerät deshalb nicht für
ca. 1 bis 2 Stunden, bis sich die Bauteile der Umgebungstemperatur
WARTUNG - Nicht den Versuch unternehmen, das Gerät selbst zu
reparieren! Das Öffnen oder Entfernen von Abdeckungen kann einen
Stromschlag sowie andere Gefahren auslösen. Überlassen Sie sämtliche
Wartungsarbeiten unserem qualifizierten Kundendienstpersonal. (Beziehen
Sie sich bitte auf das miteingeschlossene Kundendienstverzeichnis.)
---

÷ Datenabruf mit hoher Geschwindigkeit
Datentransferrate (Dauerbetrieb):
maximum 13.500 kBytes/sec (DVD-ROM)
maximum 6.000 kBytes/sec (CD-ROM)
Aufgrund bestimmter Disc-Zustände (Kratzer usw.) kann die
Datentransferrate u.U. nicht eingehalten werden.
÷ Zugriff mit hoher Geschwindigkeit(Zufallszugriff durchschn.):
÷ Entspricht den Anschlußspezifikationen für SCSI-3
÷ Datenpufferkapazität: 512 kBytes
÷ Verwendbare DVD-/CD-ROMs
CD-ROM (XA-Modus 2; Form 1, 2)
CD-RW/DVD-RW
*Hinweis
-Lesemodus
CD-R-, CD-Extra-, Video-CD, CD-Text-Unterstützung
÷ Entspricht dem "Kodak Photo CD Multisession"-Standard
÷ Konform mit MPC-3-Spezifikationen
÷ Kompatibel zu Windows 9X und Windows 2000
(Windows ist ein eingetragenes Warenzeichen der Microsoft Corporation.)
*Hinweise zu CD-RW-/DVD-RW-Discs
Dieses Gerät ist in der Lage, Daten auf CD-RW-/DVD-RW-Discs
zu lesen. Hierzu sind folgende Hinweise zu beachten:
(1) Im Vergleich zu herkömmlichen CD-ROM-/DVD-ROM-Discs
wird zum Erkennen der Disc bei Arbeitsbeginn für CD-RW-/
DVD-RW-Discs etwas mehr Zeit benötigt.
(2) Die Lesegeschwindigkeit bei CD-RW-/DVD-RW-Discs ist
niedriger als bei CD/DVD-Discs. (Dies ist durch den im
Vergleich zu CD/DVD-Discs niedrigeren Wiedergabesignal-
Pegel von CD-RW-/DVD-RW-Discs bedingt.)
(3) Die folgenden Discs können nicht verwendet werden:
Leere Discs; Discs, bei denen keine Datenübertragung
möglich war oder bei denen das Abschlußverzeichnis nicht
(4) In den folgenden Fällen ist unter Umständen kein Zugriff oder
ein Auslesen der Daten möglich:
Die Qualität des aufgenommenen Signals hat sich durch
Verschmutzung oder Kratzer der Disc verschlechtert, oder
die Disc wurde häufig erneut beschrieben.
Falls kein Zugriff möglich ist, die Disc herausnehmen, wieder
einlegen und den Computer erneut starten.
CARACTERISTIQUES PRINCIPALES
÷ Lecture à haute vitesse
Vitesse de transfert (continue):
maximum 13.500 KO/sec. (DVD-ROM)
maximum 6.000 KO/sec. (CD-ROM)
Il se peut que le taux de transfert de données ne soit pas
affiché en raison de l'état du disque (rayures, etc.).
÷ Accès à haute vitesse (Moyenne aléatoire):
÷ Spécifications d'interface SCSI-3
÷ Tampon de données: 512 koctets
Disque optique CD-ROM Mode 1
Disque optique CD-ROM XA Mode 2 (Forme 1, 2)
Lecture de disque CD-RW/DVD-RW
*Remarque
Support CD-R, CD extra, CD vidéo, CD-Text
÷ Correspondre avec multisession CD Kodak Photo
÷ Conforme aux spécifications MPC-3
÷ Compatible avec Windows 9X et Windows 2000
(Windows est un marque déposée de Microsoft Corporation.)
*Remarques concernant les disques CD-RW/DVD-RW
Cet appareil peut lire les données inscrites sur les CD-RW/DVD-
RW. Toutefois, veillez noter ce qui suit.
(1) L'examen initial d'un CD-RW/DVD-RW exige un temps
légèrement plus long que celui d'un CD-ROM/DVD-ROM
(2) Comme le niveau du signal de lecture des disques CD-RW/
DVD-RW est plus bas que celui des disques CD/DVD
dupliqués, la vitesse de lecture de ces disques est plus lente
que celle des disques dupliqués de manière à assurer la
(3) Vous ne pouvez pas utiliser les disques vierges, les disques
sur lesquels l'écriture des données a été infructueuse et les
disques qui n'ont pas fait l'objet d'une fermeture de session.
(4) Dans les cas suivants, le fonctionnement peut être impossible
et il peut en être de même de la lecture des données.
La qualité du signal enregistré est altérée en raison des
poussières ou des rayures que porte le disque, ou bien le
disque a fait l'objet de trop nombreuses réécritures.
Si le fonctionnement n'est pas possible, retirez le disque du
lecteur puis réintroduisez-le et effectuez une nouvelle
Transfer rate (sustained):
maximum 13,500 kBytes/sec. (DVD-ROM)
maximum 6,000 kBytes/sec. (CD-ROM)
The data transfer rate may not be output due to disc
conditions (scratches, etc.).
÷ High-speed access (Random average):
÷ SCSI-3 interface specifications
CD-ROM XA Mode 2 (Form 1, 2)
CD-RW/DVD-RW
*Note
disc reading
CD-R, CD Extra, Video CD, CD-Text support
÷ Correspond to Kodak Photo CD multisession
÷ Conforming to MPC-3 specifications
÷ Windows 9X and Windows 2000 compatible
(Windows is a trademark of Microsoft Corporation.)
*Notes on CD-RW/DVD-RW discs
This product can read out CD-RW/DVD-RW disc data. Note the
(1) A little longer time is needed to sense a CD-RW/DVD-RW
disc when the operation starts, compared with standard CD-
(2) Since playback signal level of CD-RW/DVD-RW is lower than
the replicated CD/DVD discs, reading speed of those discs
is lower than that of the replicated discs to ensure data
(3) Blank discs, discs that you failed to write data or discs that
session close processing has not been made - these discs
(4) The operations may not start or the data may not be read out
under the following conditions:
The quality of the recorded signal has deteriorated due to
the dirt or scratches on the disc, or frequently rewrote discs.
If you fail to start the operation, take out the disc and reinsert
it to try again to start.
---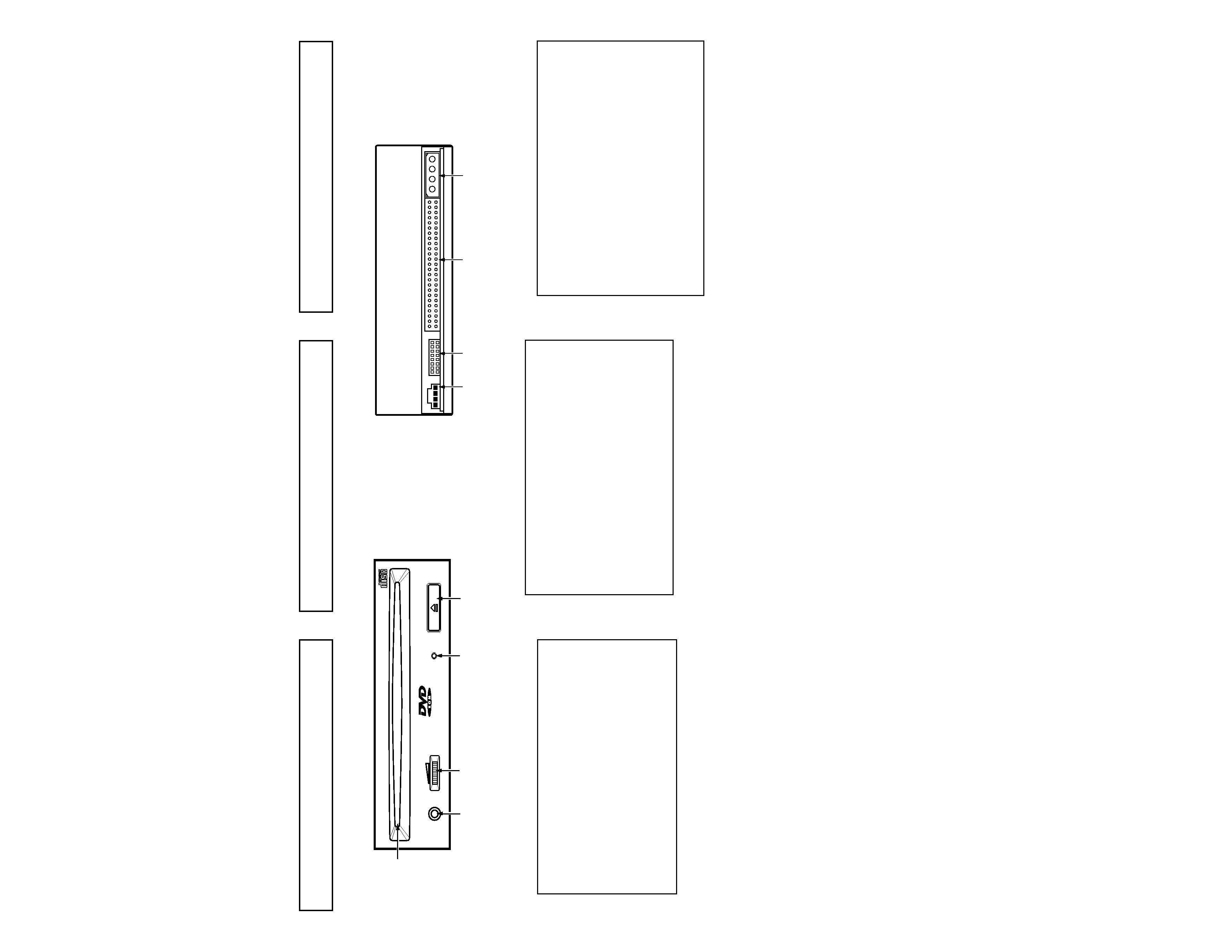 2 Headphone jack (PHONES)
This is a stereo mini jack for connection of head-
3 Volume control (headphone level)
This is used to adjust the volume for the headphone
Flashes during data access.
This button is used to eject the disc.
This is a connector for output of analog audio.
As a Molex 70553 type connecter is used, select a
matching connection cable.
FRONT VIEW/VUE AVANT/VORDERANSICHT
REAR VIEW/VUE DE LA FACE ARRIERE/RÜCKANSICHT
Precautions on Playing 8 cm/3-inch Discs
¶ When playing 8 cm/3-inch discs, always use the
adapter for 8 cm/3-inch discs. Before loading the disc
into the DVD-ROM drive unit, be sure to check that it
is secured properly by the catches of the adapter. If
discs have been inserted without the adapter by
mistake, remove the disc immediately by pressing the
eject button. If the disc does not come out with one
press, press it once again.
¶ Use 8 cm/3-inch disc adapters labeled with the
mark (recommended standard product). Do not use
adapters which cause the disc to idle, nor adapters
which are bent or curved.
Insert the DVD-ROM or CD-ROM with the label facing
Insérez le DVD-/CD-ROM l'étiquette vers le haut.
Precautions a Prendre Lors de Lalecture de Disques de 8 cm
¶ Lors de la lecture de disques de 8 cm, toujours utiliser
l'adaptateur pour ce type de disques. Avant de charger
le disque dans l'unité de lecture de DVD-ROM, vérifier
qu'il est bien maintenu en place par les encoches de
l'adaptateur. Si des disques ont été insérés par erreur
sans utiliser l'adaptateur, il faut enlever ces disques
immédiatement en poussant sur le bouton d'éjection.
Si le disque ne réussit pas à sortir sous l'effet de la
pression, appuyer une nouvelle fois sure le bouton.
¶ Utiliser des adaptateurs pour disques de 8 cm portant
'
(produit standard recommandé). Ne pas
utiliser d'adaptateurs qui entraîne une rotation à vide
du disque, ni non plus des adaptateurs ondulés ou pliés.
2 Prise de casque d'écoute (PHONES)
Il s'agit d'une prise de minijack stéréo à laquelle peut
3 Commande de réglage du volume
(niveau du casque d'écoute)
Cette commande permet de régler le volume pour la
prise du casque d'écoute.
Clignote pendant l'accès des données.
Cette touche sert à éjecter le disque.
Connecteur de sortie du signal audio analogique.
Du fait qu'un Molex 70553 est utilisé, sélectionner un câble
de raccordement correspondant.
2 Kopfhörerbuchse (PHONES)
Diese Stereo-Minibuchse dient zum Anschließen
3 Lautstärkeregler (für Kopfhörer)
Mit diesem Regler wird der Lautstärkepegel der
Kopfhörerbuchse eingestellt.
Diese Anzeige blinkt während des Zugriffs auf Daten.
Mit dieser Taste wird die Disk ausgeworfen.
Dieser Stecker ist für Analog-Ausgang vorgesehen.
Da hier ein Stecker des Typs Molex 70553 verwendet
wird, muß ein passendes Anschlußkabel gewählt
Die DVD-/CD-ROM mit der Beschriftung nach oben
Vorsichtmassnahmen Beim Abspielen von 8 cm CDs/DVDs
¶ Benutzen Sie immer den Adapter für 8 cm CDs wenn
Sie 8 cm CDs/DVDs abspielen. Bevor Sie die CD/DVD
in das DVD-ROM Laufwerk einlegen, prüfen Sie bitte,
ob sie ordnungsgemäß von den Haltern des Adapters
festgeklemmt wird. Wenn eine Disc versehentlich ohne
Adapter eingelegt wurde, drücken Sie unverzüglich die
Auswurftaste, um die Disc aus dem Laufwerk zu
entfernen. Falls die Disc beim ersten Drücken der
Auswurftaste nicht ausgeworfen wird, drücken Sie die
¶ Benutzen Sie 8 cm CD-Adapter, die mit der
gekennzeichnet sind (empfohlener Standard). Benutzen
Sie weder Adapter die die CD/DVD im Leerlauf lassen,
noch krumme oder verbogene Adapter.
---