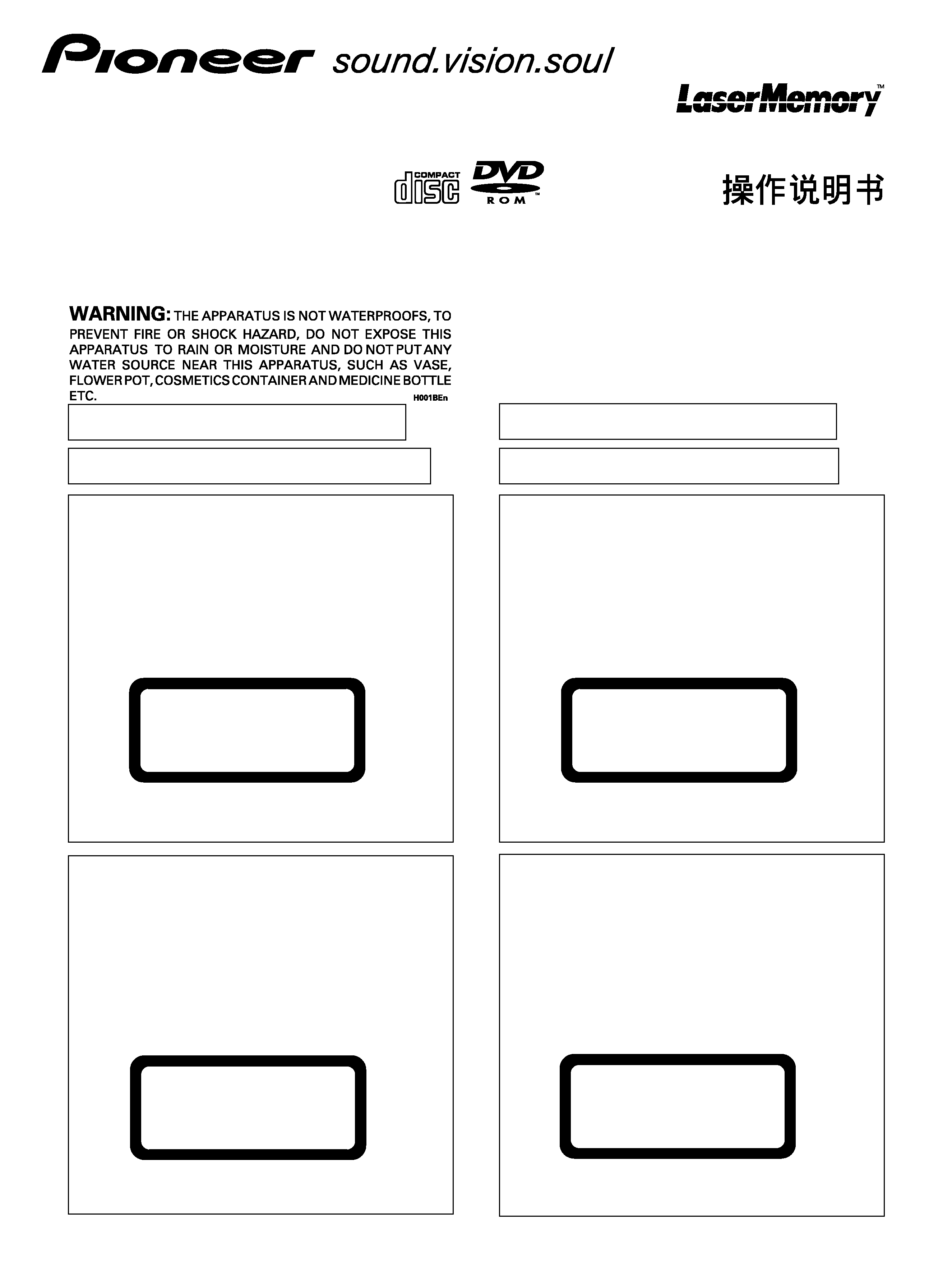 Thank you for buying this PIONEER product. Please read through
these operating instructions so you will know how to operate
your unit properly. After you have finished reading the
instructions, put them away in a safe place for future reference.
The Generation of Acoustical Noise Is Less Than 70dB.
This product contains a laser diode of higher class than
1. To ensure continued safety, do not remove any covers
or attempt to gain access to the inside of the product.
Refer all servicing to qualified personnel.
The following caution label appears on your
Location: on top of the cover.
For pluggable equipment the socket-outlet shall be installed
near the equipment and shall be easily accessible.
La production de bruits acoustiques est inférieure à 70 dB.
Das Geräuschaufkommen beträgt weniger als 70 dB.
Ce produit renferme une diode à laser d'une catégorie
supérieure à 1. Pour garantir une sécurité constante, ne
pas retirer les couvercles ni essayer d'accéder à l'intérieur
Pour toute réparation, s'adresser à un personnel qualifié.
L'étiquette d'avertissement suivante
apparaît sur votre appareil.
Emplacement: sur le dessus du couvercle.
Dans le cas d'appareils enfichables, la prise doit être facilement
accessible et placée le plus près possible de l'appareil.
Bei Geräten mit Steckern sollte sich der Ausgangsstecker nahe
dem anderen Gerät befinden und einfach zugänglich sein.
Dieses Gerät enthält eine Laserdiode mit einer höheren
Klasse als 1. Um einen stets sicheren Betrieb zu
gewährleisten, weder irgendwelche Abdeckungen
entfernen, noch versuchen, sich zum Geräteinneren
Zugang zu verschaffen. Alle Wartungsarbeiten sollten
qualifiziertem Kundendienstpersonal überlassen werden.
Das nachstehende Hinweisschild befindet
Anbringstelle: auf der Deckeloberseite.
---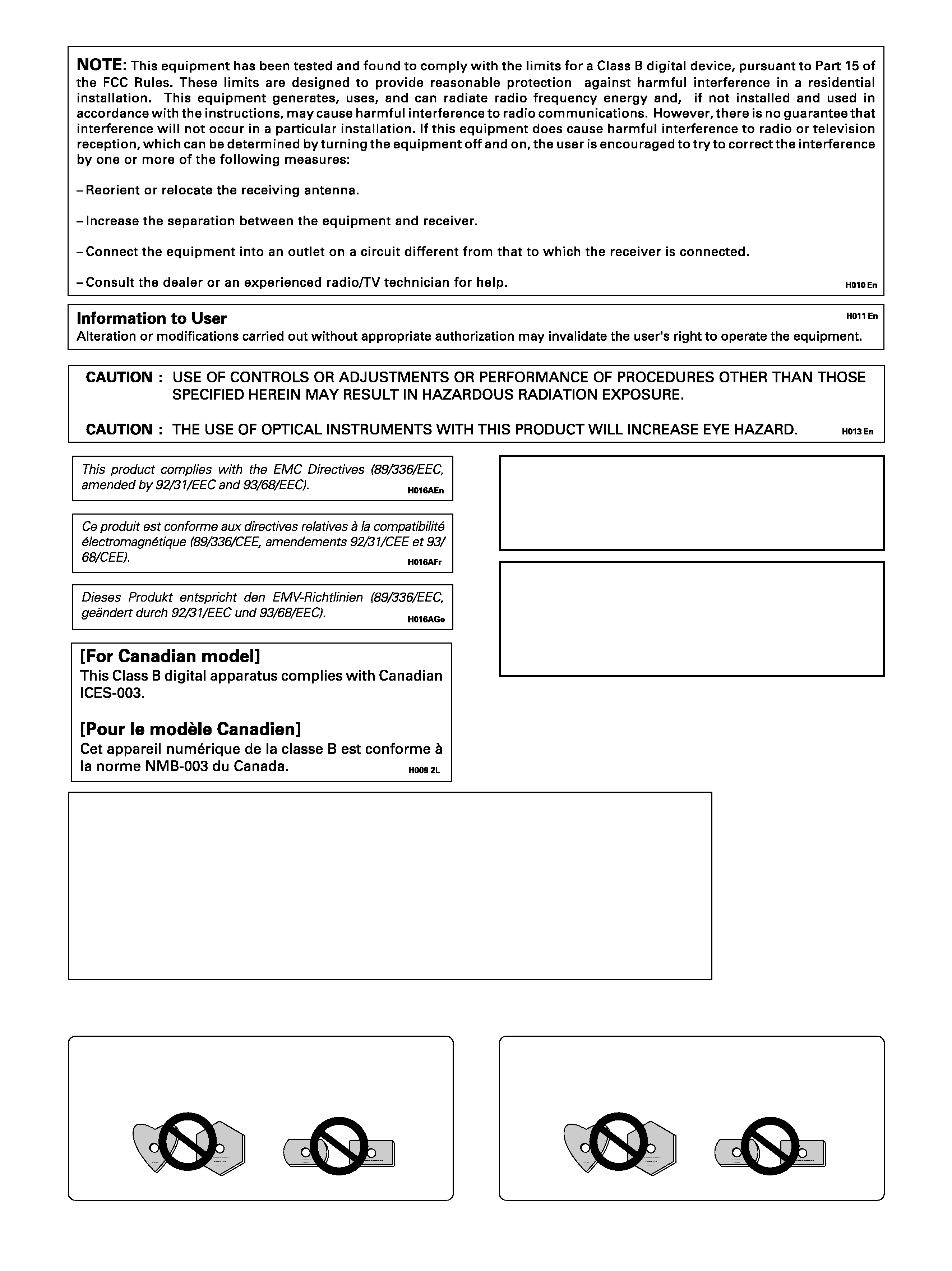 Do not play a CD having other shape than a circular
disc, such as heart shaped disc, or malfunction may
FEDERAL COMMUNICATIONS COMMISSION DECLARATION OF CONFORMITY
This device complies with part 15 of the FCC Rules. Operation is subject to the following two
conditions: (1) This device may not cause harmful interference, and (2) this device must accept
any interference received, including interference that may cause un-desired operation.
Party Name: PIONEER ELECTRONICS (USA )INC. Customer Support Division
1925 E. DOMINGUEZ ST. LONG BEACH, CA 90810 U.S.A.
---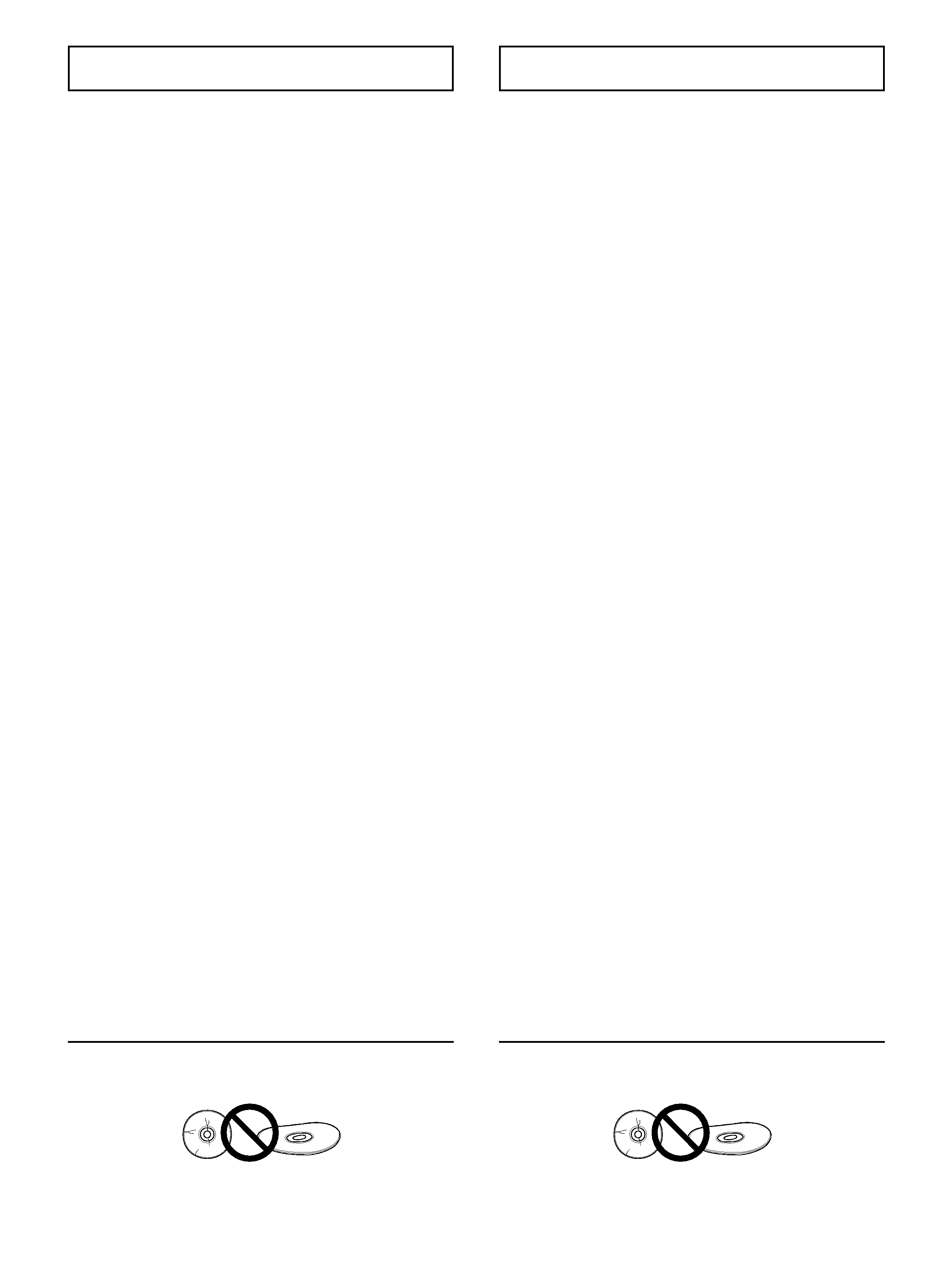 To ensure your personal safety and to maximize the full
operating potential of your Drive, read and follow these safety
ENVIRONMENT - Please do not use the unit at places with
much dust, high temperature, or high humidity. Please use
the unit at a place where it is not subjected to vibrations or
POWER - Before installing the unit on the system, be sure to
turn off power on the system and remove the power cord
READ INSTRUCTIONS - Read all safety and operating
instructions before the Drive is operated.
RETAIN INSTRUCTIONS - Retain the safety and operating
instructions for future reference.
FOLLOW INSTRUCTIONS - Follow all operating and use
HEED WARNINGS - All warnings must be adhered to.
CLEANING - DO NOT use liquid, aerosol cleaners, or alcohol.
Use only a damp cloth to clean the exterior housing.
WATER AND MOISTURE - DO NOT use this product near
POWER SOURCES - Operate this product from the type of
power source indicated on the marking label. If you are not
sure of the type of power available, consult Authorized
OVERLOADING - DO NOT overload wall outlets and
extension cords. Doing so can result in fire or electric shock.
OBJECT AND LIQUID ENTRY - Never push objects of any
kind into this product. Touching dangerous voltage points may
cause a short resulting in fire or electric shock. Do not spill
liquid of any kind on this product.
CONDENSATION - Moisture will form in the operating
section of the product causing performance to be impaired if
it is brought from cool surroundings into a warmer
environment. If you are moving the unit to a location with a
warmer temperature, let the product stand for 1-2 hours in
the new location before turning it back on.
SERVICING - Do not attempt to repair this product yourself.
Opening or removing covers may expose you to dangerous
voltage or other hazards. Refer all servicing to qualified service
personnel. (Refer to the enclosed Service and Support Card.)
DO NOT use damaged,cracked, or warped discs. If they break
inside the unit, they may damage the optics. The disc in the
drive unit rotates at high speed.
DO NOT use non-standard discs or these may adversely
influence this unit and other equipment.
---

Transfer rate (sustained):
maximum 21,600 kBytes/sec. (DVD-ROM)
maximum 6,000 kBytes/sec. (CD-ROM)
The data transfer rate may not be output due to disc conditions
÷ High-speed access (Random average):
÷ Host I/F: ATA/ATAPI-5/PIO mode4
/MultiWordDMA mode2/UltraDMA mode4
÷ Buffer size: 256 kBytes
DVD-R ver.1.0, 2.0 (Incremental Write support)
CD-ROM Mode 1, CD-ROM XA Mode 2 (Form 1, 2)
CD-R, CD-RW
*Note
(AM1, AM2 support)
CD-DA, CD Extra, Video CD, CD-Text support
Photo CD (Single and Multisession)
÷ Conforming to MPC-3 specifications
÷ Windows 9X, Windows 2000, Windows Me and Windows XP
(Windows is a trademark of Microsoft Corporation.)
*Notes on CD-RW/DVD-RW/DVD+RW discs
This product can read out CD-RW/DVD-RW/DVD+RW disc data.
(1) A little longer time is needed to sense a CD-RW/DVD-RW/
DVD+RW disc when the operation starts, compared with standard
(2) Since playback signal level of CD-RW/DVD-RW/DVD+RW is lower
than the replicated CD/DVD discs, reading speed of those discs
is lower than that of the replicated discs to ensure data reading.
(3) Blank discs, discs that you failed to write data or discs that session
close processing has not been made - these discs cannot be
(4) The operations may not start or the data may not be read out
under the following conditions:
The quality of the recorded signal has deteriorated due to the
dirt or scratches on the disc, or frequently rewrote discs.
If you fail to start the operation, take out the disc and reinsert it
Precautions on playing 8 cm (3.15") Discs
÷ 8 cm (3.15") discs equipped with 12 cm (4.72") adapters cannot
be used. Remove the adapters before inserting the discs.
÷ If a label has been fixed to the surface of an disc, the disc may
fail to eject properly from the unit.
---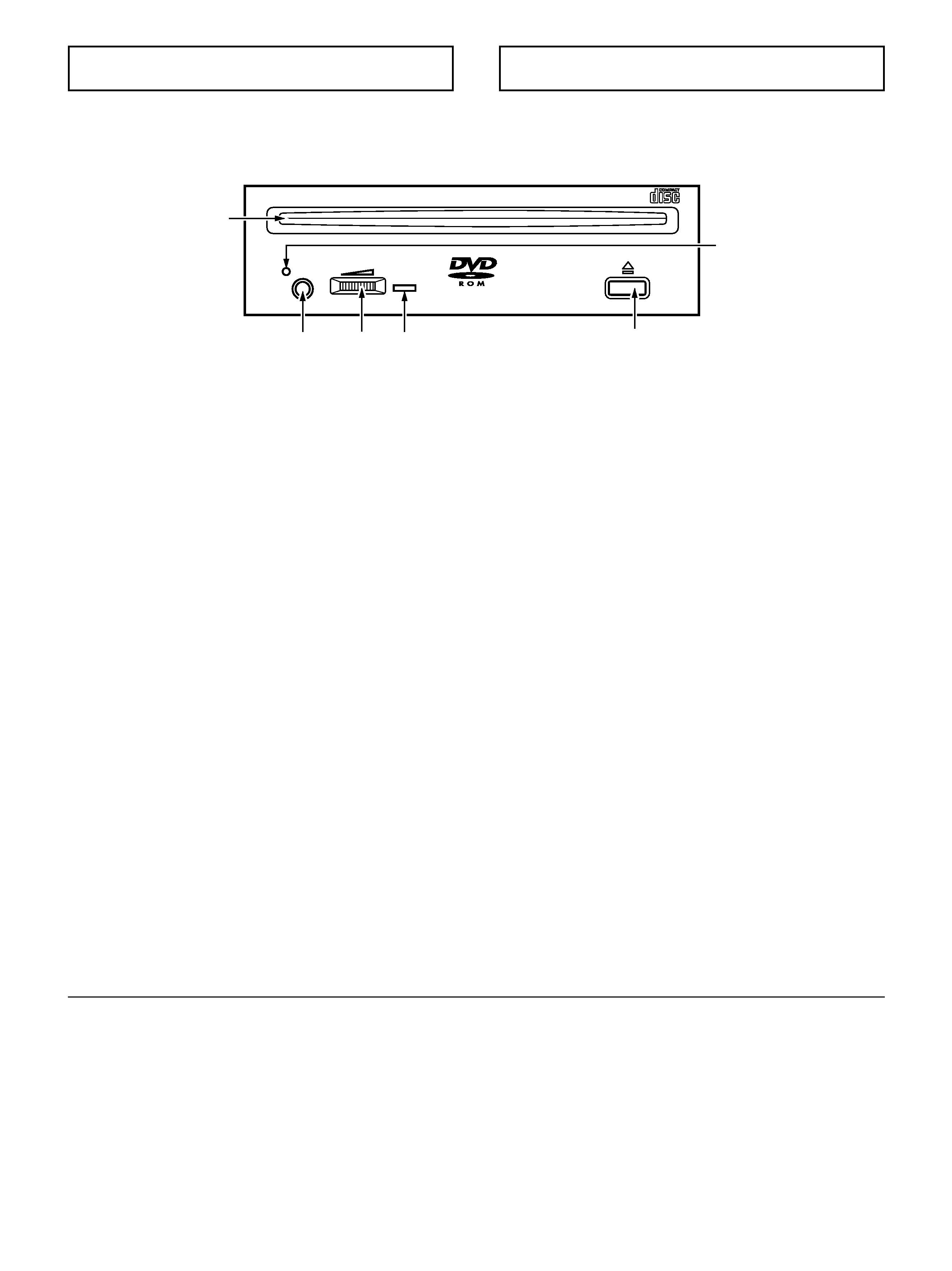 Insert the DVD-ROM or CD-ROM with the label facing
2 Headphone jack (PHONES)
This is a stereo mini jack for connection of headphones.
3 Volume control (headphone level)
This is used to adjust the volume for the headphone jack.
Flashes during data access.
This button is used to eject the disc.
When the eject button has lost its function, insert a stiff
rod into this hole and push to eject the disc.
Before executing this operation, be sure the power supply of
the computer is off and check the disc rotation is stopped. It
takes approx. 60 seconds to stop disc rotation after turning off
The region code can be changed ONLY 5 times, including
the 1st setting. Please be aware the 5th change will be
PERMANENT, therefore, please pay attention when changing
÷ Region codes are part of the DVD Standard. However,
Region codes on DVD discs are optional. DVD discs with
no specified Region code can be played on all players.
---